Having mastered the digital portrait, Ian Spriggs is going beneath the skin. He tells us how V-Ray for Maya's AL Surface shader brought "Prometheus" to life.
Whether he's trying new techniques or concentrating on a new subject, every Ian Spriggs project is a complete curveball. His latest, "Prometheus," is no exception — a beautiful photorealistic portrait in its own right, but it also strips back the skin to reveal the underlying skeletal, vascular, and muscular structure with fascinating - if slightly unnerving - results.
"Prometheus" marks the beginning of a new series of projects for Ian, in which he will take his fine-art sensibilities to the anatomical systems that help us live, move, and breathe. We asked Ian about his inspiration for the portrait, and how V-Ray for Maya and its AL Surface shader helped bring it to life.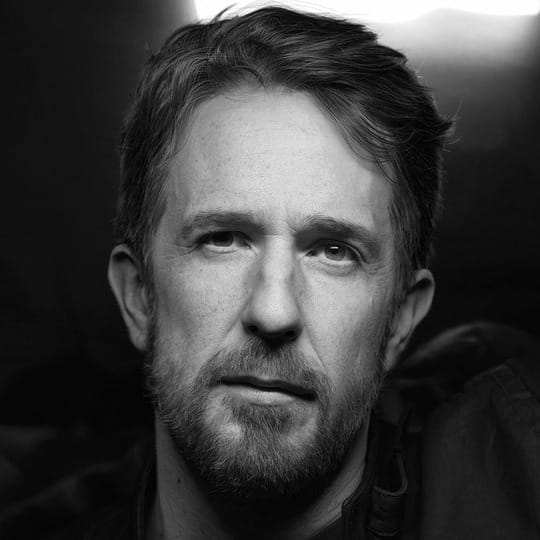 About Ian Spriggs
Character artist Ian Spriggs has worked at studios including Mr. X, Industrial Light & Magic, Neill Blomkamp's Oats Studios, and Image Engine Design, and he's created everything from digital humans to aliens and zombies. At the same time, Ian has indulged his love for classical art and CG modeling with an ongoing series of intricate, photorealistic digital portraits. Today, Ian works as lead character artist at Unity Technologies' Vancouver Labs.
What were your goals with "Prometheus?"
Ian Spriggs: My work on portraiture has always aimed to capture the human essence, to make something not real feel believable. I have learned to bring a subject's identity into a digital human so that we can feel that human connection. I have explored many different methods of showing identity through lighting techniques, pose, composition, choice of clothing and belongings, expressions, and color.
However, in my previous work, I only showed the outer skin. What makes us who we are goes down to the bone through level upon level of anatomy; every system in us is what defines us. In my next series of work, I want to explore our anatomy, not as a documented scientific study but as an artistic portrait.
The title, "Prometheus," refers to the Titan god of fire, regarded as the creator of art and science. He attempted to improve human life by stealing fire from the gods and passing it down to humanity as technology and knowledge. This portrait uses the same metaphor, the fire being technology; it shows how technology can be used to create a new genre of portraiture.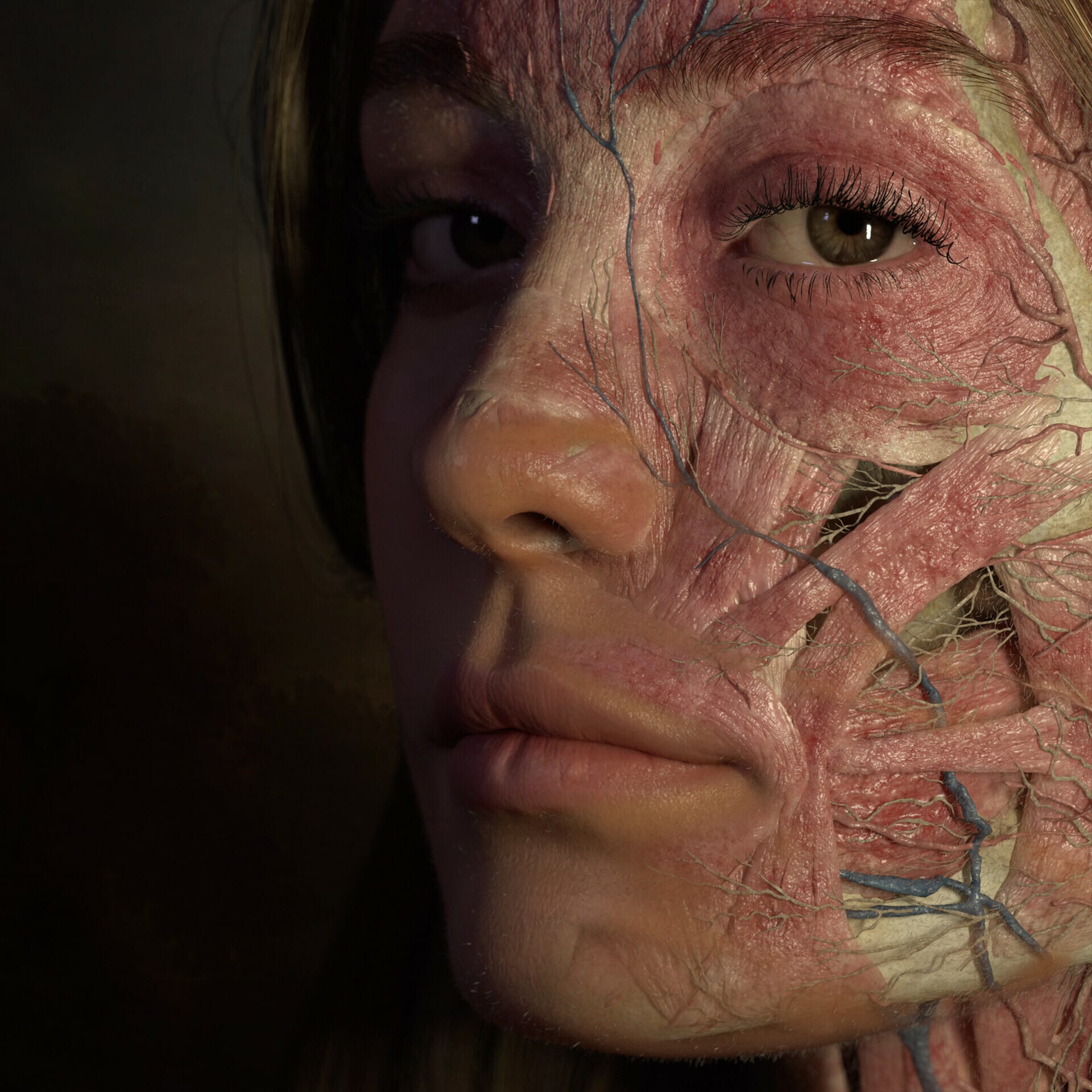 How did you research and model the underlying muscle and skeletal structure?
IS: Over the course of my career, I have worked a lot with anatomy and have gathered an insane amount of data on it. I often refer to Uldis Zarins' books Anatomy for Sculptures and Form of the Head and Neck, and I have multiple 3D reference models, X-Rays, and MRI cross-sections of the entire body. I have created anatomy models multiple times in VFX for humans and animals, and I even modeled the entire anatomy as a character for the Oats film "Firebase." As a character artist, anatomy has become second nature.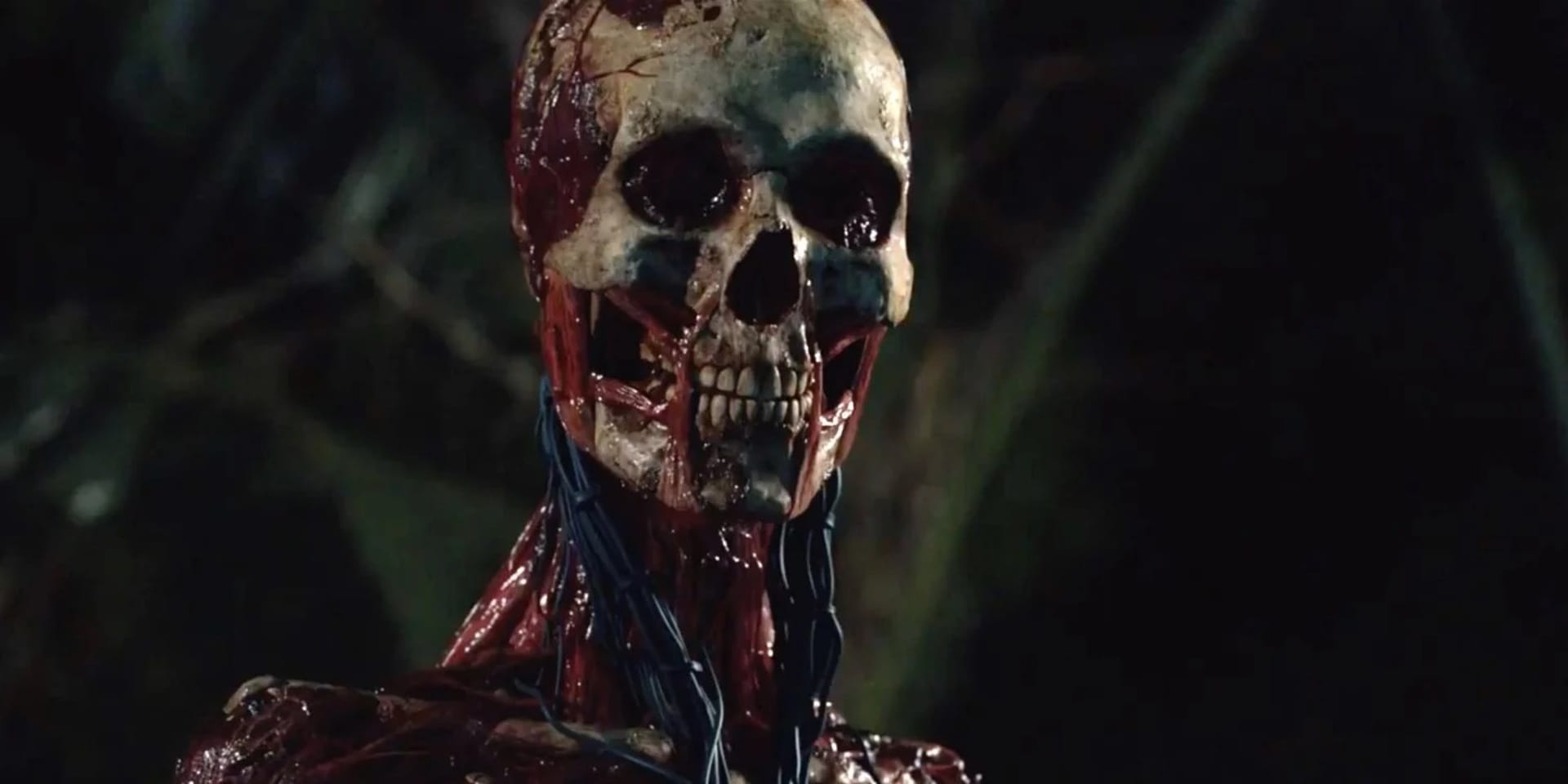 I'm getting Gunther Van Hagen vibes here — did he figure in your research at all?
IS: Definitely! Usually, before starting any artwork, I research other artists who might have done something similar. Gunther Van Hagan did a great job making the anatomical body come back to life, and his work questions who we are and how we see ourselves. His work doesn't focus that much on portraiture, though — it's less about the identities of the specific people and more about the human being. I intend to combine portraiture and anatomy.
Who was the model?
IS: The model is Ocean, a friend who is also an artist. "Prometheus" is the second portrait I have done of her now.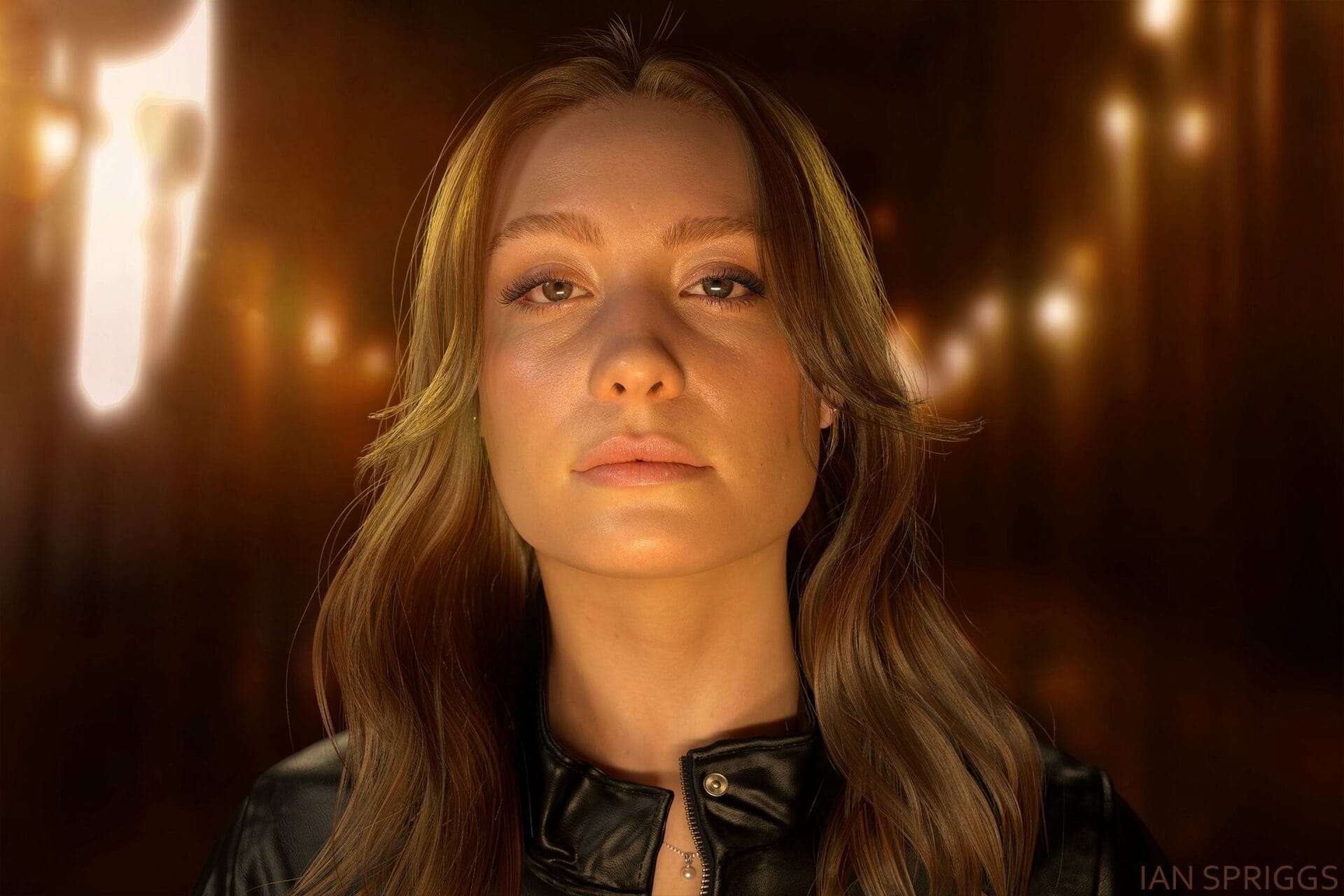 What are the advantages of using V-Ray's AL Surface over other shaders?
IS: The AL Surface shader is great, simple, and straightforward. Most of the time, I will just plug in the maps and use the default shader setting; it gives me a great start. I love that it has two specular channels, and in each, you can plug in a normal map for complete control over the bump.
I also find the AL Surface shader easy to use; there aren't too many controls. A lot of times, I find that with too many options and channels you end up getting lost, then revisions and changes take forever. The shader is set up so that you really don't have to customize it too much, and you can get amazing results just how it is.
The V-Ray frame buffer is great at A/B comparisons. It's probably not a new feature, but when I found it, it was like I was discovering gold!

Ian Spriggs, 3D Artist
Did you try any other new V-Ray features or techniques here?
IS: I think mostly the GPU rendering. Being able to see feedback almost live allows me to have more iterations in my work, and more iteration gives me more time to make mistakes and discover better techniques. The V-Ray Frame Buffer is great at A/B comparisons. It's probably not a new feature, but when I found it, it was like I was discovering gold!
It is also nice to be able to render 600 frames at 2000px x 2000px over two nights; then, I can render a few image sequences to see which I prefer. A few years ago, I was rendering 1200 frames at 1920x1080 on my old computer — I had to leave it running non-stop for seven weeks!
The amount of detail and variation in her skin tone is incredible. How much of the detail is texture, and how much did you sculpt?
IS: There is no definite answer to this one. There is detail in all the texture and detail in all the sculpt; it isn't one or the other.
For all my portraits, I take a lot of photo references, which help model the likeness, capture textures, create a believable pose and expressions, and to see what type of lighting works best. I use them to help make a diffuse map by removing all the specular and shadows, but usually, I have to hand paint over a lot of it to make a cleaner map.
Sometimes I can convert these diffuse maps to drive the sculpted details; other times, I use the sculpted details to drive the texture maps. The sculpted details also come from hand sculpting in Mudbox, where I have created numerous stamps and stencils over the years.
I touch every aspect of the skin throughout the process. It isn't a linear workflow, it is a back-and-forth between texturing and sculpting constantly, and after a while, they become seamlessly blended together.
I try my best not to show the process in the work. If you can see how digital humans are made, you lose the magic of it being believable.
How did you create the animated disappearing-skin effect?
IS: It was actually pretty straightforward. I created a second UVset for the head, where I plugged in an animated opacity map. The muscles underneath are hand-modeled. The animated opacity map was a combination of fire and smoke videos turned into a black and white mask in DaVinci Resolve.
How did your model feel about having her skin removed!?
IS: Her exact words were: "Aghhh new favourite!! All your work is phenomenal but there's just something about this one. It's really atmospheric. And so cool for me to see myself in this way!''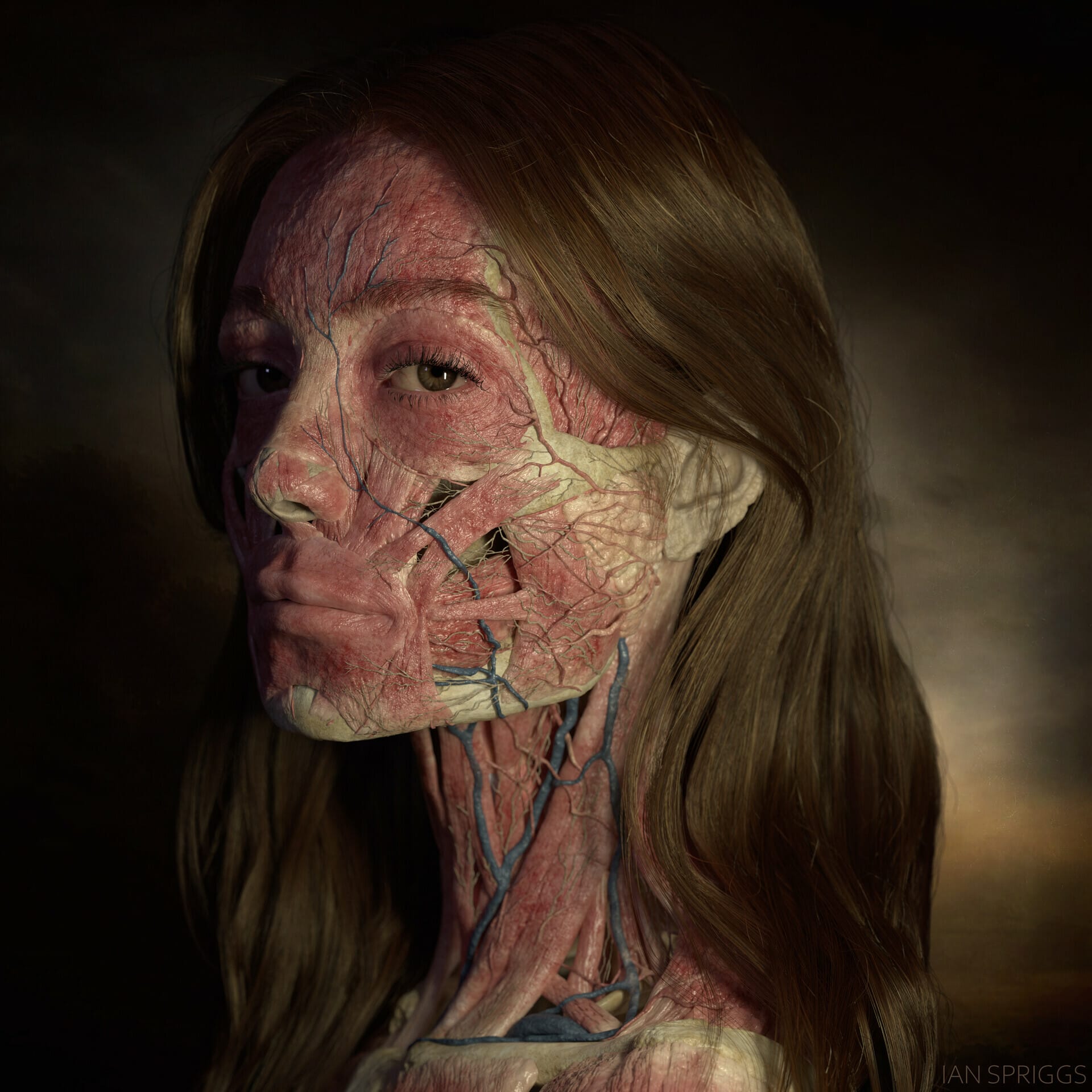 Have you ever thought about rigging your work for animation?
IS: Yes, I have thought about rigging my work before. The challenge of creating believable movement is, at the moment, the hardest part of CG. Do I spend six months to a year making a portrait move? Creating the blendshapes, the rig, corrective shapes, animation, and possibly shot sculpt per frame? Or do I spend a year making six to eight more portraits?
I am more interested in exploring concepts and ideas of portraiture first. I will attempt animation one day, but I want it to be for a portrait that it would work perfectly for.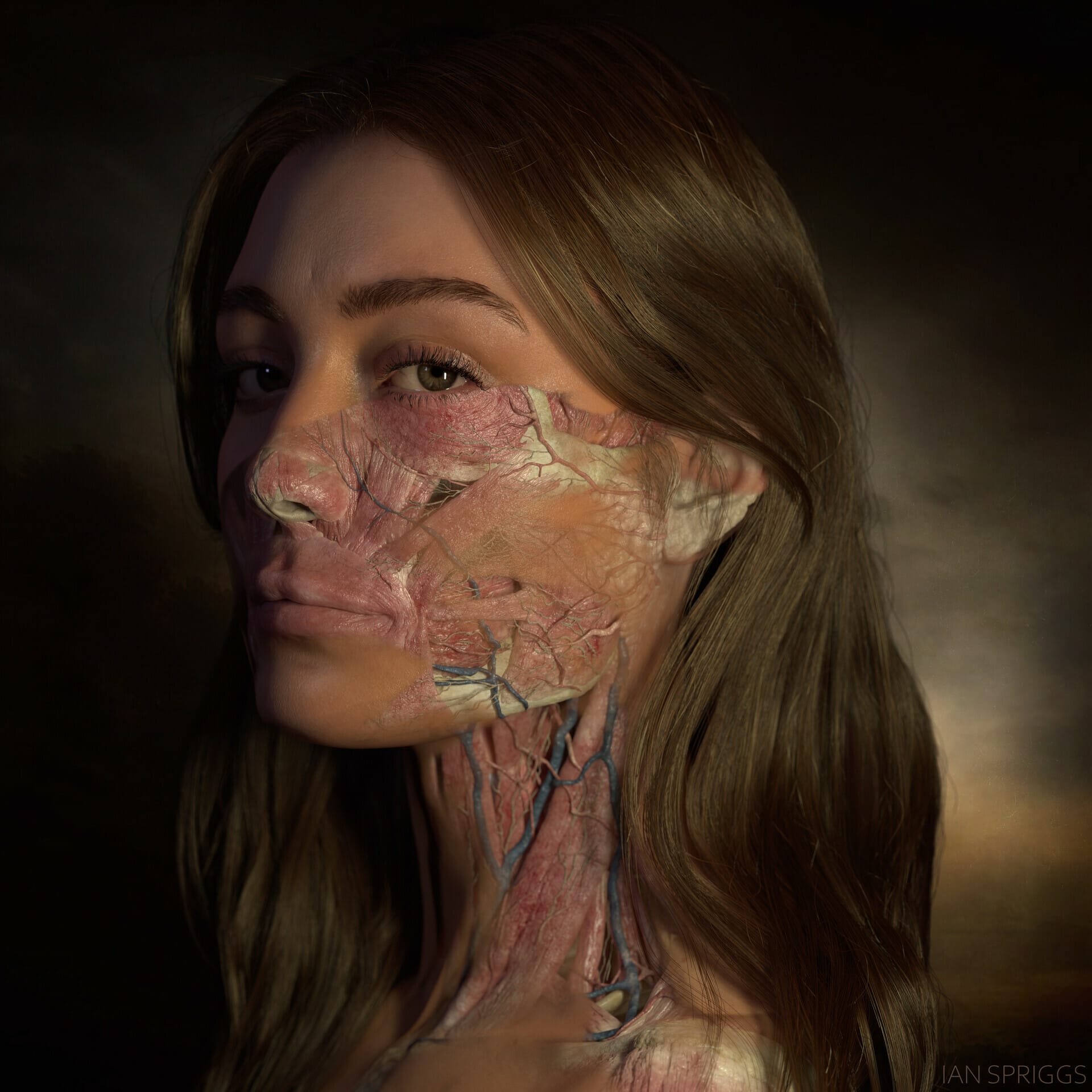 Will you reuse the anatomical model in future projects?
IS: Probably not. I modeled it in pose, so it would be quite difficult to repose it for a new character. Sometimes it is just easier to start from scratch each time. This anatomy model is specific to Ocean as well.
Anytime I have ever come back to reuse a model, I find that my skills and artistry have improved, so reusing an old model limits my ability for growth and prevents my artwork from being better than the last.
Find your inner beauty.
Try V-Ray 5 for Maya.