Can nature and architecture exist in harmony? Discover how Thilina Liyanage uses V-Ray for Sketchup to make animal and plant-based designs into livable spaces.
Using pencils, cardboard and his imaginative mind, 3D artist Thilina Liyanage creates mockups for what later become visualizations of stunning structures suspended in time, calmly resting in their serene natural surroundings. When technology finally comes into the process, it's V-Ray for SketchUp that he relies on, bringing in materials from Cosmos, cloning objects with V-Ray Proxy and playing around with Light Mix.
Keep reading to learn more about Thilina's unique artistic process and get inspired by his work, that may just make you feel like you're due for a walk in the woods. It's time to reconnect with nature, and we have Thilina to thank for the wise reminder!
Want to be the next one featured in our 3D Artist Spotlight series? Take the first step by submitting your best render to us!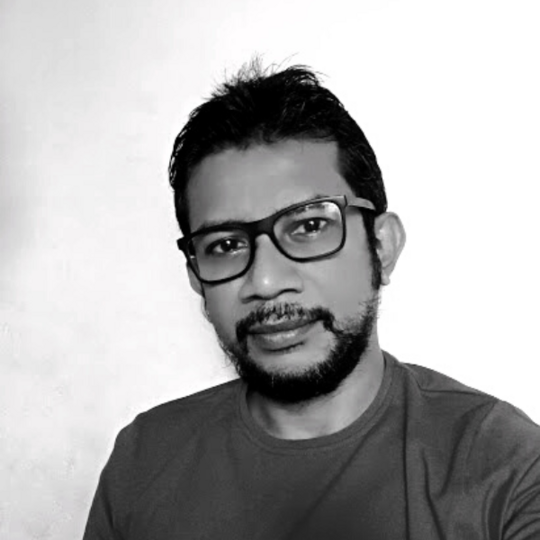 About Thilina
Thilina Liyanage is a Sri Lanka-based architectural designer and 3D visualizer. His passion is designing unique villas inspired by nature's five basic elements. In his spare time, he enjoys cycling and adventure sports — except roller coasters.
How did your 3D journey begin?
As a child, I was good at drawing and painting. I followed arts as a subject in school and participated in various art competitions. This passion drove me to learn architecture. I started learning SketchUp and I became an expert in 3D modeling with years of practice. With the use of V-Ray for SketchUp, the quality of my 3D modeling improved a lot.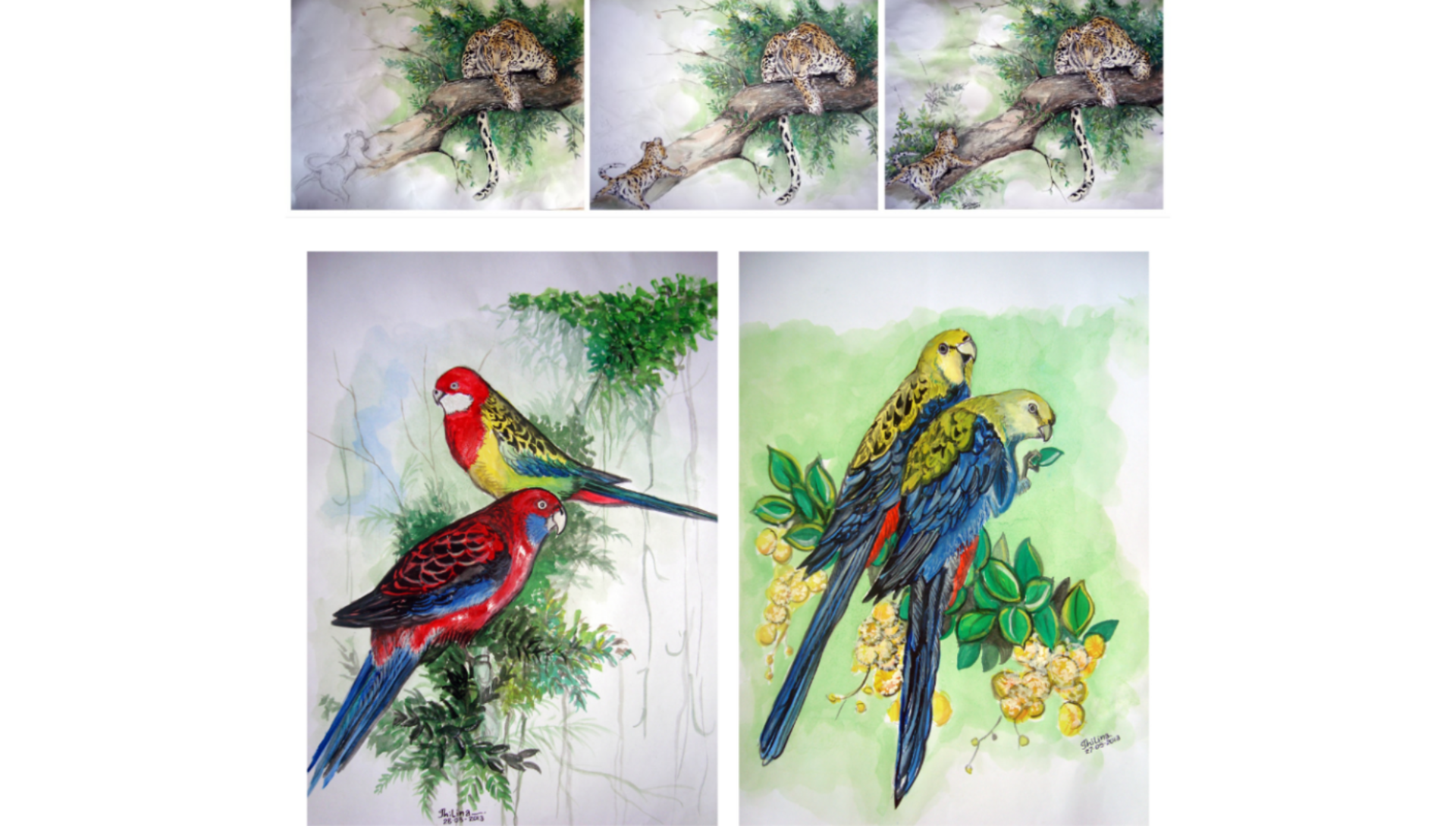 A majority of your work is villas and cabins. Do you picture yourself living in one of them?
Yes. I picture myself living in one in the future. I have not come up with a design for it yet.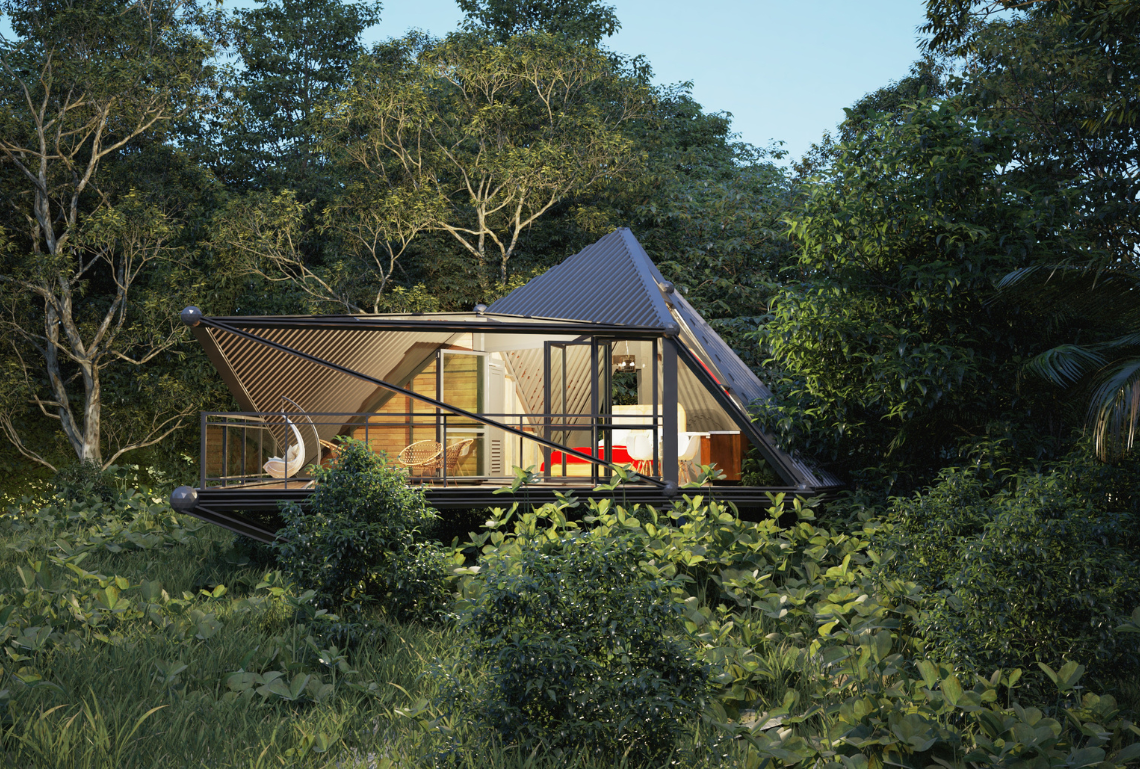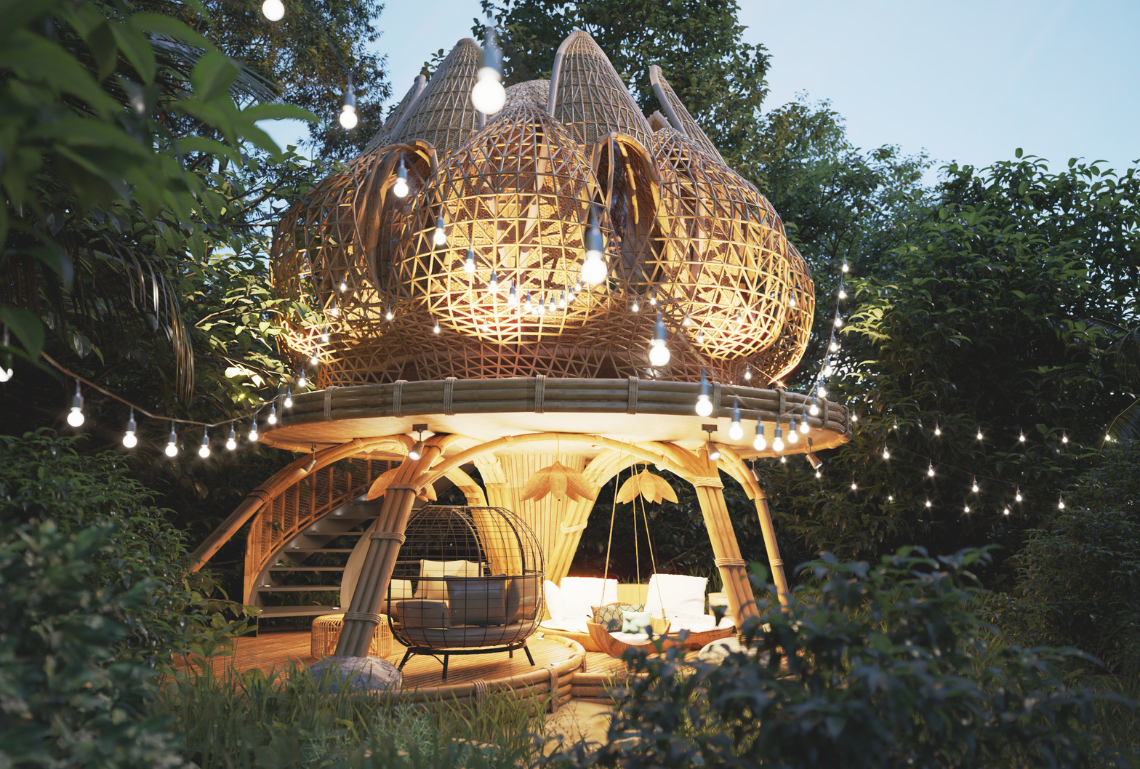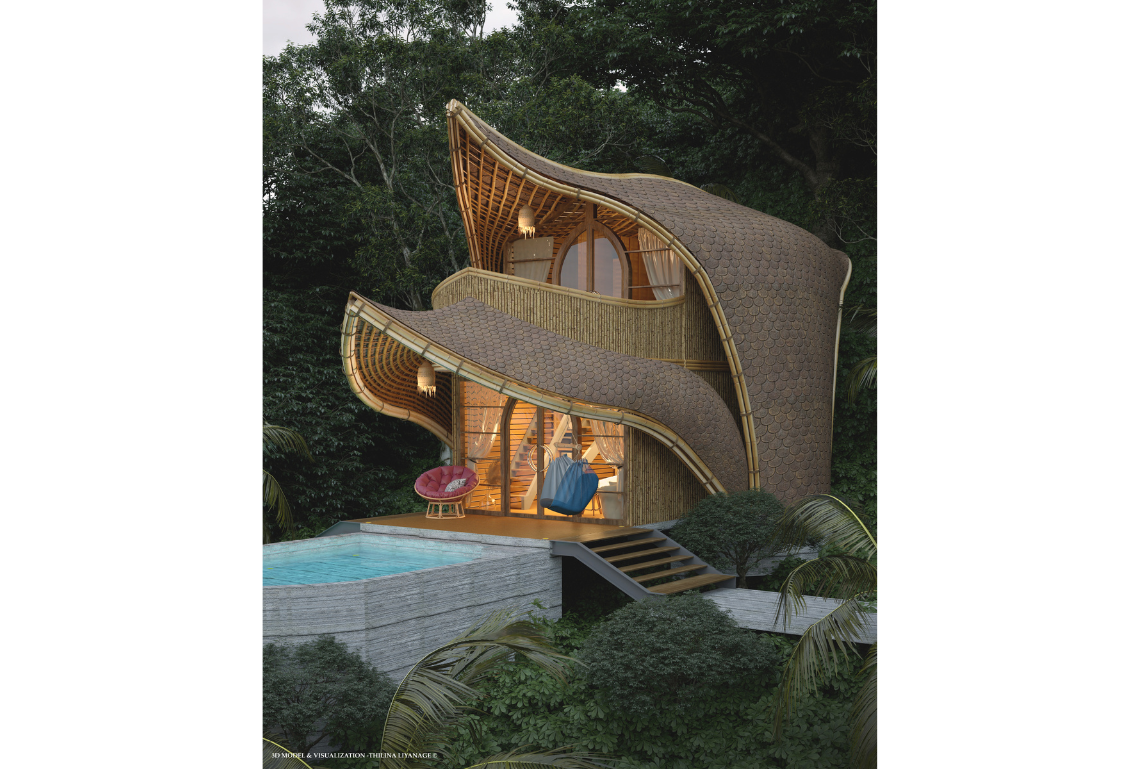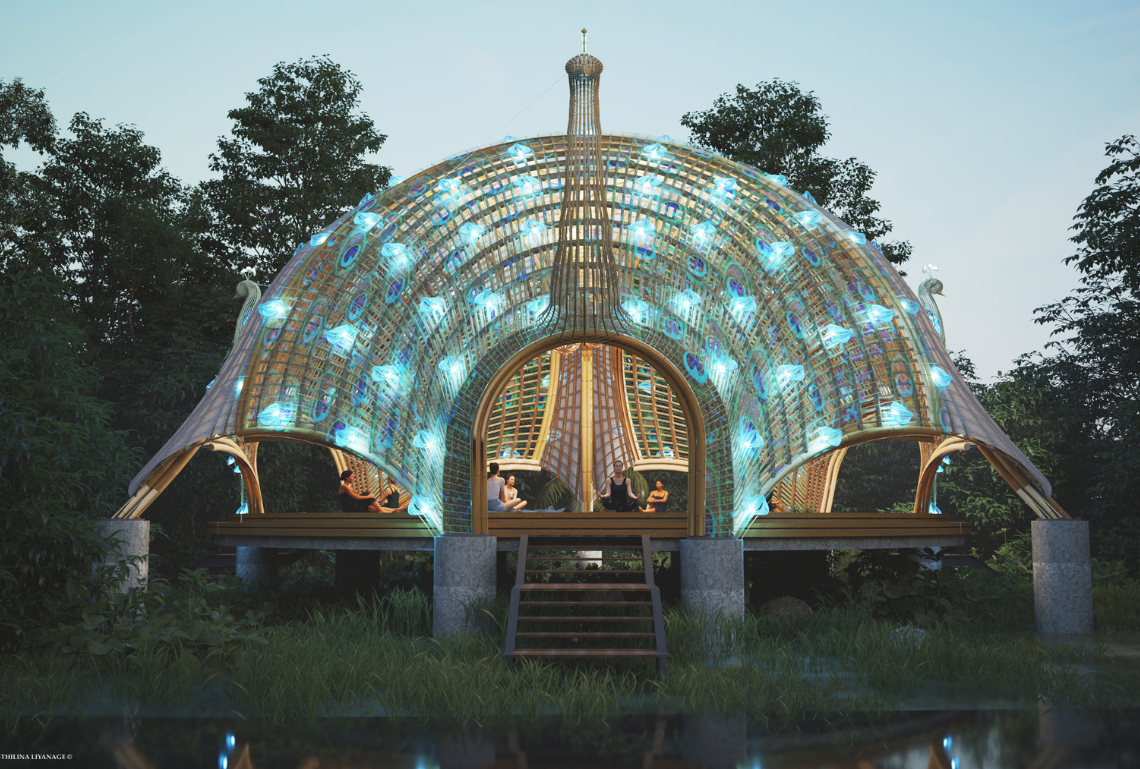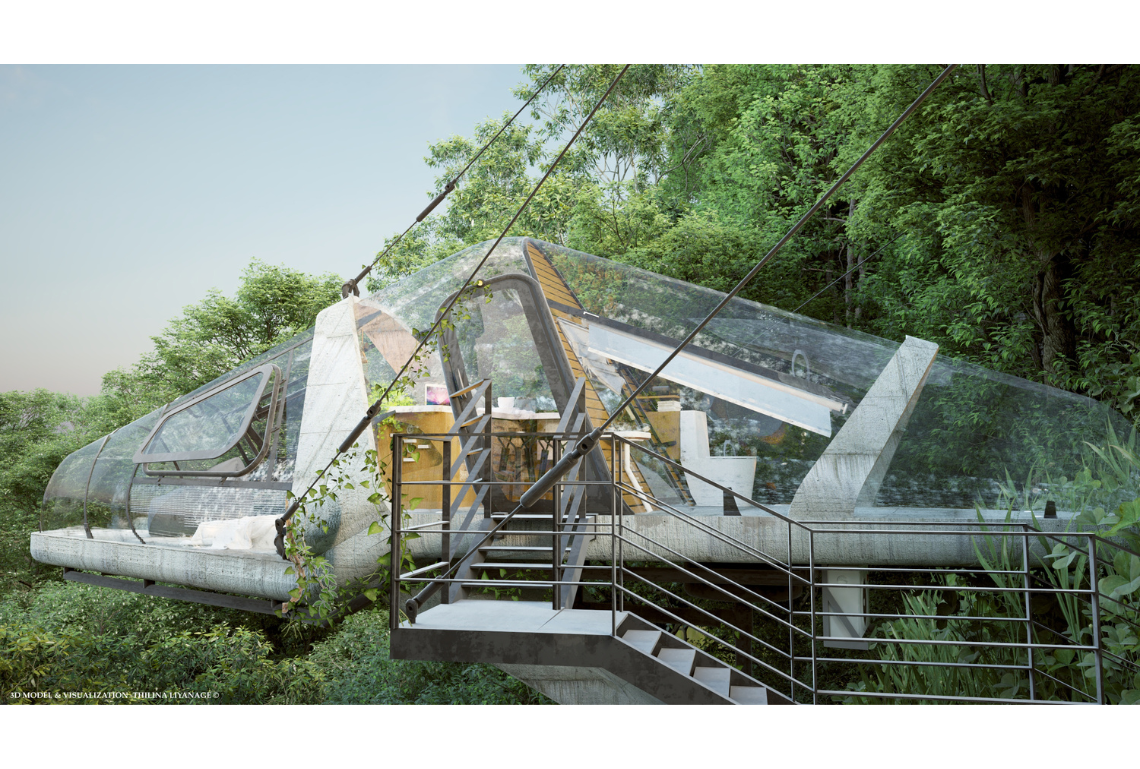 They look so peaceful and in sync with nature. How did you achieve this look?
I am a nature lover and I always look into the natural world to get ideas for my projects. I live in a peaceful area where nature has a lot of presence with waterways, paddy fields, and small forests. I take inspiration from these elements, even from a small pebble I might come across on my daily walks.
To what level does your own culture influence and inspire your work? Do you have a close relationship with nature and the outdoors?
Our culture and traditions are part of our lives. I have been influenced by the traditional drawings and architecture of ancient temples and sites in our country. I use the tropical environment and natural elements in my ideas for designs.
What is the story behind the Banana Flow Observation render?
The banana fruit and tree are a part of our day-to-day lives. Every household in our country consumes bananas and grows a few trees if possible. The inspiration came from looking at a banana flower near my house, which gave me the idea to come up with this design for an outdoor viewing deck, with a curved staircase and a round platform with a railing for safety. Materials are mainly natural elements such as bamboo, timber, and traditional leaves of coconut or palm trees, which also reduce the carbon footprint. The strength of this design is improved by placing two iron cables on each side. This is a very cost-effective design.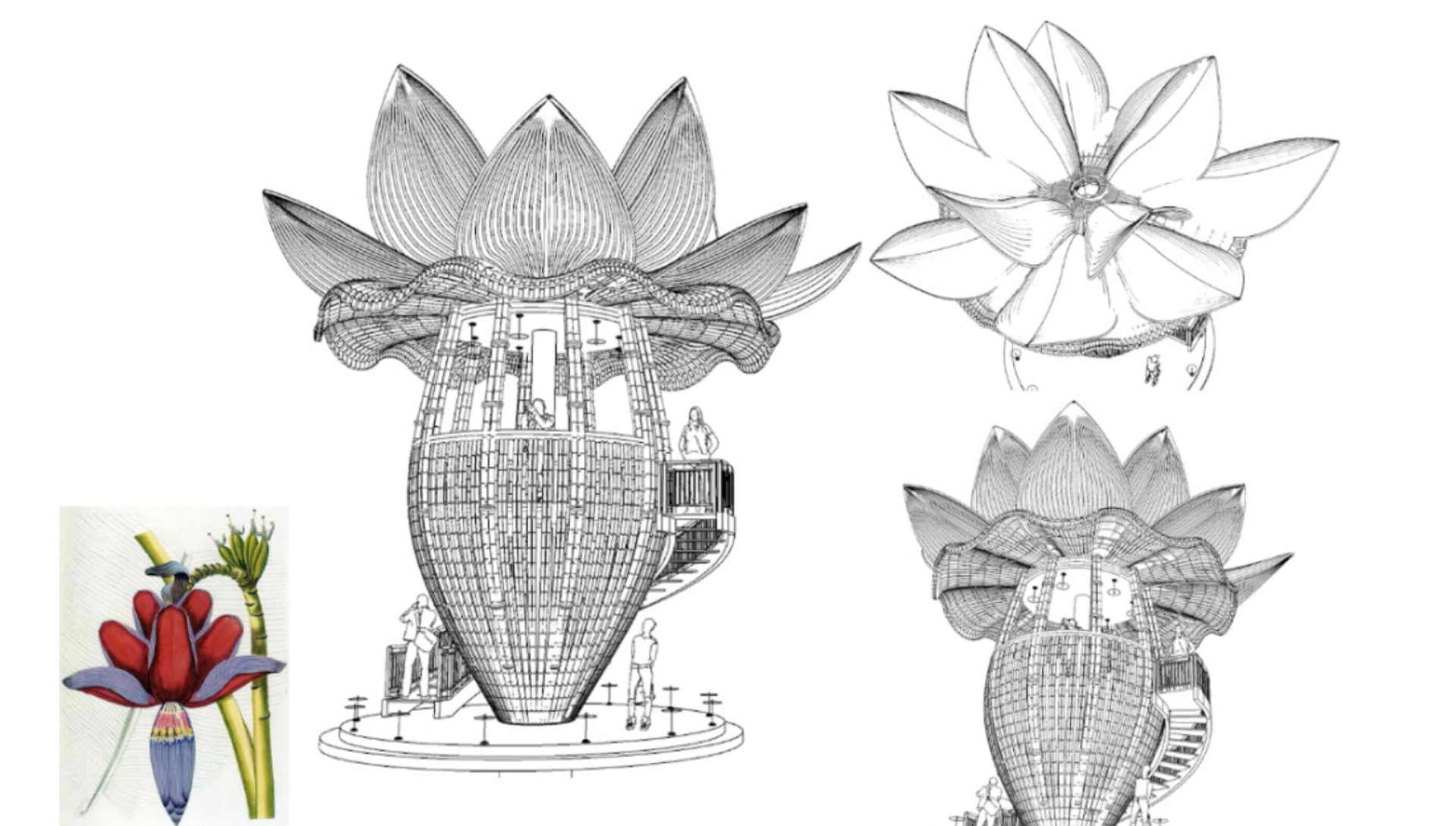 How did you come up with the shape of the roof?
Most of my ideas are inspired by natural elements like flowers, birds, mammals, and sea creatures. The shape of the roof represents the banana flower petals. Once I get an idea I quickly sketch it with a pencil on paper. On some occasions, I craft it using cardboard. Using the initial basic sketch, I start modeling in SketchUp, followed by texturing.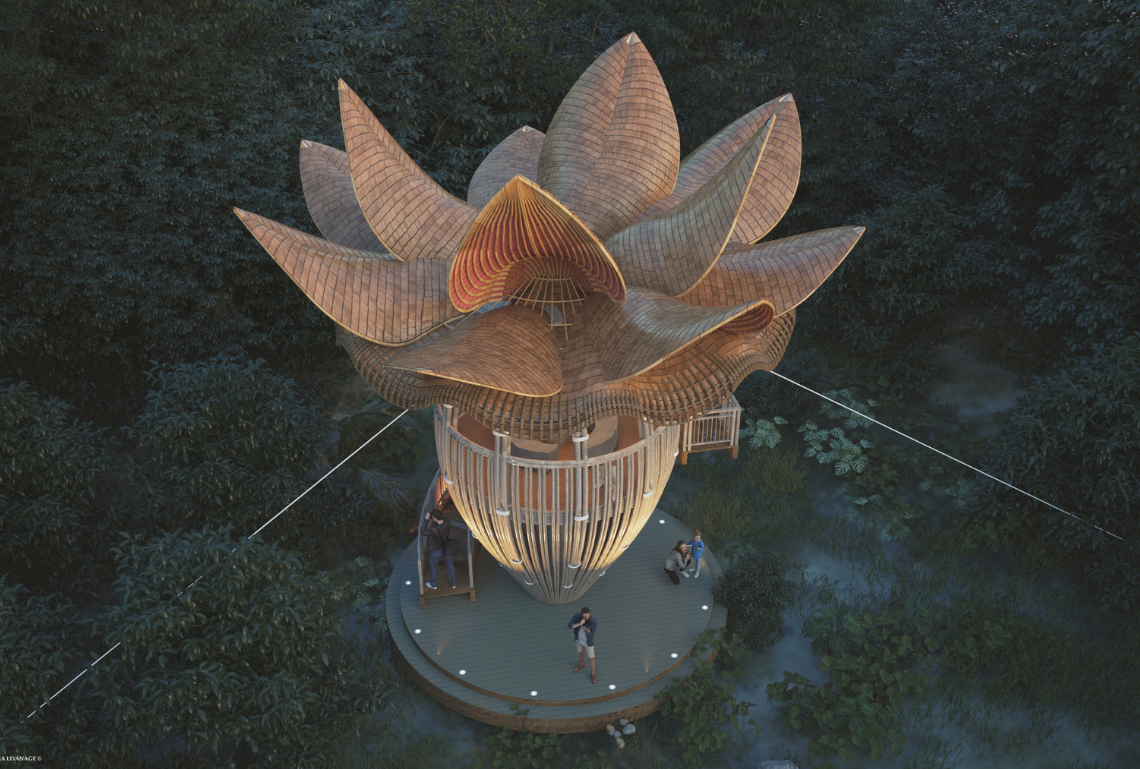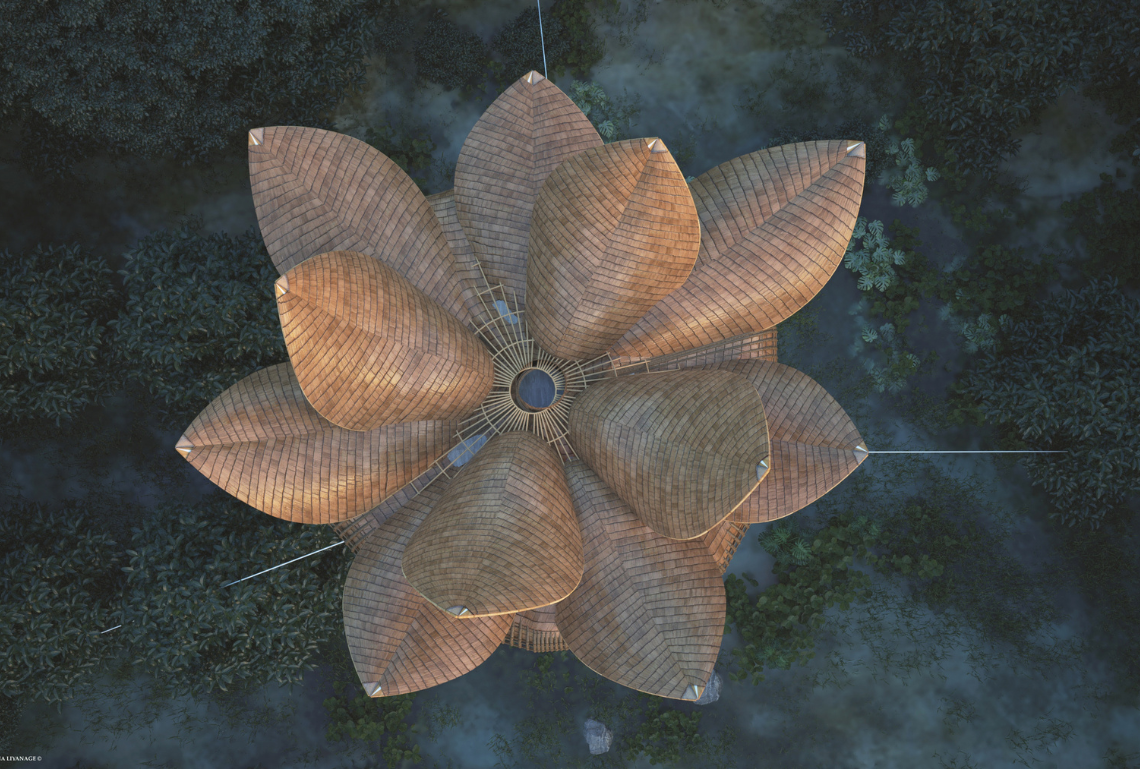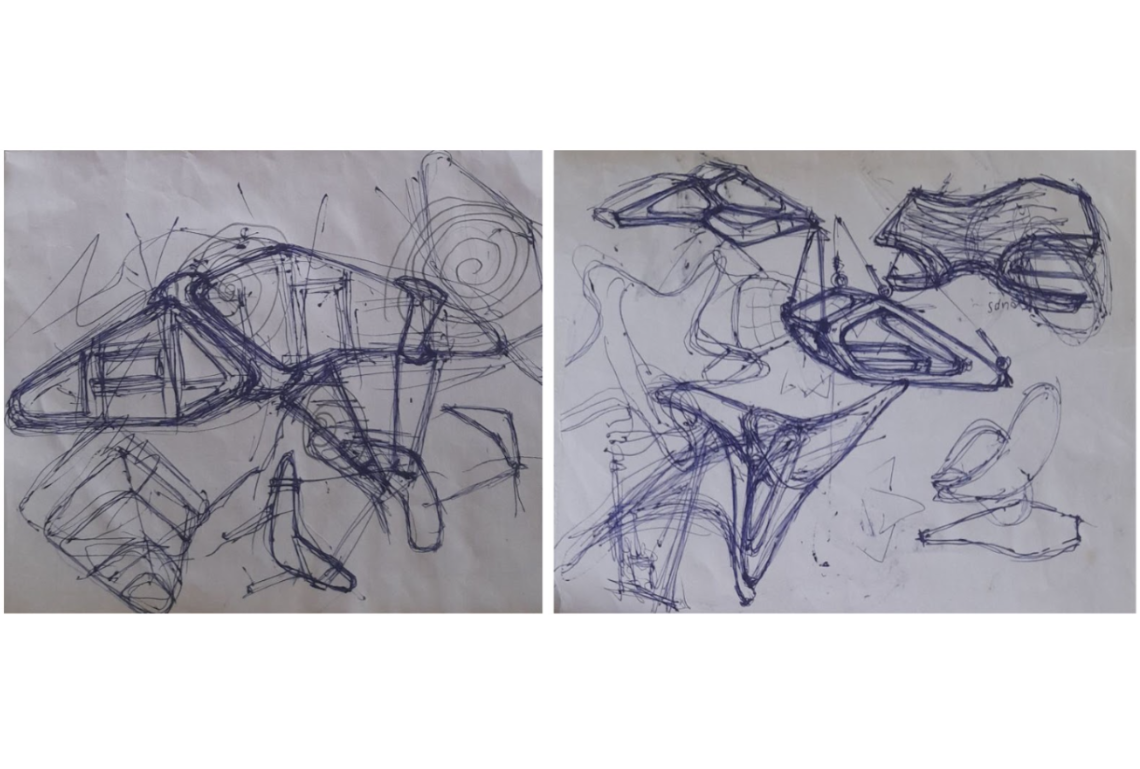 What V-Ray features did you use in creating the scene?
I have been modeling architectural designs using SketchUp for more than 10 years and V-Ray for Sketchup is the best rendering tool I have found to date. The most interesting feature that I like and have used in this creation is V-Ray Proxy, which gives the ability to clone realistic objects even using a mid-range graphic card or processor.
Another cool feature is the V-Ray Preset Material Library, which has many realistic materials to easily use in your design without having to create yourself. Therefore, it speeds up your work and gives really cool realistic output. I like the Chaos Cosmos browser in V-Ray, an awesome feature that gives you the ability to search and integrate realistic objects such as trees, birds, humans, and other objects such as vehicles.
Finally, I really like the V-Ray Light Mix render element. With the Light Mix render element I can change the light intensity and light color without re-rendering.
How do you expect V-Ray 6 to influence your workflow?
V-Ray has given me real flexibility and ease of modeling with its Cosmos material library and it produces a high-quality rendering output. I appreciate the existing materials in the library very much but in the future, I would like to see natural textures, such as bamboo, which would help me in my nature-influenced designs.
What stages were involved in creating the lighting? And what mood does it convey?
After modeling the design, I light it, followed by texturing. Lighting can be challenging in 3D visualization. If you do not apply the lighting correctly a realistic outcome can not be achieved. Each visualization is unique and lighting depends on the environment, angle, time of day, and even elevation. The entire mood of the scene is also controlled by the lighting.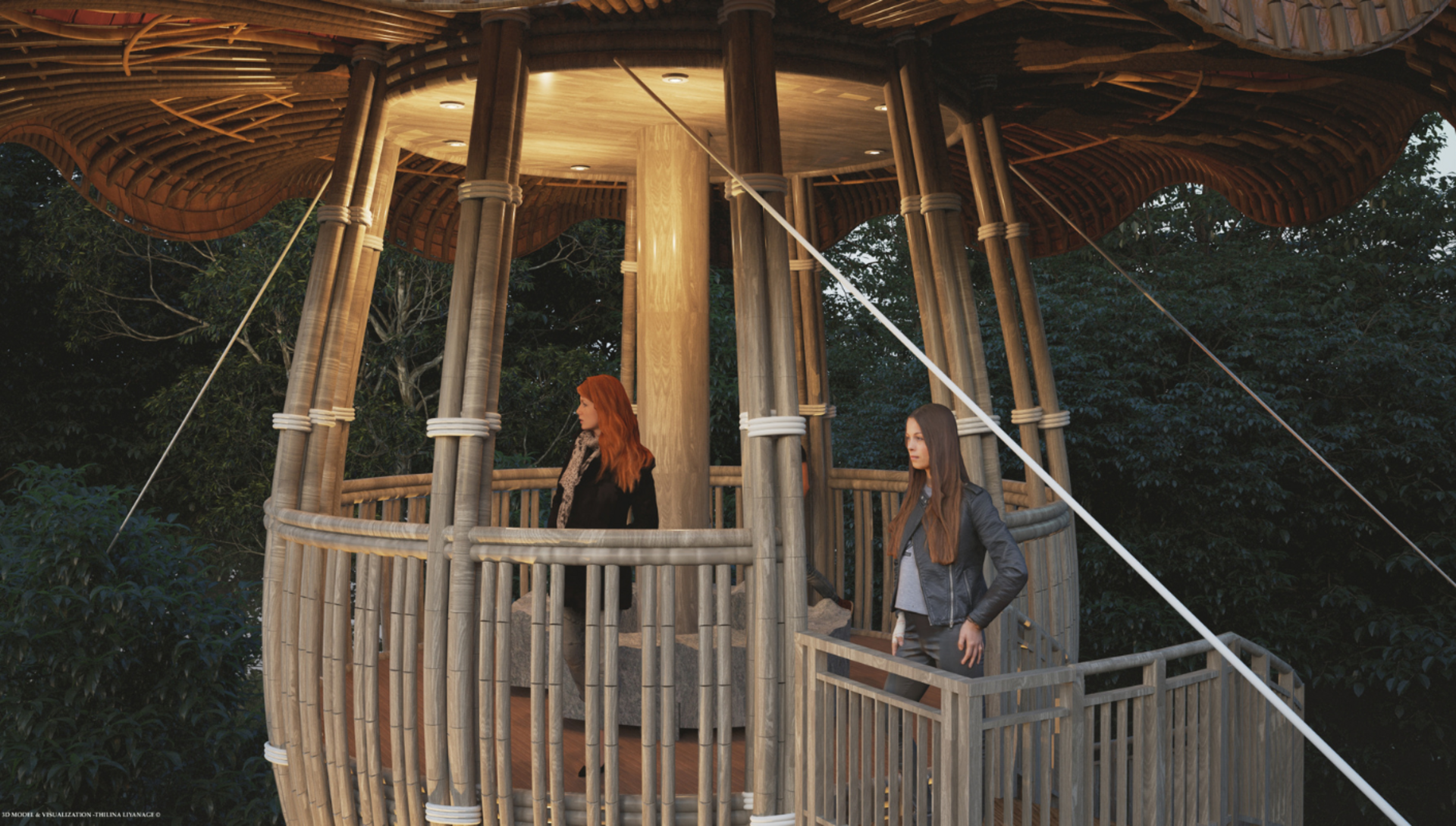 You use a variety of interesting materials in your renders. Do you have a favorite one to work with?
I really like natural materials such as concrete and wood. I have used both these materials in the Banana Flower Deck and Dolphin Cabin.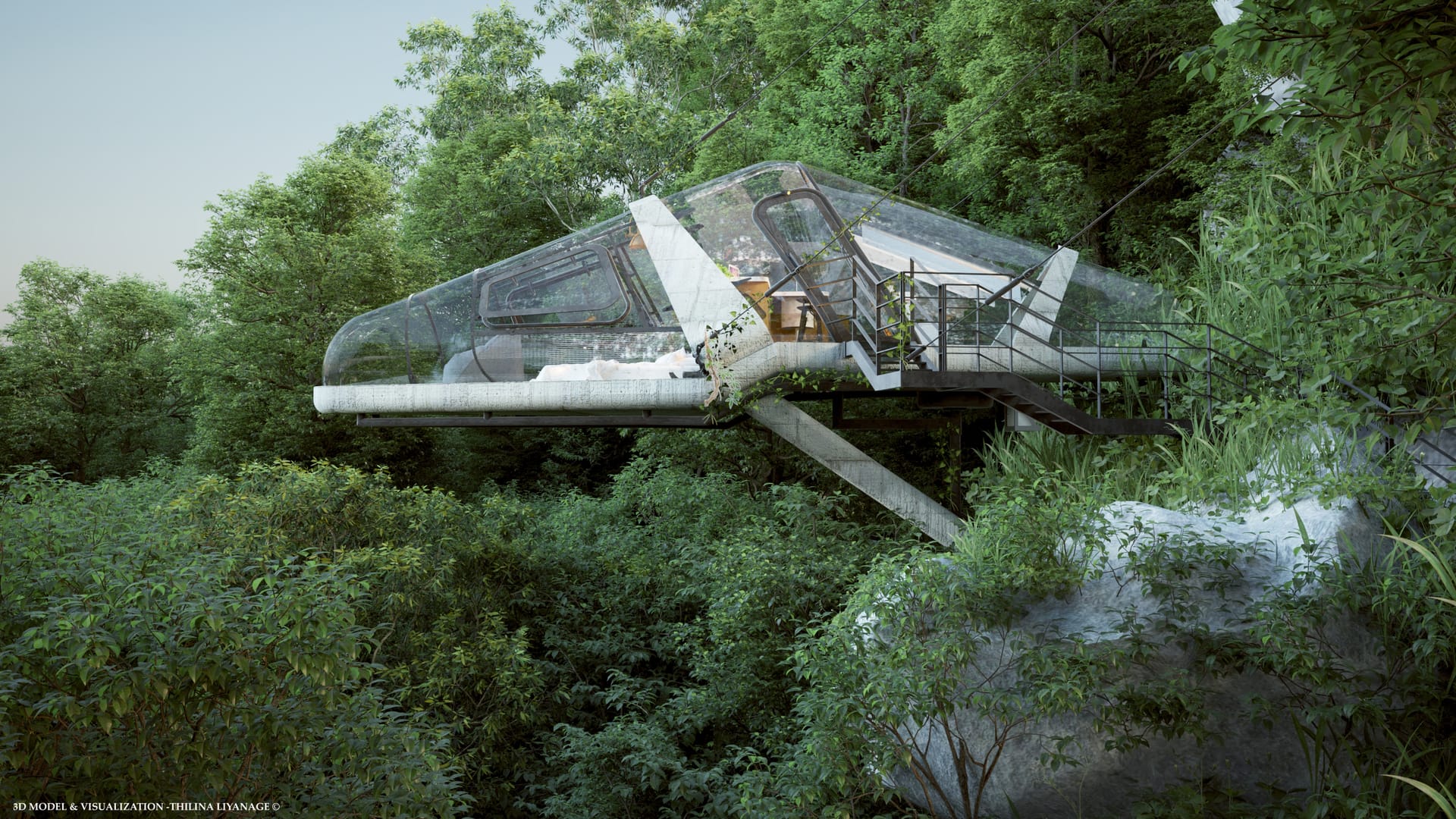 It's impressive how the Dolphin Futuristic Cabin has taken the form of a dolphin. How did you reach that point?
I wanted to blend nature into a futuristic design. I was inspired by the slender body of a dolphin and merged it with the idea of a futuristic pod or a spaceship, which produced a unique design.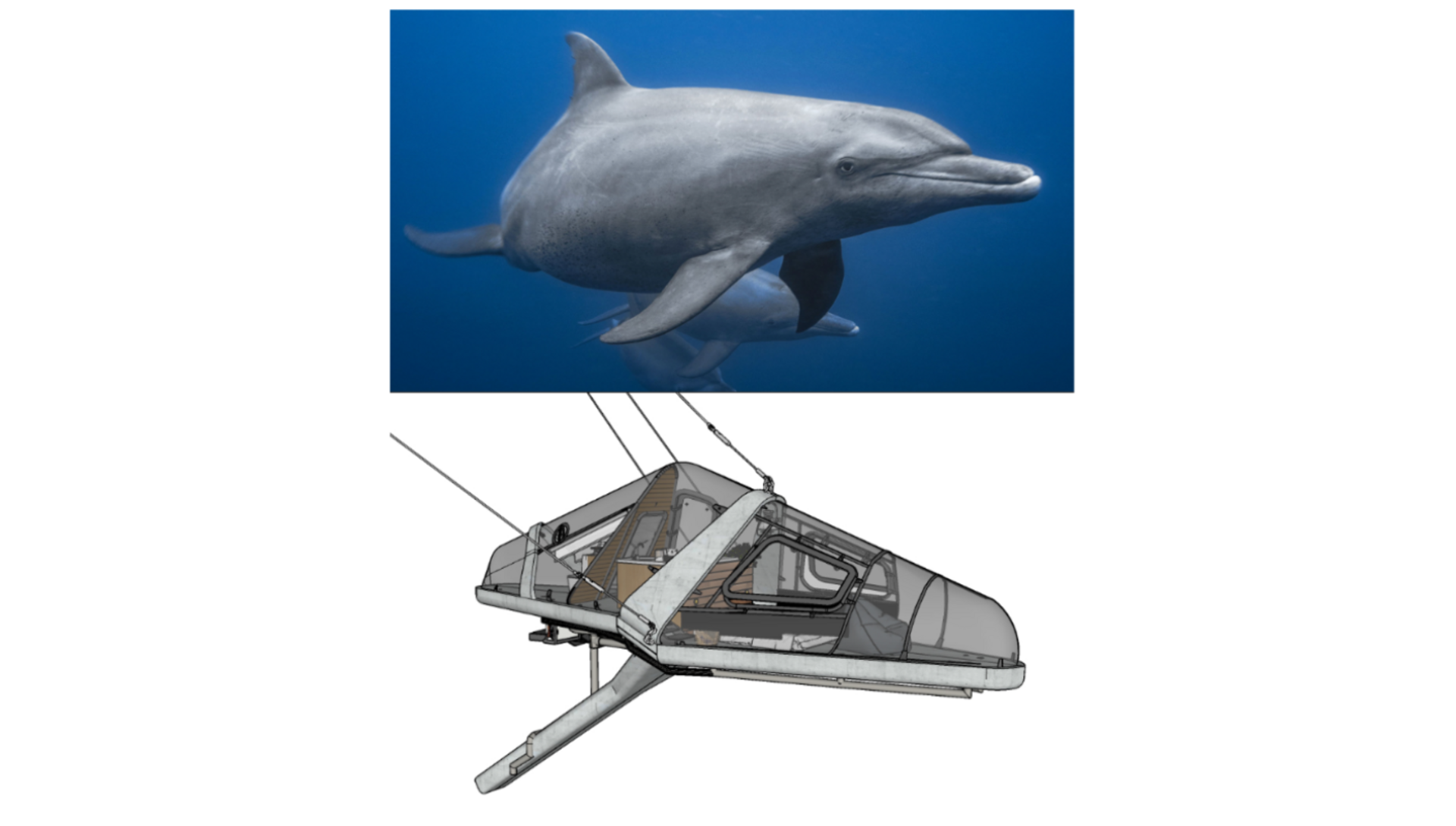 What did you find most challenging in the creation process? How did V-Ray help?
Lighting is one of the most challenging steps in a 3D creation. V-Ray's lighting options are impressive and they helped me to create a realistic outcome without any trouble. The second challenging step is the creation of a natural environment such as a large forest using high-polygon models like trees. I have overcome this challenge with the Proxy feature in V-Ray, and, as I mentioned above, it eases the load on the computer when rendering.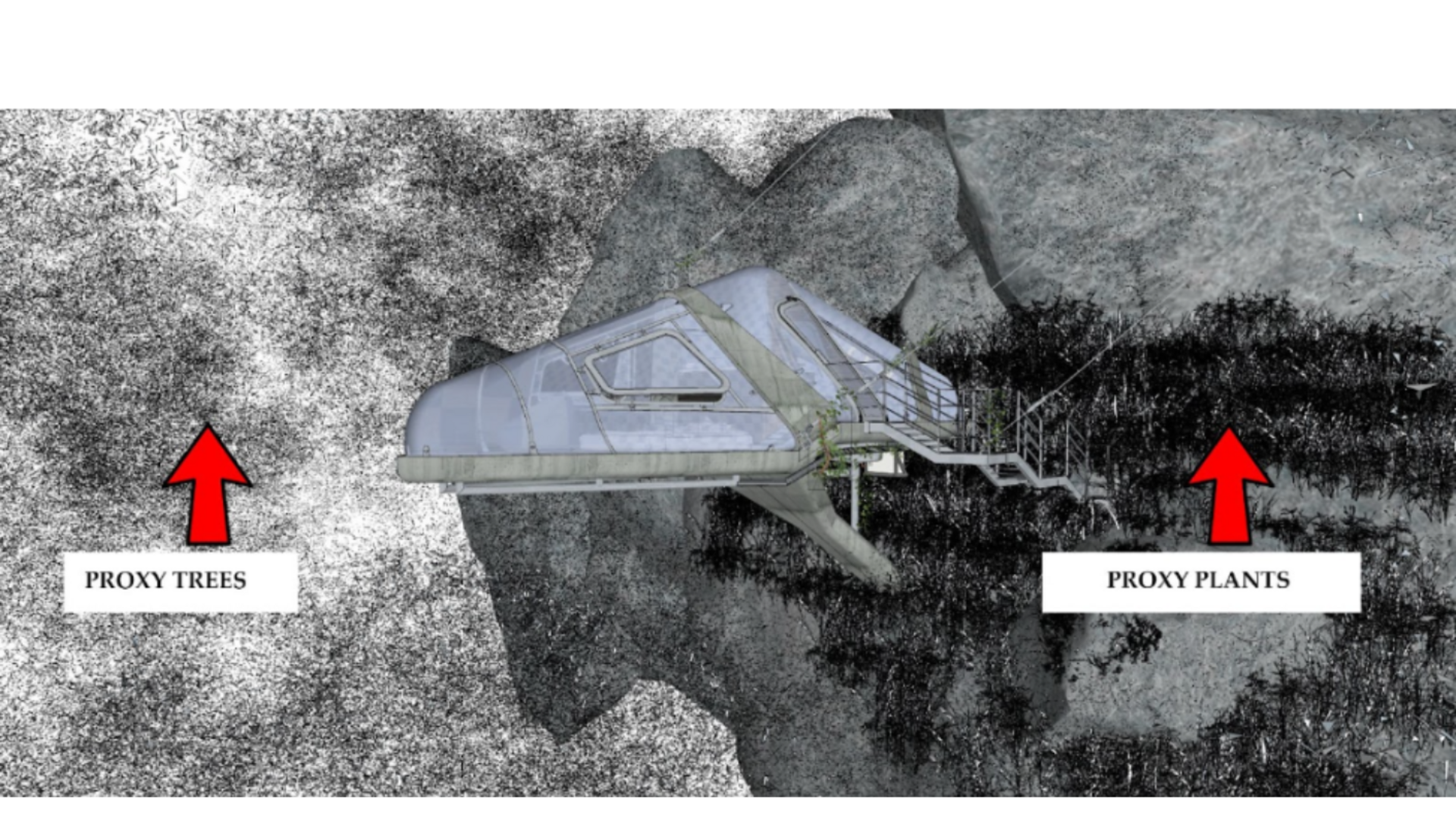 Show us what you've got.
Share your best Chaos render and it may just get featured on our blog.