3D artist Luis de la Rosa Beuzeville shares how to make the most out of V-Ray 6 for 3ds Max's newest features: Chaos Scatter, Enmesh and Procedural clouds.
Interior scene improvements:
Thin Film layer in the V-Ray Material, for soap bubbles, oil slicks, and more
Decals now support Displacement
Triplanar mapping now supports "Use displaced surface" for Diffuse channels
Improved SSS Translucency in the V-Ray Material (now faster, and on by default)
Accurate energy conservation for rough metals
More accurate metal Fresnel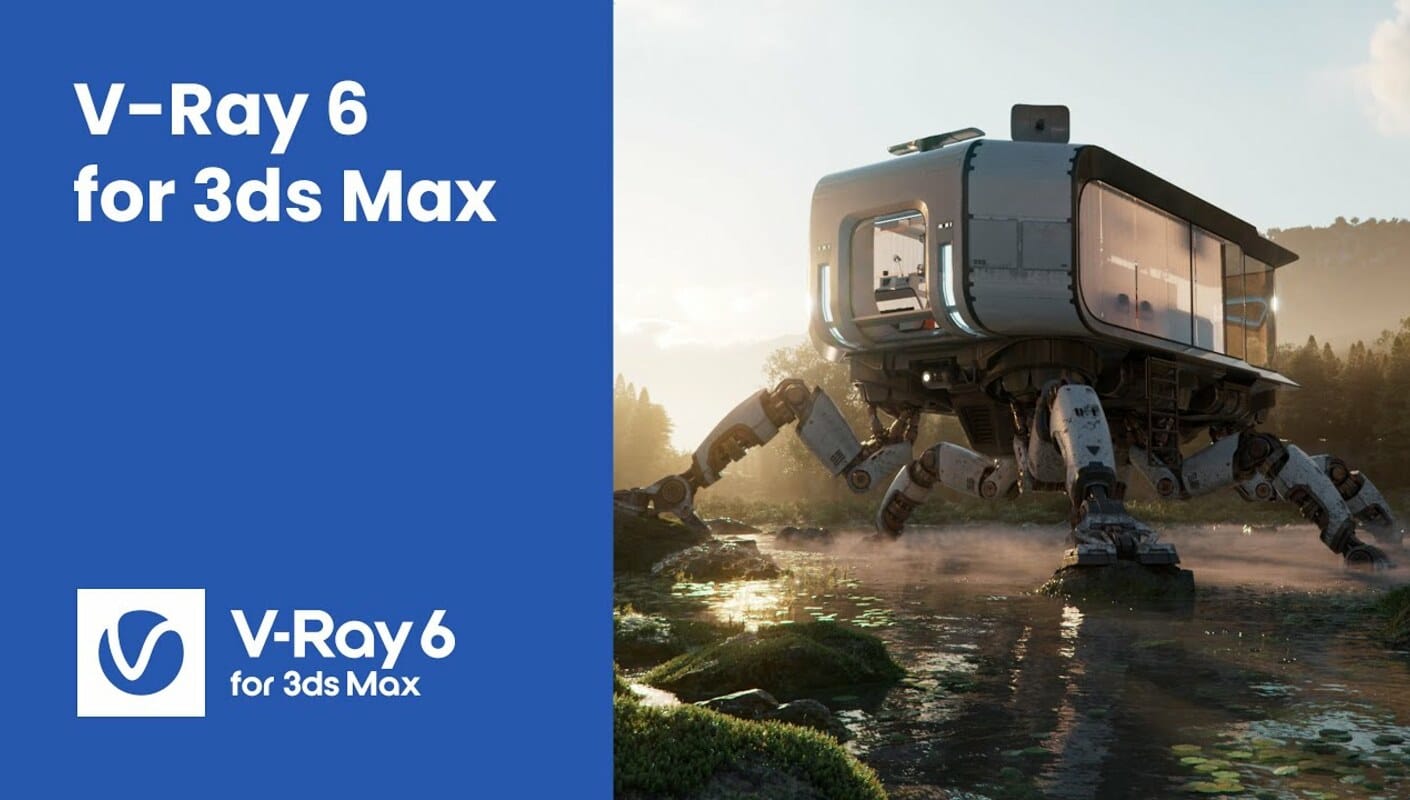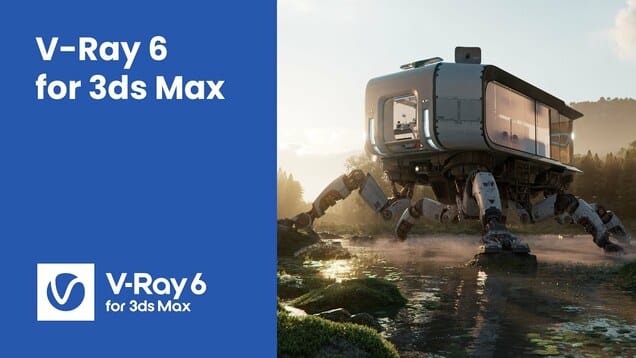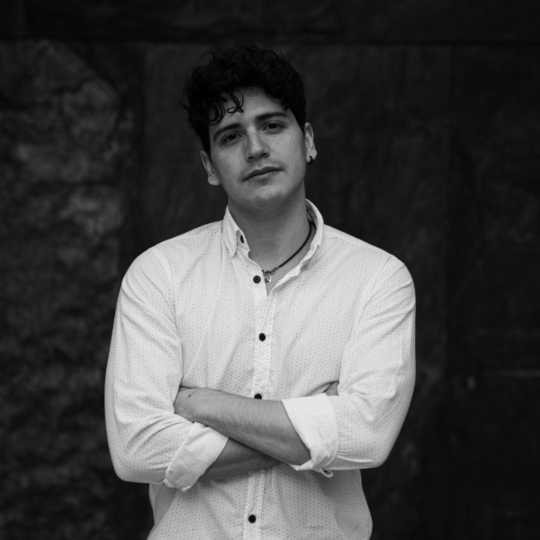 About Luis de la Rosa
Luis combines his freelance work in 3D with his passion for music playing in the streets of Madrid. He is an adventurous soul, and welcomes the uncertainty of where the next day might take him. He loves collecting colorful socks and unique vinyls.
How did you get started in 3D?
I consider myself a creative person and thanks to that, I've decided to venture as far as I could into the field of architecture. In my journey of self-discovery, I was able to develop my artistic skills and discovered my true passion: a career in architectural visualization.
Once I finished my degree I decided to study at one of the best visualization schools, School-ing, where I have been able to actualize my dream of becoming a 3D artist. My passage through the Rookies has confirmed my desire to continue learning and enjoying the fantastic world of 3D.
© Luis de la Rosa Beuzeville
Let's talk about your latest interior project created in V-Ray 6 for 3ds Max. Can you walk us through your workflow for creating the bubbles? They look so real, I'm tempted to reach out and pop them!
The new V-Ray 6 features allowed me to squeeze the ideas I had on my mind to a new level. For the bubbles, I started with different bubble shapes and then, thanks to TyFlow, I created a bubble simulation letting them float all around the scene. The Thin Film feature just made the material creation way more easy. Then I continued by creating a simple glass material with Thin-walled activated. I experimented with different thickness values to achieve color variations in each bubble. To illuminate the scene, I used a VRay Sun with Procedural Clouds and finally got the results I was looking for.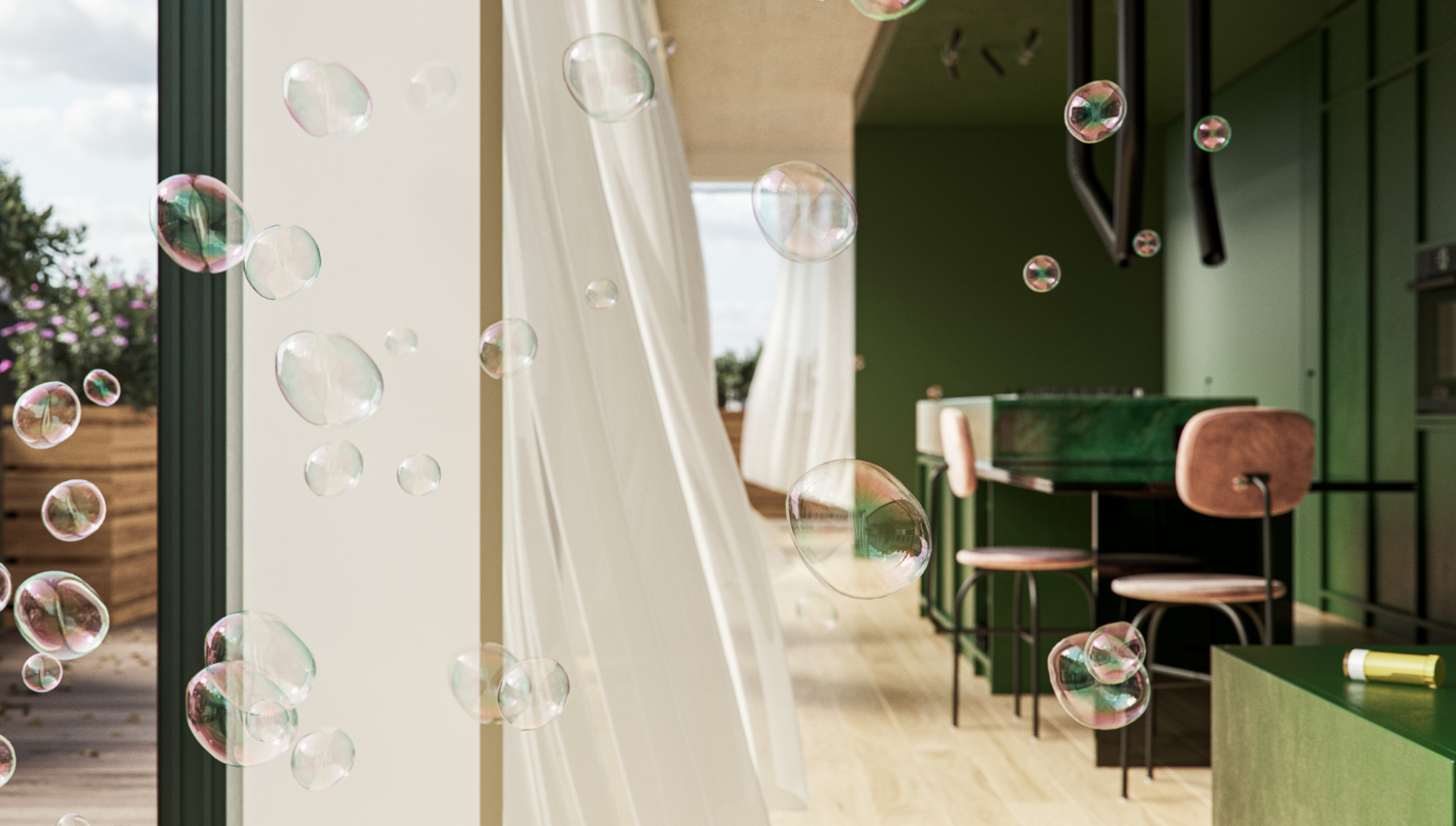 Did you use Procedural Clouds in the exterior?
Of course I did; I found this new feature quite useful for my project. Working in real-time with Procedural Clouds and seeing how they affect the scene illumination is something I needed in my workflow.
How about Enmesh and decal?
I did not need to use Enmesh this time but I actually think this new feature could be useful for developing furniture with complex patterns. I will give it a chance soon. In the same way, I tried the new VRay Decals displacement. It was a struggle to understand at first but in the end, it worked fine for me. For sure I will use it in a future project.
What factors are important to keep in mind in order to achieve high realism in a rendered project?
In my opinion, creating good PBR (Physically Based Rendering) materials and understanding how the illumination and cameras work are essential to achieving realism in my images and V-Ray provides me with many tools to achieve that.
Are there any tips and tricks you always depend on to speed up your workflow?
I am used to working with scenes that are as optimized as possible, so I can enjoy better performance while I'm creating and rendering. Therefore, I find it essential to use V-Ray Proxies and V-Ray Light Lister, and to try to be as organized as possible with the naming and layering of my works.
If you could invent and program any feature to make your art better what would it be?
I would say to create Negative Displacements in VRay Decals. It would be a great feature and It would help me a lot during my creative process.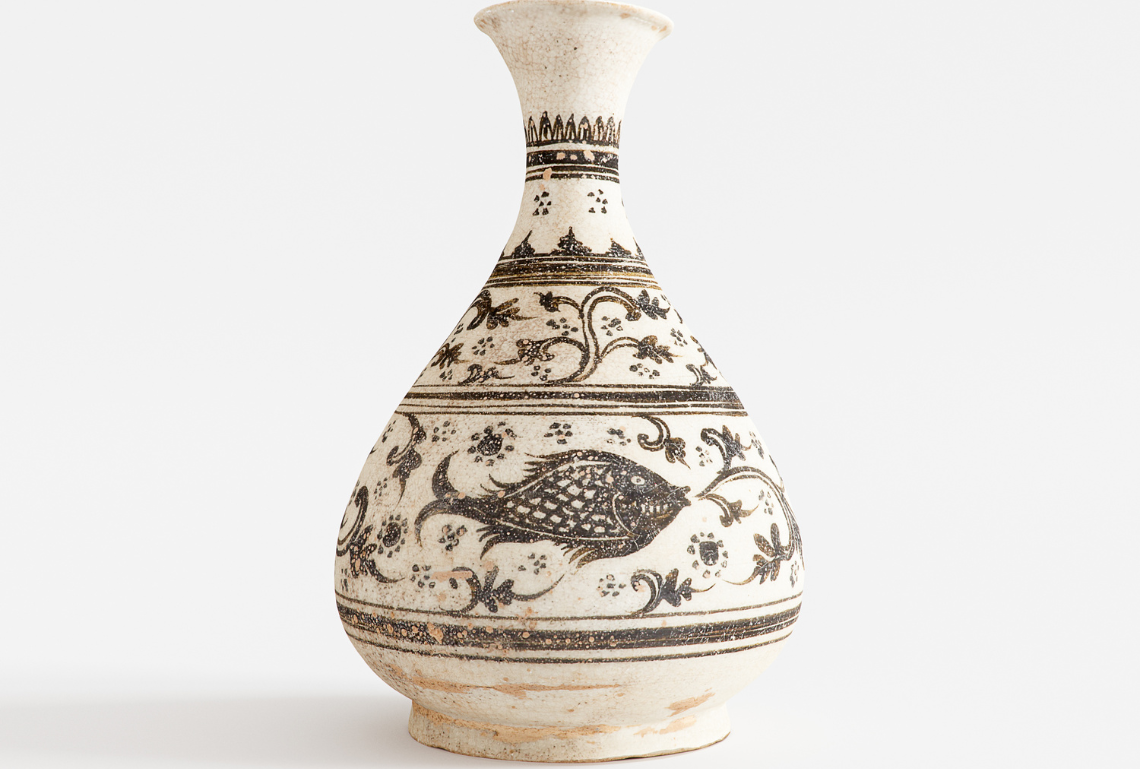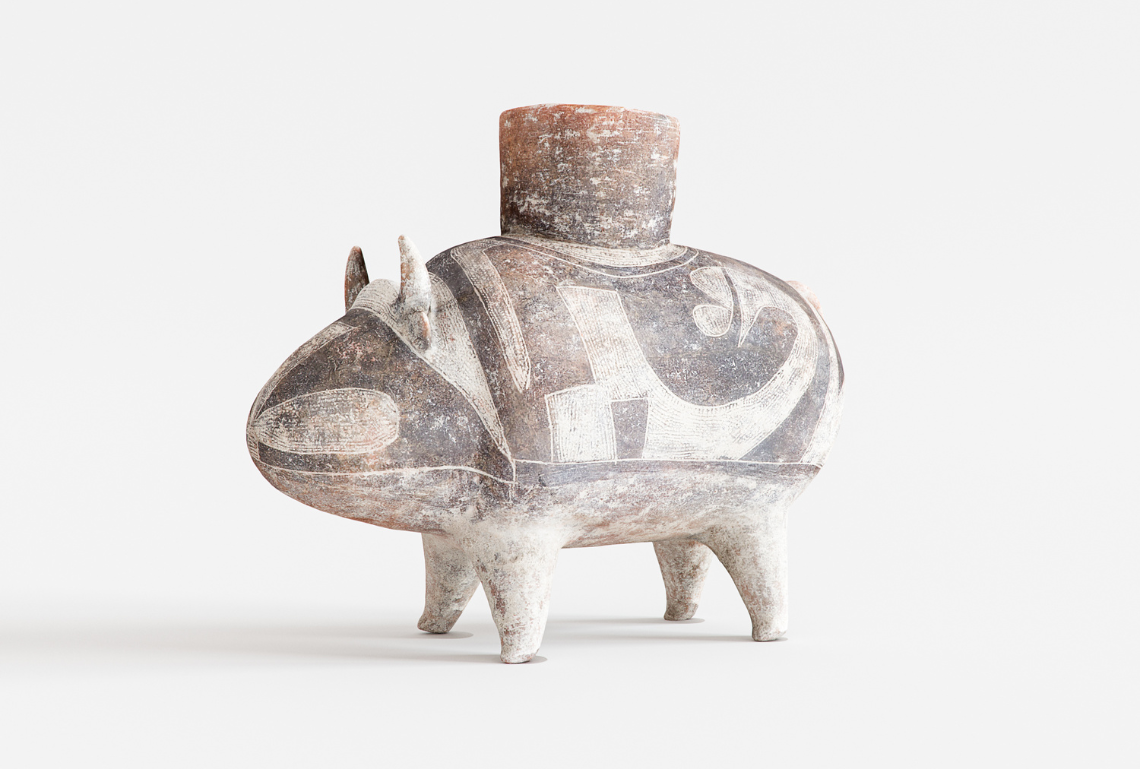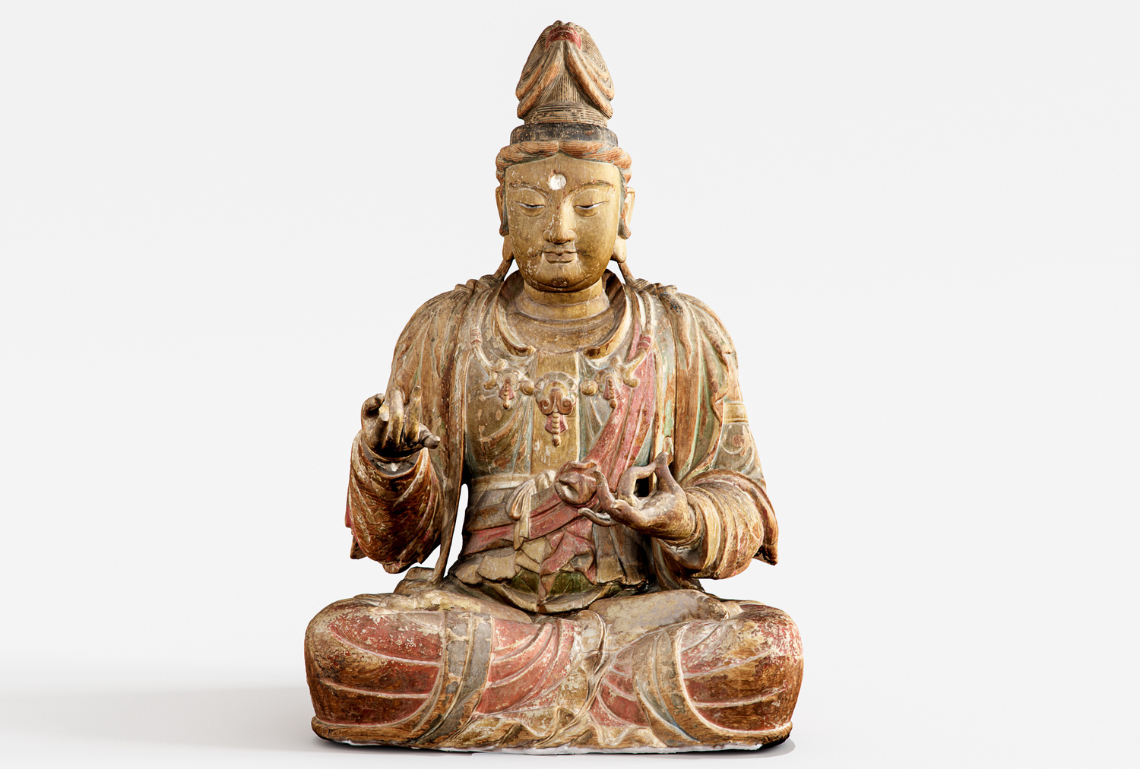 Where did the assets on the shelf come from?
For specific elements such as vessels and statues, I usually visit Sketchfab because there are tons of objects made using photogrammetry. I also use 3dSky for regular models such as books, kitchen tools, etc... Given the choice, I prefer to do the modeling myself, especially if there are unique objects in the scene that you can not find in any 3D library.
Describe the person that would enjoy living in this space.
I feel the people who would like to live in this kind of place are those who enjoy colorful and open spaces and also care about details and decoration.
How important are camera composition and framing? Do you use any composition guidelines in your work?
I found this very important indeed. If I want to give realism to my renders a good camera composition is a must. Every project is different, so the first thing I always do is to set a lot of cameras around each scene and decide which of them are best for what I want to show. Also, I follow some composition rules such as the rule of thirds, cropping the images, and playing with the height of the camera to give each image a personal and unique touch.
There are so many rules and principles of art to follow. Do you ever break any of them?
I try to make my images as balanced as possible looking to give them some harmony among the visual elements that can be obtained as the result of using different colors, shapes, or sizes, and I usually do not follow any principles of art.
The depth of field has created an interesting result. How do you control and decide on a shallow or deep DOF?
I find the Depth of Field feature essential in my workflow. I work with it quite often when creating my images. The way I use it depends on if I need to create product images where I use a deeper DOF or if I am creating more architectural images where I use a shallow DOF to emphasize the foreground and give more realism.
I like the natural shadows of the curtain. How did you go about creating the lighting in your render?
I wanted to give this space a neutral illumination with moderate shadows and a more natural lighting mood. To reach that I decided to use a V-Ray Sun as the main illumination for the scene. It was necessary to increase the V-Ray Sun size multiplier and modify some Procedural Clouds parameters to get the desired result.
© Luis de la Rosa Beuzeville
How did Chaos Scatter help you distribute the sprinkles around the donuts in your retail project?
I found the Chaos Scatter interface quite friendly and in some ways reminds me of other scatter software, this fact allowed me to work comfortably from the beginning. It was so fun to distribute some differently shaped sprinkles around the donuts.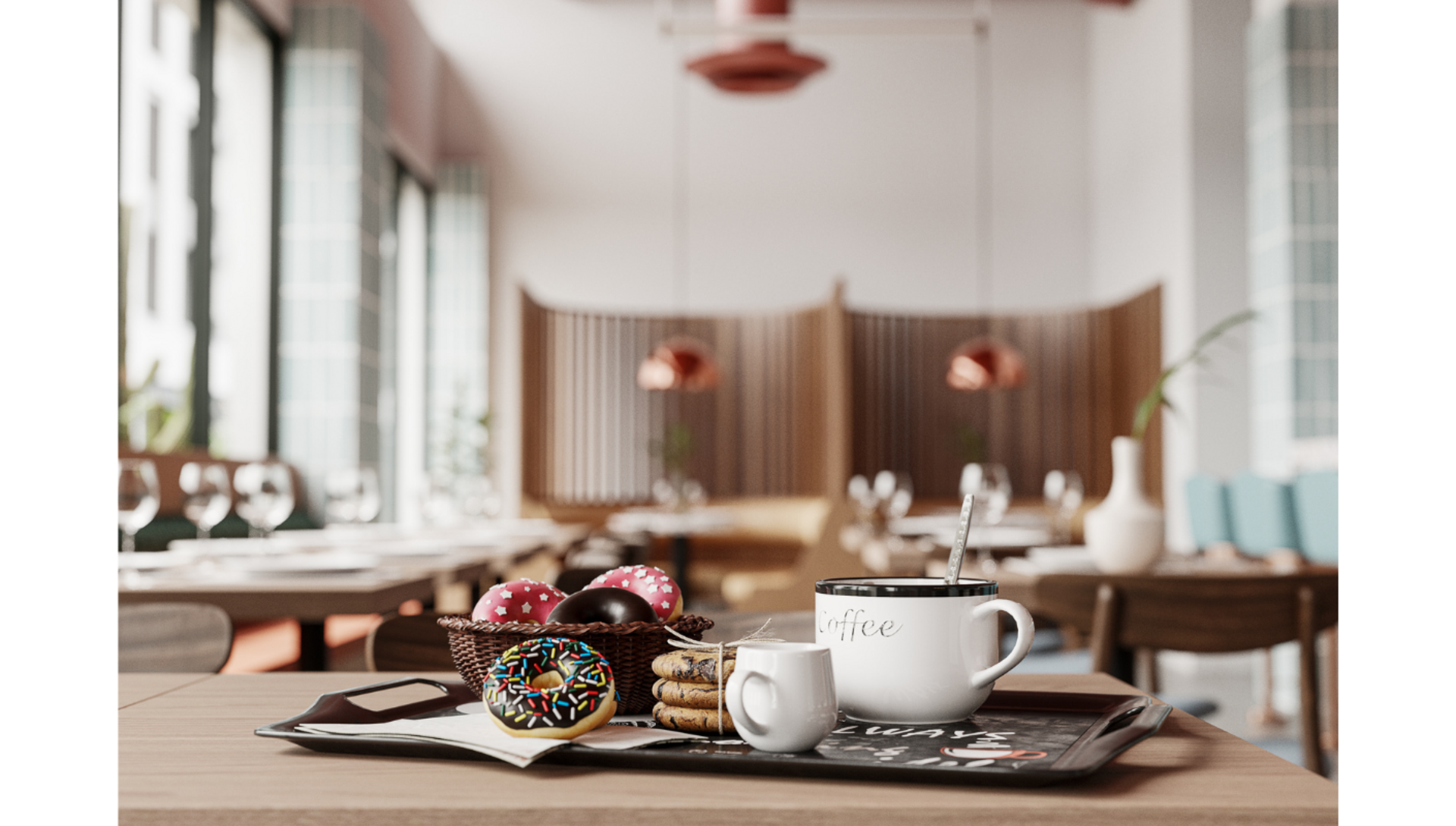 © Luis de la Rosa Beuzeville
What visual elements are important to you in this render and how did V-Ray 6 help you achieve them?
I consider the ceiling the most important visual element of this image which stands out for its color and geometric complexity. I also feel the textures represent a fundamental part of this scene too. During this process, I found V-Ray 6's texture processing faster than V-Ray 5's, and this made a huge difference in terms of efficiency.
What do you think of the latest version for 3ds max? Let us know how it has enhanced your workflow. Feeling brave? Send over a render that uses one of our newest features, and we may just include it in our next article!
Bring your designs to life.
Try V-Ray for 3ds Max free for 30 days.