Learn how archviz studio Rembrandt is Dead brings architectural tales to life with V-Ray for Rhino, 3ds Max, Chaos Cloud Rendering, and Chaos Phoenix.
Rembrandt Is Dead. This is not just a true statement — it's also the name of a Munich-based archviz studio that pays tribute to old masters with lighting, color, and shape. Despite this, the company isn't restricted to traditional methods but incorporates modern elements in order to create contemporary, immersive, and photorealistic environments that tell stories to the viewer.
The studio relies on V-Ray for Rhino in its workflow as it brings efficiency to its 3D rendering pipeline, while Chaos Phoenix for 3ds Max and V-Ray for 3ds Max breathe life into its scenes. Recently, Rembrandt Is Dead has adopted Chaos Cloud Rendering to shorten their rendering times and increase productivity.
Keep reading to learn more about the studio's journey, workflow, and processes.
What is the story behind your studio's name?
We started our business in 2012 after working in several architecture and design offices. The first name of our studio was P2Konzept. The P was for Paechthold, 2 for Anne and myself, and Konzept because we initially did many conceptual projects. The first name was a fast decision, and we did not really think about it. Over the years, our business became more specialized in visualization, and we were searching for a unique brand name. That was the starting point for Rembrandt is Dead (RID).
The idea behind RID is the way the visualization business works today — it is a little bit like the way the old masters did their work. Most of the time, it was commissioned work, and the masters tried to bring new techniques into their paintings. The best could handle the light, the colors, and the shapes perfectly.
We don't want to compare ourselves with the old masters, but every time we are starting on a new project, we try to handle the light and the materials with all our passion, and often we focus on new techniques. Rembrandt was a true master. He was versatile and defined new styles. He was innovative and a perfectionist, expressive and soulful. Rather than sticking to rules, he worked on his own terms.
How was the creative duo formed? What were some of the challenges you faced along the way?
Anne and I met while we were studying interior design in 2005. At our starting point, we did a lot of 2D planning and hand sketches. 3D was something for the future. Our computers were not very powerful, and it was time-consuming and expensive to do renderings. But we were totally fascinated by the possibilities of 3D. We weren't very experienced, but we did a ton of test renderings and learned along the way.
There weren't many tutorials on the web. We had to build our workflow and decide on which tools we wanted to invest in. One of our biggest challenges was to focus on the right things. In the beginning, there were so many tools on the market, and we wanted to try every technique to get better. When I look back, V-Ray was a really good choice.
What is your typical workflow like, and how does Chaos fit into it?
Our main business is architecture visualization. In general, we start with Rhino for modeling. Rhino gives us the opportunity to import several file formats, and it is a fast tool. It has Grasshopper for parametric design and a direct link to Archicad, which is powerful CAD software.
After we finish the 3D model, we carry on with 3ds Max for the visualization and animation. In both tools, we use V-Ray, especially for the high-end renderings in 3ds Max. We have been using 3ds Max since version 9 with V-Ray 1.5. It is the main tool for our images. In Rhino, we use real-time rendering to check the geometry and coordinate with our clients. For some of our projects, we use Chaos Phoenix to do simulations. For the project "House R," we started to use Chaos Cloud Rendering.
Chaos gives us a powerful toolset and a great render engine which we use throughout the entire process. We have the possibility of GPU and CPU rendering, or we can switch to Chaos Cloud for bigger projects. As of now, I would say that this workflow will remain in place.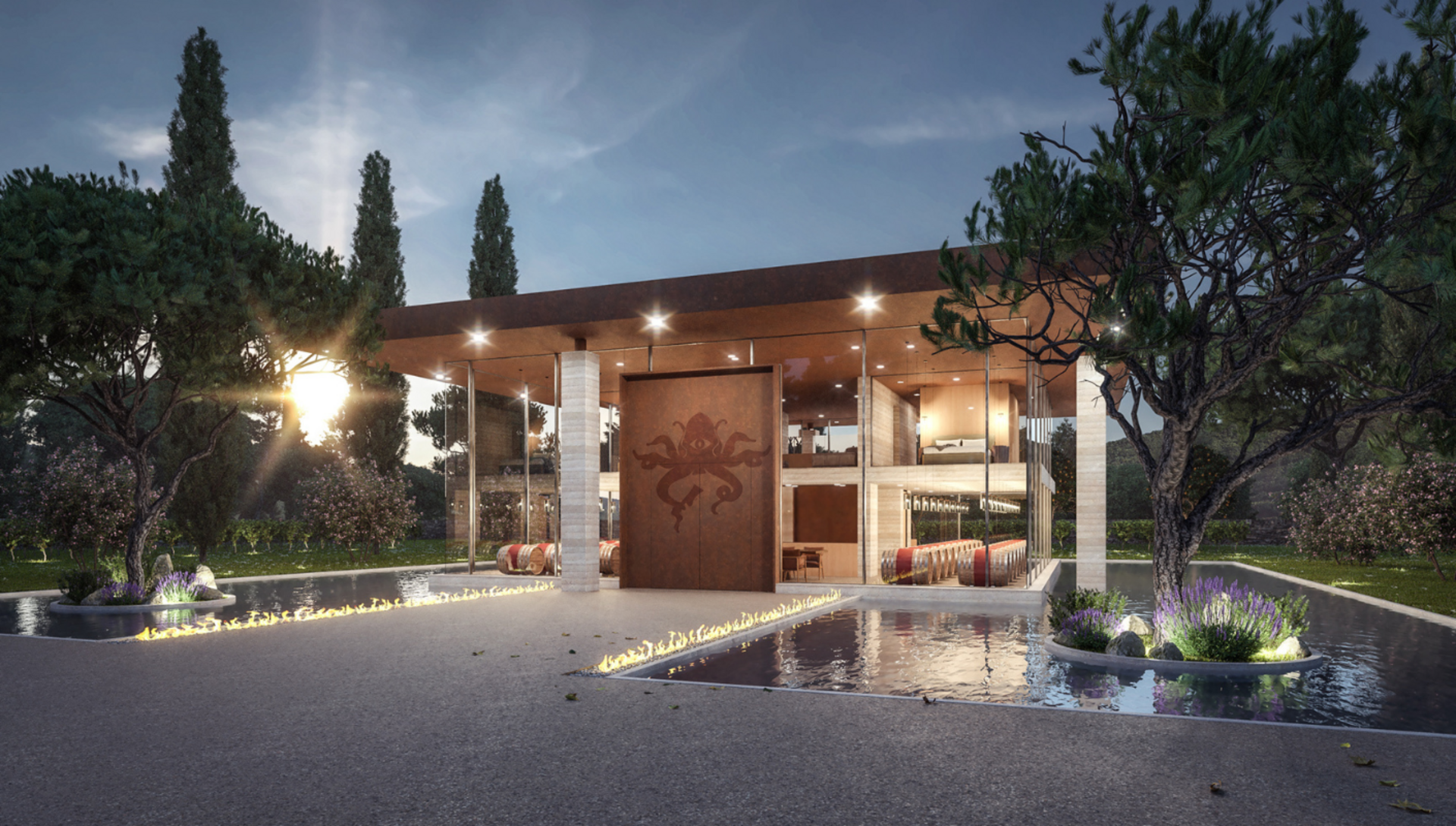 What were your rendering process and production timeline like before being introduced to the possibility of cloud rendering?
Before we started cloud rendering, we put more effort into scheduling render times in our render farm, especially when we were working on more than one project. Our final image resolution is between 4K and 8K. In our interior scenes, we have render times of up to six hours. Depending on the submissions, we had to adjust the rendering process, and sometimes, we had to reduce the quality to finish. A big advantage is the scalability of cloud rendering. We are a small office and render capacity can be a big issue. With Chaos Cloud Rendering, there is no limit.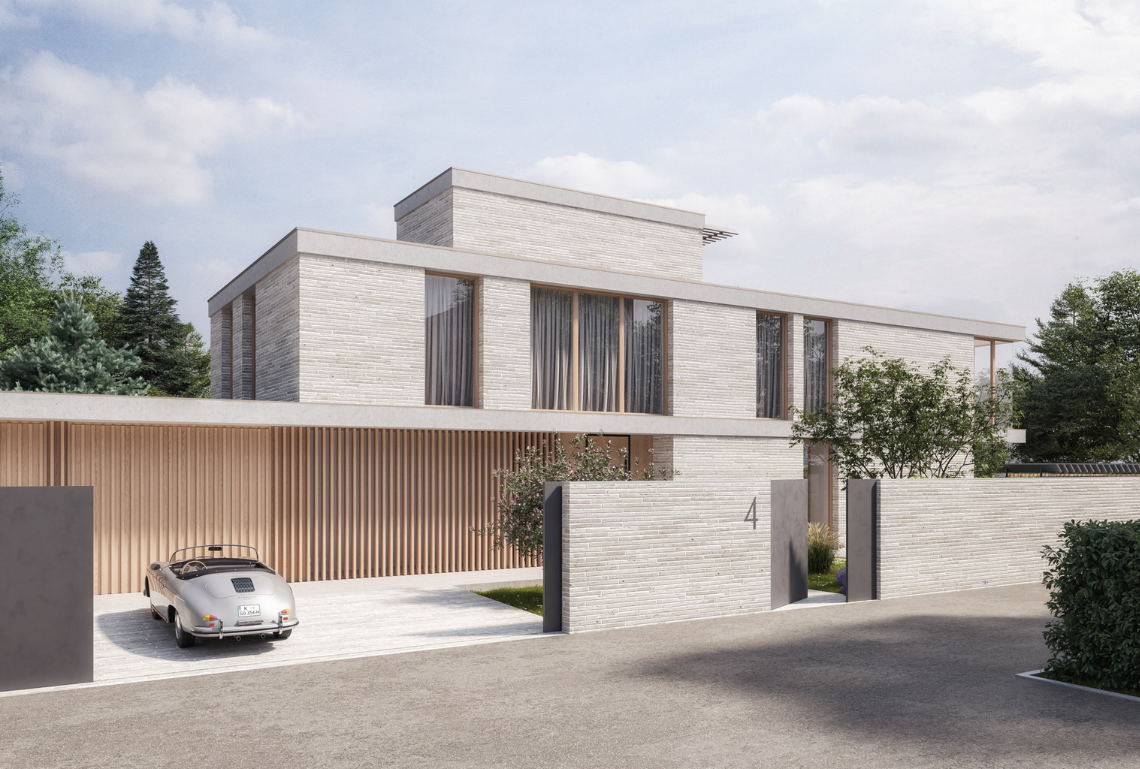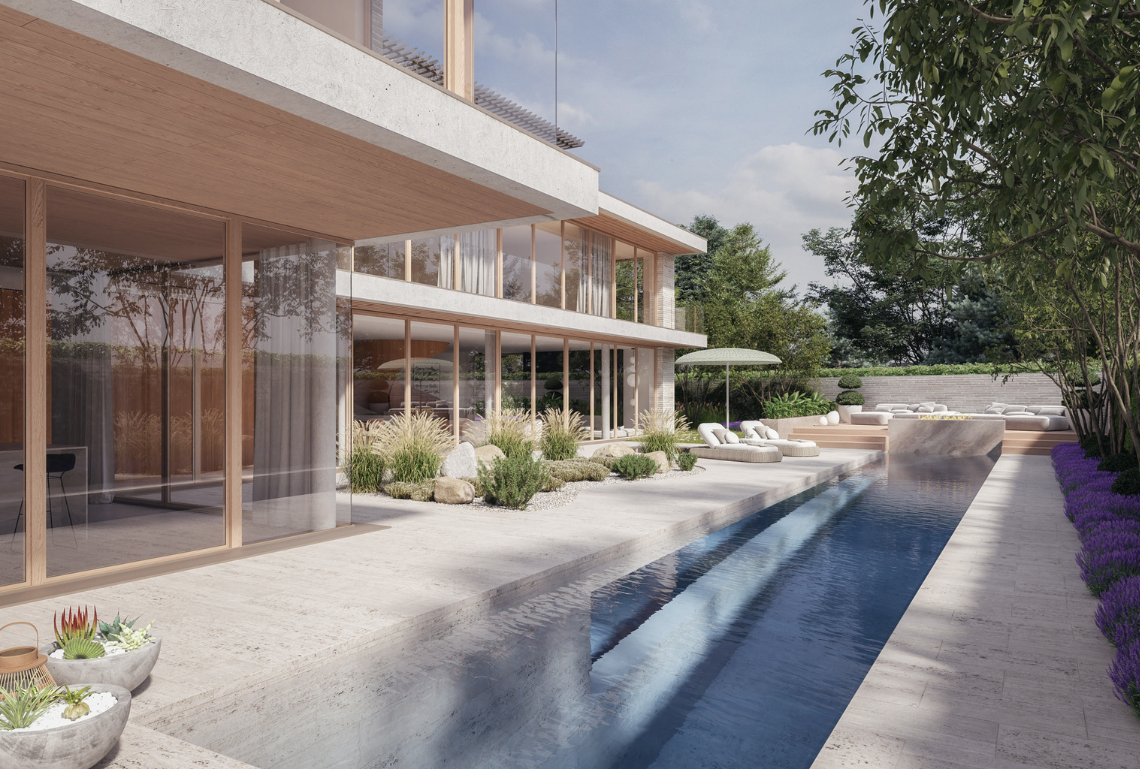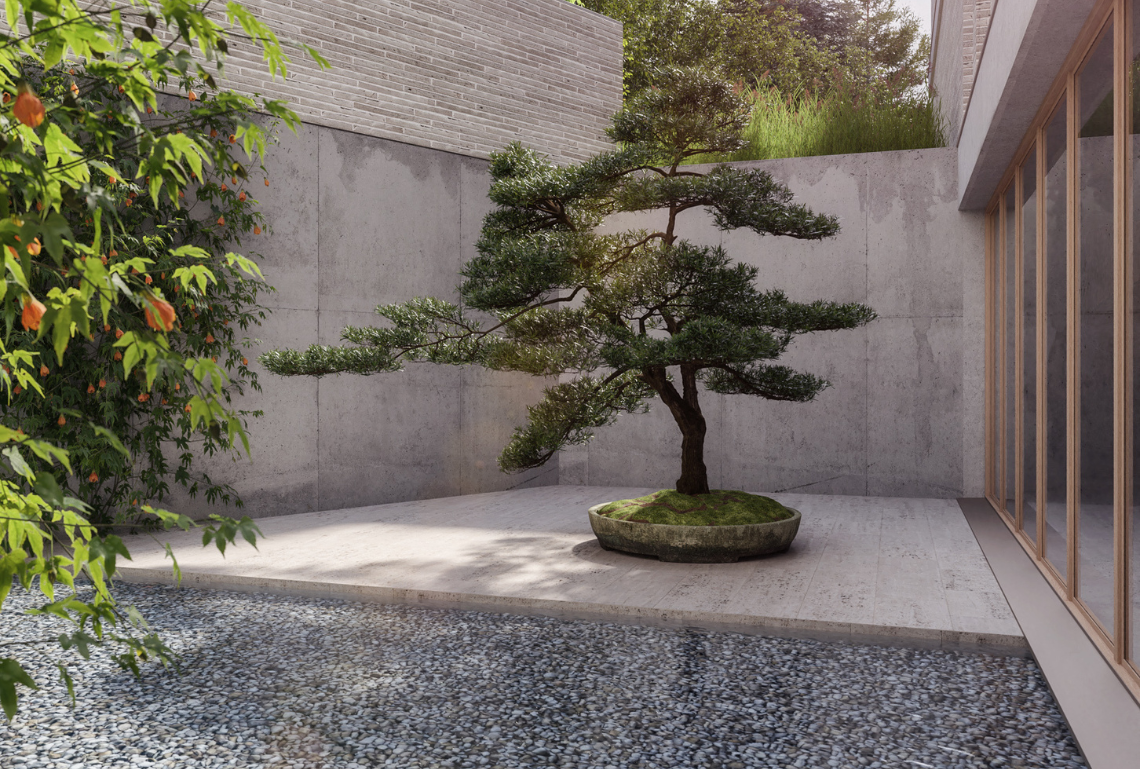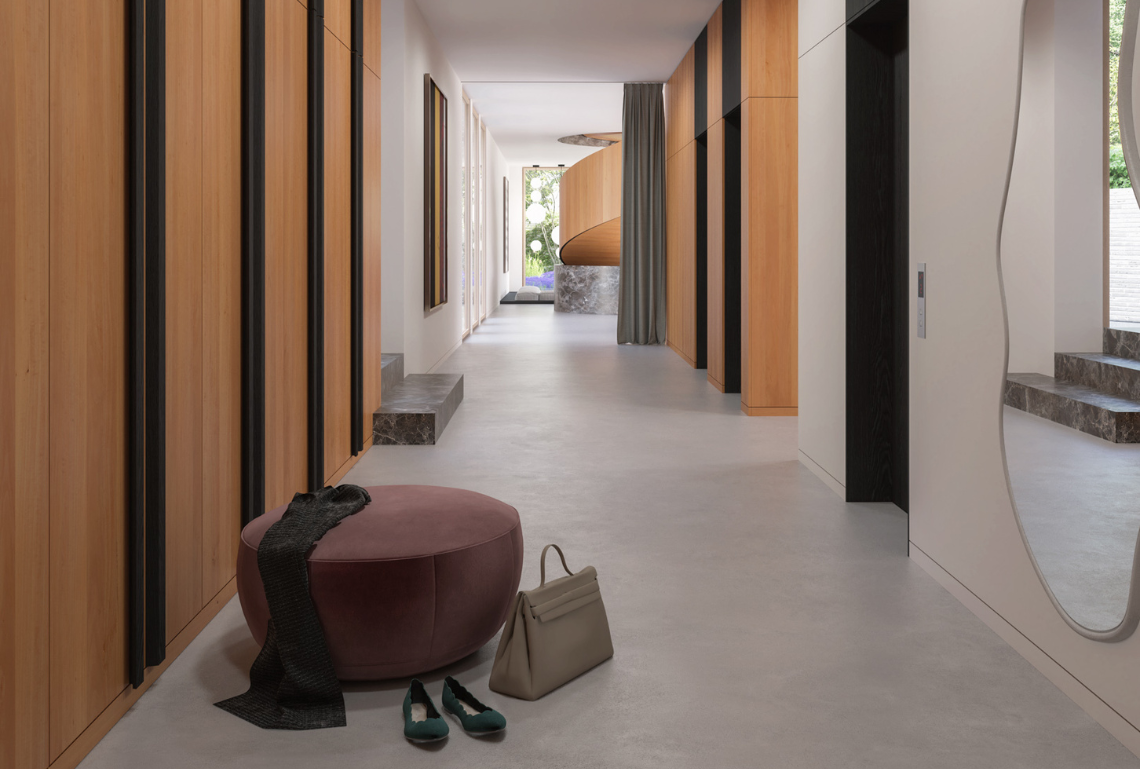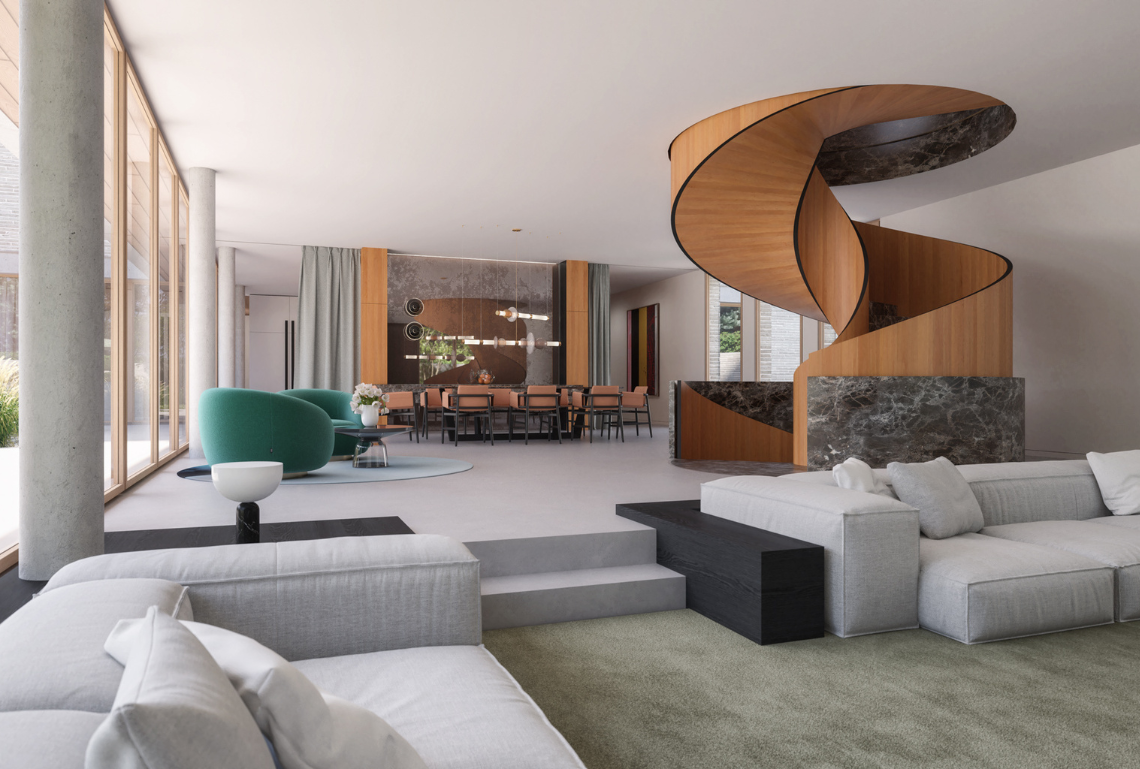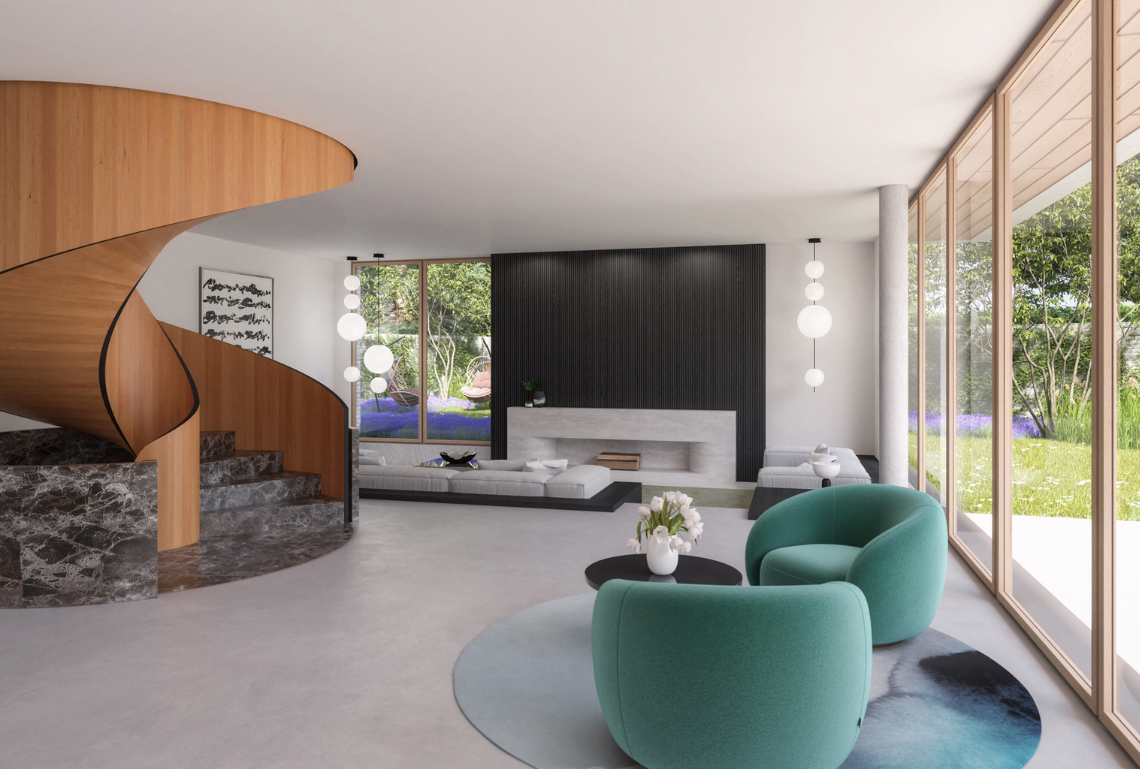 Why did Chaos Cloud rendering win over other solutions?
We tried many other cloud rendering solutions over time, but none of them convinced us. We often had rendering issues, and compared to our render farm, cloud rendering was expensive. Chaos Cloud Rendering is perfectly integrated into our workflow and very easy to use. At the moment, we're not doing all our rendering in the cloud — but we are reconsidering our future hardware investments.
How does V-Ray for Rhino help you communicate your ideas?
We use Rhino to create quick renders to check the construction with the client. Since last year, we have had an Enscape for Rhino license in our office to check the construction, and we plan to use this in the future.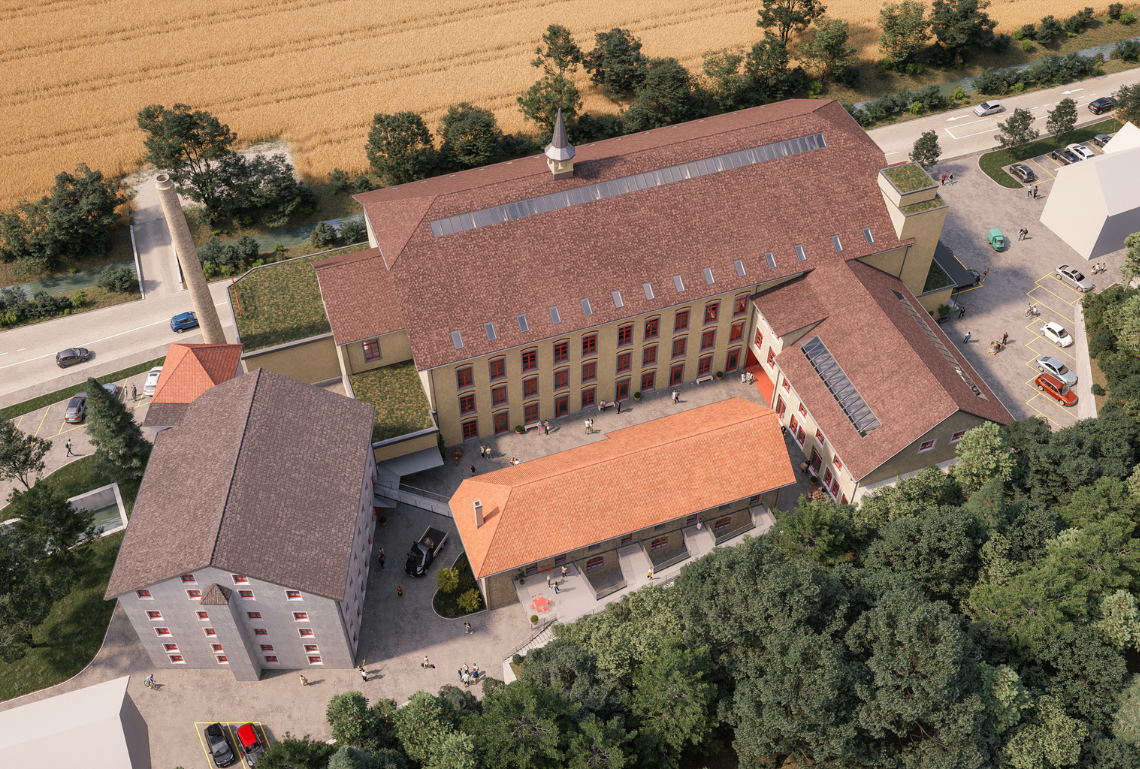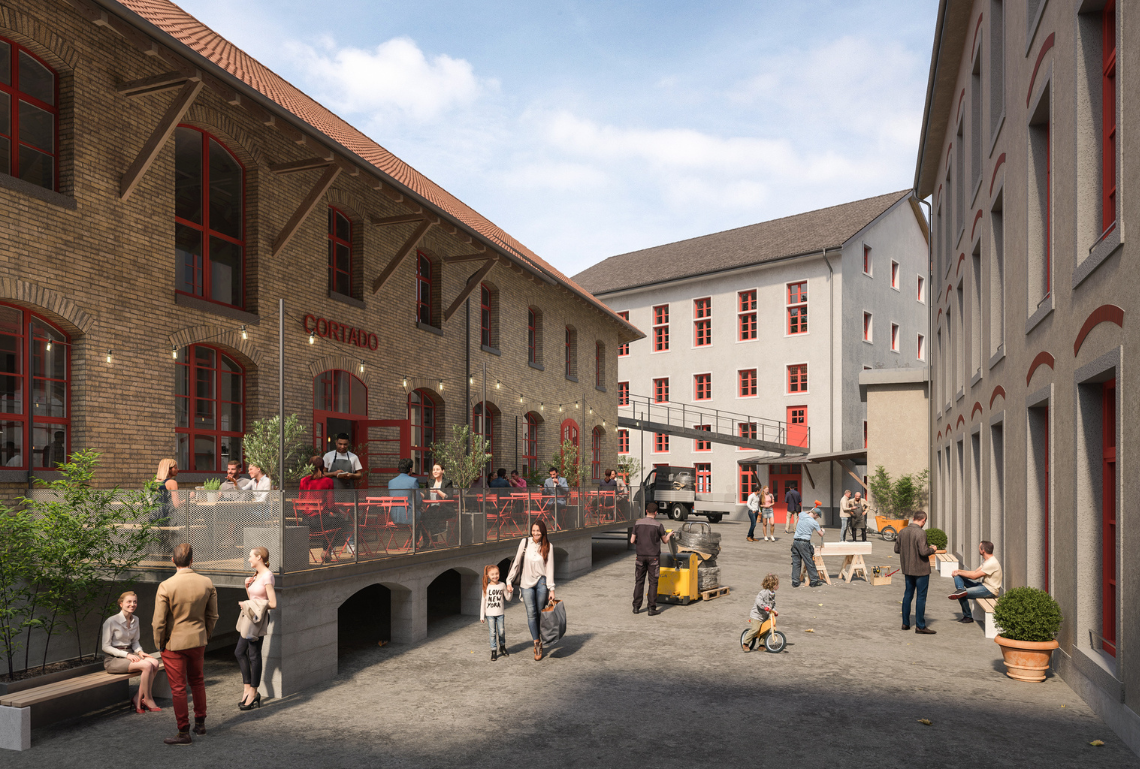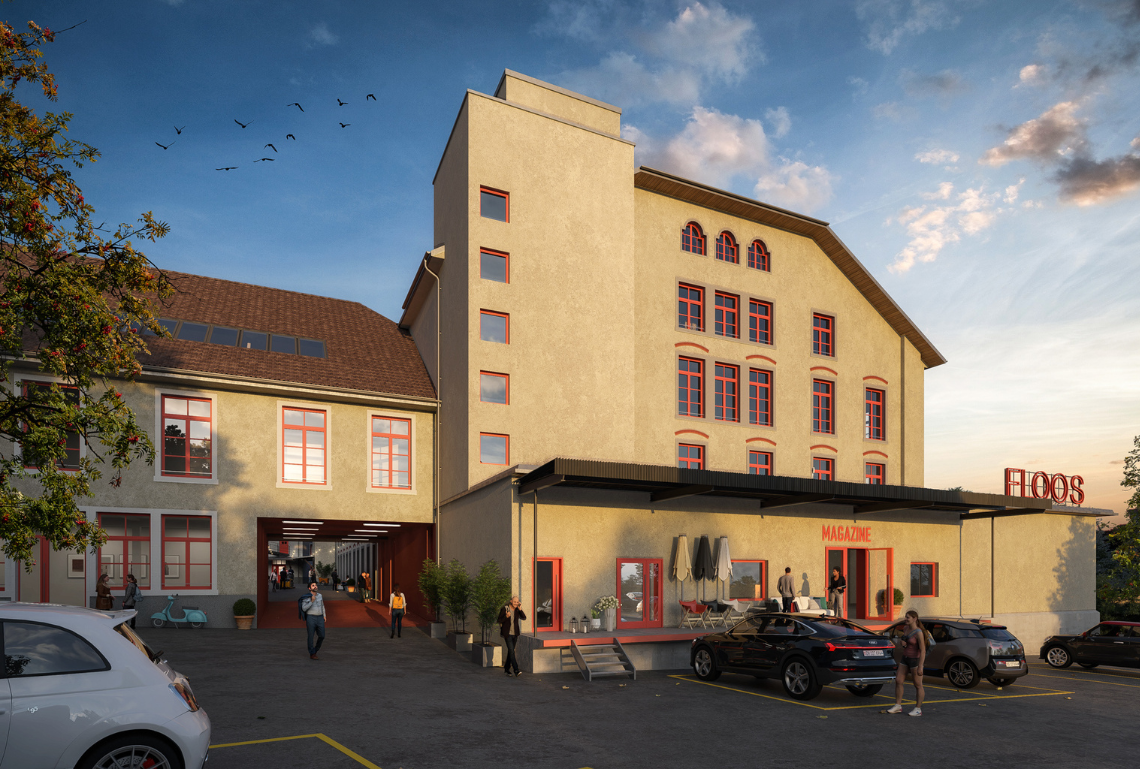 You mentioned that you are using Enscape. How do you find the compatibility between Enscape and V-Ray? How has it affected your workflow?
Enscape gives us the opportunity to start visualizing right at the beginning of our projects while we are still modeling. The compatibility with V-Ray is a big plus because we can do initial renderings to coordinate with our clients in Enscape and switch to V-Ray to refine the images. We've streamlined our workflow and given our clients and ourselves the ability to check 3D models earlier and decide on the best design. As a result, Enscape fits seamlessly into our workflow and philosophy without compromising quality.
When planning a project, what steps do you take? Do you do sketches, create mood boards, and make maquettes?
In 90 percent of our projects, we build our own 3D models. Most of the time, it is a 360-degree model, which means we can do camera shots in every direction. It gives us full control over the project, and we can make changes easily. We use this part of the process to learn about the architecture we need to stage. In addition, we look for moods that reflect our ideas. It's a floating process, and we develop the images as we work on them. We try several camera angles and light settings to find the final setup.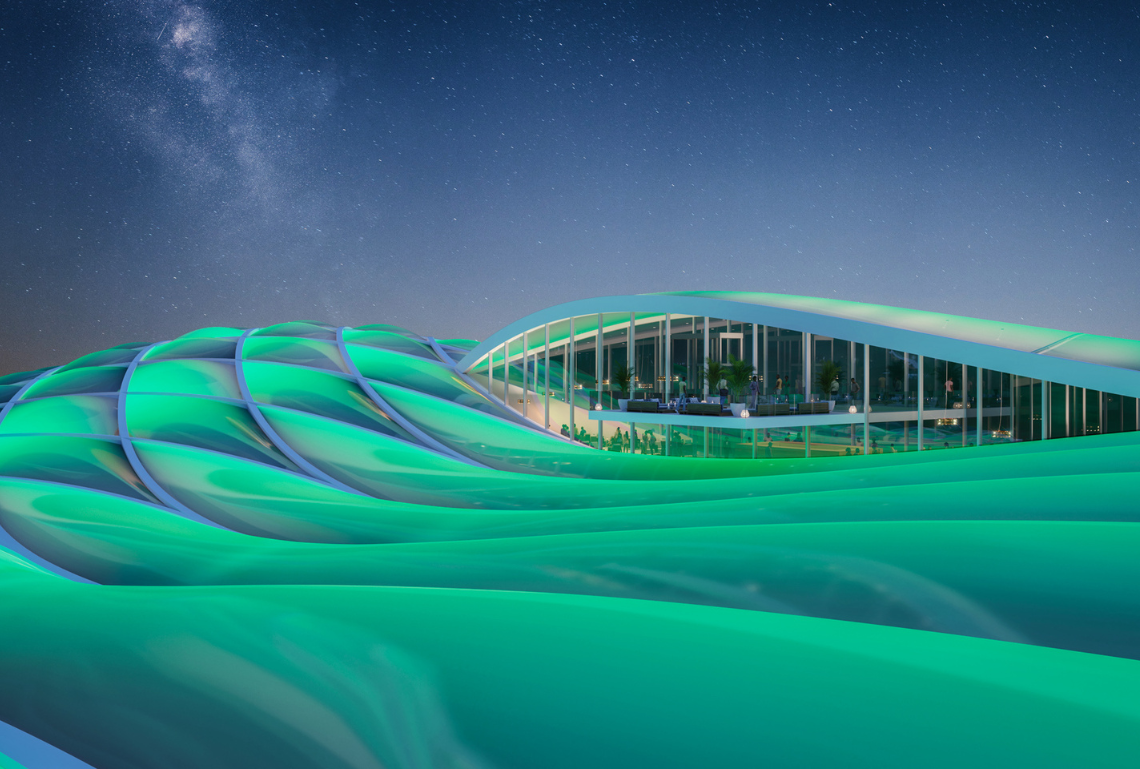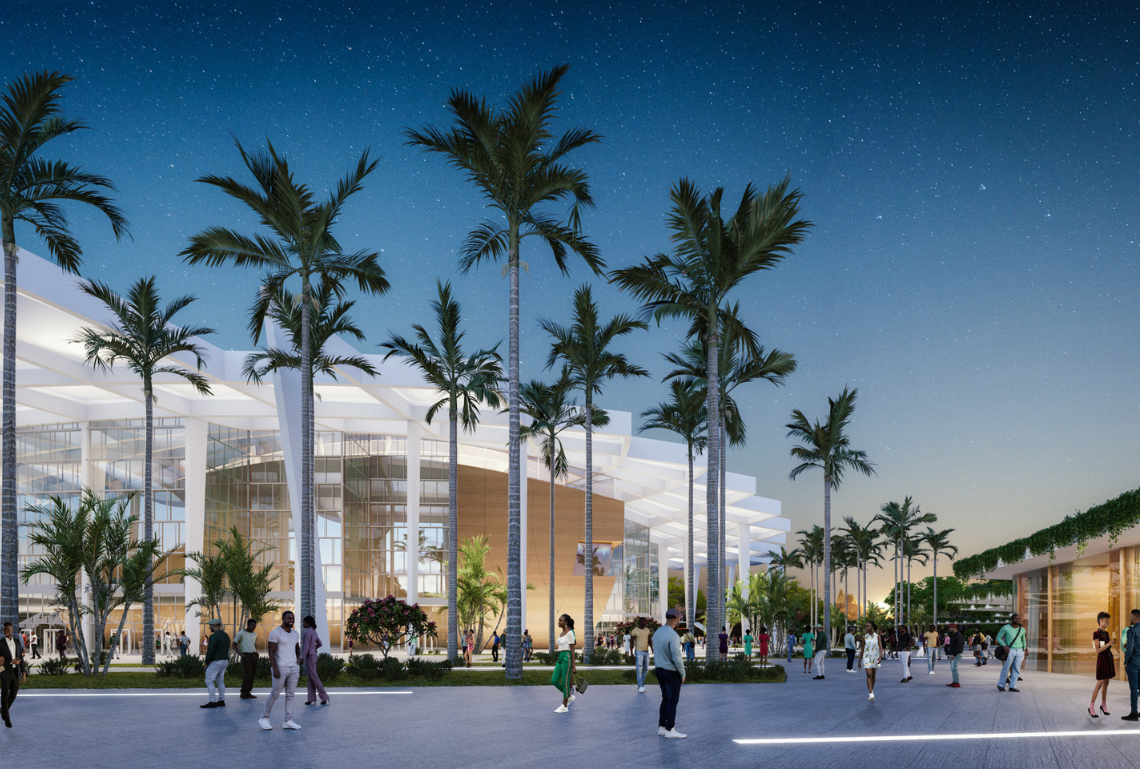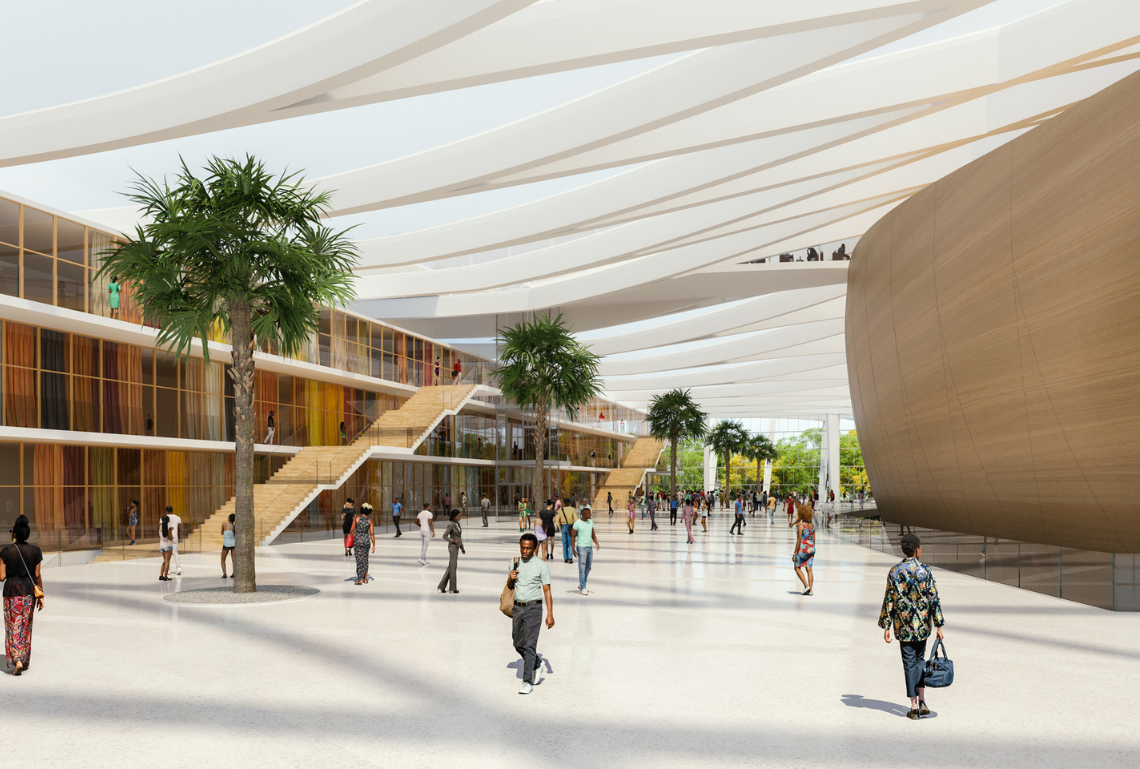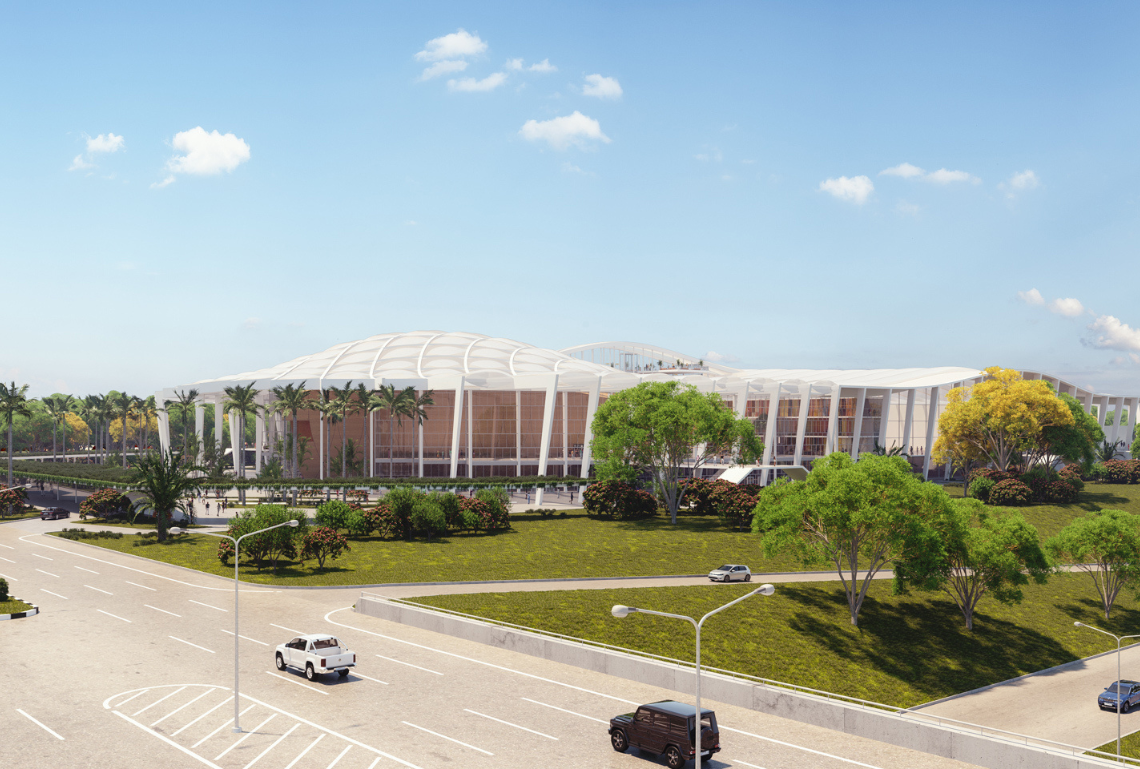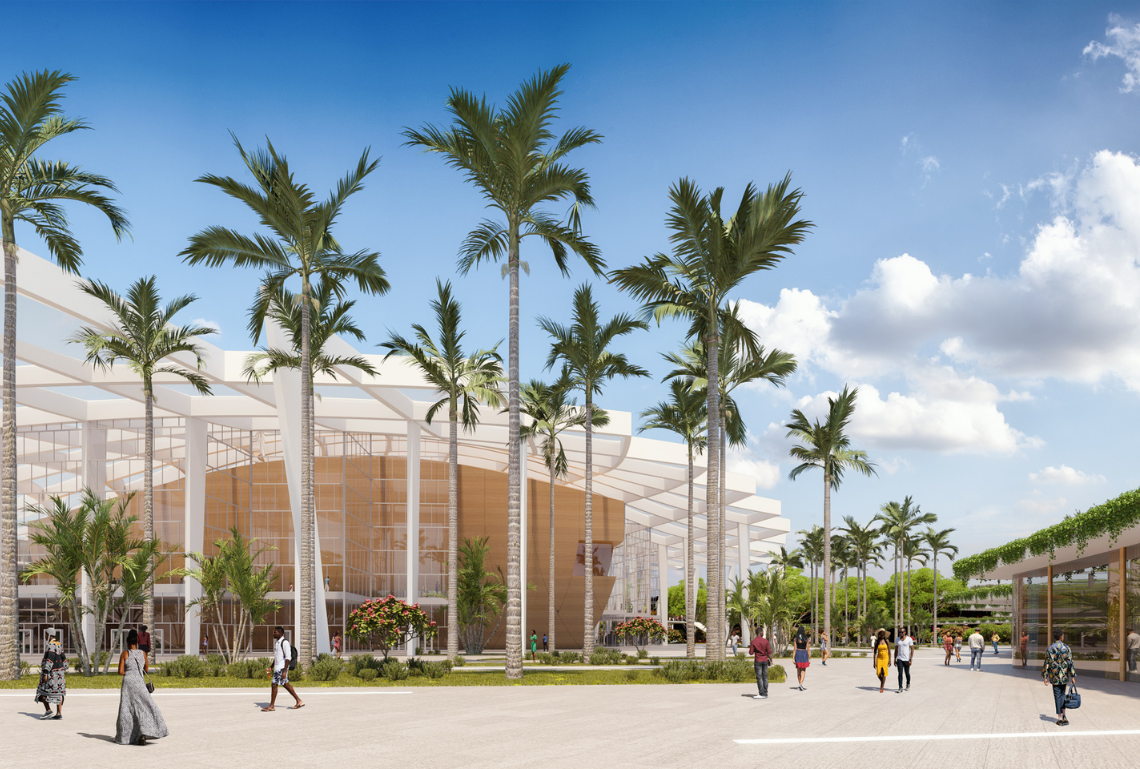 The composition and color of the project Convention Centre Abuja, Nigeria is very powerful. How did you achieve the fluid green lines and movement in the frontal shot? What material is that?
The concept and design of the architecture come from Spacial Solutions in Munich. Before we start our projects, we research the lighting mood and materiality of the local environment. We have adjusted the colors and the lighting to match the colors of Africa. The green comes from the Nigerian flag. The material of the roof from the night shot is a V-Ray Blend Material. The base material is translucent plastic, the coat is a green light material, and for the blend amount, we used a softbox shader with a vignette.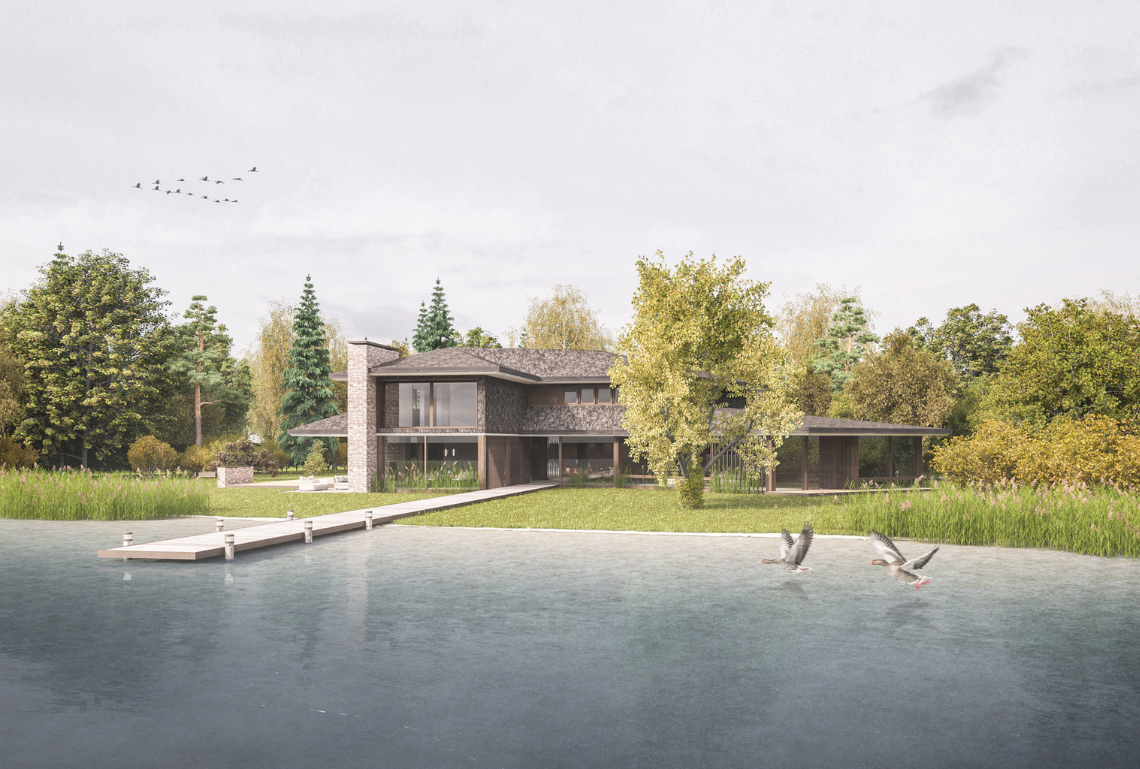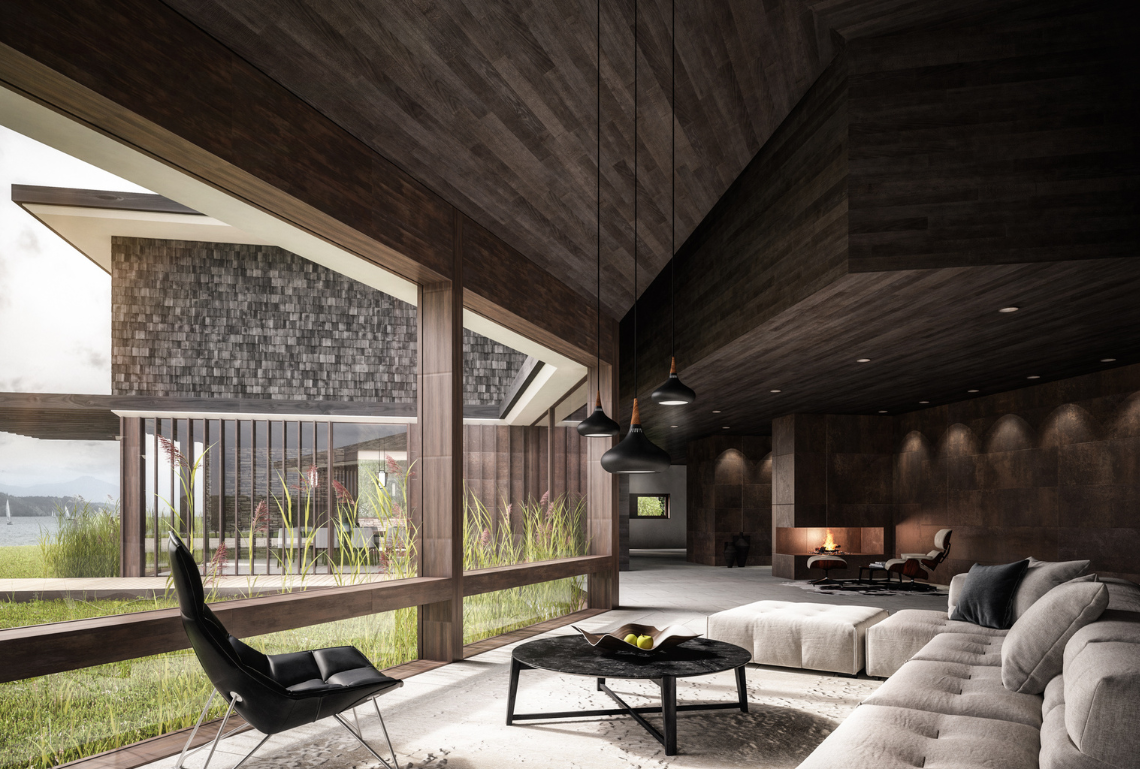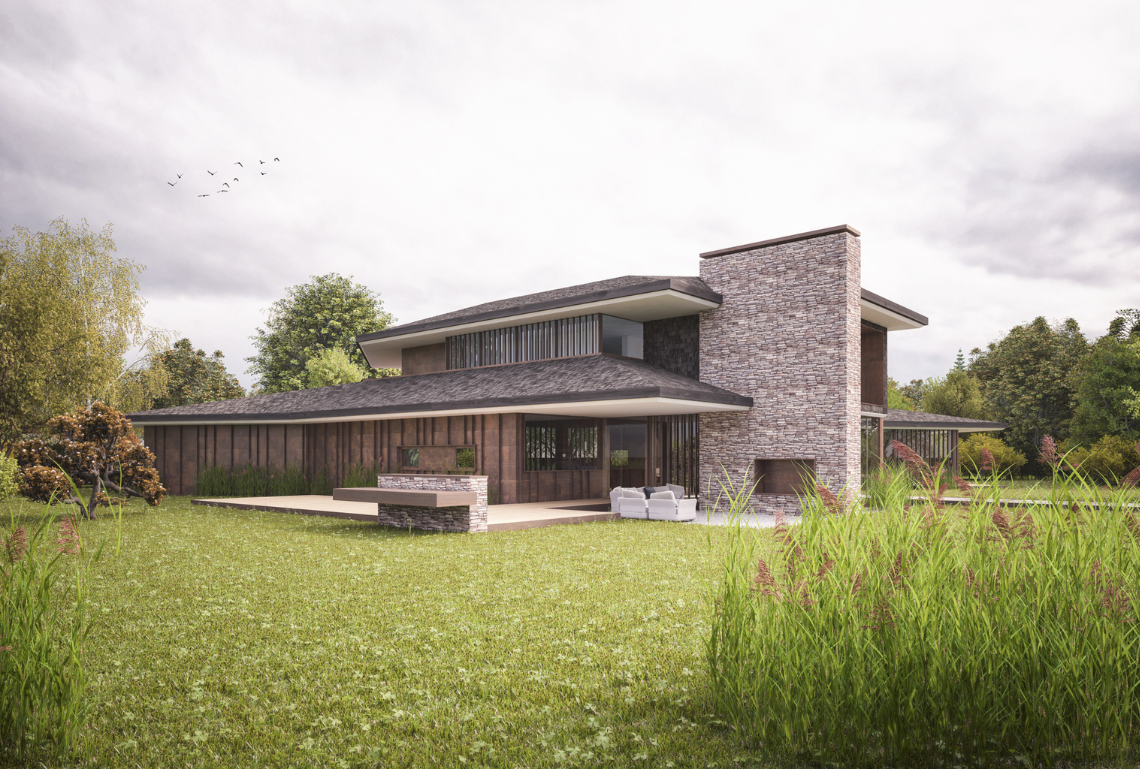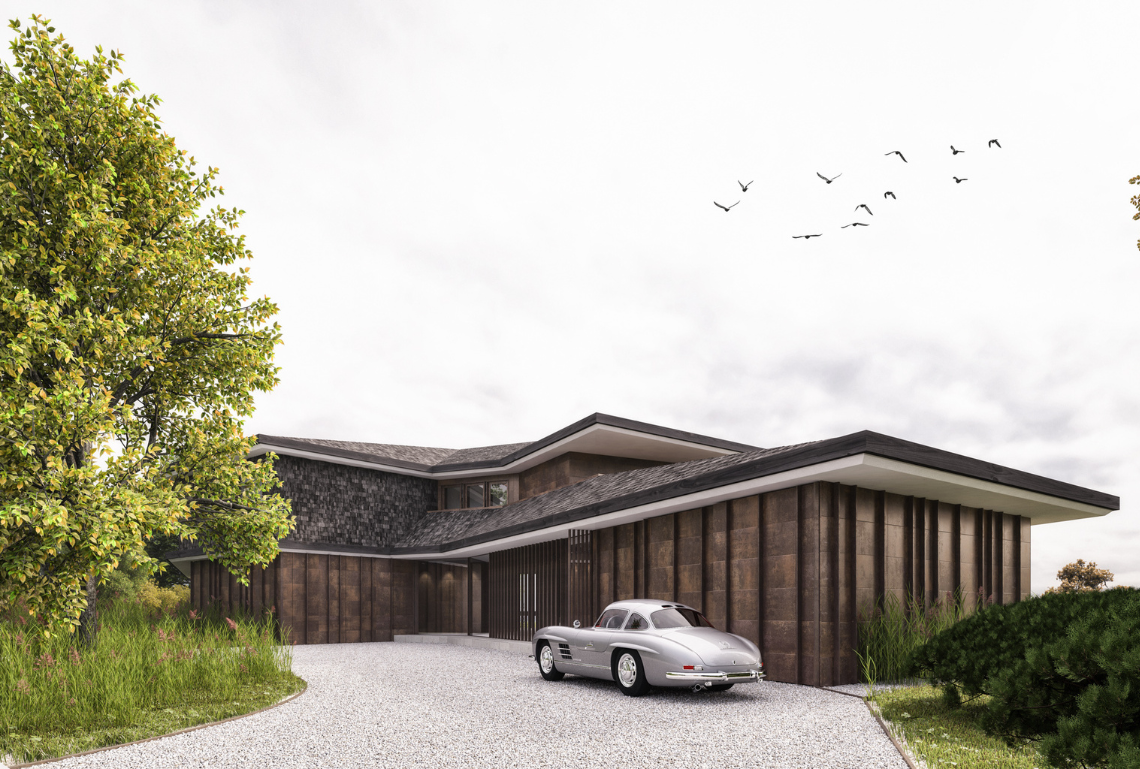 What story did you want to tell in the House S project?
House S is placed on a big lake near the Alps. The architectural idea was to use wooden cladding for the facade to integrate into the landscape. At the starting point of the project, we went to the lake to get a feel for the area. At that time, the weather was very foggy, and the lighting was great. We took some reference photos, and the idea for the lighting was born.
How do you stay creative? Are there any rituals that you follow?
We like to balance creative work and free time. The visualization business can be very stressful, and it's important to take regular breaks. We do a lot of sports to stay fit. It is common for us to do art projects for free, without any financial or client pressure. In such cases, we often test out new techniques, looking at YouTube and seeing what others in the industry are doing.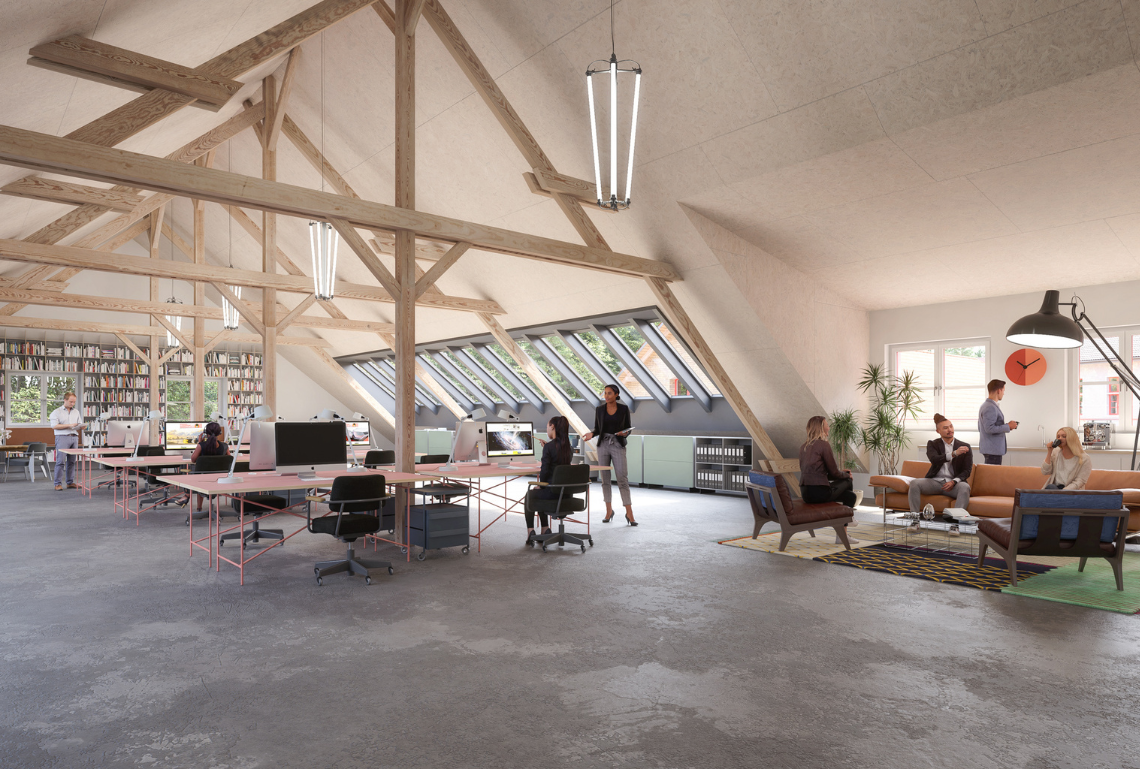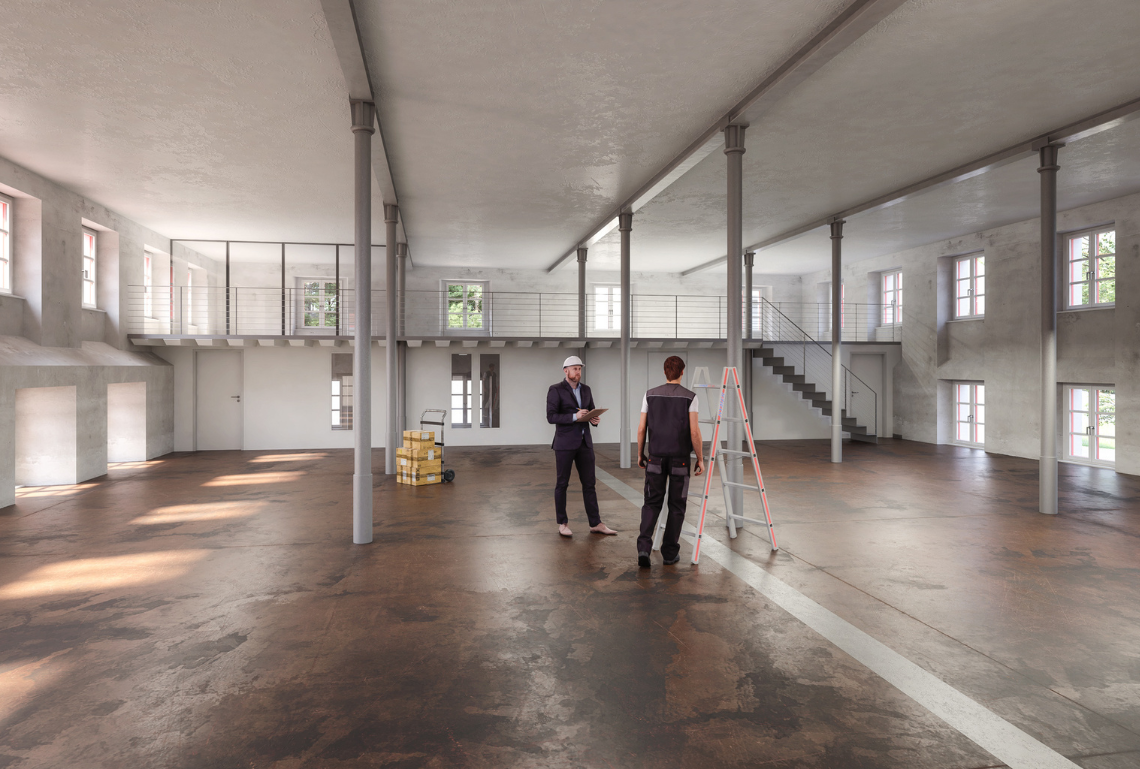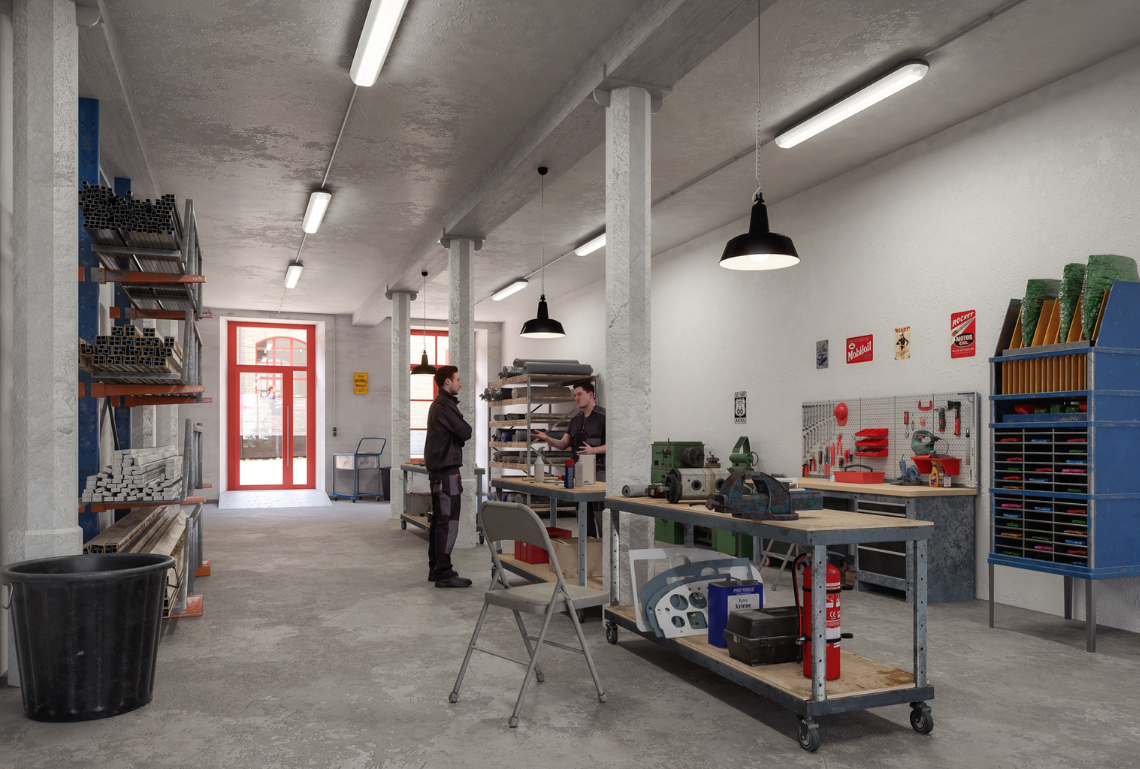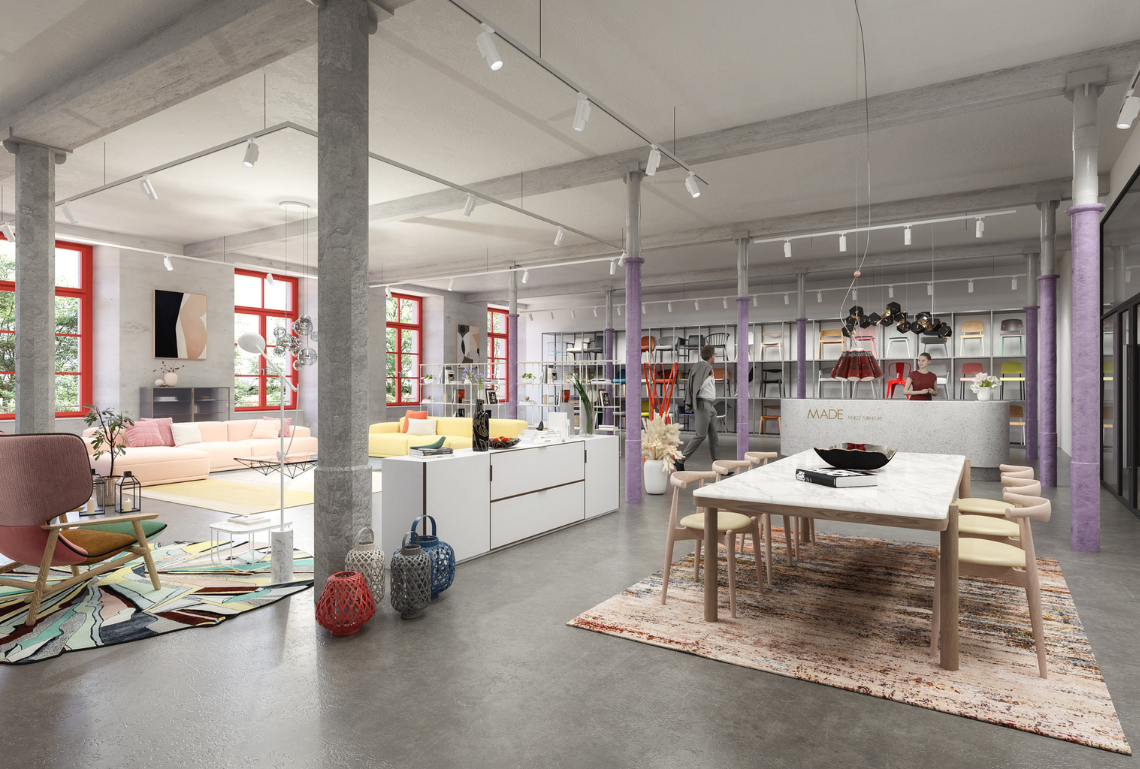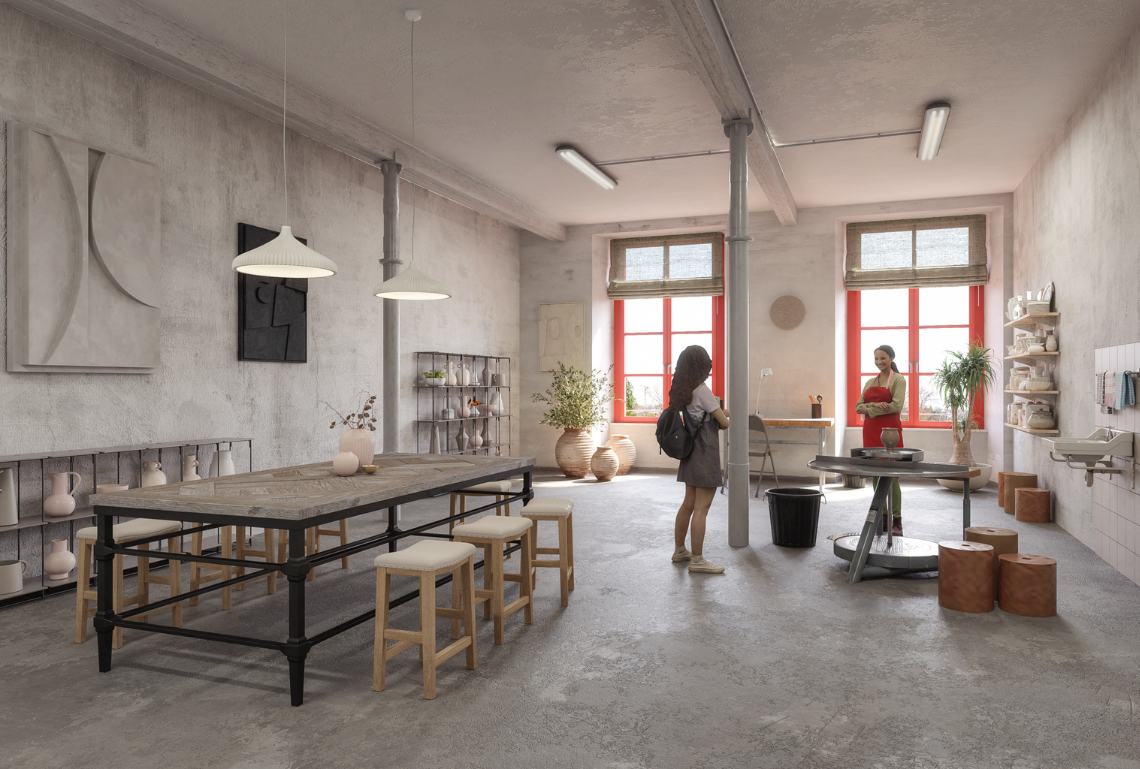 It seems that you have a constant steady stream of new projects, which is both exciting and demanding. How has using an integrated workflow in V-Ray helped you schedule and complete your projects on time?
Over the years, the deadlines have become shorter. Through the integration of V-Ray throughout the process, we have a powerful tool at every stage. For example, we start with a material library in Rhino which is identical to the library in 3ds Max. That gives us the opportunity to integrate visualization at the beginning of the modeling process. We can then switch between different software without thinking about the render engine. It makes the process very efficient.
Sky's the limit with V-Ray Premium.
Enjoy a floating license of all V-Ray integrations on any supported host application.