More and more architectural visualization artists and studios are using V-Ray to render photorealistic imagery and animations. Find out why it's a great fit.
A fast, reliable rendering engine has never been more important for designers, architects, and architectural visualization artists. Tighter deadlines, shorter project cycles, more competition, and ever-increasing quality expectations can put the squeeze on everyone from solo artists to large teams within architectural firms.
Fortunately, V-Ray is here to take the strain. Chaos' render engine helps artists and designers communicate their designs in the best way and express their creative ideas transparently and without limitations. At the same time, it opens new real-time communication experiences with clients.
In this article, we'll look at the benefits V-Ray offers professionals in architectural visualization who want to improve and streamline their end-to-end design processes.


1. V-Ray is easy to learn and easy to use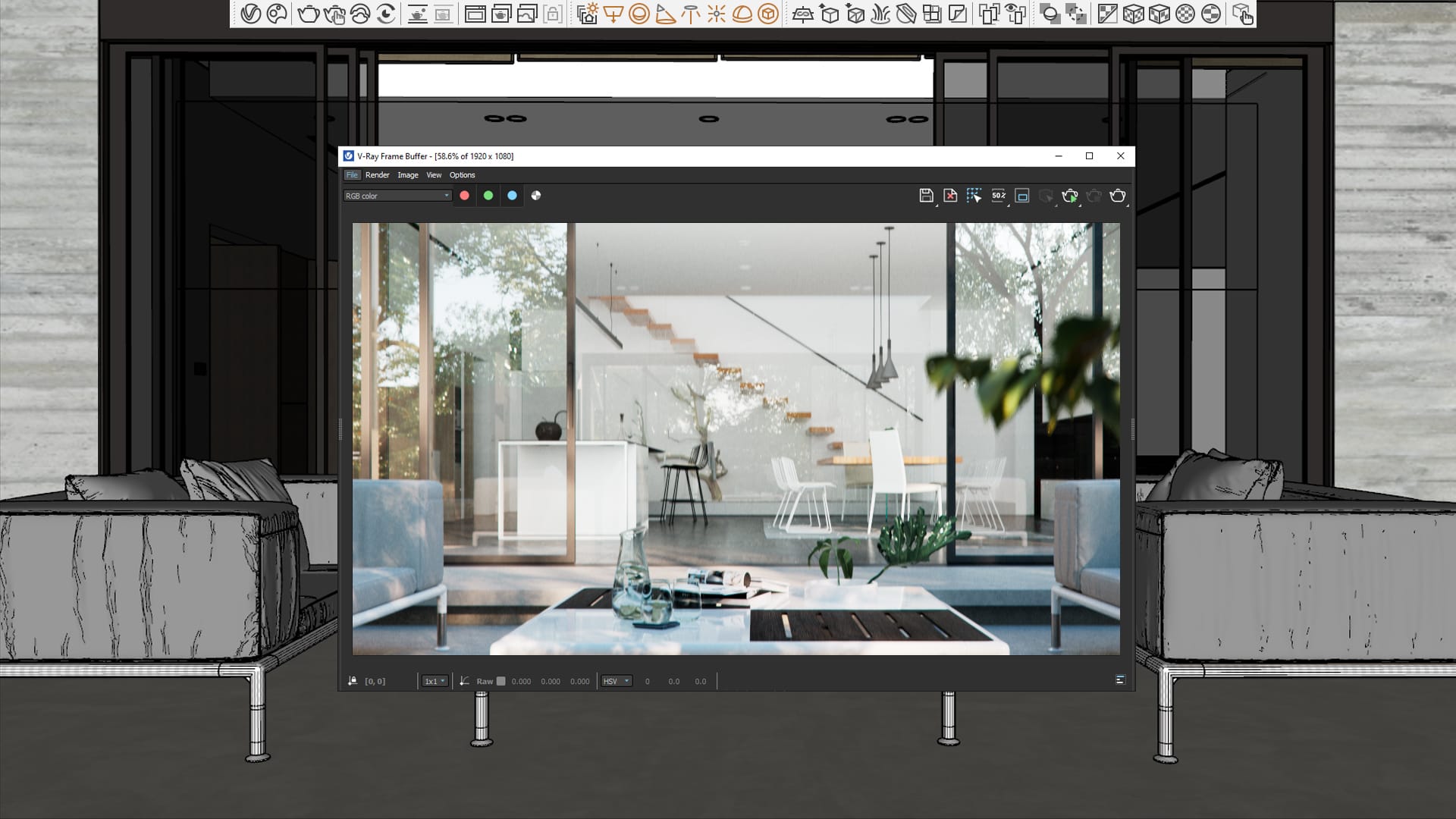 Creativity is the most important part of design. Friendly tools that are seamlessly integrated into your creative exploration can give you more options and opportunities.
Over the past few years, V-Ray has been redesigned to start quickly and easily. In just a few steps, you can create stunning architectural visualization imagery — which is surely the dream of every artist.
With V-Ray default settings that work with all types of scenes, and its scene intelligence technology, you can spend less time on the technical aspects and more time on creative solutions.
In addition, V-Ray works seamlessly with the most popular 3D platforms, including SketchUp, 3ds Max, Cinema 4D, Rhino, Revit, and more.


2. With V-Ray you have no limits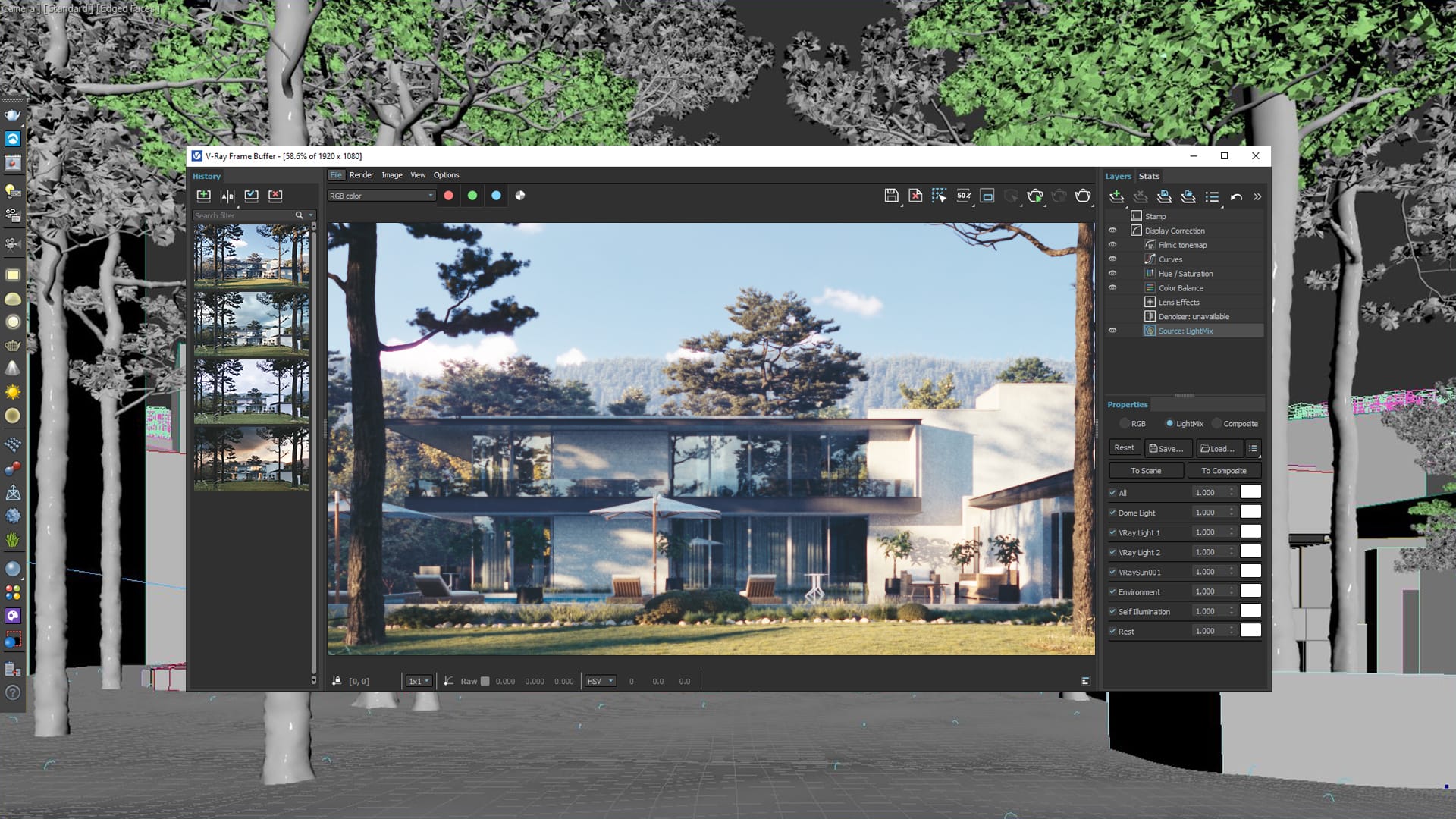 With big projects come large overheads. Scenes involving gargantuan hotels, international airports, and even smart cities can contain millions of objects and thousands of lights. We get nervous just thinking about the sheer amount of data involved.
Fortunately, with V-Ray, Chaos has developed a rendering engine that can handle these colossal scenes without breaking a sweat.
Tools such as Proxy Objects handle the most detailed models without memory consumption issues, while the VRscene format allows you to share models, scenes, or even entire architectural projects across multiple host platforms without the hassle of conversion.


3. Speed, versatility, and scalability — all in one place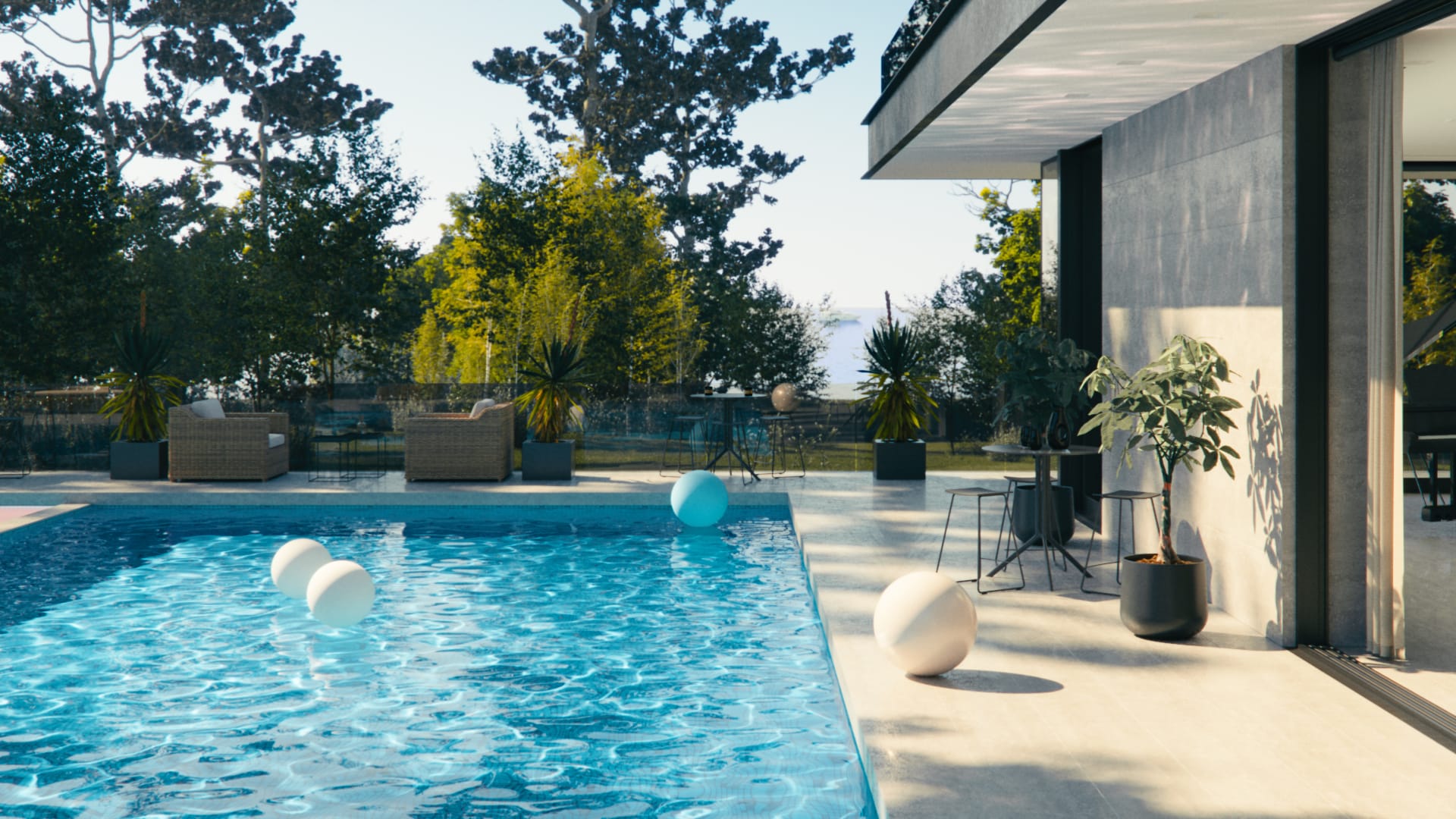 Combine the algorithms included in V-Ray with accessible new hardware and you can render a very detailed image in no time.
V-Ray has three ways to create stunning production renders; using the CPU, using the GPU, or using both (hybrid). No matter what machine you have, you can make the most of its features.
Architects and designers working on PC or macOS can enjoy V-Ray for SketchUp or V-Ray for Cinema 4D. In addition, V-Ray supports the feature-packed new Apple silicon processors for Mac users.
If you have an office or studio with several machines, V-Ray can take advantage of your infrastructure — including the receptionist's computer. Distributed Rendering is a fantastic feature that allows you to combine all the computers in your department to speed up the rendering process even more. It's a perfect solution for 4K sequences or high-resolution imagery.


4. Searching for photorealistic quality? Look no further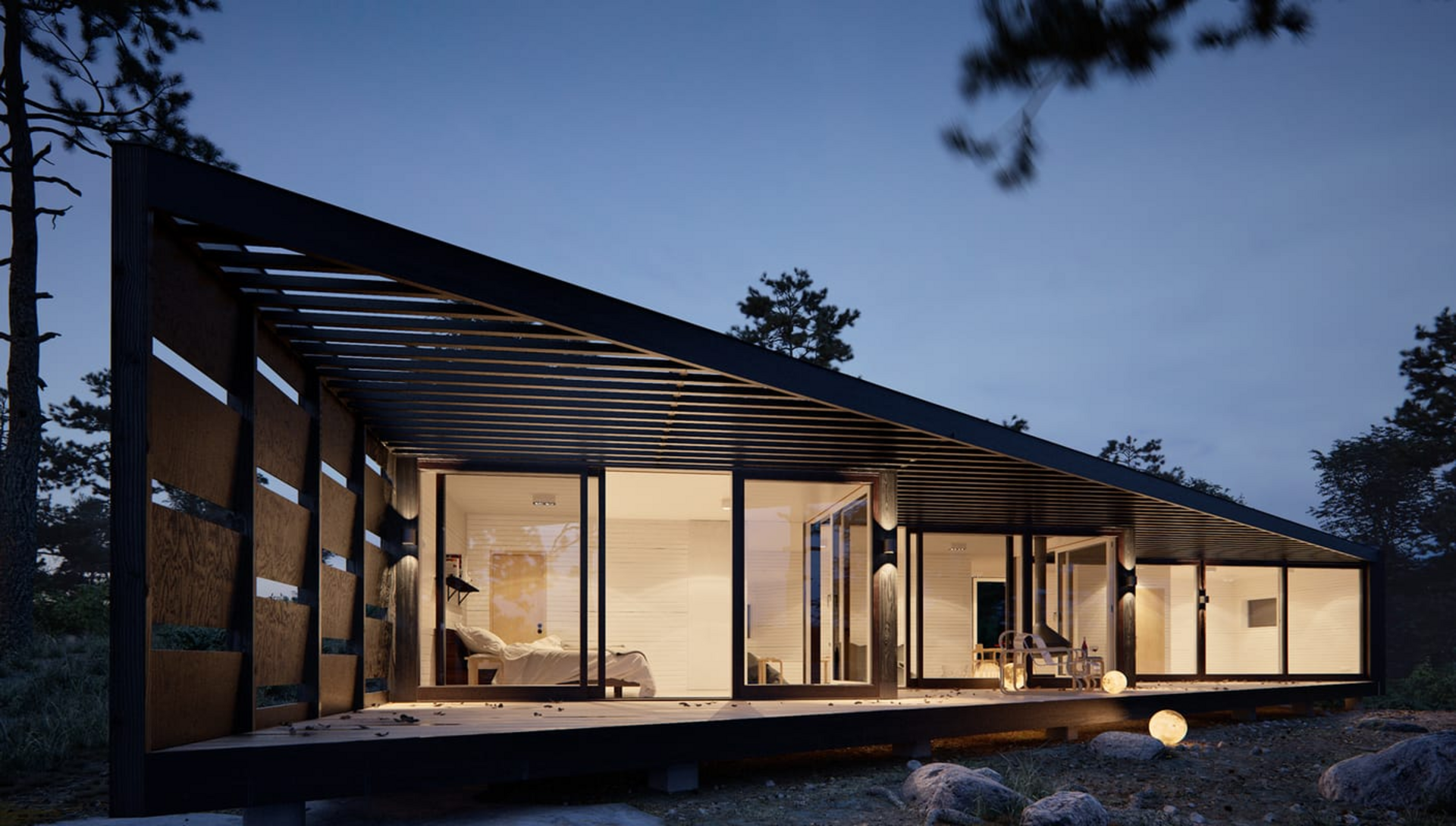 V-Ray has won Academy and Emmy Awards, and many sequences and animations in movies and TV shows have been made with the physically accurate lighting and materials of this production-proven render engine. You too can tap into this power and create your own stunning visuals.
Based on an architectural technology review, 92 of the top 100 architectural firms in the world use V-Ray every day to visualize their biggest designs.
If you are looking for a hyper-realistic architectural visualization, V-Ray has everything you need to build stills and fly-throughs that look like real photography.
In addition, V-Ray supports VR cameras. Export 360 spherical or 6x1 Cube images for the most popular headsets and give your clients an immersive and intuitive way to experience your designs.


5. You can quickly validate your ideas in real-time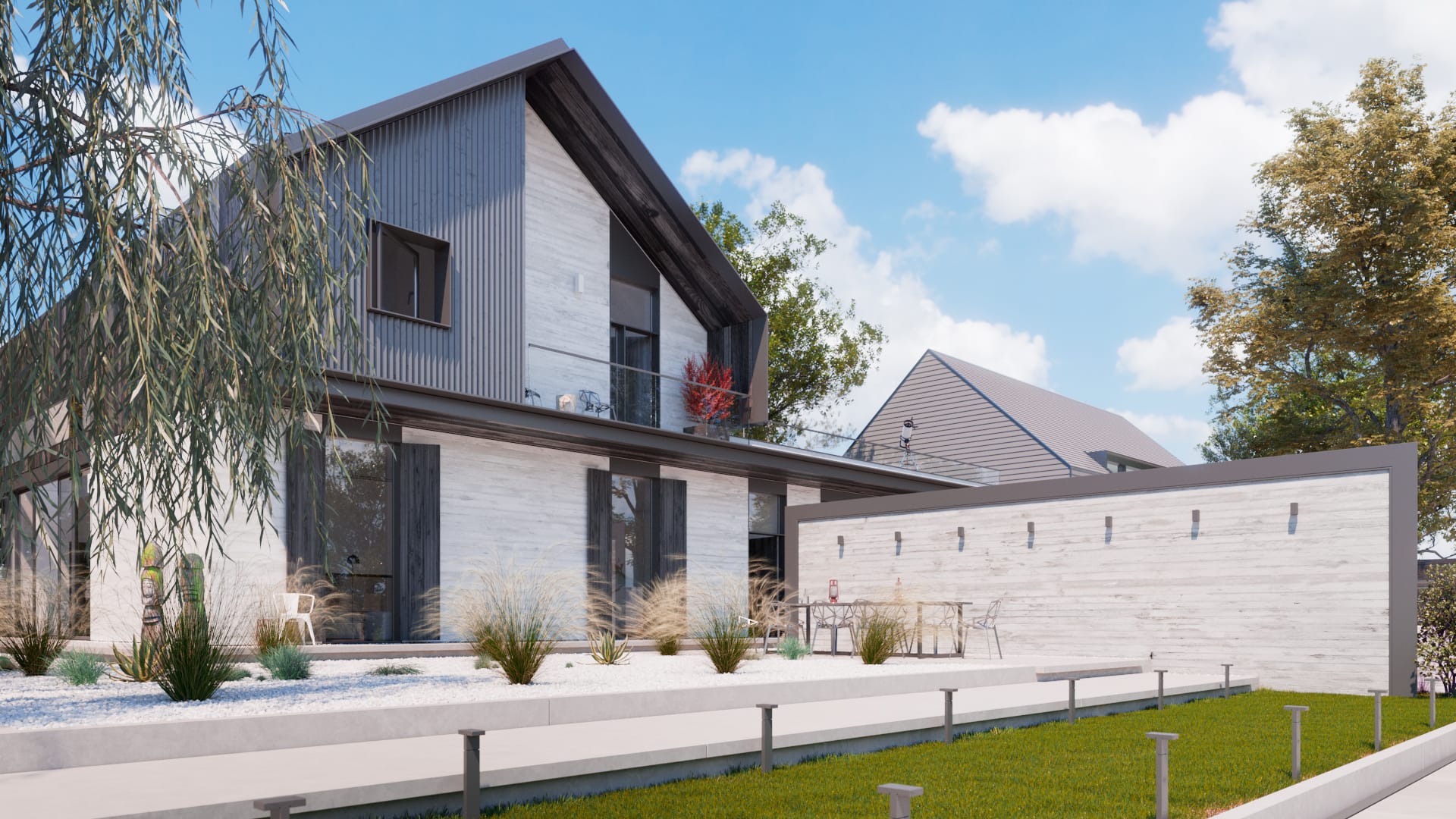 Chaos Vantage is a real-time ray-traced solution. With its Live Link, you can navigate your scene and look at your design with the realistic quality of V-Ray.
In addition, with Interactive Production Rendering (IPR) you can work interactively, looking at the result while you design, accelerating the lookdev process of materials and lighting. Now, you can make decisions faster and vastly improve your productivity.


6. A large user community that helps you get better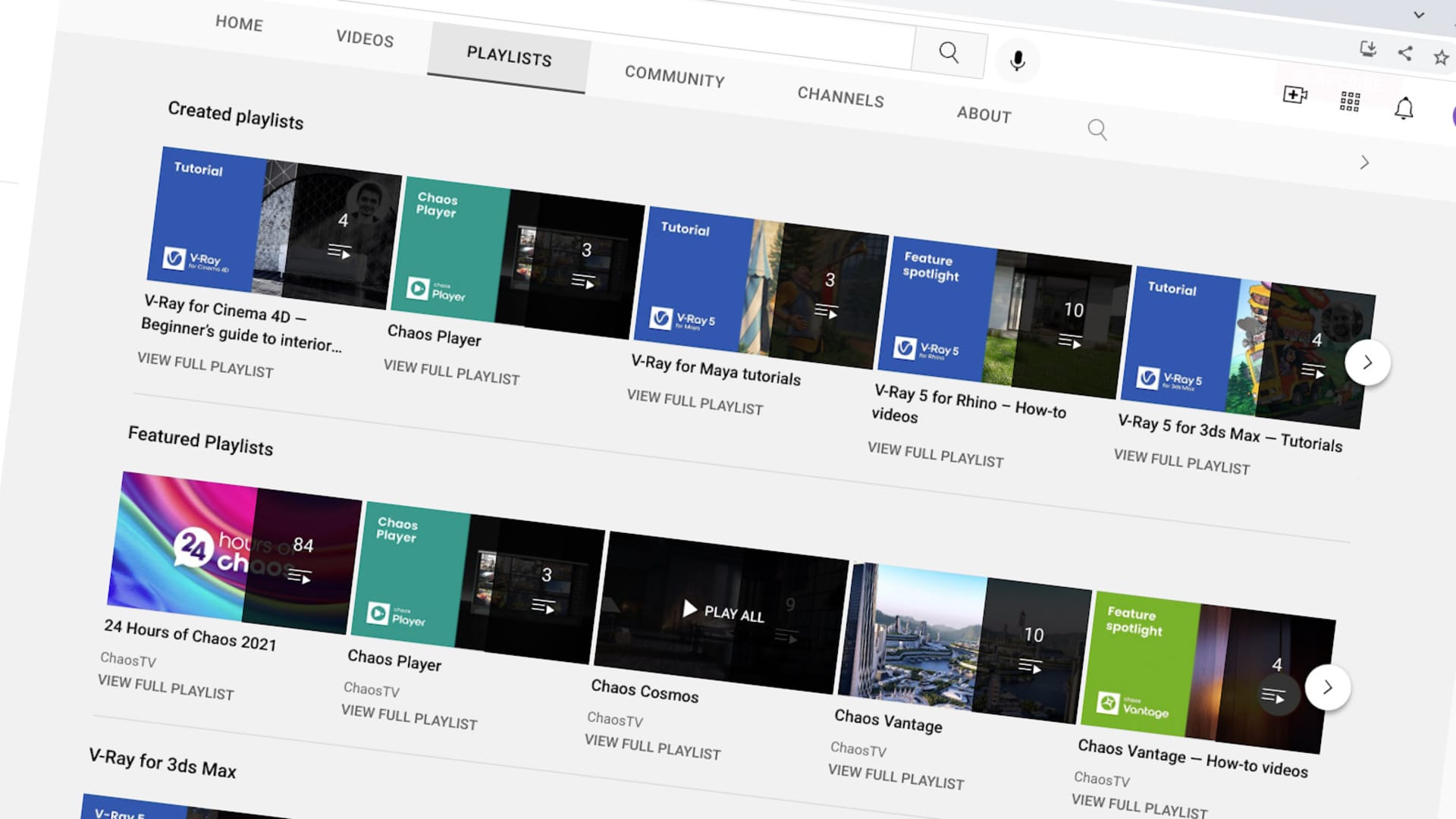 The V-Ray 3D rendering software community is huge, with forums, social media, content creators, instructors, and more. You can ask for anything from technical expertise to opinions on your latest render — and you're sure to receive a friendly answer.
Chaos also has an array of free learning resources to help everyone from novices finding their feet to well-versed artists who want to implement a new feature. Architects and designers can easily find lots of docs, tutorials, and 3D assets to speed up their arch viz workflows.


7. High-quality 3D assets and HDR skies are included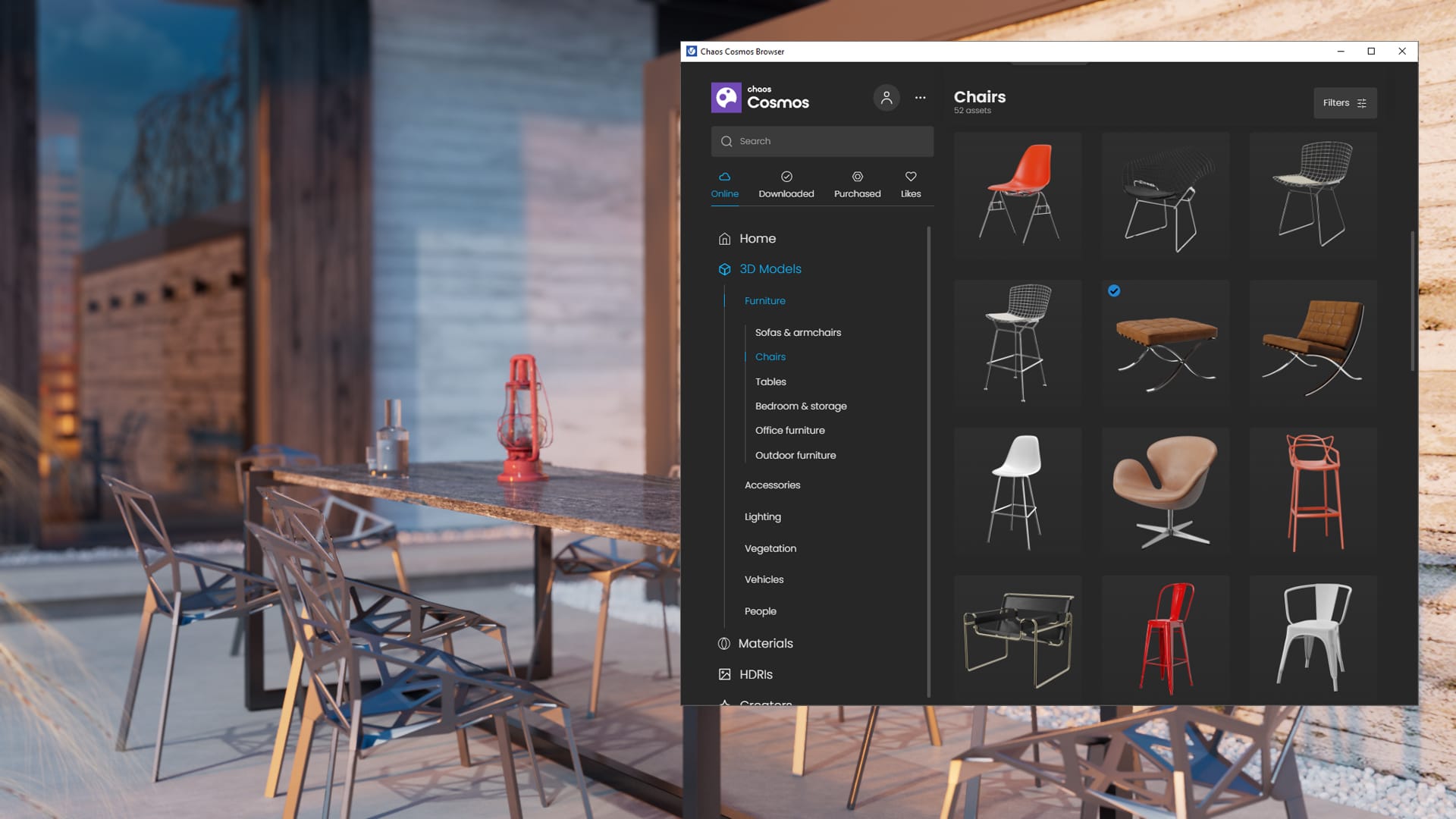 Creating photorealistic architecture visualization forces us to contextualize the space. It helps create a narrative that tells a story at the right time.
The formal expressions of our designs that are observed in objects, nature, people, and vehicles, complement each other when we bring them to life.
A wide library of 3D assets is essential for artists. These assets can play a crucial role in our design process by allowing us to explore, propose, experiment, and evaluate with greater confidence.
Chaos Cosmos is integrated into V-Ray and offers the highest quality 3D assets, HDRs, Materials, and Presets, with a simple drag-and-drop solution. In no time, you can contextualize your scenes with hundreds of options for cars, plants, people, HDR skies, materials, and more.


8. Cloud Rendering on-demand and Cloud Collaboration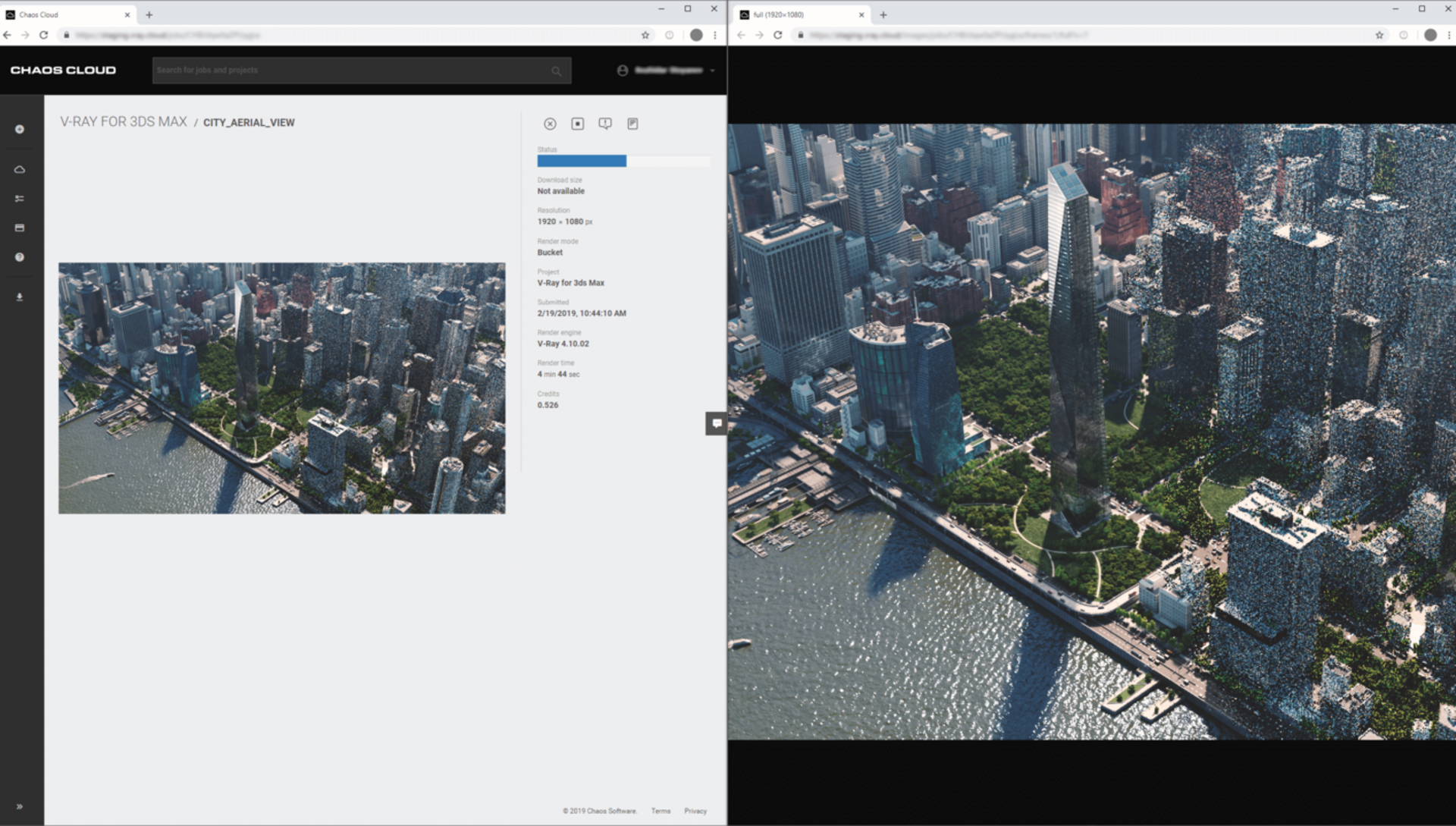 Deadlines can be obscenely tight in architectural visualization. Sometimes, big projects need multiple high-resolution images and 4K films delivered as-soon-as-possible.
With Chaos Cloud Rendering, any V-Ray user can tap into the phenomenal power of the cloud, whether they're a freelancer who wants to get personal projects ready for their portfolio or a large studio that needs extra grunt to meet a big deadline. It's fast, easy to use, compatible with third-party plugins, and you can even monitor the progress of your jobs from afar via a web page.
In addition, Chaos Cloud Collaboration makes it easy to share your work with your design team or clients. This allows you to have faster reviews and feedback, it helps you finish your projects more quickly.


9. With technical support and ongoing development, V-Ray's got your back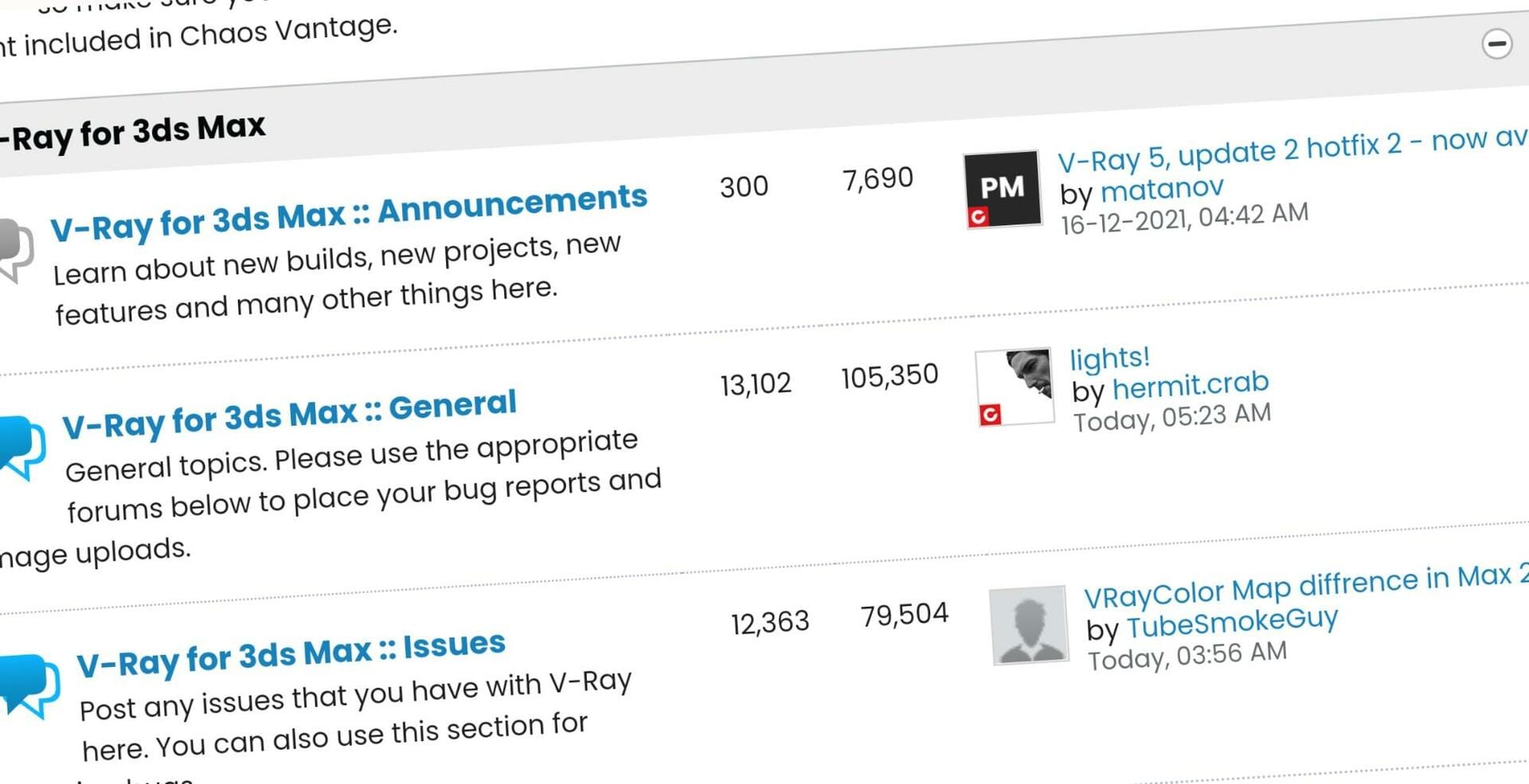 Talk to any V-Ray user and they'll tell you the same thing: Chaos technical support is amazing. When working on big and important projects it's great to know there's a friendly support team on-hand to solve issues as quickly as possible.
Chaos also has more than 20 years experience developing tools for computer graphics, and it's developed a slick internal pipeline that ensures V-Ray users receive updates that include new tools and features, as well as hotfixes and support for new versions of your favorite 3D platforms.
Is there a feature or tool you'd love to see added to V-Ray? Drop Chaos a line, or mention it on the Chaos forum.


10. Excellent value for money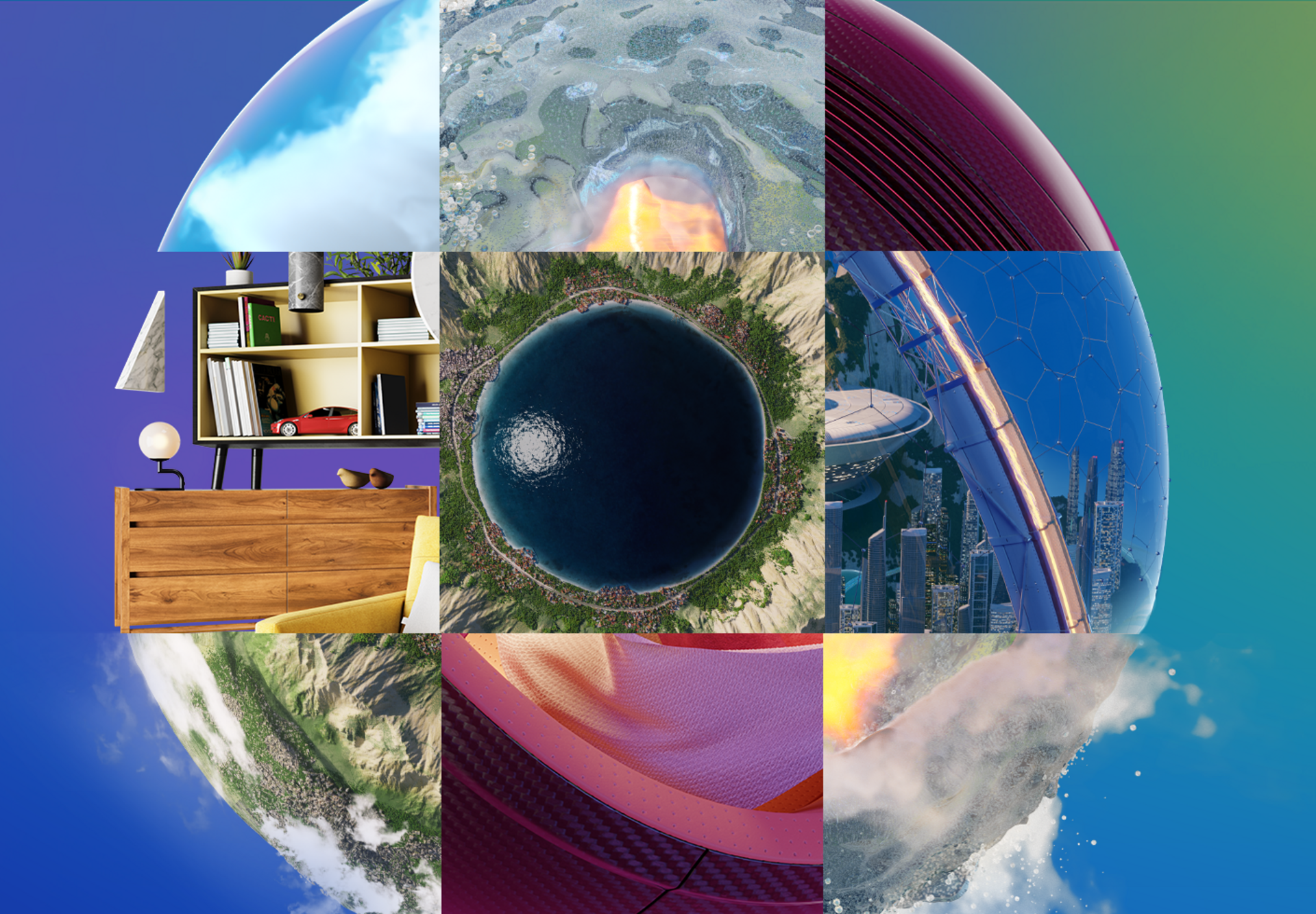 V-Ray has flexible pricing options for every project and every user. With a term license, you can always run the latest V-Ray software version and features, while the perpetual license gives you access to future updates limited within the current product version. You can cancel your subscription at any time.
Want to open your options? With V-Ray plans, you get access to lots of Chaos products for one low price. It's a great way to experiment with alternative 3D packages and workflows.
Education licensing is available for institutions and students, they have access to discounts. These licenses are fully functional with no limitations or watermarks.


Conclusion
V-Ray is a world-renowned rendering engine for architectural visualization. For more than two decades, it has continuously revolutionized the way the best firms, architects, and designers create images. Want to see for yourself? V-Ray has a 30-day free trial.

Begin your 3D rendering journey.
Try V-Ray free for 30 days.