Ever wanted to jump out of bed and into the Indian Ocean? At this tropical retreat, you can. Find out how V-Ray helped visualize this bamboo-based paradise.
Located on a tropical island in the Indian Ocean, Mövenpick Resort Kuredhivaru Maldives looks too good to be true. Guests in the overwater pool villas, situated on a jetty which stretches into a lagoon, watch the marine life of the Indian Ocean through the glass floor. On the island itself, a huge bamboo roof stretches over the high-class restaurant. It's the kind of place James Bond would take a vacation.
The man behind this luxurious resort is Pawel Podwojewski, founder of Polish architecture and arch viz firm Motiv. For Pawel, the project was a chance to design, visualize and build an entire resort from scratch using sustainable native materials while embracing the natural beauty of the island.
We invited Pawel to reflect on the creation of this tropical paradise, and the role software such as V-Ray for 3ds Max and SketchUp played in its design and visualization.
Tell us about yourself and what led to you founding Motiv.
I am an architecture faculty graduate at the Gdańsk University of Technology. I also did one year at Bauhaus University in Weimar following my mentor Mies Van der Rohe. At the same time, I studied Civil Engineering to expand my structural knowledge, which added so much to my design later on. While I was a student, I worked with my professors on commercial projects and competitions.
By March 2009, I had so much work I had to set up my own firm, Motyw, which I later rebranded as Motiv. At the time, I was working as a visual and concept artist, but I was still dreaming about creating unique architecture...
I was also involved in various activities, including vessel design and innovative solutions such as underwater hotels, which brought me into close contact with technical university teams as well as shipyard companies and design firms. This experience put me in an advantageous position to bid for the resort design.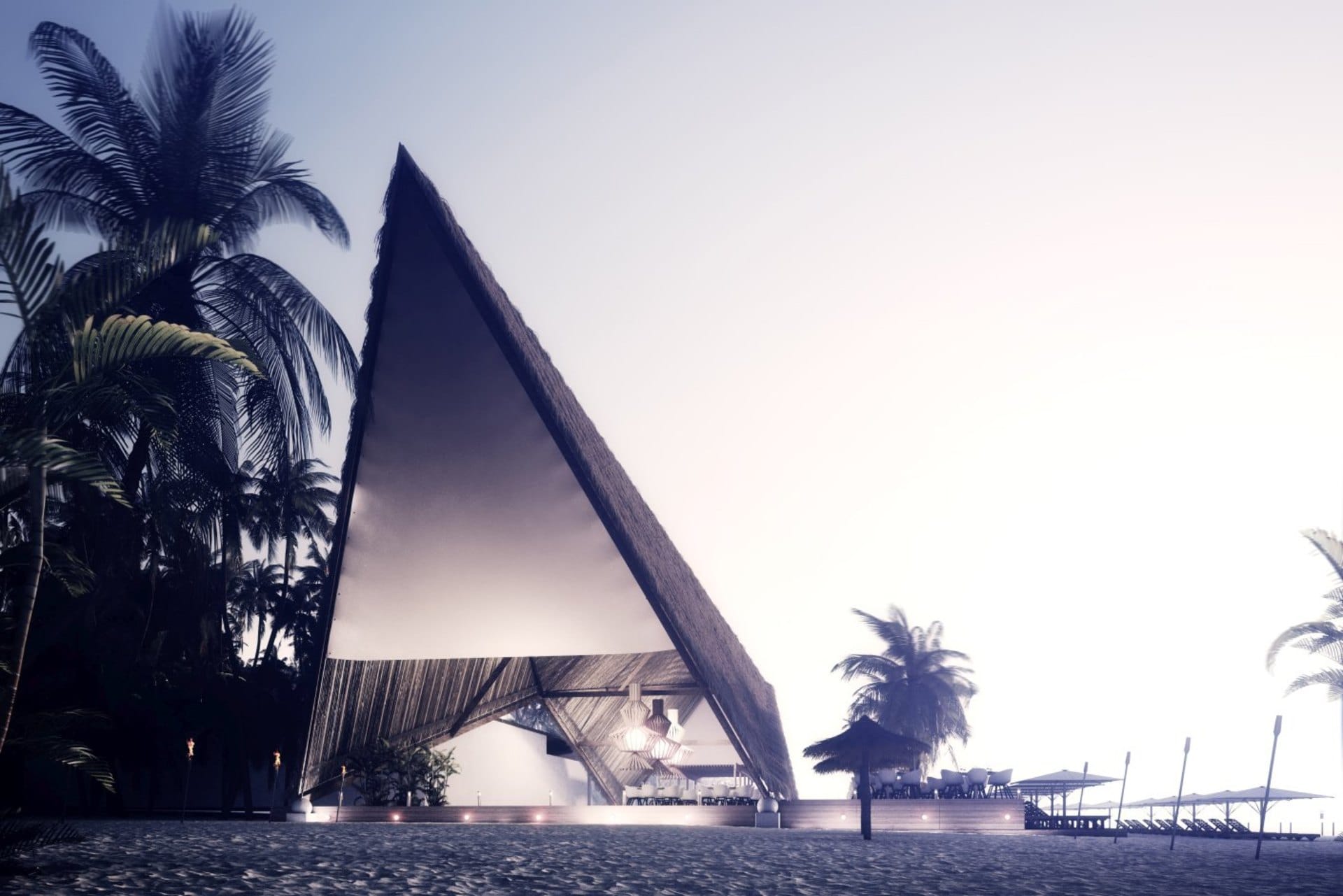 What was the initial design brief?
The initial idea involved developing an uninhabited island into a resort. I had to learn the local code and understand the capacity of the land and lagoon. To complete my first concept, I had to visit the site and also do a survey through our suppliers, who were mostly in Indonesia at that time.
Once I had collected this basic information and combined it with hospitality data from the Maldives market, I could establish a functional program that could be justified economically. It's worth mentioning that the main investor was also new to hospitality and expected help in creating a viable product.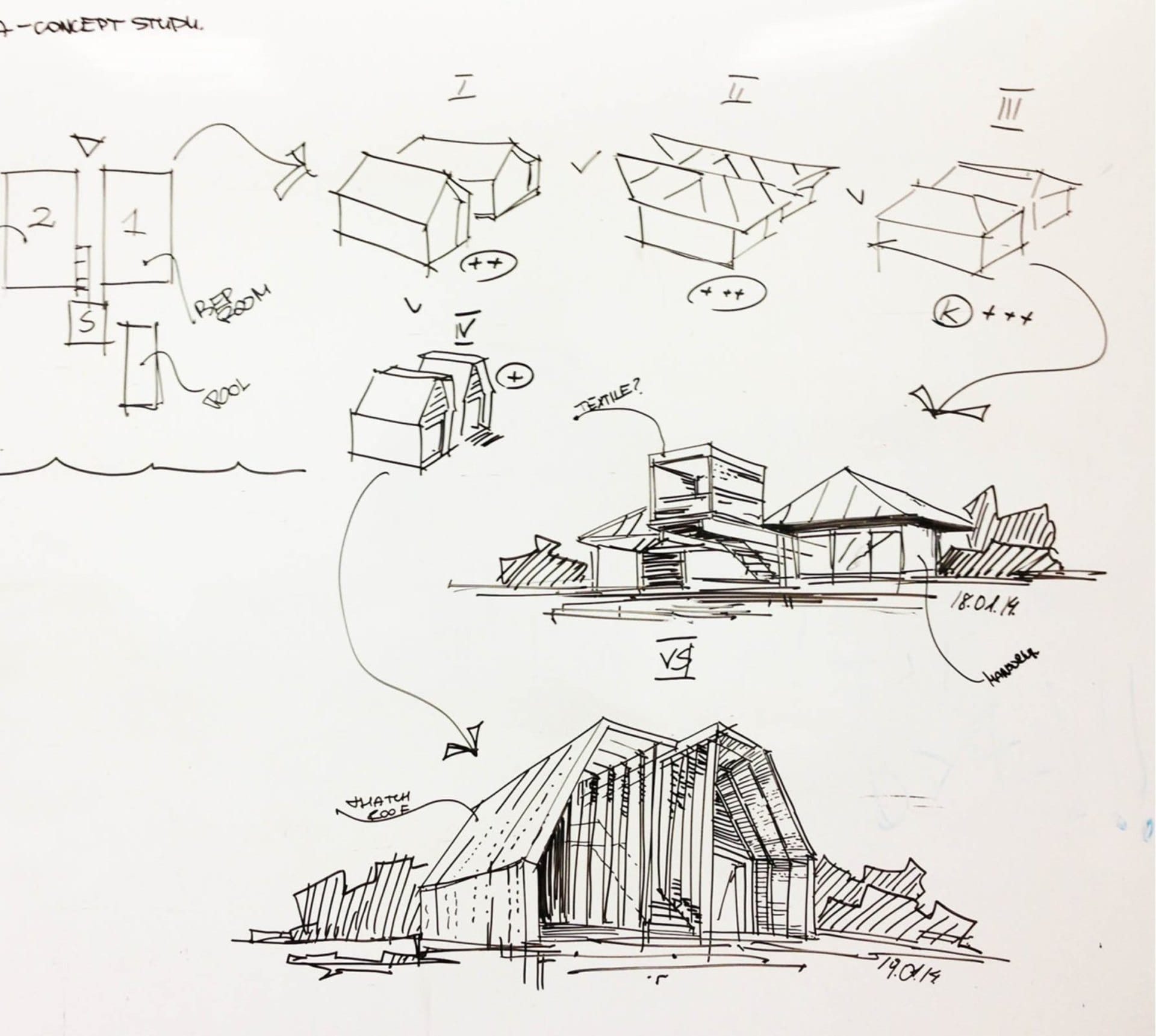 We concluded that around 105 housing units would be the most efficient way to use the island and lagoon — but this was only part of the overall project. I had to make sure the entire infrastructure would be in place, including a water desalination plant, power station, kitchens, sewage treatment plant and jet fuel storage. It was also critical to establish the flow of currents to locate the best possible entrance to the lagoon and island.
It was additionally important to me to preserve as much nature as possible. Therefore, I placed each building on the site manually. We didn't remove any palm trees — and we even planted more than 800 new ones!
I'm pretty sure it is the biggest single-roof bamboo building in Asia.

Pawel Podwojewski, Motiv
How did SketchUp help you design the roofs?
Our team in Indonesia, who helped me to finalize the structural design, did fantastic work with SketchUp. The first structure was analyzed using third-party software to figure out the important sections for bamboo and most-stressed joints, which were completed using CNC manufactured nodes.
All this was built in 3D using SketchUp so we could see in detail all the connections and solutions to make the whole structure clean. Having such a 3D model, we could easily work on the final shape and stay close to initial concept sketches. It is an amazing structure; I'm pretty sure it is the biggest single-roof bamboo building in Asia.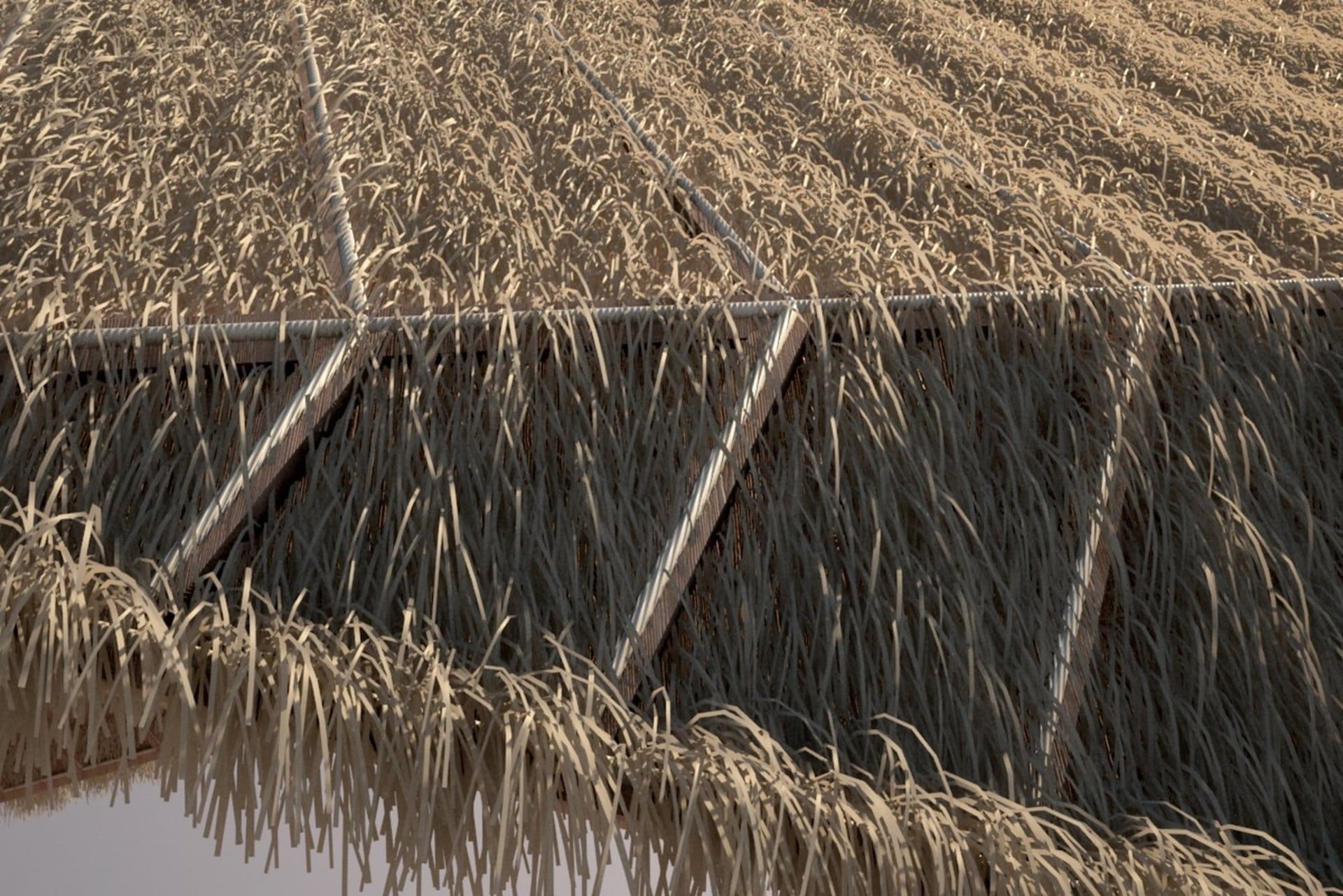 The resort features lots of organic, non-uniform shapes and surfaces. How did you create these without them looking unnatural or repetitive?
Nature is organic, and that was the starting point for the roof design. Still, you need to have usability, provide shade and rain protection, as well as good communication. The idea for shape came first, from sketches. Once I was happy with the result, I started to look for suitable materials.
Timber was my first choice, but in such climate conditions, with transportation limitations, it was not feasible. During one of my trips to Indonesia, I came across Green School, a fantastic place built entirely out of bamboo. You enter via a bamboo bridge and, once I saw it, I knew bamboo would be a perfect match for my roof design.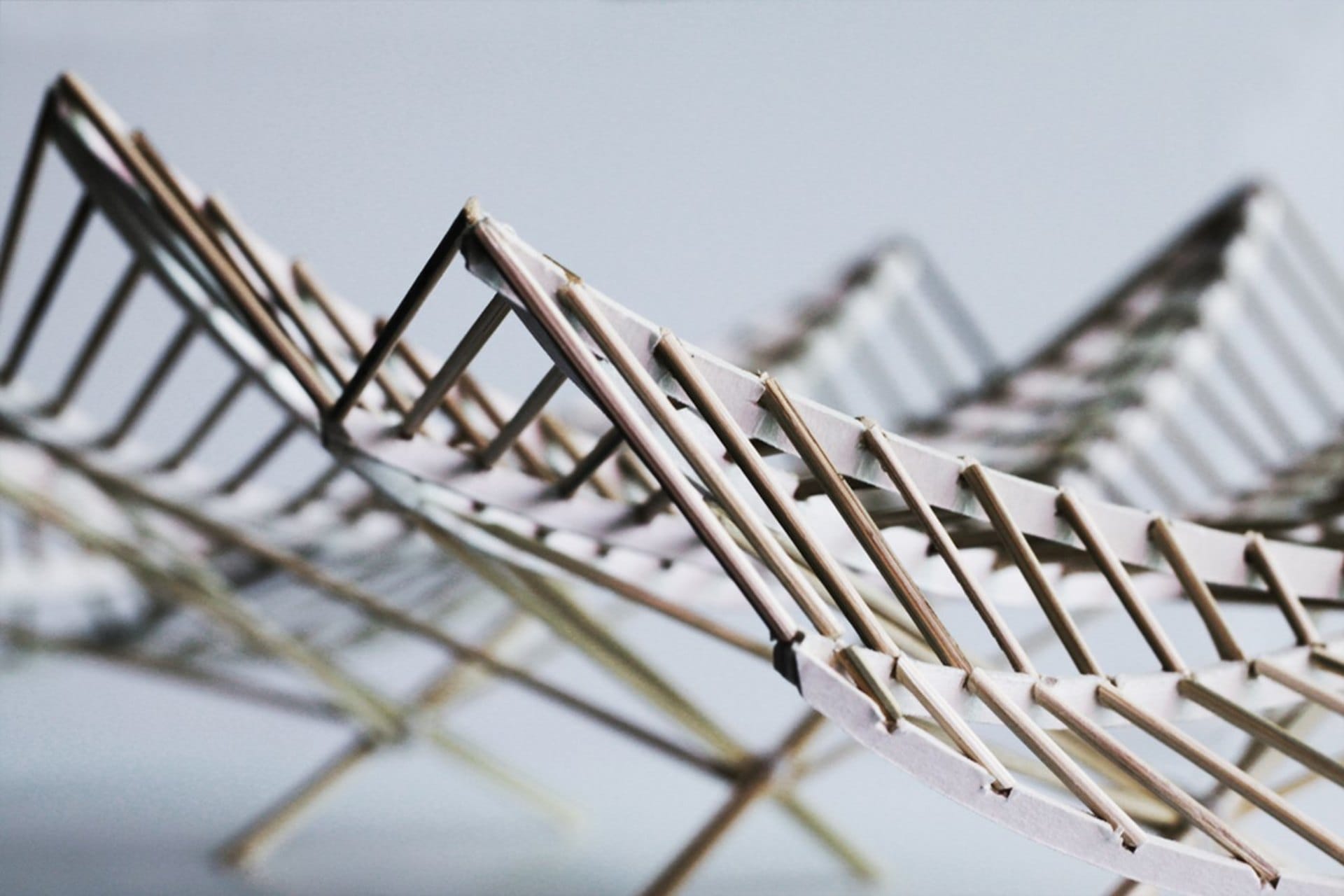 What are the advantages and disadvantages of working with bamboo?
Bamboo was a perfect choice. It grows fast, so we do not cause as much damage as cutting large trees, and it is rigid but flexible so you can build large structures — and it's extremely durable when it's well maintained.
It also has some interesting properties: Bamboo cannot be cut during a full moon phase as the water absorption is very high and bamboo may crack when it dries. I enjoyed learning how bamboo works structurally and how to use it in a design properly.
I reached out to designers from Bali and Bandung (Java) to help me with the final design. We built a team of specialists who completed the construction.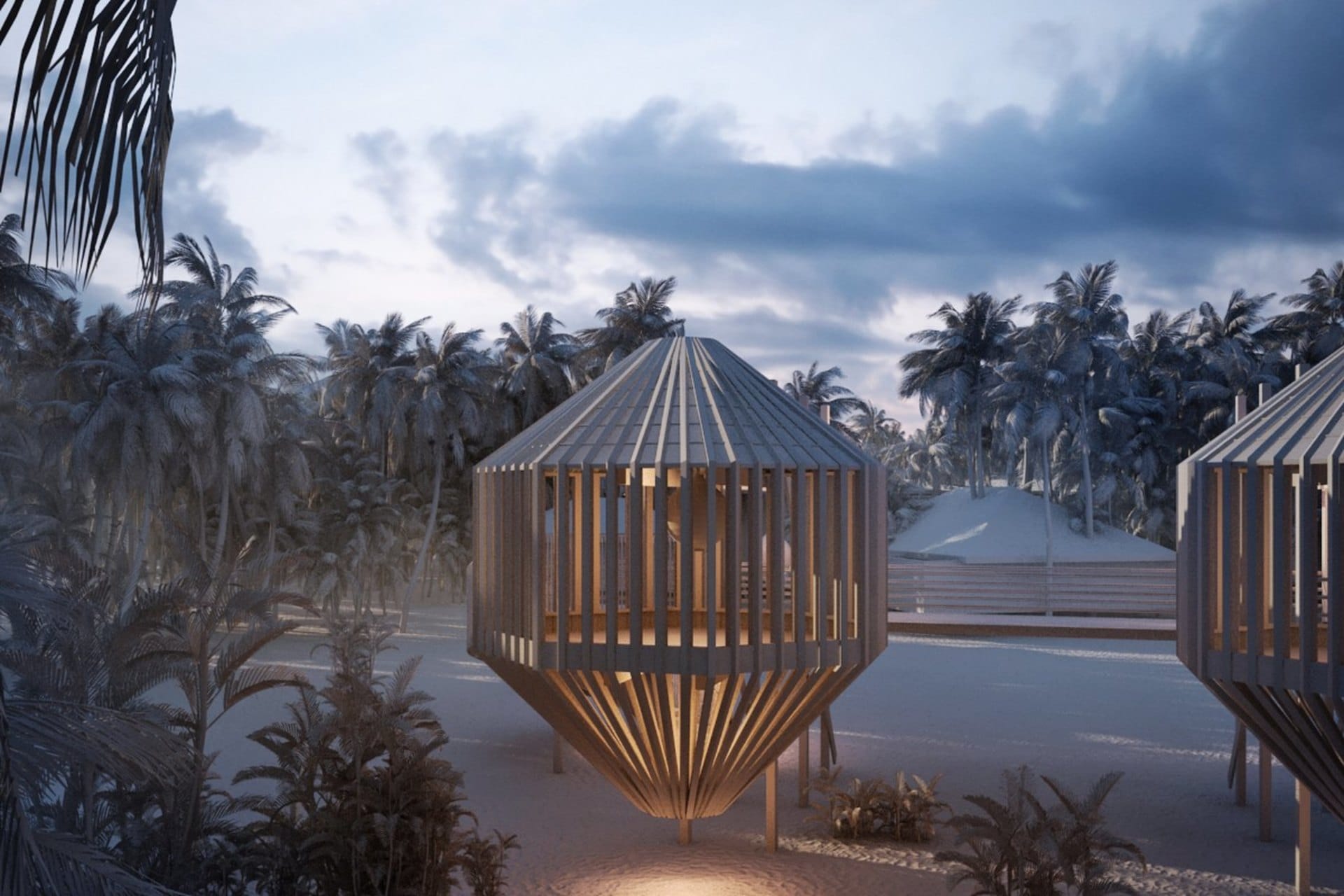 How did you approach the lighting, composition, and illustrate such a vast expanse in only a handful of images?
I was treating the renderings as design tools, so I paid less attention to the final look. They were supposed to explain the idea well, but not necessarily be perfect in every detail. I used the basic V-Ray Sun and Sky setup for all the images. It turned out great and allowed me to capture the feeling of the places, Genius Loci. I traveled to the site and Indonesia a lot, and this gave me a good sense of what I wanted to present.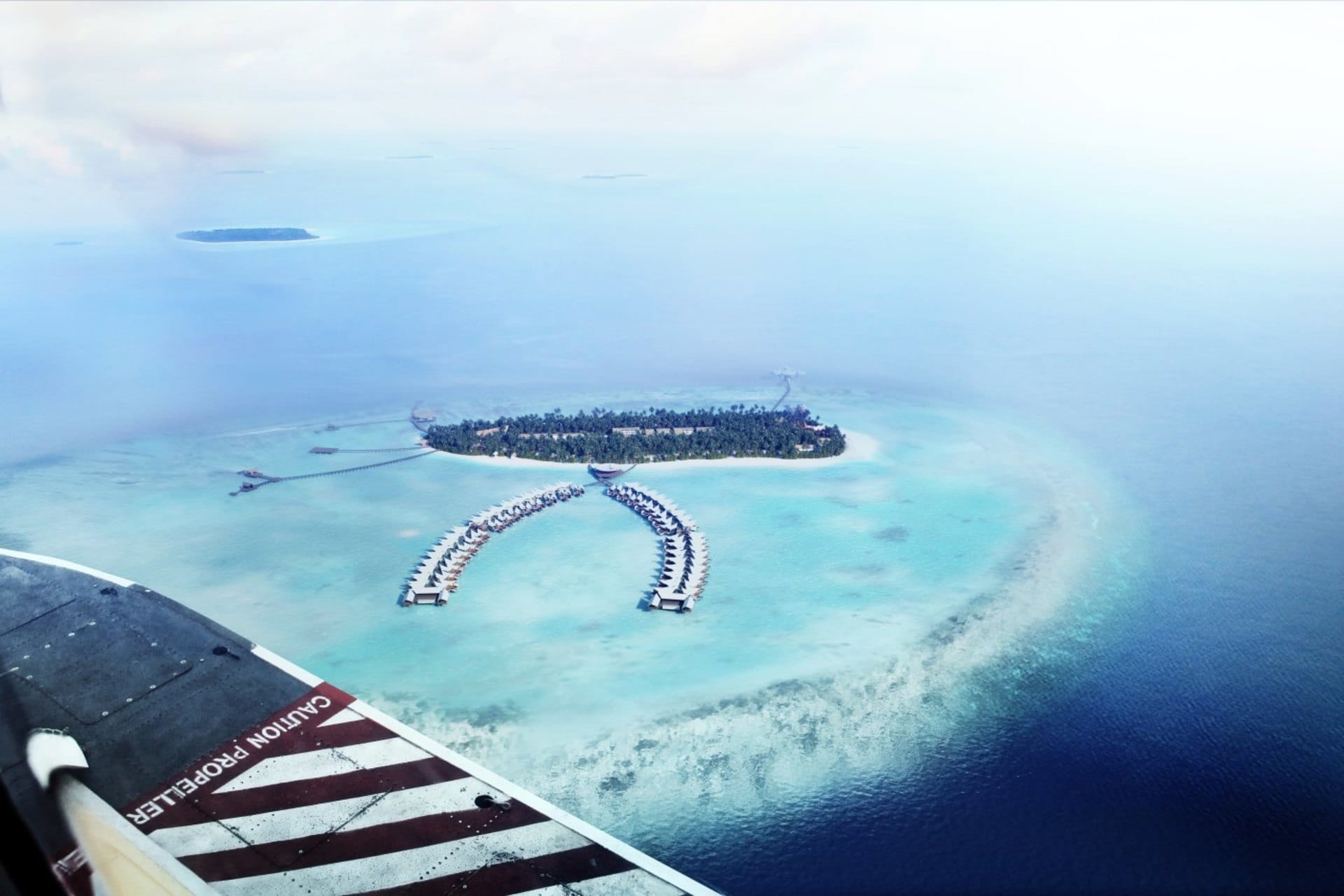 What kind of look were you going for with the visualization shots? How did V-Ray help you achieve this?
I wanted to bring a sunny-resort feel to the images. V-Ray was very quick to render preview images and get comfortable with lighting. In fact, I only used basic V-Ray Sun and Sky lighting systems. The rest was completed using Physical Camera settings and by playing around with white balance.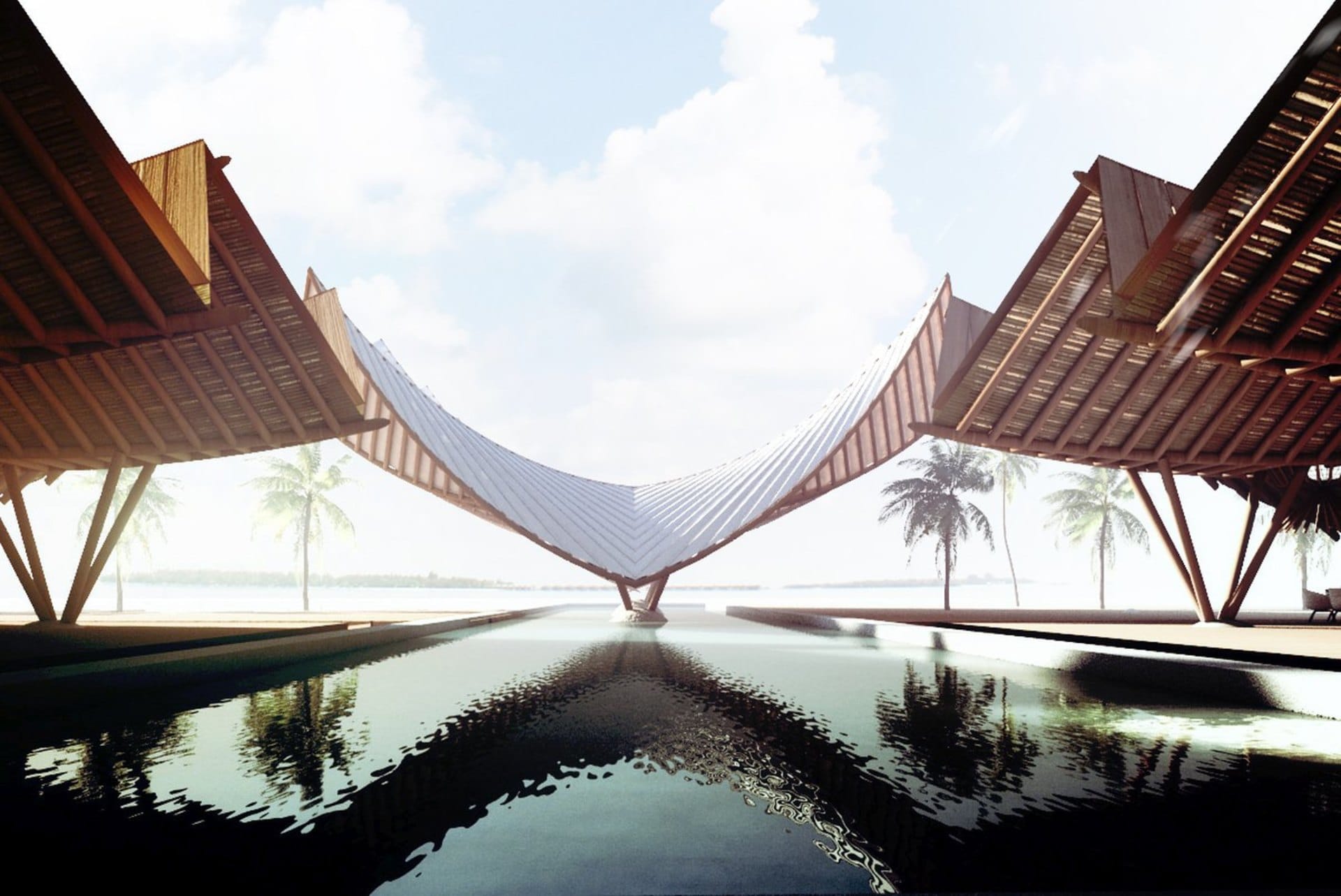 Were there any particular challenges V-Ray solved?
As usual, nature is the most challenging thing to recreate with 3D software. Your brain will automatically know when there is something wrong. In this case, we had beach sand, sea and the roof's thatched cover. The V-Ray 3D Displacement Modifier for sand and ocean helped me achieve believable results — and V-Ray Fur was an excellent solution for the roof!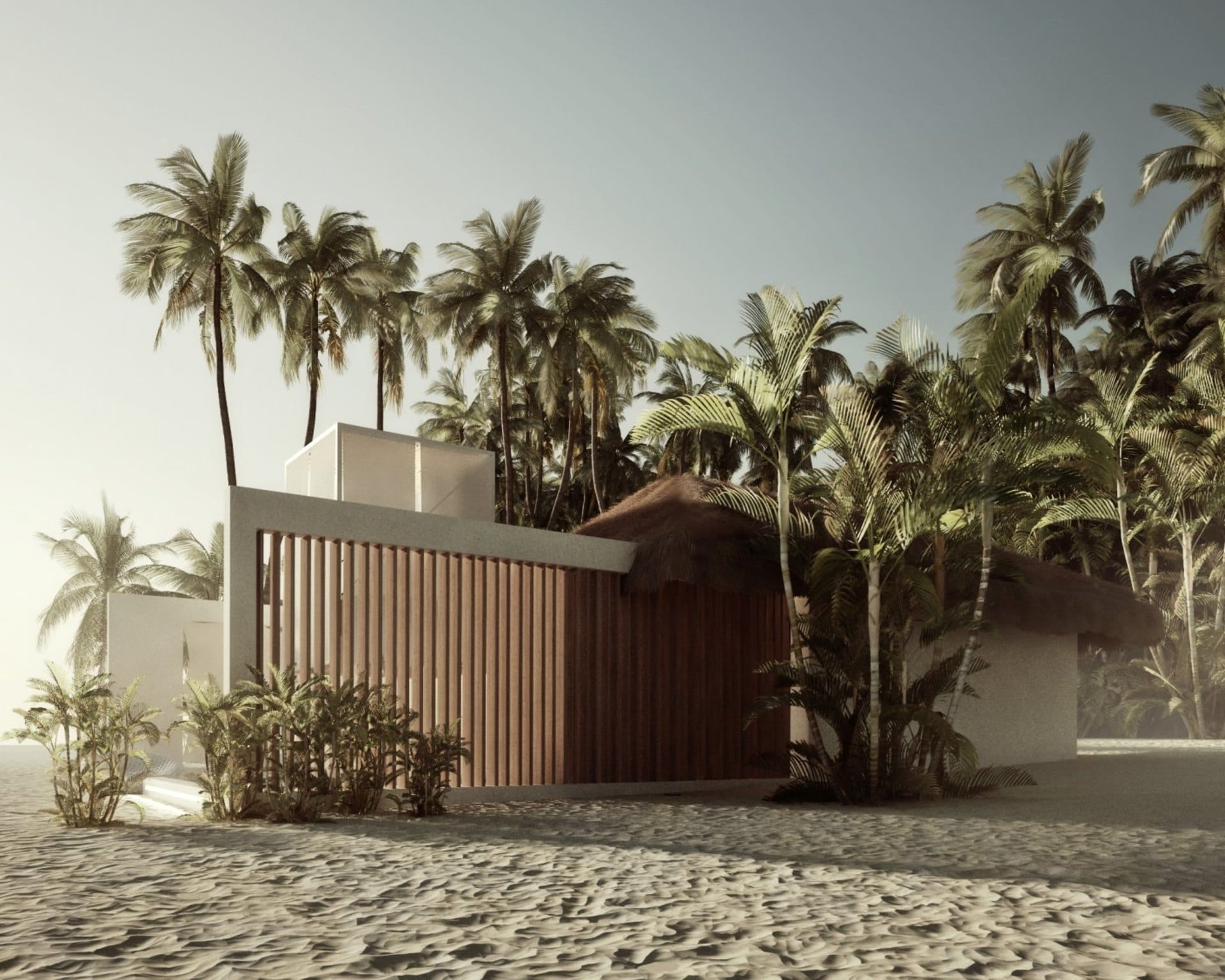 How did the client receive the images?
Everyone was very excited! And even though the images were a work in progress, they were well received by the CG communities, too.
Typically, arch viz is very clean and precise. Did the addition of organic, more random materials change the way you created this project?
I don't think that arch viz needs to be clean and precise at all. The trick is to make it more natural, and this requires imperfections. 3D tools helped me to translate my thoughts into a solid presentation to communicate better with other designers and suppliers.
I could express my intentions exactly and, this way, we ended up with a final result very close to the concept. I'm very happy about this as it's rare that early concept designs make it to the end with so few changes.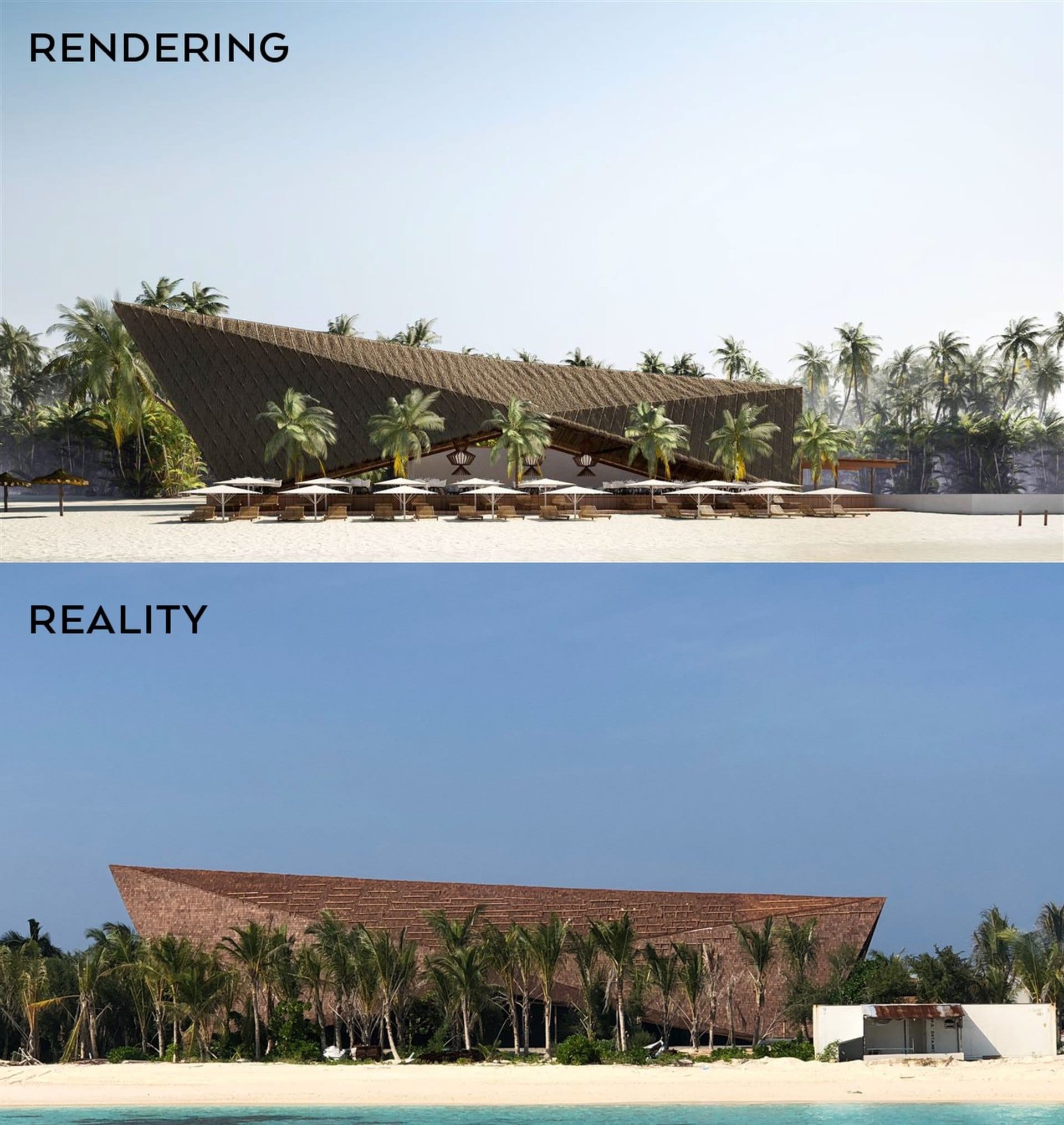 Have you visited the structure?
Oh yes, about 50 times or so! We became partners in the resort development during the process.
What's next?
This year, I'm going to focus on our in-house training. Our style has always been recognizable, and we want to push the bar higher. We will also share our experience with design firms to make the visualization process more efficient.
We also work with VR a lot, and that's another tool we want to adopt for architects and make it much easier to use. We'll explore the resort design field further, too, so you can expect many new projects from us!