V-Ray for Maya frees creative studio Recom Farmhouse's imagination — and Chaos Cloud ensures it delivers work on time. Owner Christoph Bolten tells us more.
Recom Farmhouse understands how to create beautiful, eye-catching imagery. The CGI and creative retouching studio's automotive design work has put motorbikes on the moon for Hookie and levitated Mercedes-Benzes above lakes. But it's not just about vehicles: Recom Farmhouse has also taken a curious ostrich on a Eurostar city tour and surrounded a male model with airborne fish.
Photorealism has always been at the heart of Recom Farmhouse's work, and it relies on V-Ray for Maya's physically accurate rendering for reliable, realistic output. With deadlines becoming increasingly tight, Recom Farmhouse has embraced Chaos Cloud, Chaos' quick and easy route to the cloud rendering.
We asked Christoph Bolten, Recom Farmhouse's CEO, to tell us about his company and its adventures in Chaos Cloud and V-Ray for Maya.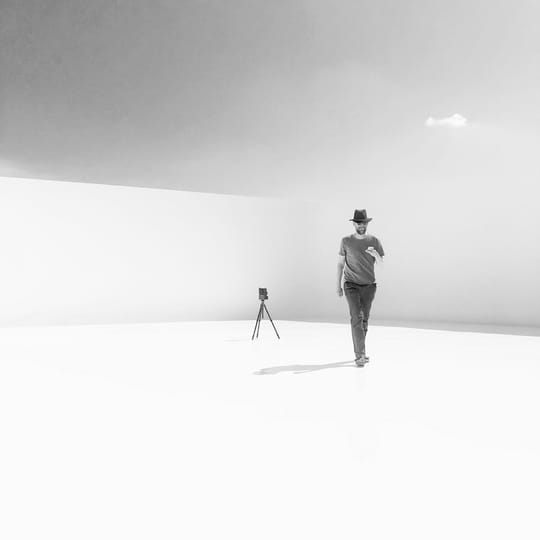 About Christoph Bolten
Christoph started as an assistant to some of the world's best photographers. At a time when enormous systems dominated the industry, Christoph pioneered a lightweight setup and made retouching an integral part of studio and location shoots.
As CGI became usable for high-end photorealism, Christoph founded Recom Farmhouse in London in 2009. In partnership with Recom, which has grown internationally, Christoph's creative direction continues to balance the leading edge of technology with a fine art aesthetic sensibility.
Tell us a little bit about Recom and the kind of work that you do.
Christoph Bolten: We're a happy and diverse band of creators, united by a boundless enthusiasm for visual arts. From our base in a creative enclave of East London to the energy of Brooklyn, Los Angeles, Stuttgart, Berlin, and Sofia, our international studios have given us huge capacity and an incredible depth of talent. At the same time, because each studio is small and unique, we keep the distinctive spirit of a boutique operation.
We're perhaps best known for high-end, imaginative, and aesthetic automotive work, but we stay fresh and creative with a huge variety of projects, for instance in fashion or fine art. We put a lot of value on strong creative relationships, whether it's photographers, art directors, editors, or more unusual creative collaborations such as cutting-edge product designers, or engineers of concept cars.
Why is Recom Farmhouse called Recom Farmhouse?
CB: I get asked that quite a bit! It's an odd name, isn't it? Originally I started as Farmhouse Post — I spent my childhood roaming the farms of my village, and the farm for me always was a place where good things grow. It sounded great, and of course, there is the connotation with the render farms where everything comes together. And once we merged with Recom, it was important for me to keep some of that identity — hence Recom Farmhouse.
Where do you find inspiration?
CB: Apart from the usual social media channels, we have a great art book collection in the studio. It's good for the brain to get away from the screen, sit on the sofa, and study books about architecture, painting, or photography.
You have a very interesting blog with many intriguing projects. Which one stands out the most?
CB: Our most memorable projects are always those you walk away from having learned a lot. If you are still happy with the result after two years, then it was a truly great project.
One of these is definitely the film Low Earth Orbit. It was a long and intense project, self-funded, with a lot of great people contributing. We learned from each other and charted a lot of (for us) untrodden territory on this project. Without a fixed deadline, we were able to spend the time we needed to get it right.
How long have you been a V-Ray user, and what do you like about it?
CB: We have been using V-Ray for Maya since late 2010, transitioning over from Mental Ray at the time. We like its mix of simplicity combined with powerful flexibility and interactivity. Not to mention the great support from both the Chaos team and the user community.
The Chaos Cloud support team increasing our 100 virtual machine limit to 300 at short notice was crucial in helping us complete the project on time.

Christoph Bolten, Recom Farmhouse
Which industry trends made you choose Chaos Cloud?
CB: We've noticed that deadlines have been getting a lot tighter recently. For instance, we were working on a launch film for IBM, but the product design kept evolving while we were making it. The Chaos Cloud support team increasing our 100 virtual machine limit to 300 at short notice was crucial in helping us complete the project on time.
What do you like about Chaos Cloud?
CB: It's great to be able to scale our render capacity up and down without having to purchase and manage additional hardware and licenses. We can render more in less time
It's easy to set up as well. I mean, even I can use it! The credit point system is simple to control and maintain. We love that every version is supported and managed by Chaos, so you're free to render and not fiddle with IT and pipelines.
What was one unexpected benefit you experienced from using Chaos Cloud?
CB: It's great to be able to log in from any web browser and see each individual frame being rendered. This way you can spot potential issues straight away before the render's finished.
Get creative with Chaos Cloud.
Claim 20 free credits.