Experience an interactive and fun new way to shop all things interior with Wayfair's Digital Design Studio, powered by Chaos Vantage.
"The most important thing retailers should focus on is creating a meaningful and omnichannel customer experience that embodies the company's vision." (Nicole Tan, Creative Technologist, Wayfair.)
As trailblazers in technology and customer experience innovations, Wayfair continues to revolutionize the home decor industry. Our recent conversation with them delved into their newest interior design solution, the Wayfair Digital Design Studio.
Keep reading to learn more about the digital studio, the role of Chaos Vantage, and how the entire experience can make designing your perfect space easier than ever.
A breakthrough interior design solution and its product-market fit
The Digital Design Studio came about through collaboration with the Physical Retail team. When shopping online on Wayfair, customers have access to a nearly endless selection of home furnishing products. With the recent opening of Wayfair's physical stores, customers can interact with a selection of furniture items in-store. However, physical furniture stores only have a curated selection of items available as they are constrained to the furniture that can fit in the store. Digital Design Studio was created with the goal of bringing together the best of online and in-store shopping experiences.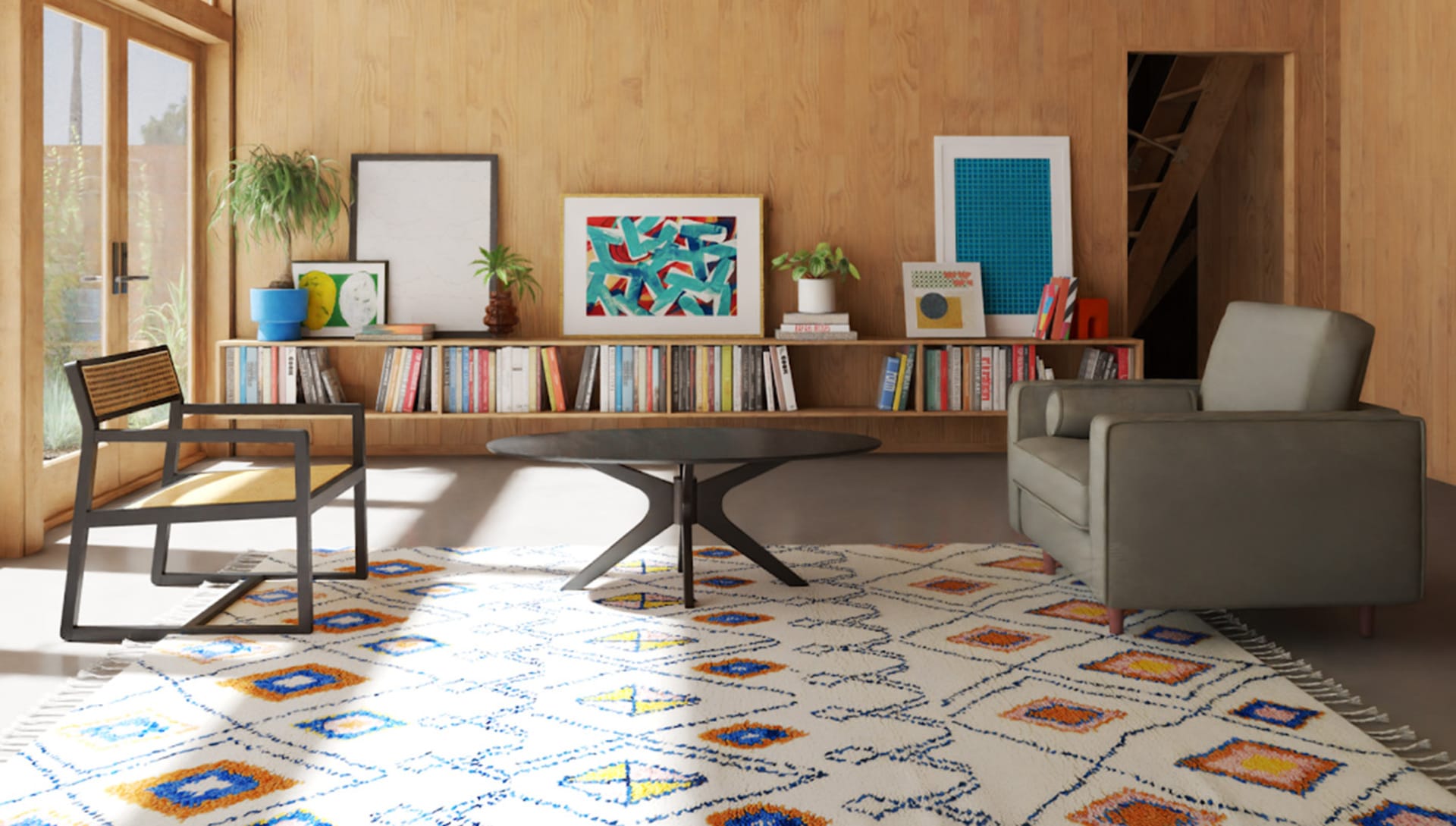 The product experience: From store entry to purchase
There are various ways a customer can begin engaging with the Digital Design Studio. They may be led to the experience by one of the designers at Wayfair's Design Bar, or they may approach it organically out of curiosity.
When a customer walks up to the Digital Design Studio, they are met with a kiosk with a glass tabletop, a selection of cards with Wayfair products on them, and a screen encouraging them to place a card on the surface to start designing.
The customer places their first product card on the table, and the screen changes, now showing a photorealistic version of the product in a virtual modern room. They can move and rotate the product card on the table, and the corresponding virtual product will move and rotate around. They may add more product cards to the table. Each of these products will show up as a life-like product visualization on the screen.
From there on, customers can interact with the kiosk by quickly mocking up a living room with matching furniture and swapping product cards. The Digital Design Studio allows for the comparison of products in the same category, while the camera card helps customers understand the textures and materials. Lighting and background cards allow for customization options.
If a customer finds a product they're interested in, they can scan the QR code on the product card and purchase it on Wayfair.
From pain points to perfect spaces
Interior design is an inherently visual and iterative process. It's difficult to picture how items you're considering purchasing may go together as there are many factors to consider, including style, textures, and relative sizing.
Wayfair's Digital Design Studio helps customers feel more confident about their interior design purchases. Customers can put together quick but realistic mockups of spaces, a process that would otherwise take much longer with traditional 3D rendering software. They can iterate on designs in an intuitive and tangible way by simply moving product cards on the table.
In addition to getting a high-level overview of which combinations of products could go together, the Digital Design Studio also allows customers to get more detailed nuance about each product by providing accurate sizing for products and enabling customers to zoom in to view each product's materials up-close.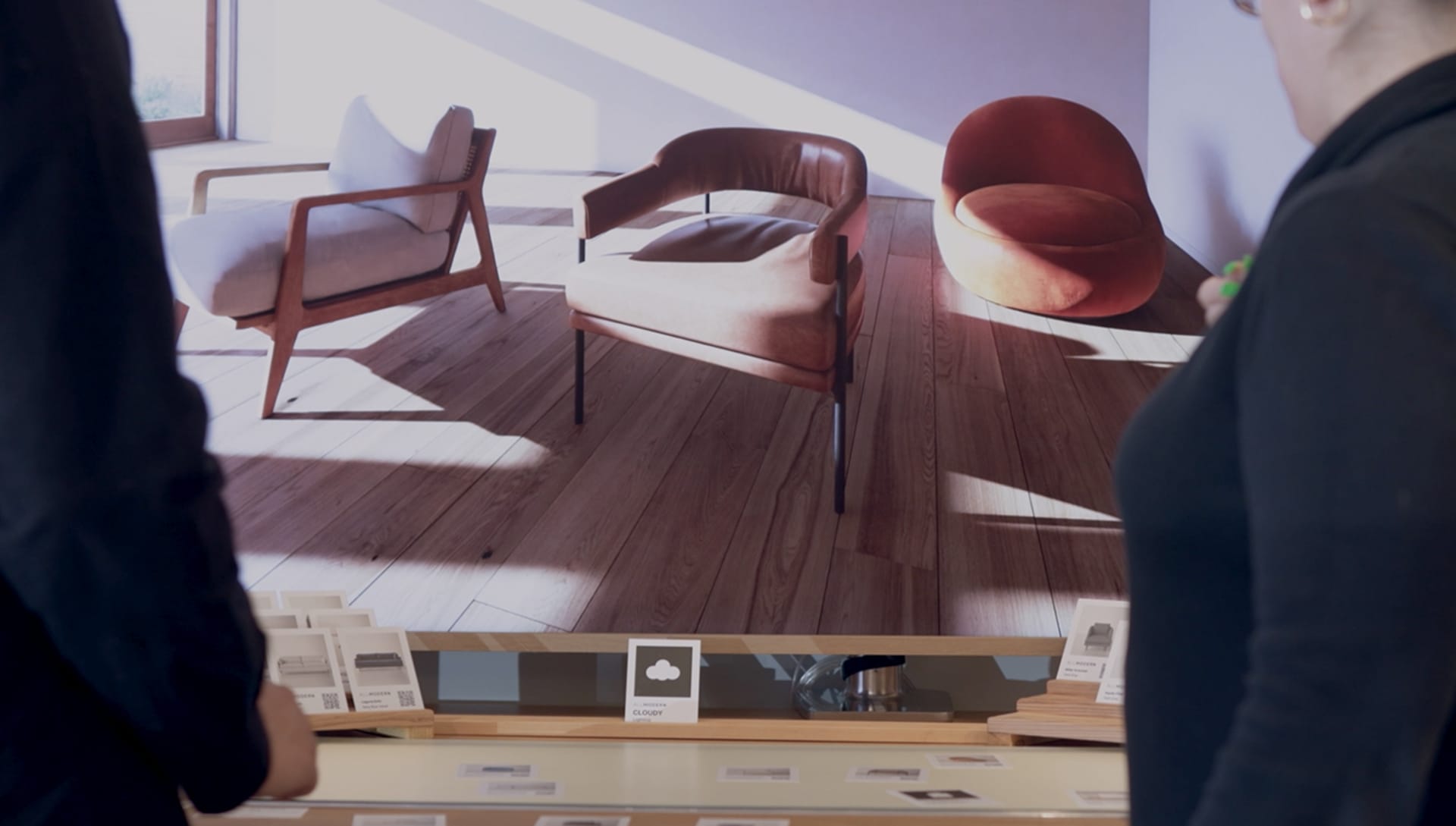 Life-like textures and accurate lighting with Chaos Vantage
The photorealistic visualizations that customers see on the screen are the images rendered out by Chaos Vantage. Vantage allows Wayfair to create these life-like visualizations nearly instantaneously. The tool is crucial to its workflow; customers shopping for furniture rely on accurate visual information to gain confidence in their purchasing decisions. Vantage enables the company to show furniture with life-like textures and accurate lighting at the speed of placing a card on the table.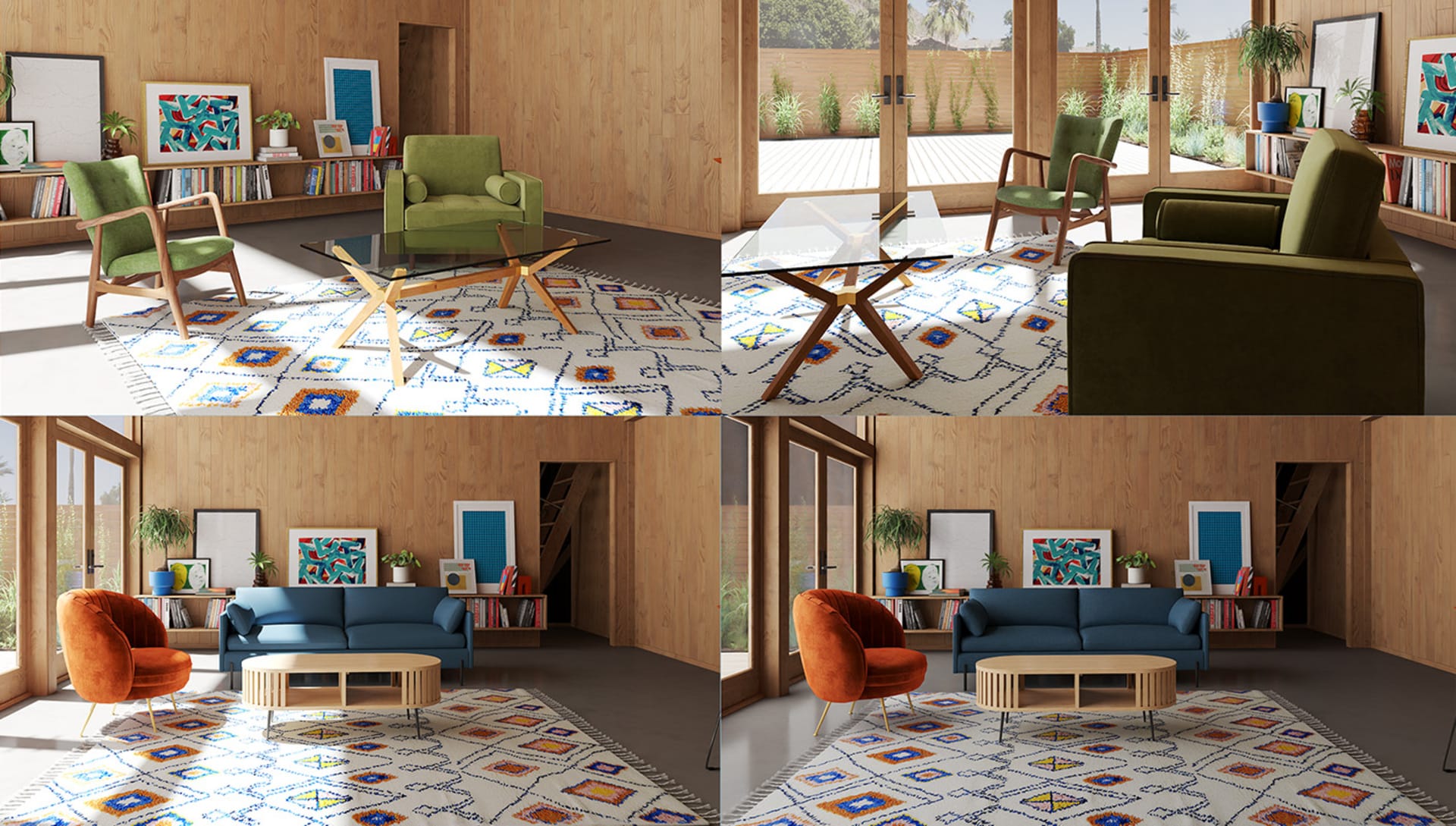 Streamlining Wayfair's workflow and enhancing furniture shopping
Wayfair already uses Chaos' V-Ray and Autodesk's 3ds Max to create photorealistic imagery for products on its website.
Since Vantage is well-integrated with 3ds Max and V-Ray materials, we were able to create a real-time pipeline to render our products with minimal changes to our existing workflow and 3D models. This ease of use was a big plus and integral to simplifying our development process.

Nicole Tan, Creative Technologist, Wayfair
Furniture shopping strongly relies on being able to compare the visual qualities of products, especially when you are unable to see the product in-person in a store. The ray-traced quality Vantage provides, combined with real-time rendering, means that customers can view photorealistic visualizations of products almost instantly. In addition to this high-quality output, Wayfair found the Live Link functionality simple to use and easy to connect to 3ds Max.
It's a kind of magic: Connecting in-store and online catalogs
With only a limited number of products available on the showroom floor of Wayfair's physical stores, the Digital Design Studio speaks to Wayfair's omnichannel vision, connecting its in-store and online catalogs. Because customers can view products that are not in-store as well as options for in-store products, such as different colors, they're able to experience the breadth of Wayfair's selection.


We think there's some magic in placing something as familiar as a card onto a table and opening up a completely new way to create life-like interior designs. It's an experience that customers haven't seen in stores before and sparks a feeling of wonder.

Nicole Tan, Creative Technologist, Wayfair
The aspect of the Digital Design Studio that typically gets customers most excited is when they place lighting cards to change the time of day in the scene. This is a feature that they don't typically see, and the lighting can really change what the scene evokes and feels like.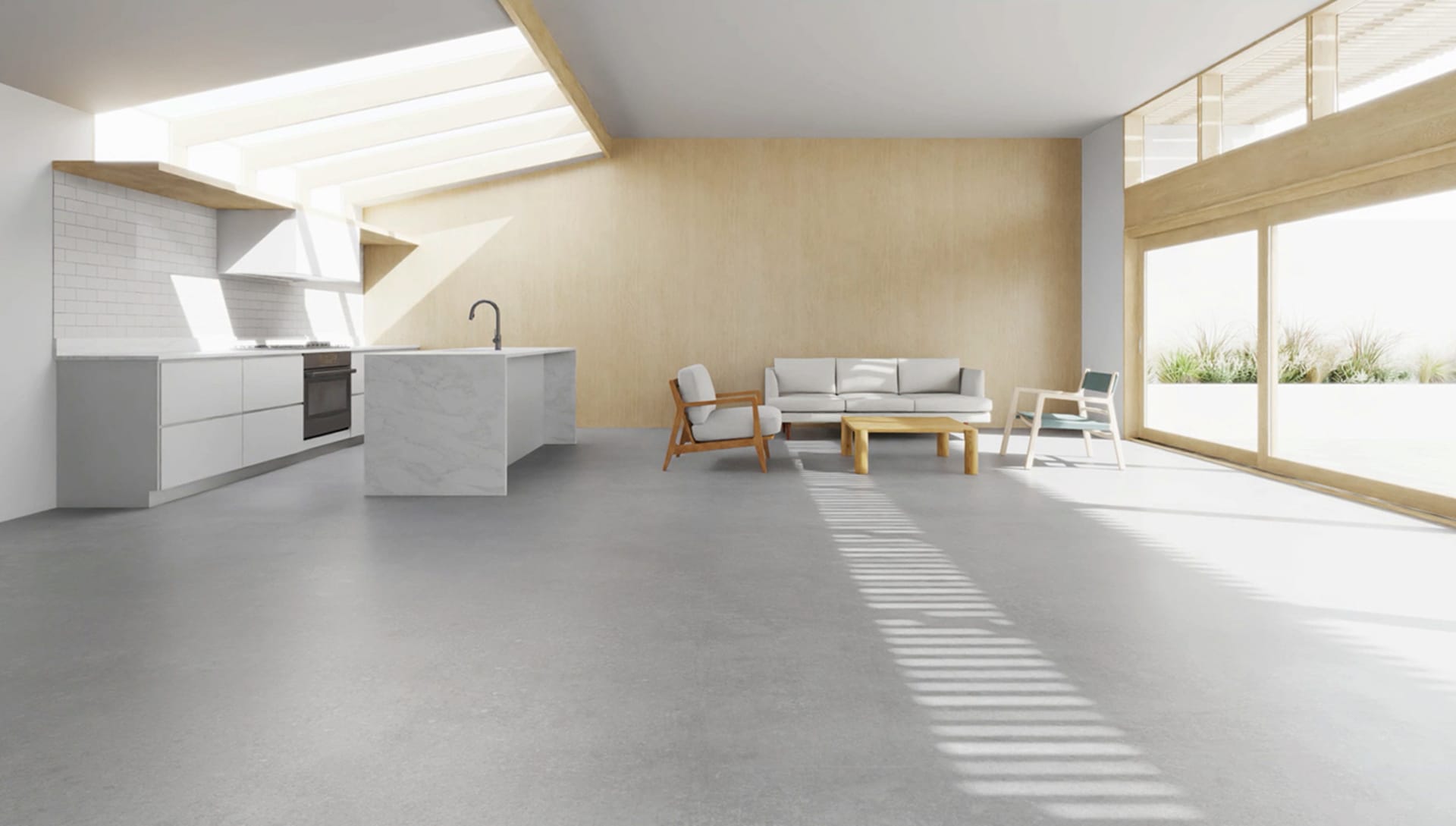 What's next for Wayfair
Wayfair believes that customer shopping preferences and personalization will drive the future of home shopping. In-store and digital experiences will both have strong roles to play.
The company is looking for areas where it will be able to optimize and enhance the omnichannel experience, making it seamless for customers to move between digital and in-store, ensuring they can easily find what they need and purchase it. Digital Design Studio is just the first step in this direction.
Among Wayfair's areas of interest is generative AI, which lowers the barrier to creating rich, personalized digital content. By exploring innovative technologies, Wayfair is poised to usher in a new era of personalized furniture retail, revolutionizing the way customers shop both online and in-store.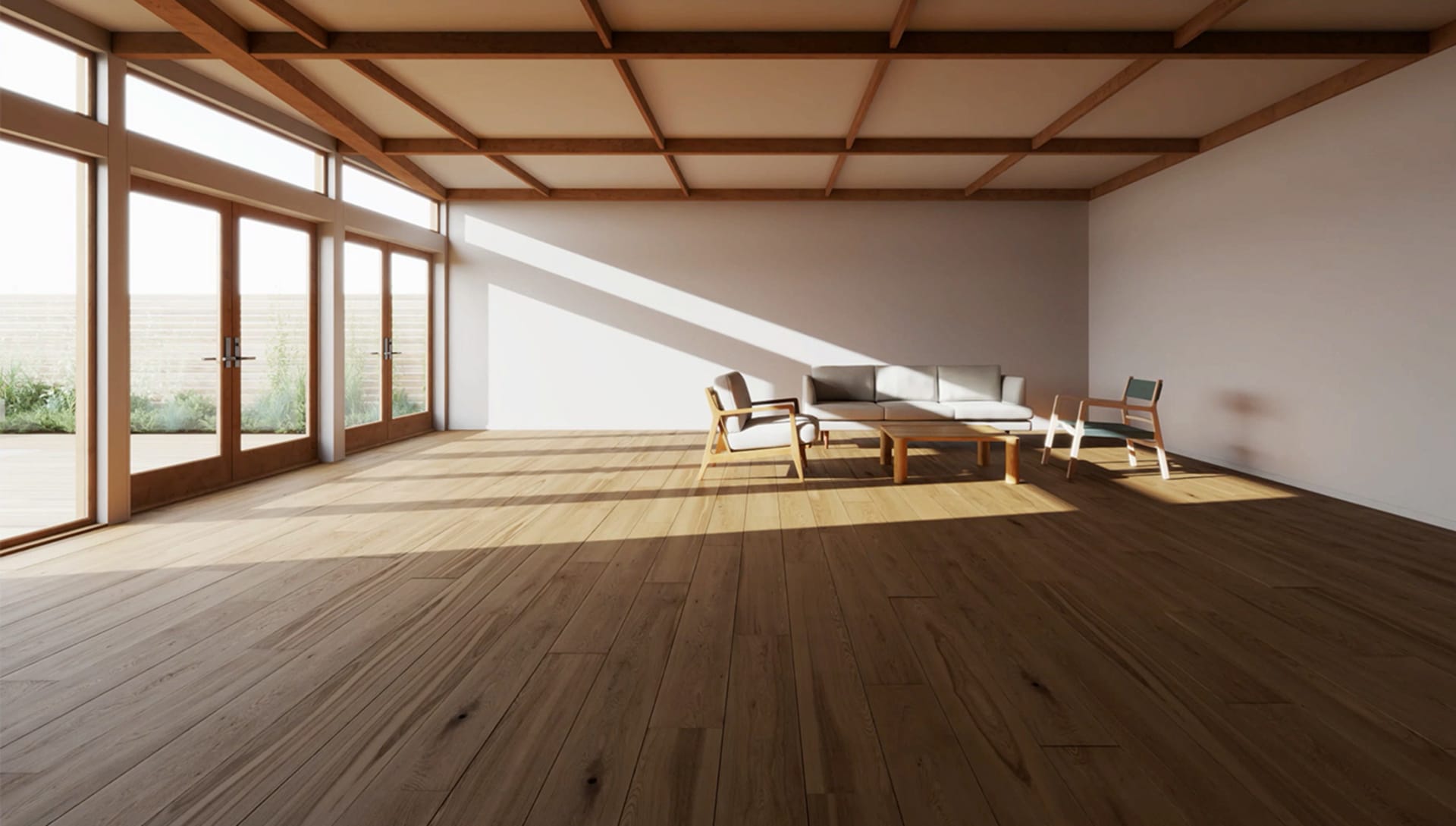 Experience pure raytracing in real-time.
Try Chaos Vantage.