G-Bots sit at the heart of GAMEE's crypto-powered gaming platform. Find out how V-Ray for 3ds Max and Chaos Cloud help bring these premium characters to life.
G-Bots are putting the fun into non-fungible tokens. These battle-hardened robotic warriors serve as player characters on Arc8, GAMEE's mobile gaming platform, which currently features two titles: Dark Lords and Energy Wars. As non-fungible tokens (NFTs), players can buy G-Bots with cryptocurrency and then play the games to earn GMEE tokens and other rewards.
Behind the scenes, GAMEE has put a huge amount of research and development into creating a range of G-Bots that look like premium collectors' items. The art team designed the characters in 3ds Max, making use of V-Ray for 3ds Max and Chaos Cloud to render high-quality looping animations.
We spoke to Martin Žákovec, GAMEE's head of games and NFTs, and artist Michal Suchánek, to learn more about this innovative new combination of crypto and control pad.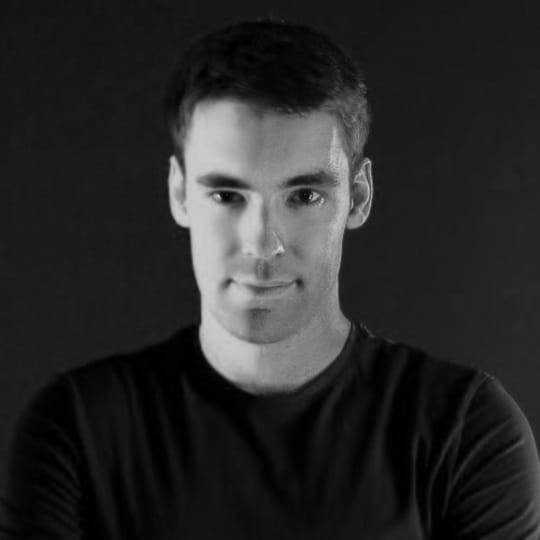 About Martin Žákovec
Martin has always loved playing games and the concept of creating something out of nothing, taking an idea and making it real. He's happy to work with amazing creative people who can bring these ideas to life. GAMEE, focuses on creating engaging games for mobile and web.
Could you explain what makes G-Bots unique in the world of NFTs?
Martin Žákovec: G-Bots are first and foremost playable game characters with a bunch of live, existing utilities. They're not another piece of digital art with some generic roadmap, but rather a game asset that you can already take from one game to another. And we wanted to make them look cool!
Where did the idea come from?
MŽ: We are based in the Czech Republic, so we knew we wanted to do something with robots since the word itself, "robot", is of Czech origin. The final name, G-Bot is the connection between the company name GAMEE and the word robot.
Could you talk us through the experience players have with their G-Bots?
MŽ: There are currently two games live on Arc8, our mobile gaming platform. Players can use their G-Bot characters in a puzzle-battling game and a classic shoot-em-up. Not only can they play, but they can also upgrade, evolve, and create new G-Bots from the existing ones. Next year should be really exciting because we plan to launch a bigger standalone game focused solely on the G-Bot fighting experience in real time.
What's your pipeline for creating G-Bots?
MŽ: We created some guidelines for each G-Bot class (we have five) and those provide boundaries for the art team to work with. We start with concept artists coming up with ideas for themes within the overreaching class guidelines and once we have something we like, we go after the details; specific props, skins, weapons, etc. By the end, we have finalized sketches from multiple angles for 3D artists to start modeling. Once individual parts are done, the art lead for the project completes the textures and puts the entire G-Bot together.
Next, we test low-res renders of both static images and the looped video to see how it feels, make any final adjustments and then send it to Chaos Cloud for the final rendering.
How did Chaos Cloud help simplify your workflow?
MŽ: It was a lifesaver! We were on a very tight schedule and we were faced with a decision to start rendering locally and compromise on the final quality to make the deadline or take our time and use Chaos Cloud. I'm happy to say we chose the latter.
Could you tell us a bit about the character design and the artistic choices you made?
MŽ: It was a very organic process. We always knew we wanted to make something that feels premium and looks interesting, as if you have a limited, highly detailed collectible figure on your desk. That being said, the path was not easy or short. It took us a better part of six months to get to the final design and more than 50 iterations overall. G-Bots initially started as 2D characters and they naturally evolved into 3D only roughly halfway through.
Do you find Chaos Cloud more efficient for rendering stills or animation?
MŽ: Both, actually! We initially test stills to check the overall model feeling and create low-res animation renders to check for collisions and shape blending.
What do you love about V-Ray for this type of project?
Michal Suchánek: I have always had a very good experience with V-Ray. It´s a great visualization tool with versatile support and an extensive material library. With Chaos Phoenix, V-Ray creates the perfect combo that I find very useful in every situation. Also, speed was an important attribute from the very beginning, and thanks to Chaos Cloud we were able to finish our project just in time.
The final G-Bot render of 350 frames would take up to 24 hours to render on our office computers. With Chaos Cloud, we were down to 10 minutes.

Michal Suchánek, GAMEE
What were some of the other Chaos Cloud features that you found helpful?
MS: As an artist, I always appreciate how simple the process of cloud rendering is. All I need to do is push the button. The entire procedure is very automated and this means I'm not distracted from my work. Also, the fact I can render multiple jobs at the same time is just awesome!
What difference did it make to your render times?
MŽ: It was gigantic. The final G-Bot render of 350 frames would take up to 24 hours to render on our office computers. With Chaos Cloud, we were down to 10 minutes.
Can you share any funny or interesting stories from the project?
MŽ: The most fun aspect was plugging pop-culture references into the design itself. So we have elements from The Dark Knight, Police Academy, Metro 2033, and many more. Keep your eyes peeled!
How has the project been received among gamers and the NFT community?
MŽ: We would say very well. The games with G-Bots have been played more than 800,000 times — and this is just the beginning!
What does the future hold for G-Bots?
MŽ: Next up, we are working on expanding the models available (we have new types, and classes, in development), as well as what you can do with them. Customization is a big thing on our minds and we also want to introduce more about G-Bots themselves. What are they? Where do they come from? What does their world look like? 2023 will be a big year for us!
Experience cloud power.
Try Chaos Cloud with 20 free credits.