Mondlicht Studios and Rhubarb Agency's campaigns for "Utopia," "Altered Carbon" and "Alta Mar" are humongous. Find out how V-Ray for 3ds Max helped create them.
Mondlicht Studios' work belies the seven-strong size of its team. It's created epic advertising campaigns for Netflix and Amazon Prime Video series, energy drinks, gaming chairs and futuristic car concepts. It also indulges its creative side with imaginative passion projects that bring out the details in classic and modern cars, place Nike sneakers into sci-fi environments and create drool-worthy foodstuffs.
The German studio's pipeline makes use of many pieces of software, including V-Ray for 3ds Max and V-Ray for Maya. We talked to Dmitriy Glazyrin, one of the company's co-founders, about its background, projects and how it created a stunning piece of key art for Amazon Prime Video's Utopia in collaboration with Rhubarb Agency.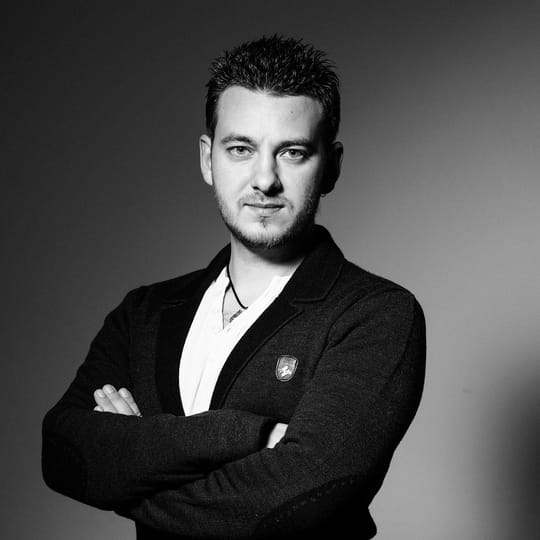 About Dmitriy Glazyrin
Dmitriy has worked in the CG industry for more than 13 years. He began with Photoshop, and later moved to 3ds Max and V-Ray. After receiving a job offer from Brazilian studio Platinum FMD, he packed his suitcase and flew to sunny Rio from cold Russia. Dmitriy went on to work for many international studios including Lightfarm (New Zealand), Cream (Australia) and RecomFarmHouse (UK).
Mondlicht Studios >
Mondlicht Studios on Behance >
Mondlicht Studios on Instagram >
How was Mondlicht Studios formed?
Dmitriy Glazyrin: Myself, David and Maksym had worked together as freelancers on several projects. The process was so easy-going and productive that we decided to broaden our collaboration and create a studio in 2019. It was a very natural step for all of us, and I'm incredibly proud of everything we have achieved over the last two years.
For Mondlicht Studios, we combined various talents to offer our clients high-quality content. We now have seven people in the core team — we may be small, but we can handle big projects thanks to our skills and devotion.
2020 was a challenging year for many people, but we gained many beautiful projects and started to work in new directions. Arthur Nalobin and Nikolay Okolina are developing the motion design department and Stefan Evrard is working on real-time projects.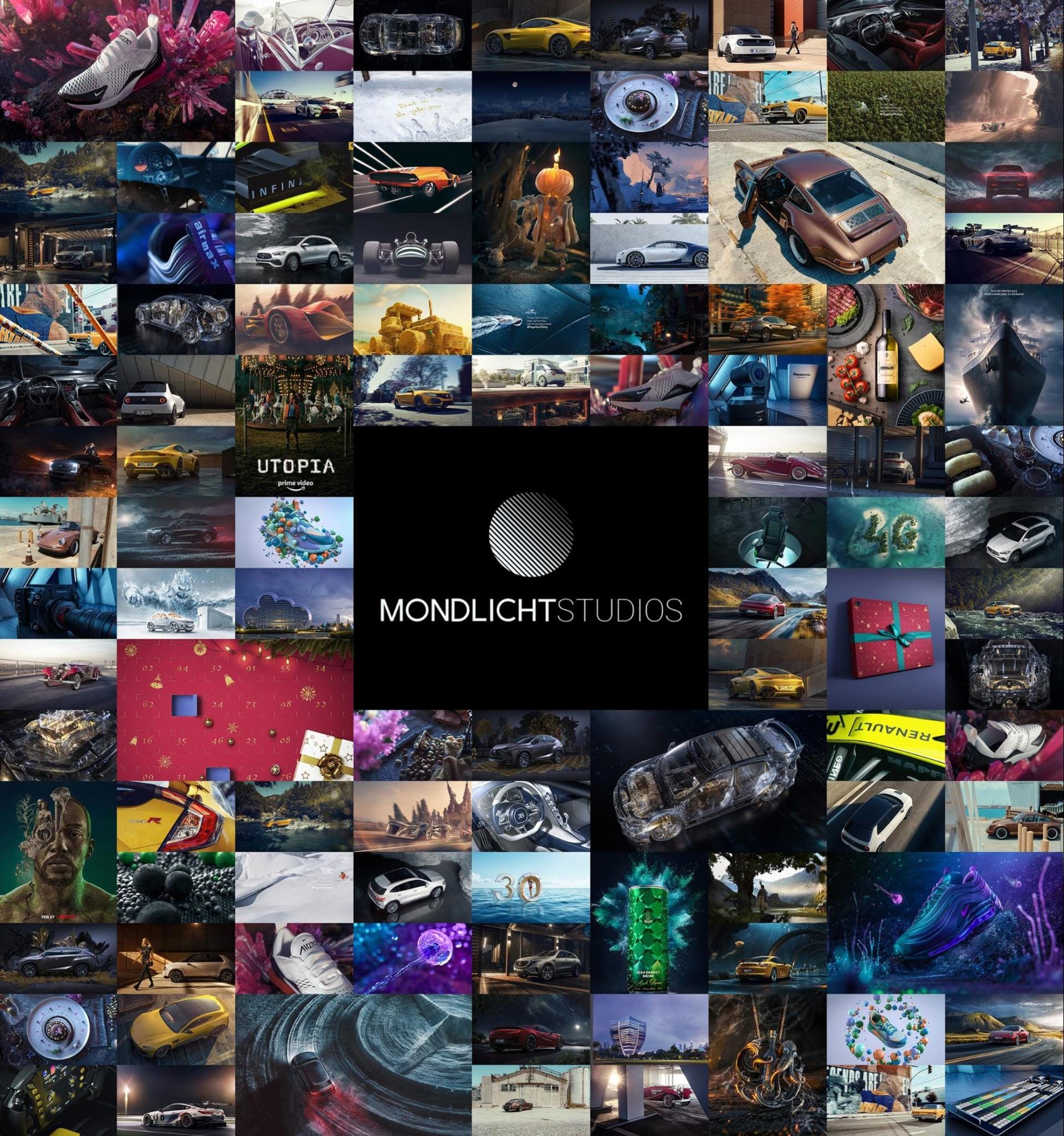 What kind of work do you specialize in?
DG: I would say everything related to advertising. We create full CG images and animations, work on retouching and post-production, and develop our XR and real-time departments.
That's the best thing about the advertising industry — every new project is different from the previous one. Today, you can prepare technical shots for an automotive brand; tomorrow, work on a poster for a new movie, and then create a character for an animation or a small film for an award. You never get bored or tired, and that's fantastic!
I created "Blueberry Dessert" for my educational course at Skillbox Online University. I did the project in 3ds Max and V-Ray for 3ds Max. CGI food projects are interesting because you really have to invest time in working with materials. If the food looks unnatural, nobody is going to like the image.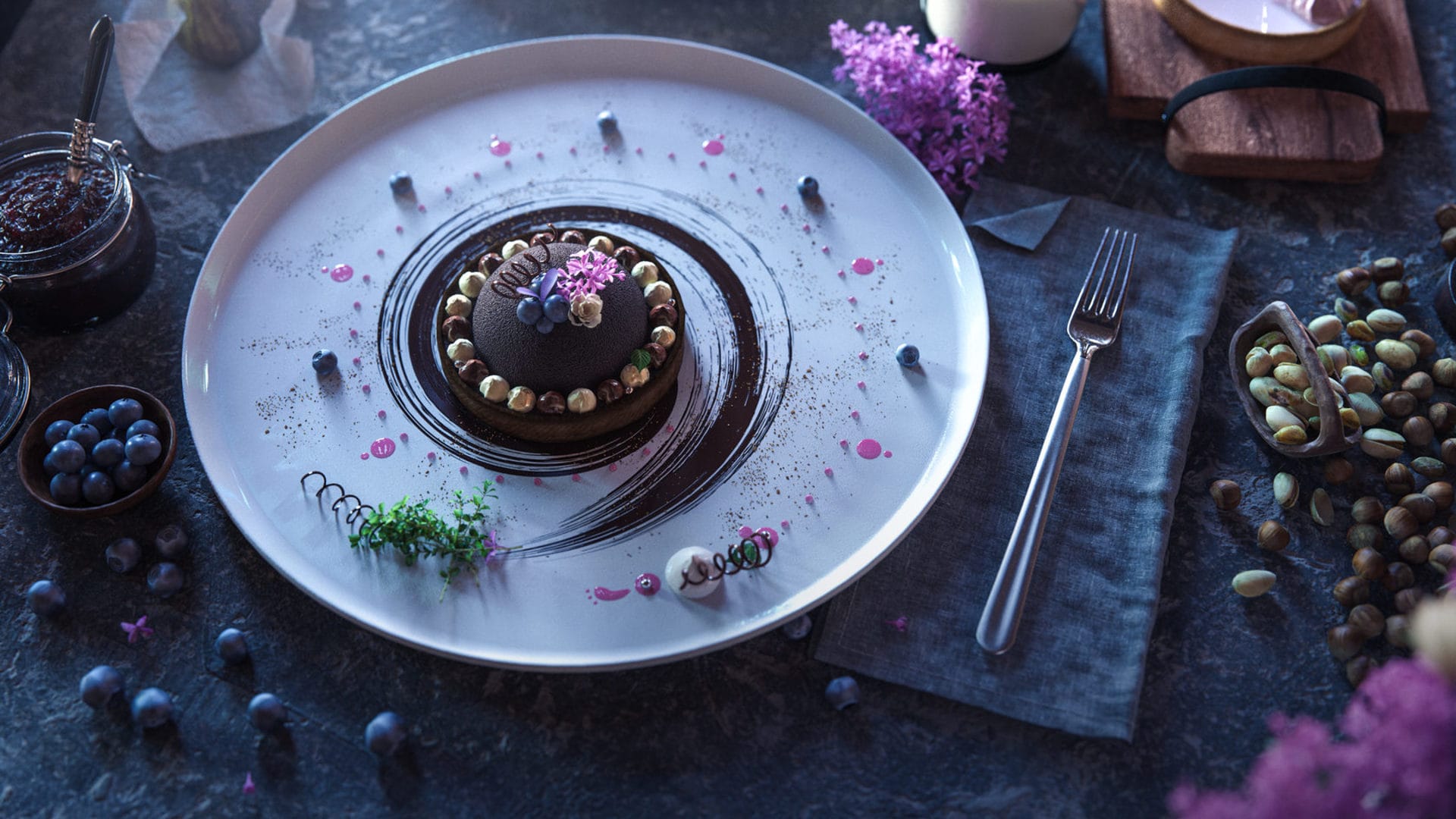 "Nike Air Max 270" was created by our motion designer Nikolay Okolita. It's something completely different. First of all, it's an animation. Secondly, the product, the atmosphere and the visual approach are also unique.
One more great example is the "Kobe Bryant" project created in Maya and V-Ray for Maya by my colleague David Schäfer in collaboration with our dear friend and great photographer Dmitry Bocharov. Again, we took a very different approach from other projects.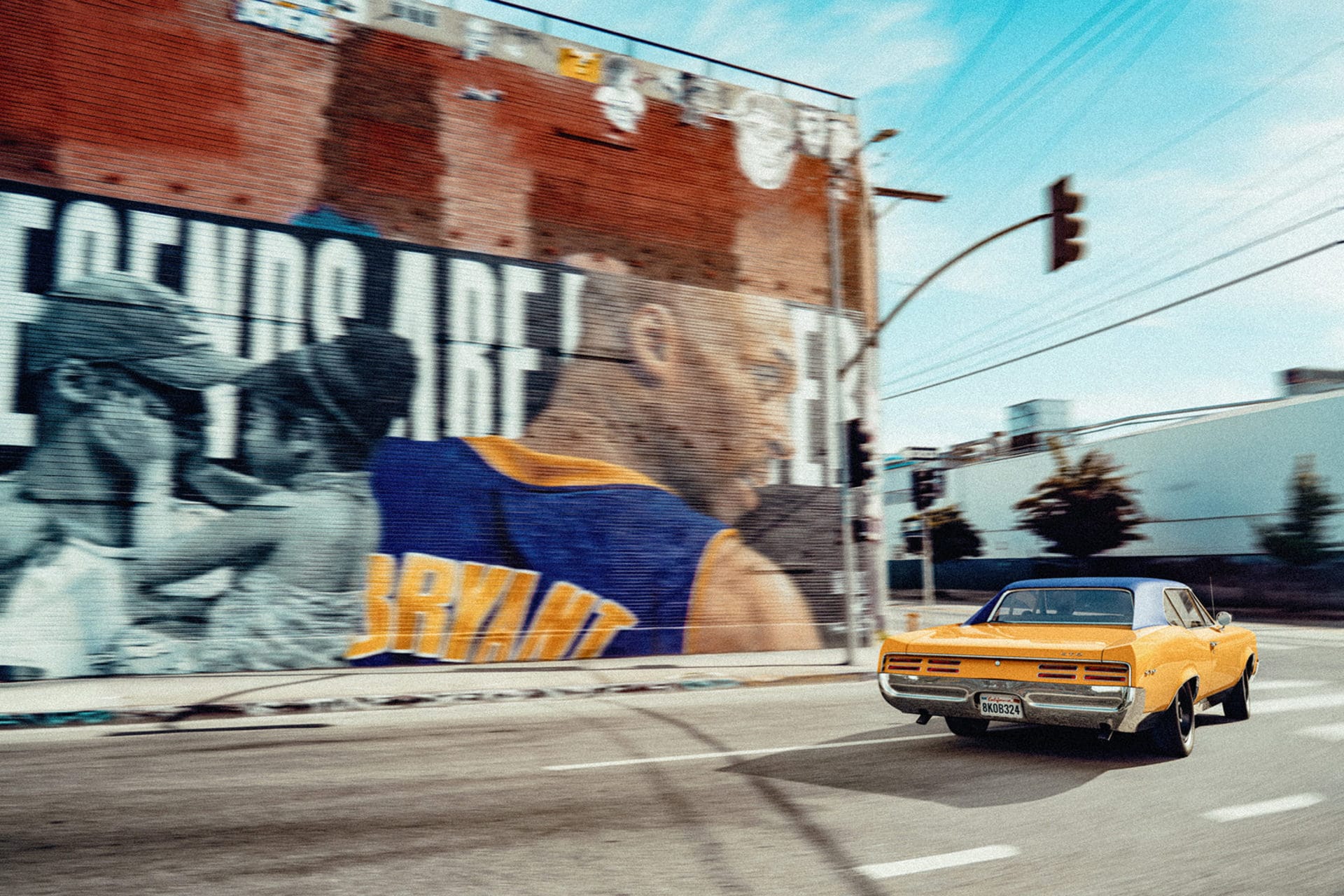 Finally, "Porsche — Underwater" is a very popular project I really like. It's also an automotive image, but the environment makes it stand out. I got the idea to create this underwater tunnel after visiting an aquarium with my kids. This was created in 3ds Max, V-Ray for 3ds Max and Photoshop.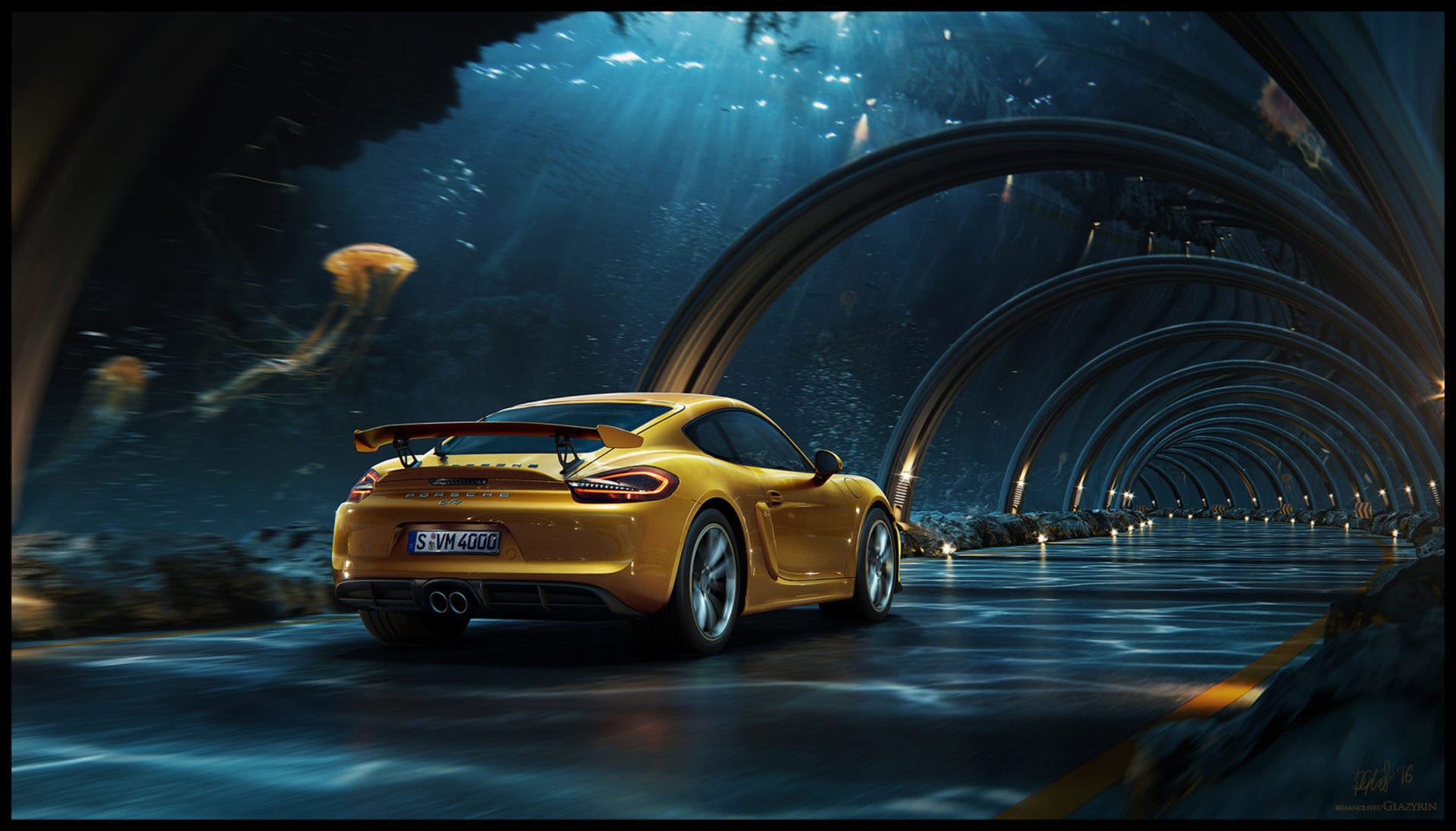 Thanks to a variety of advertising projects, you always have a chance to try new tools, new approaches and solutions. It's hard to pick a single favorite project; there are just too many!
What was your brief for the Utopia keyart?
DG: Rhubarb Agency created the concept and idea. It's not the first poster we worked on together; together with Rhubarb, we've also created posters for Alta Mar (High Seas) and the second season of Altered Carbon.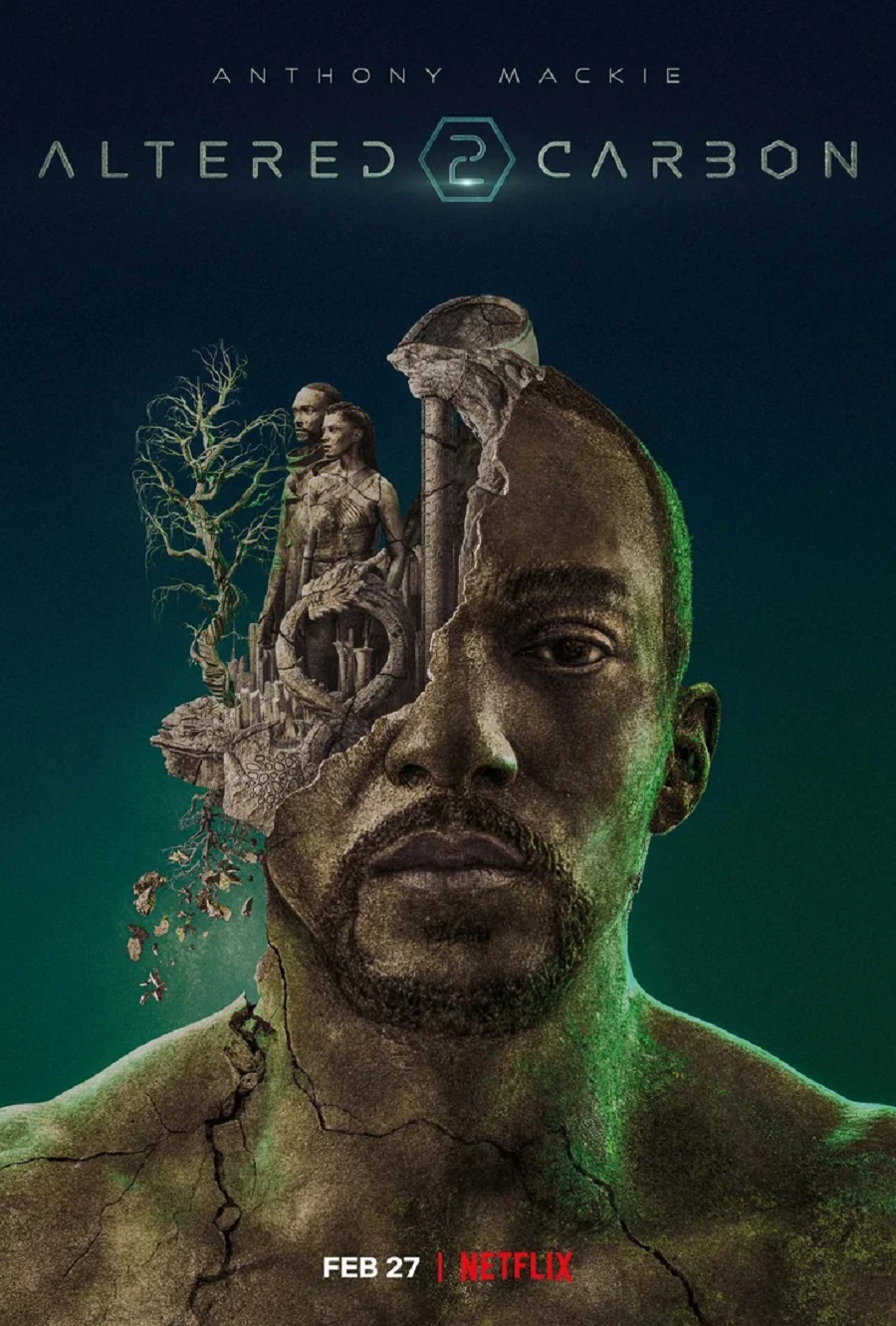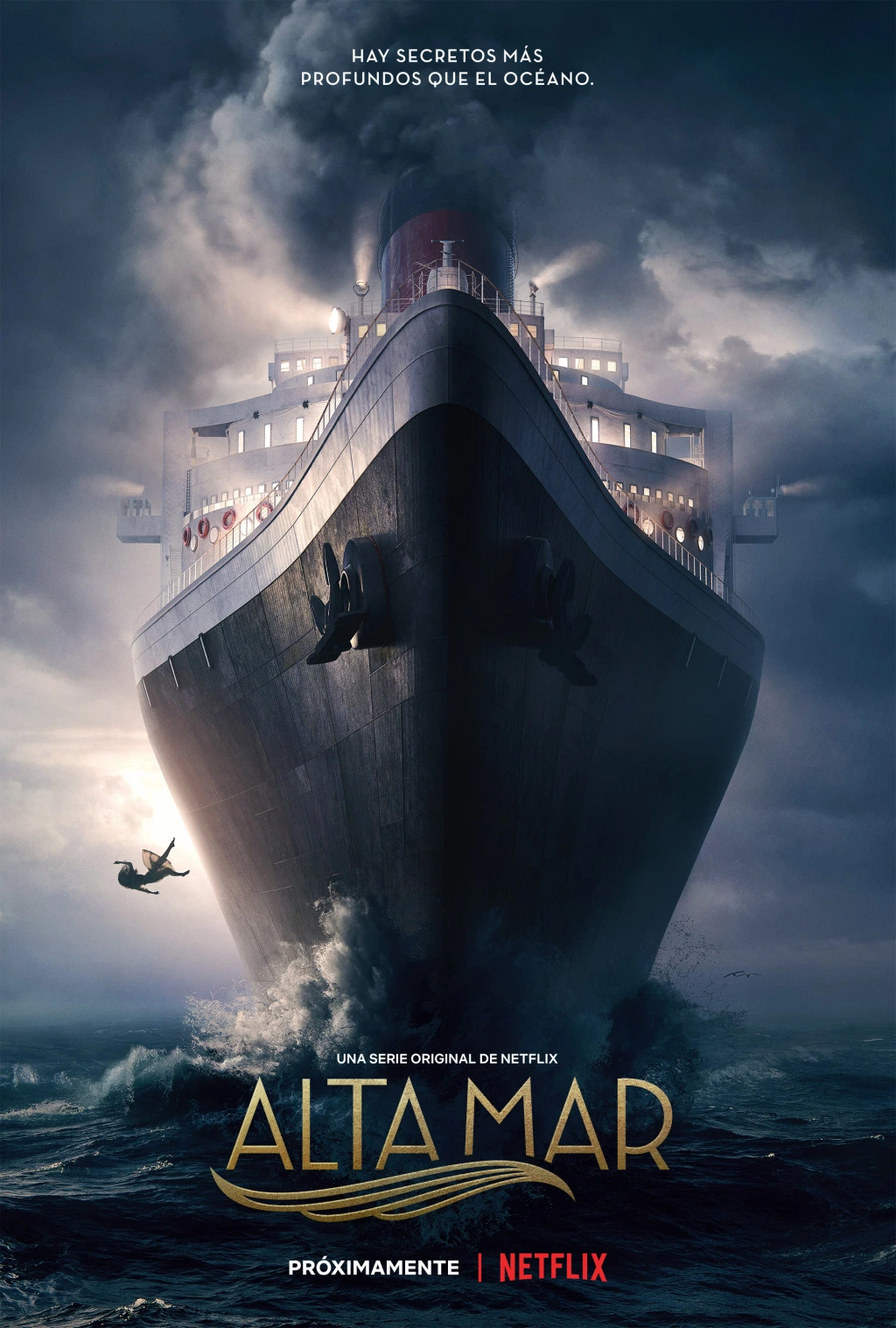 For Utopia, I combined many techniques. I created the matte painting for the background, then worked on the carousel and rabbits in 3ds Max, ZBrush and V-Ray for 3ds Max, and then completed it with post-production and final color grading.
The level-of-detail is incredible. How did you achieve it?
DG: If we talk about the image in general, I would say that enhancing your artwork with details is something that makes it believable and beautiful. Sometimes, it's hard to find the right balance and not to overdo it. Too many details are as bad as too little. I can't give you the formula which will work in any situation; all artworks are different. However, I can share a useful tip: When you add anything to the composition, always ask yourself whether this detail really adds something to the story. If nothing changes when you remove it, you probably don't need it.
For the 3D carousel, several things make it look realistic and interesting. First of all, the quality of the 3D model. Look at the rabbits, design elements on the top of the structure, lights and other details; these all help to create an interesting design and mood. Another thing is the materials. Here you always have two options: use something from your library (V-Ray has many excellent options to offer) or create a material from scratch. Everything depends on the task and the complexity of materials.
One more important thing is lighting. It helps to create an atmosphere and emphasize some elements. I recommend finding time to study how light works in photography; it will help you enhance your artworks.
What was the biggest challenge, and how did you overcome it?
DG: This project's biggest challenge was the combination of 3D elements, photography and stock imagery for the background. For such projects, the most important things are your attention to the details and teamwork.
Even if all the materials are perfect, you'll still need to spend a lot of time on carefully integrating all the elements. Any such image is similar to a puzzle — you have to create it from different tiny pieces to get a beautiful picture. For that, I use a lot of reference material. The understanding of how an object looks in real life always helps to get a better result.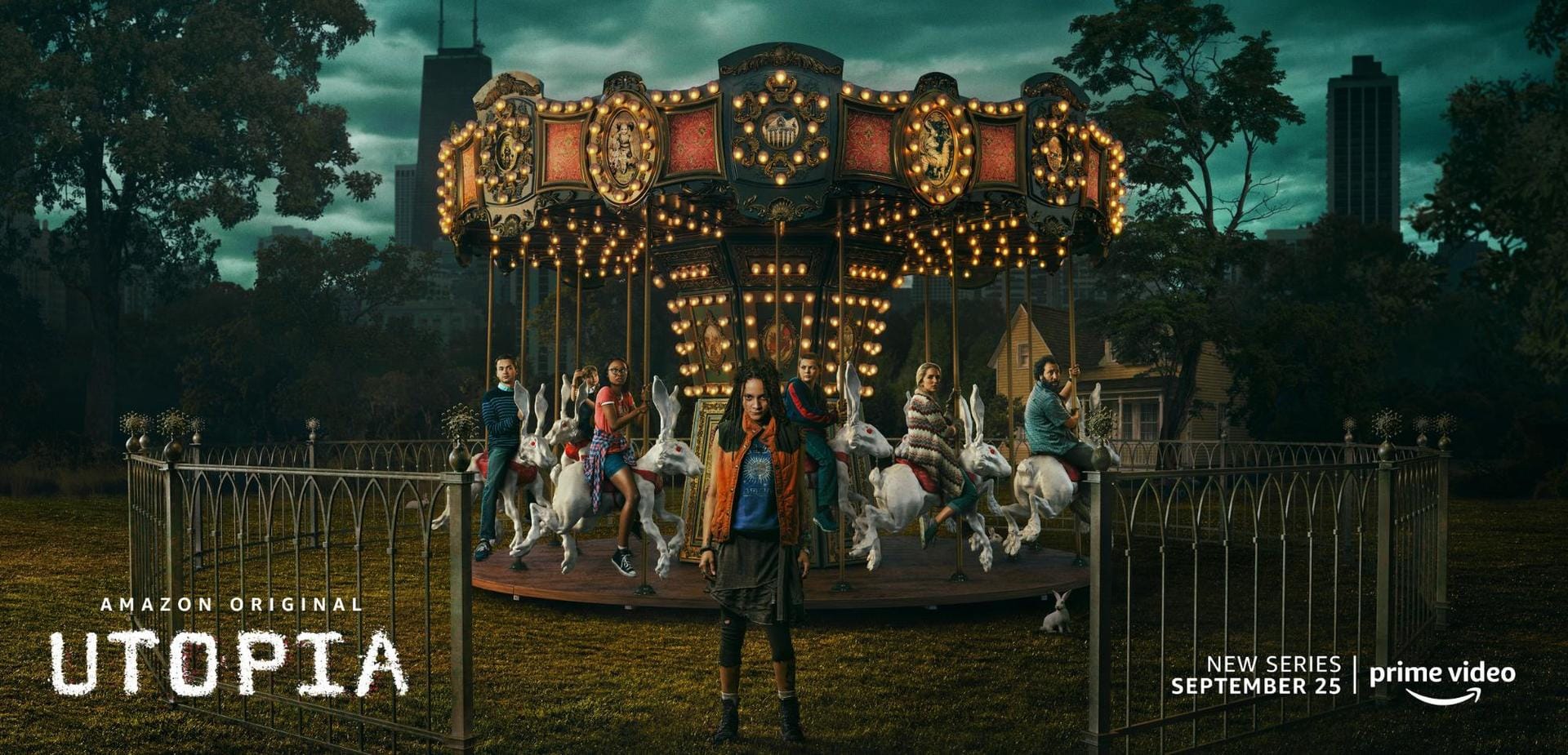 One of V-Ray 5 for 3ds Max's best options is the new V-Ray Frame Buffer, which I utilize in every 3D project.

Dmitriy Glazyrin, Mondlicht Studios
Which new V-Ray features have you made use of?
DG: I've already tested some new features in V-Ray 5 for 3ds Max. One of the best options is the new V-Ray Frame Buffer, which I utilize in every 3D project. The possibility to see all the changes in real-time allows you to work with lighting and shading much more efficiently and it makes the process of finding the best angles and judging the composition much smoother. Light Mix is a very nice new feature that helps to manipulate lighting very easily, try many ideas and quickly get a great result.
Another useful feature is material presets. These help you choose the best materials without wasting too much time creating and adjusting them. Sure, later you might need to invest more time into it, but thanks to a very flexible Material Editor you can implement any ideas and create very complex materials.
How does it feel to see your work in the real-world?
DG: It's fantastic! Especially, when you switch on Amazon Prime, Netflix or HBO and see your image as a cover of the serial or movie. I also love to see it outdoors. For example the Utopia poster on Times Square in New York! How awesome is that? The photo below was taken by @millzwiththecam, I was very happy to find it on Instagram.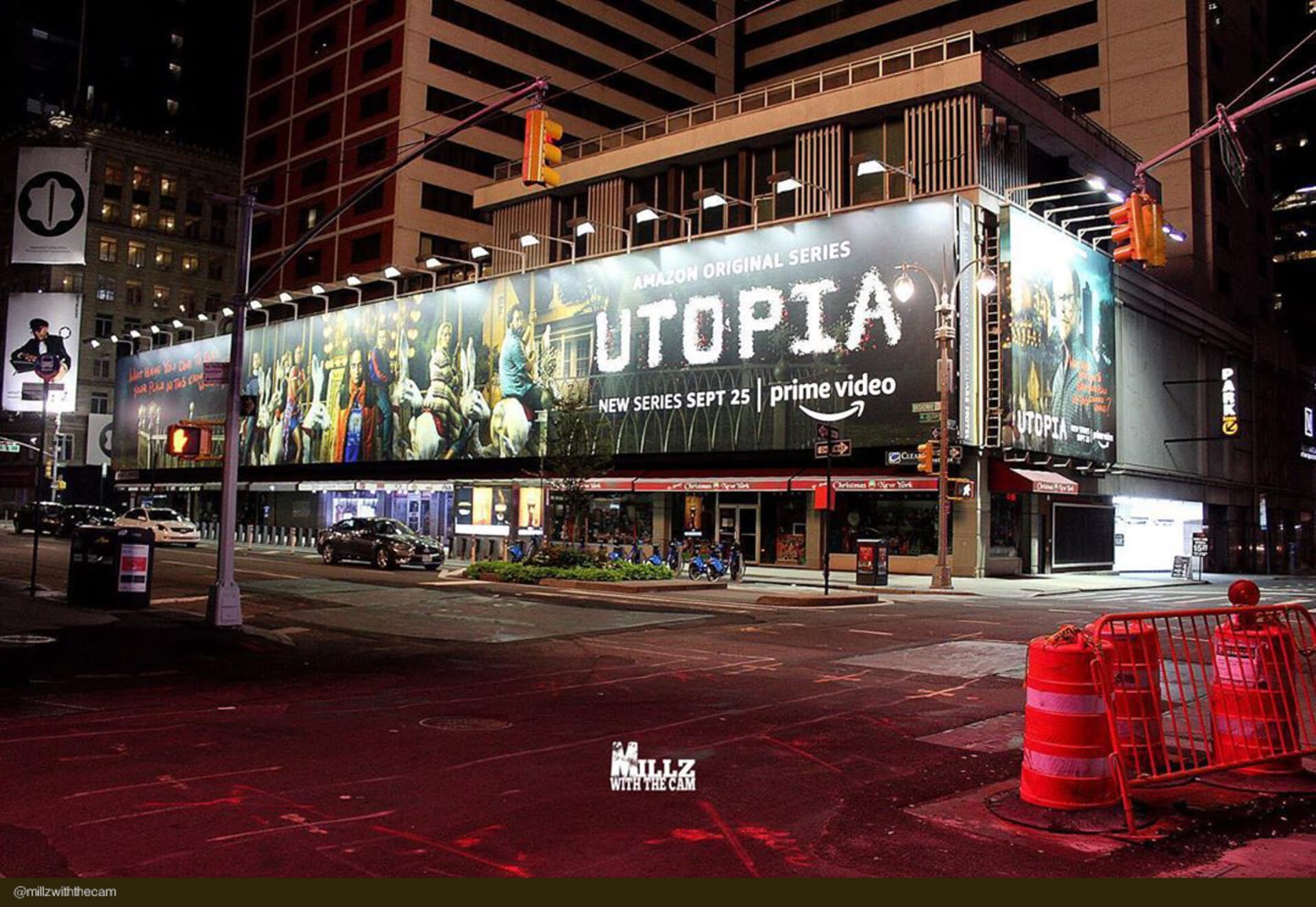 Sometimes, outdoor advertising looks amazing. For example, our Alta Mar poster won silver at the Clio Awards, gold at the Promax Global Excellence Award and it was selected for the next issue of "200 best digital artists" by Lürzer's Archive. The outdoor advertising was an incredible part of the project: we created a wrapped poster around a building in Spain to make it look like a real ship.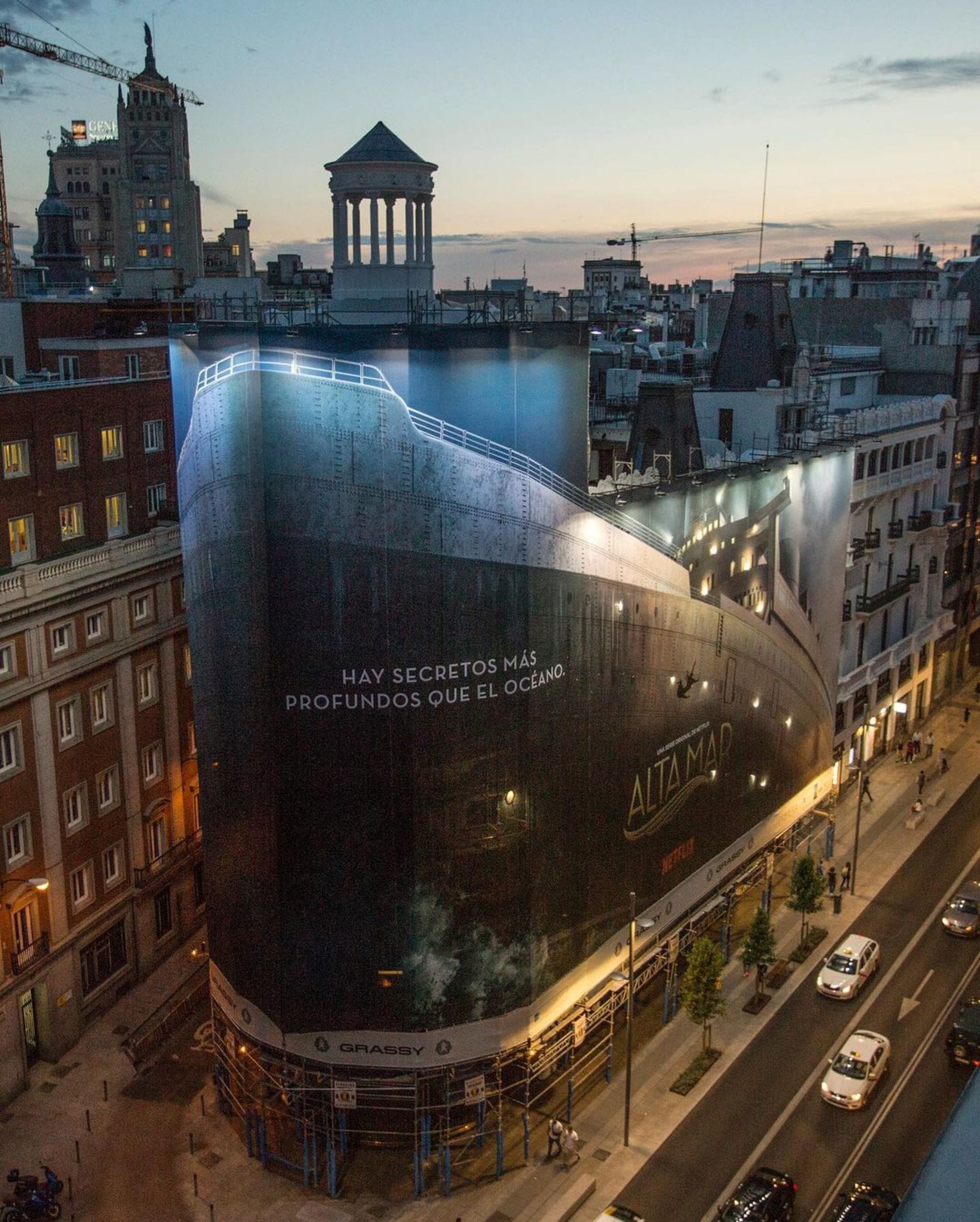 What are you working on next?
We have several ongoing projects and a couple of collaborations in progress. One of them is an automotive calendar devoted to racing history. Eleven amazing artists and I joined forces to create this wonderful project. It's going to be 12 months and 12 cars, from the Blitzen-Benz to Gen2 EVO. The project will be released very soon!
Set sail with V-Ray 5 for 3ds Max.
Try it free for 30 days.