Educators Nikos Nikolopolous and Nicklas Byriel reveal what it takes to enter the field of 3D, and how to stay motivated and creative. Plus, top Light Mix tricks.
The pilot episode of Chaos Campus Live Show streamed live on February 17, 2022. Our host, arch viz instructor and founder of Creative Lighting, Nikos Nikolopoulos, was joined by 3D College instructor and founder of Chaos Theory, Nicklas Byriel, for a friendly chat. Together, they led a conversation with Chaos Campus members on how to get started in the world of CG. To top things off, Nikos shared an inspiring presentation on creating different lighting moods in Light Mix.
What is Chaos Campus?
Chaos Campus is an online community that unites 3D visualization educators, students, and professionals around the world.
Members are encouraged to post their work, give constructive feedback, share career opportunities and advice, and engage with others on how to use the latest V-Ray and Corona Renderer features to bring their artwork to life.
New episodes are held monthly on Zoom featuring experts from arch viz, VFX, advertising, and gaming who are eager to share their knowledge and experience. Members can save a spot by registering for the event, and they can send the guest speaker questions before the show streams.
How do I join Chaos Campus?

Want to become a member of Chaos Campus? Head over to our Facebook group, answer a few questions to help us get to know you better, and send a join request! We promise to respond quickly and make you feel welcome.
By becoming a Chaos Campus member, you will be able to enjoy more exclusive content and join a community of creative, motivated 3D artists eager to learn from one another. To give you a sneak peek of the action, here is a recap of the first show.
Pilot Episode: What it means to be a fearless 3D artist
In the pilot episode of Chaos Campus Live Show, educators Nikos Nikolopolous and Nicklas Byriel focused on the positive impact a fearless attitude can have when entering the world of 3D.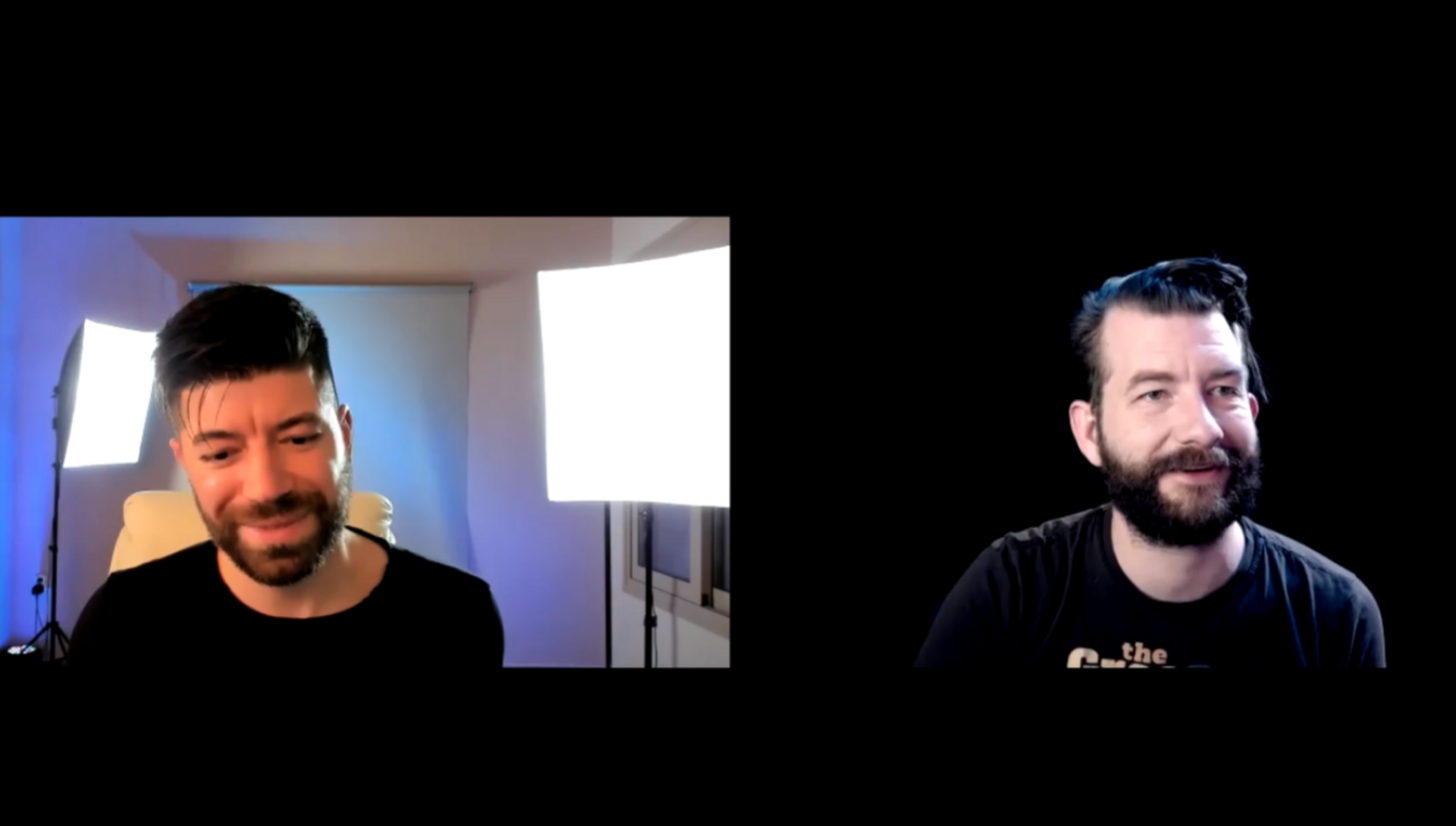 In the pilot episode, participants learned about:
Sources of motivation that push artists to create personal artworks.
The challenging aspects of being a 3D art educator.
The pros and cons of freelancing and full-time jobs for recent graduates.
How to get noticed as a student without any professional work.
How V-Ray's Light Mix helps designers create powerful visual narratives.
Sources of motivation
For Nicklas, when it comes to finding the motivation to create art, every day is different. Like many other educators and working professionals, sometimes creating personal artworks is a treat for the soul among the other business work that may take up 10 hours of your day.
I really want to learn more things. That in itself is a huge motivation for me. But it could be as much as watching a YouTube video or seeing someone post something on The Rookies, Artstation, or Instagram. Artists tag a lot of people and reshare images all the time.

Nicklas Byriel, Chaos Theory
Meanwhile, Nikos reminds us that when you master a new skill you should go ahead and master another. The learning never stops and your creative journey becomes more exciting with each next step you take in developing artistically. His sources of motivation are cinema, theater, and paintings.
I love cinema so much. And I'm always saying to people, the first time you watch a film, please enjoy the film, experience the story, don't look at anything else. But if you wake up the next day and you're still thinking about it, it means you are inspired, and you need to go back and see that film again. This is a process of translating inspiration into knowledge.

Nikos Nikolopoulos, Creative Lighting
Another source of motivation to create art that inspires Nikos is traveling and visiting museums. Seeing artwork live and not on screen has completely changed the way he looks at the world.
The challenges of teaching 3D
As well as finding the motivation to create art himself, Nicklas has to motivate his students to do the same. The challenge here lies in transferring all of his knowledge in the correct way to get a new student excited to learn and try out new technical concepts in their 3D render.
He also shares that he is trying to find the best way to make valuable content available for students through Chaos Theory. It takes great effort to create engaging tutorials that are straightforward and don't waste people's time. Nicklas has to cut a 20-minute video down to only a couple of minutes so students can quickly find what they need.
For Nikos, the main challenge he faces as an educator is finding the time to develop himself as an artist. What has helped him in the past year is sticking to a daily routine that includes an allocated time for personal creative development. He uses that time to brainstorm ideas, create new work, or seek inspiration in the pages of a book.
Freelancing or full-time?
Nicklas and Nikos agree that starting out at a stable full-time job is the best strategy for new graduates. Beginning at a full-time position will allow you to secure a monthly salary and help you feel secure. Getting more projects in your portfolio should be your main focus during this time. You will be able to gain a lot of experience from the people around you and learn valuable skills such as how to charge the right price for what you do as a freelancer later on and the amount of responsibility required to take on a new client.
You need to try and find the right jobs that would hire you in a junior position with zero experience. A great portfolio that showcases your skills and eagerness will make you a valuable asset on any team.

Niklas Byriel, Chaos Theory
Nikos reminds students to find their online community, such as Chaos Campus, and play an active role in it. The second step is choosing to create and not consume. Many of Nikos's students, who are frustrated with the lack of projects in their portfolio, spend their time studying the work of others when they could be creating their own work.
If you're active, and you're creating new work every day, you are building your social media presence and getting your name out there. The work doesn't have to be perfect. Trust me, if you wait to make it perfect, you're not going to post anything. Don't waste precious time.

Niklas Byriel, Chaos Theory
Visual storytelling with Light Mix
The most inspiring part of Chaos Campus' pilot episode was perhaps Nikos' presentation on using Light Mix in V-Ray 5. Nikos shared how he prepared an original scene demonstrating the power of Light Mix to create emotional visual narratives in an architectural space.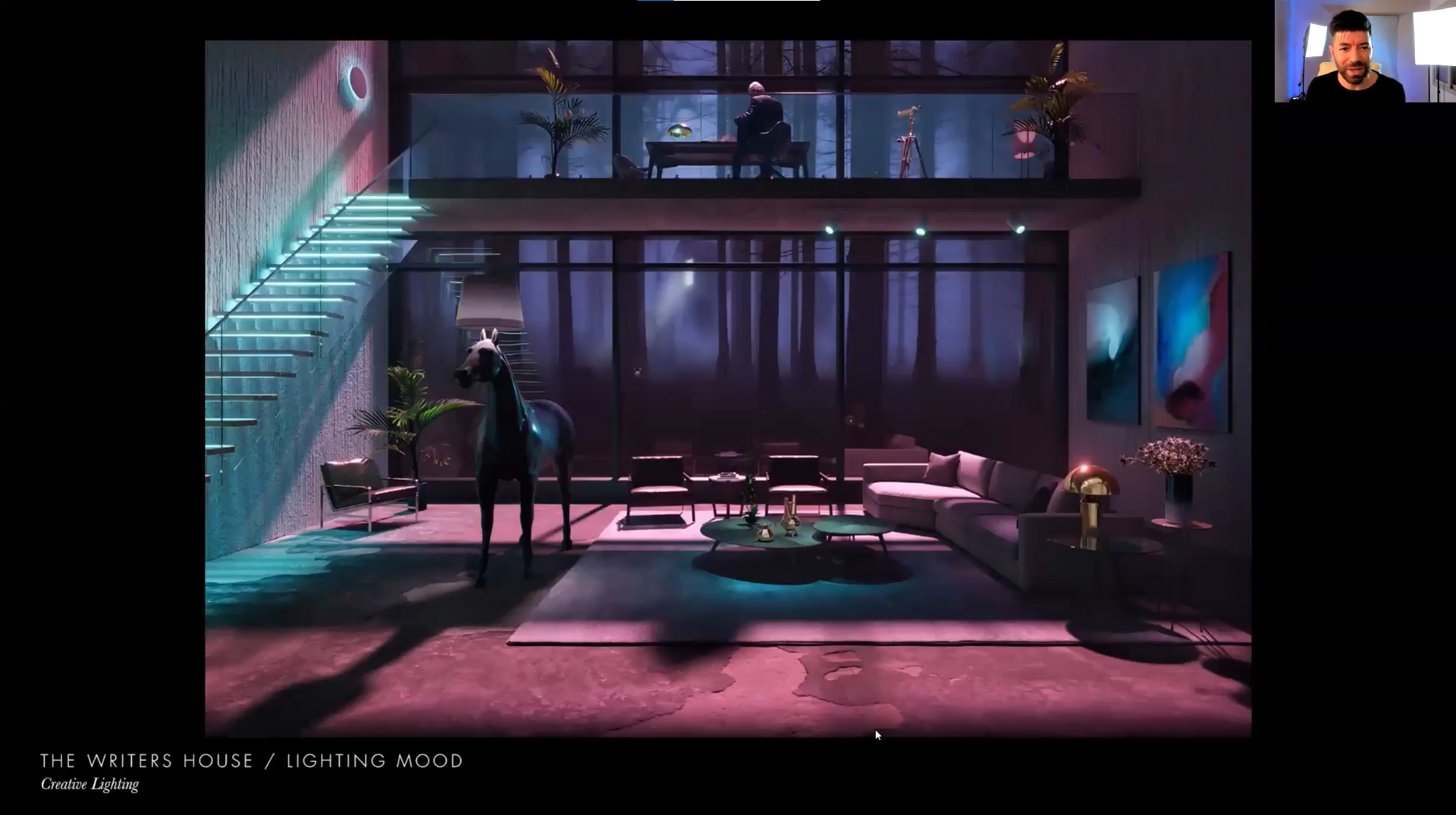 His breakdown of the scene included the importance of mood boards for composition, using guides such as the rule of thirds and the golden spiral to draw the eye across the scene. Nikos also demonstrated how to be inspired by the lighting in popular movies, and apply different color combinations to create distinct atmospheres and moods.
You can review Nikos' tips for using V-Ray 5's Light Mix in his Archdaily article. To watch the entire pilot episode, join Chaos Campus, and engage with other creatives while exploring the exciting world of 3D.
Bring the world of tomorrow to life.
Get all the tools you need with V-Ray Education Collection.