V-Ray for SketchUp's fast, realistic results are crucial for TV concept artist Dwayne Burgess. Discover how it's used for assault courses and period buildings.

SketchUp is an invaluable tool for set designers and concept artists who want to quickly and easily experiment with designs, figure out camera placements and block out scenes. V-Ray for SketchUp takes things a step further, allowing artists to create photorealistic visualizations of sets and helping art directors make informed decisions about materials and lighting.
Formerly head of art at NBCUniversal, concept artist Dwayne Burgess has recently used V-Ray for SketchUp behind-the-scenes on NBC's American Ninja Warrior and FX's fourth season of Fargo. He tells us more about these very different projects.
About Dwayne Burgess
Dwayne was inspired by movies, TV and the musical Wicked to earn a degree in theatrical set design but moved to LA to pursue TV and film work. After getting a job at NBCUniversal, he worked his way up to head of the internal art department, designing events, including E! Live from the Red Carpet: The Oscars. At the same time, he fell in love with concept art, which he started pursuing full-time in 2018.
Dwayne Burgess on ArtStation >
You worked as a production designer and now a concept artist — how do the two roles feed into one another?
Dwayne Burgess: I think ultimately, the relationship between the production designer and concept artist is one that requires good communication and trust. The production designer is trusting the concept artist to convey their vision in a way that accurately depicts the final result and makes the design look as good as possible.
My renders are almost always used to get final approvals from directors, executives, the network, etc. So there's a lot at stake.

Dwayne Burgess, Concept Artist
Since I primarily work in television, there isn't usually a team of concept artists — I am the concept artist, and that means a lot of weight on my shoulders. My renders are almost always used to get final approvals from directors, executives, the network, etc. So there's a lot at stake.


How do you work with production designers? Do you give feedback on the design process?
DB: Depending on the amount of information I'm given, I may be asked for my opinion, but that varies from project to project, depending on the stage of the design process and how much trust I've built with the production designer. Some designers know what they want to see down to the smallest set decor on a shelf; others tell me to go with my gut when fleshing out those details. I'm happy to work either way as long as there's good communication. At the end of the day, I'm there to illustrate their vision — so they get the final say.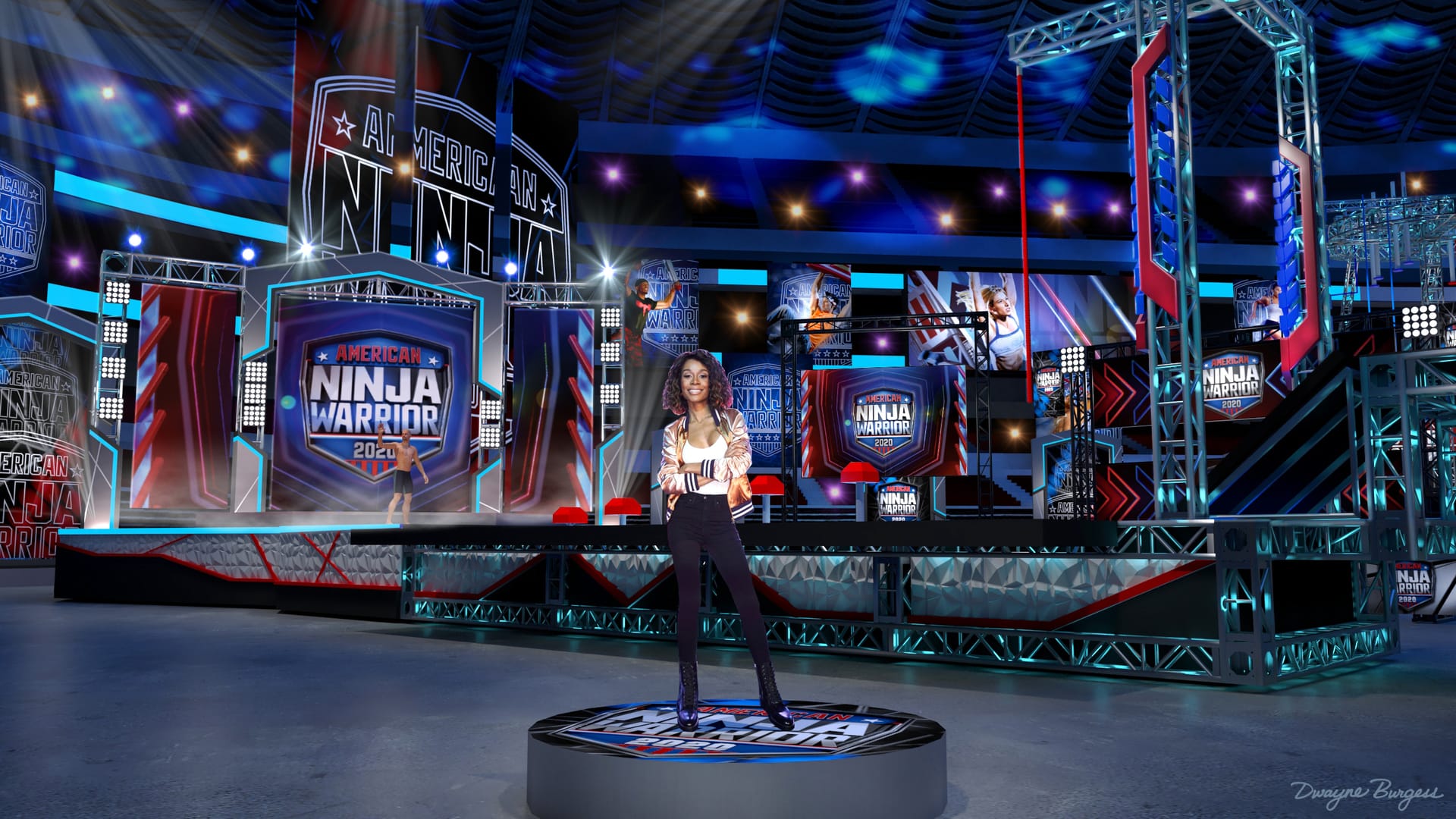 What are the standard industry tools for set design?
DB: In every television art department that I've been a part of, SketchUp is the primary modeling software. I know there are a ton of alternatives out there, but I've been using SketchUp for so many years that it just feels like an extension of my brain at this point. Most production designers and set designers send me their models in SketchUp, so it just keeps our workflow streamlined if I can stick with the same platform.


Could you tell us about your work on Fargo and American Ninja Warrior?
DB: Fargo came to me in early 2019, shortly after I made the jump to full-time concept artist. Art director Hellen Harwell had worked with me back at NBC and brought me on early in the design process. I worked with the team for a few months of pre-production at Paramount before they moved to Chicago to film. I worked closely with production designer Warren Alan Young, who had designed seasons one and two of the series and had just designed the feature Harriet. It was a wonderfully collaborative experience where I was able to model ideas as they were being conceived, often trying different textures and set dressing options in real-time as research was being pulled.
My workflow on Fargo usually started with a white model that I would receive from the set designers, where the general shapes of the set walls had been built in SketchUp but not much more. From there, I would model the moldings, furniture, fixtures, etc. based on the provided visual research. I spent years at NBC modeling shiny studio sets with chrome furniture and glossy floors, so modeling, for example, a 1950s morgue, was a nice contrast to that.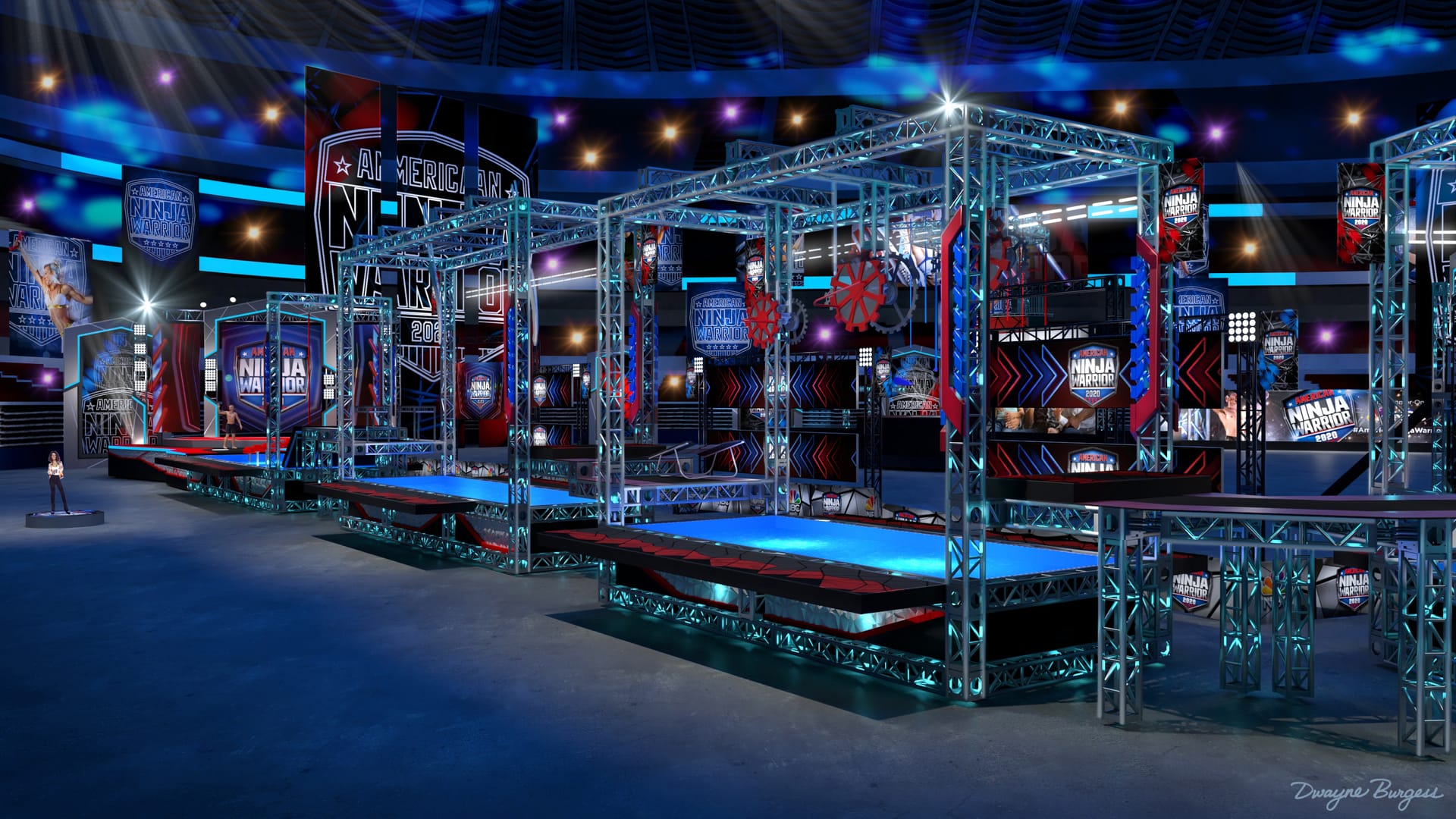 DB: In early 2020, I was approached by production designer Jay Heiserman to create the concept art for season 12 of American Ninja Warrior. Since the show is over a decade old, there were a lot of precedents set for the overall aesthetic — even the way the presentation renders looked. So there was definitely some pressure there.
In contrast to Fargo, the models that I received for American Ninja Warrior were completely realized in SketchUp when they were handed over to me, so it was my job to update the textures, add lighting throughout, and give them a glow up in Photoshop. When I was brought on (pre-pandemic), the season was going to be shot in multiple cities, so initially, I rendered the obstacle course in multiple locations, such as an auditorium and a studio backlot, with a lot of 3D audience members. After the network reimagined the show post-covid, I did another final batch of renderings for the stadium location in St. Louis, no audience this time. Those are the renderings that you see here.
The turnaround time for the American Ninja Warrior renders was incredibly tight. The network was already waiting to see the finished renders by the time they hired me. I finished the first batch of 20 renders (10 per location) in four days from start to finish.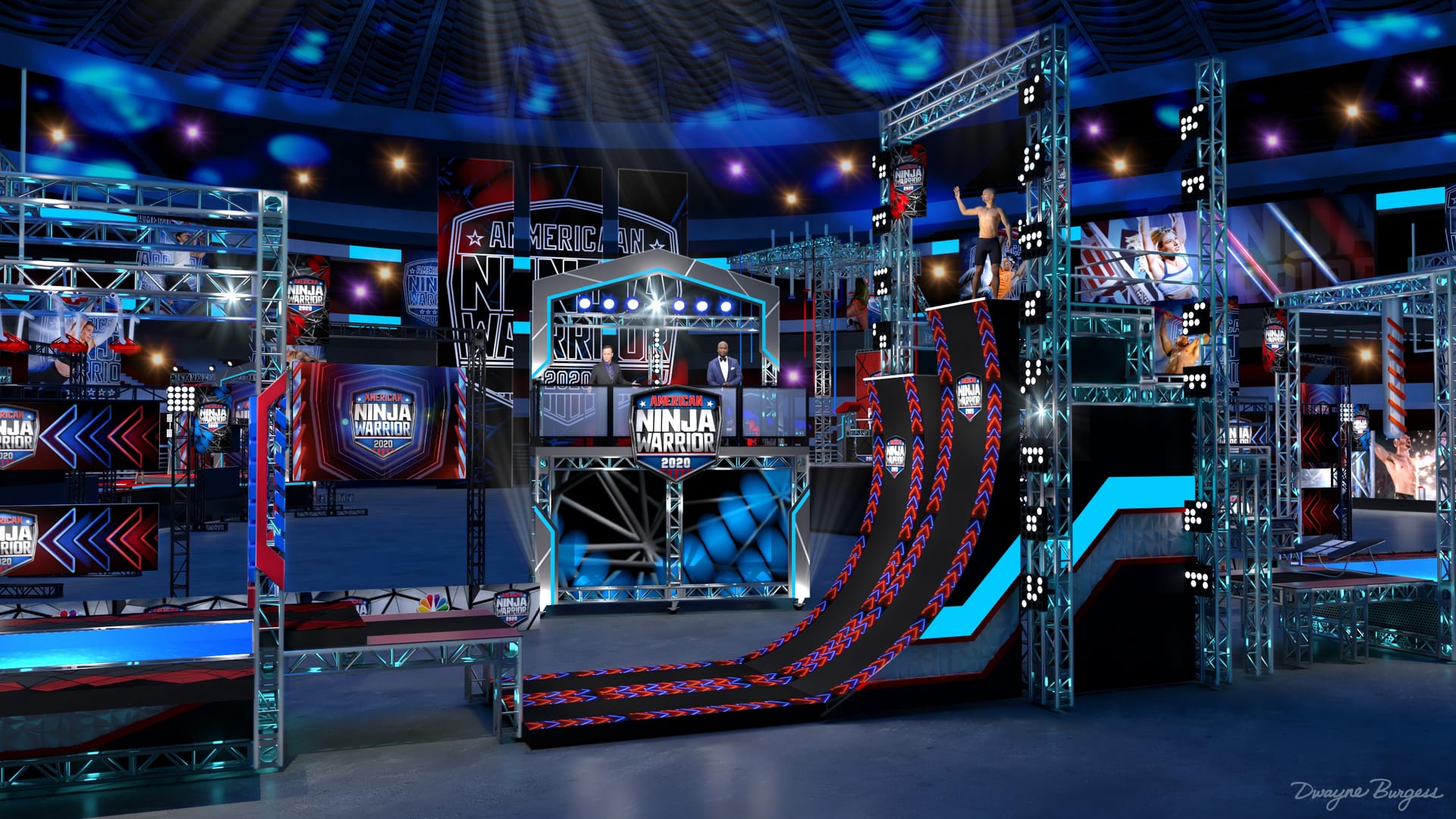 How did V-Ray for SketchUp's speed help you hit American Ninja Warrior's tight deadlines?
DB: Getting the renders turned around quickly for American Ninja Warrior was hugely important, and I even ended up surprising myself by delivering the final work faster than I initially estimated. I try to use quality settings and region renders to keep my workflow as efficient as possible while I'm dialing everything in. Unfortunately, there's a growing culture in television where production designers and art directors tend to think they don't have time for beautiful ray-traced renders. But it's just not the case anymore.
Before I made the jump to V-Ray, I spent years just Photoshopping my SketchUp images to look somewhat presentable.

Dwayne Burgess, Concept Artist
What are some of the key problems V-Ray for SketchUp solves, and how would you have tackled these before?
DB: Before I made the jump to V-Ray, I spent years just Photoshopping my SketchUp images to look somewhat presentable. This definitely helped me improve my Photoshop skills, but there's no comparing the results I can achieve these days with what I used to produce. I've even dug up a few of my old models from years ago and re-rendered them just to see how my work now compares. That's always a good mood-elevating exercise.
From Green Tomatoes to Green Witches
Dwayne's personal projects explore some of his favorite TV and film sets and locations, including The Wizard of Oz, Fried Green Tomatoes, Misery and The Golden Girls.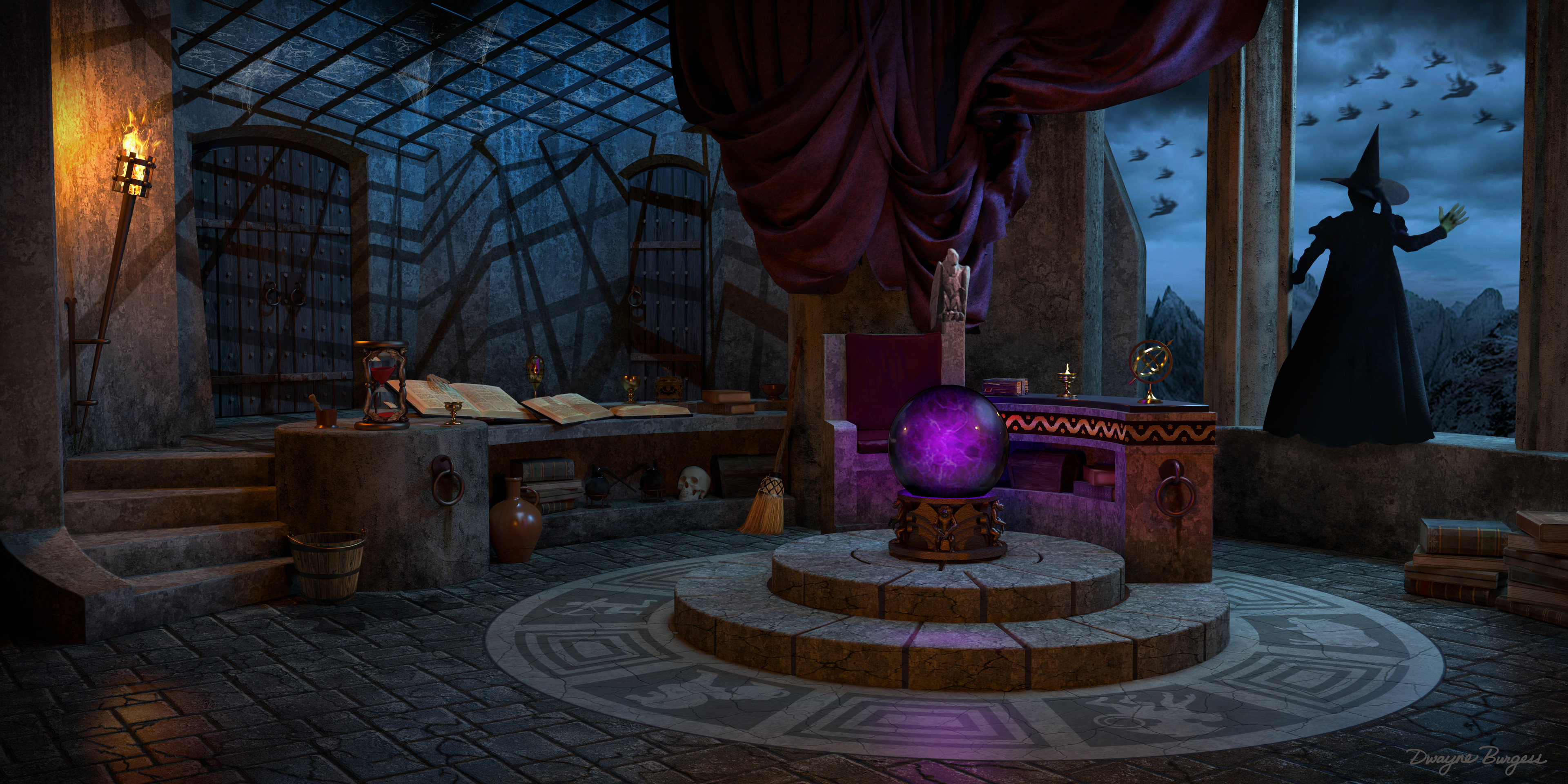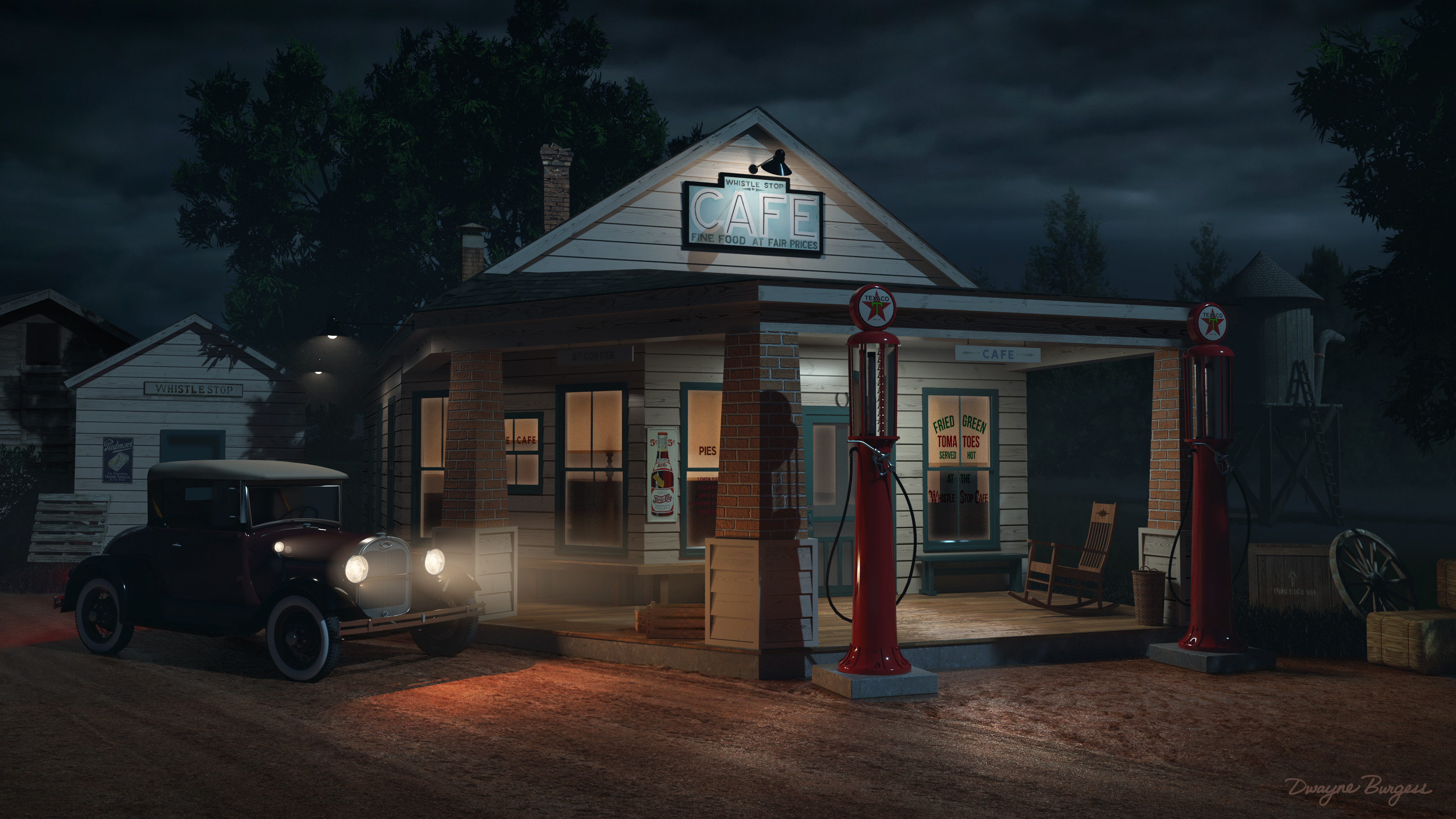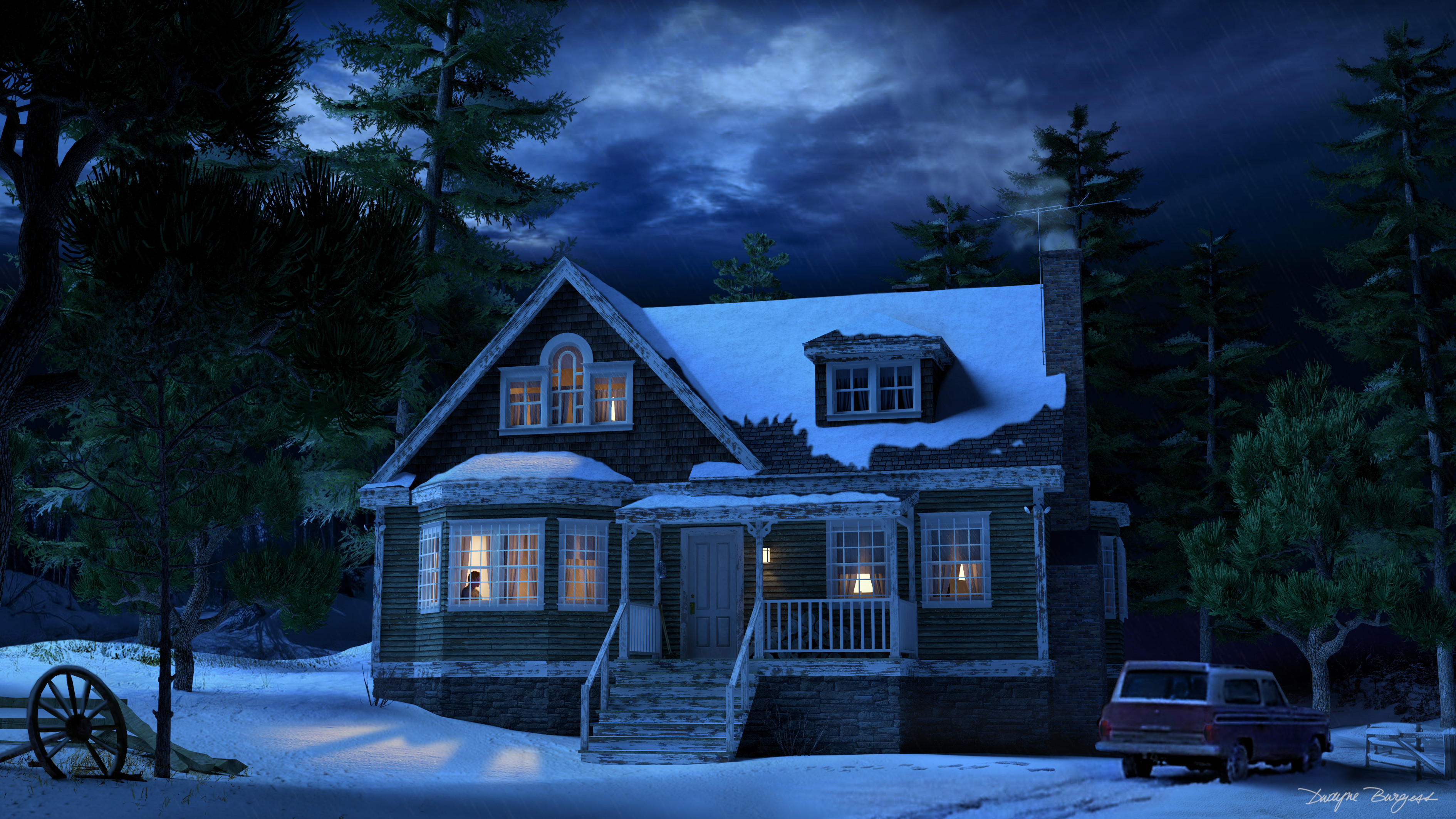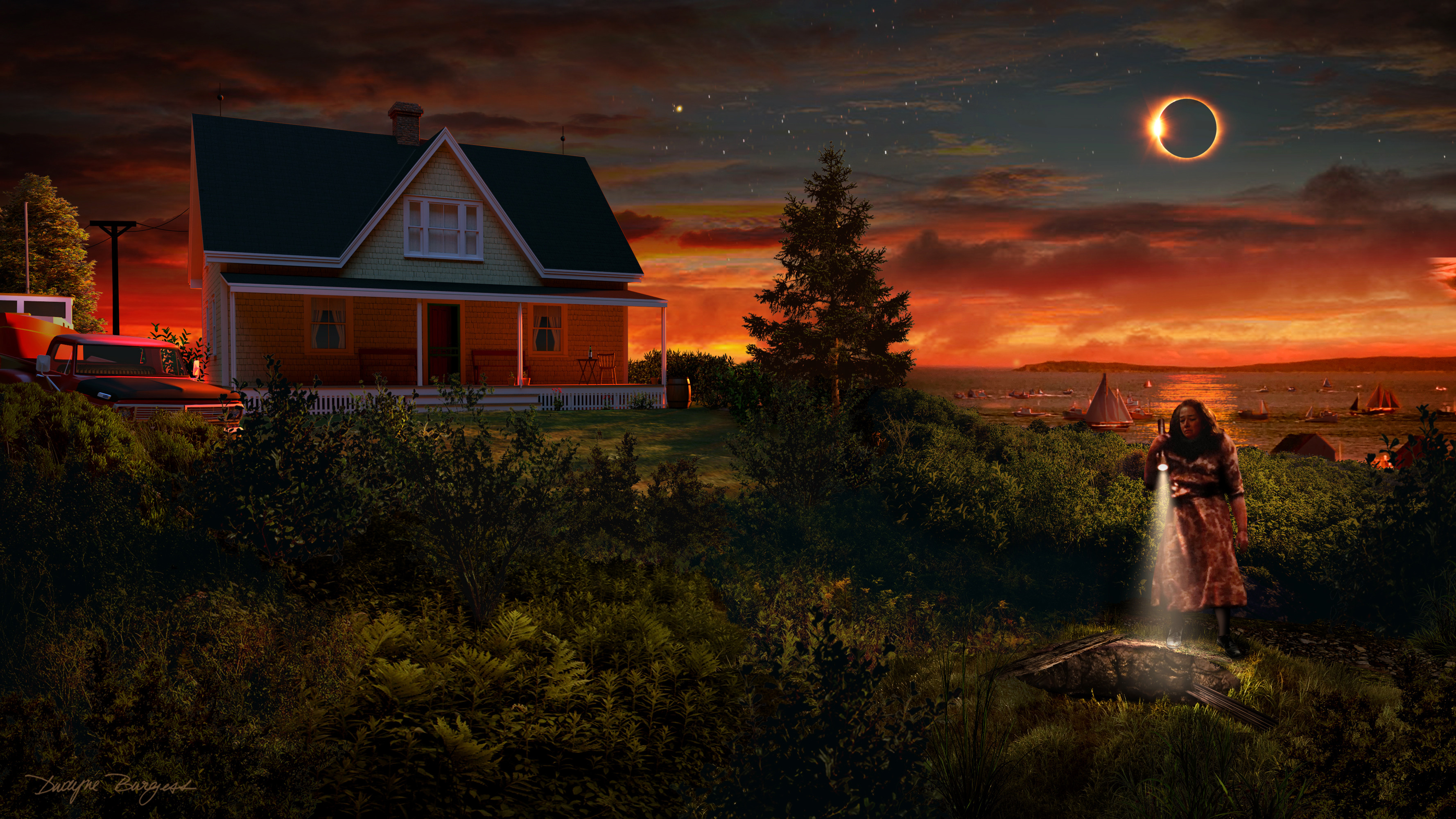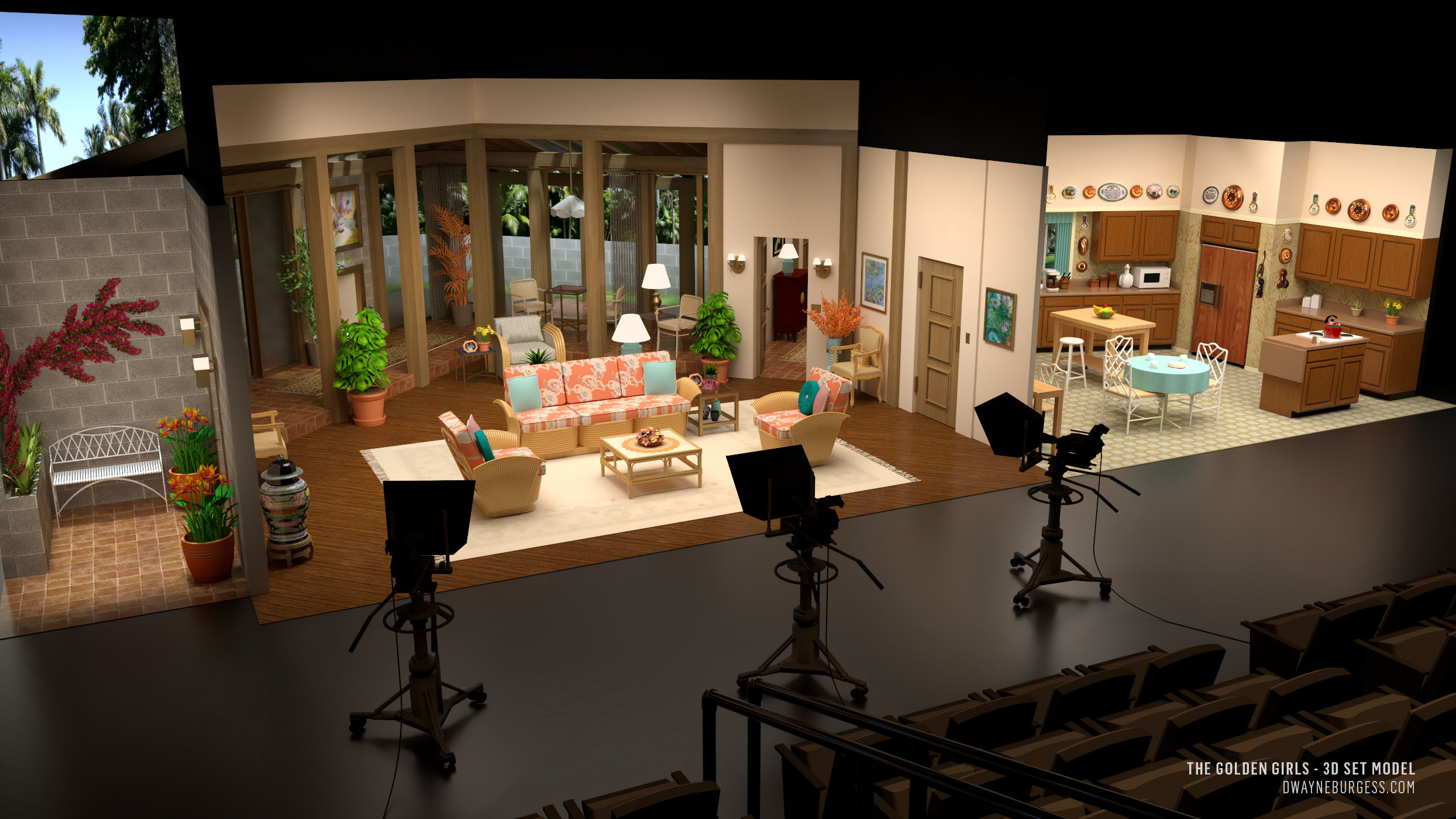 How does having access to realistic materials and lighting help with the design process?
DB: Being able to render materials and lighting realistically is an immense time-saver in my process. When I think way back to my old renders, I remember using flipped components to achieve glossy floor effects and hand rendering metallic finishes. It was a futile waste of my time. Now, I can actually show how a material choice will look on set, what the camera might see in a reflection, how a shadow might land, etc. Getting into that level of detail helps the team not run into as many surprises when building the set.


How much post-production do you do to your images?
DB: It all depends on the project. I always bring my renders into Photoshop to at least do some color correction, toning, and general polishing up. On American Ninja Warrior, the renders didn't need much at all. The lighting designer had communicated to the production designer that they wanted to add around 400 LED lights peppered throughout the audience. Instead of placing those into the physical model, I decided to add them in post. I also did a round of brightening up some of the truss structures in the foreground since there was so much going on it helped to differentiate the obstacles from the backgrounds. Overall not much post-work, though.
Fargo, on the other hand, involved a bit more post work on the renders. Since I needed to average one or two finished frames per day, we decided to add human figures from period photos and a quick and dirty Photoshop action to achieve the painterly quality that Warren requested. Of course, I wish I'd had the time to create high poly 3D figures and a full paint over, but in the end, everyone was happy with what we achieved — and that's what's most important when you're under such tight time constraints.
Post-processing with V-Ray 5 for SketchUp
The latest version of V-Ray for SketchUp shifts traditional post-processing into the V-Ray Frame Buffer, so artists can create their best work without firing up more apps. With built-in compositing, they can make color corrections, combine render elements and save them as presets to be used in future. And with Light Mix, they can adjust the lights in their scene after they've rendered.
The best thing about V-Ray for SketchUp is the way it integrates so seamlessly into the SketchUp interface . . . having all of my tools in one place is a fantastic advantage.

Dwayne Burgess, Concept Artist
What's your favorite V-Ray for SketchUp feature?
DB: The best thing about V-Ray for SketchUp is the way it integrates so seamlessly into the SketchUp interface. My workflow on a project has to be incredibly efficient, and having all of my tools in one place is a fantastic advantage.


How does V-Ray for SketchUp change the way you interact with and present to clients?
DB: One great thing about keeping my render workflow within SketchUp is when I get revisions from the team (which I often do), I can quickly implement their changes into my files without losing valuable time. On the flip side of that, once I'm finished building out the presentation model, I can upload it for the team to use as a reference for set decoration, and it's still in the format familiar to everyone on the team.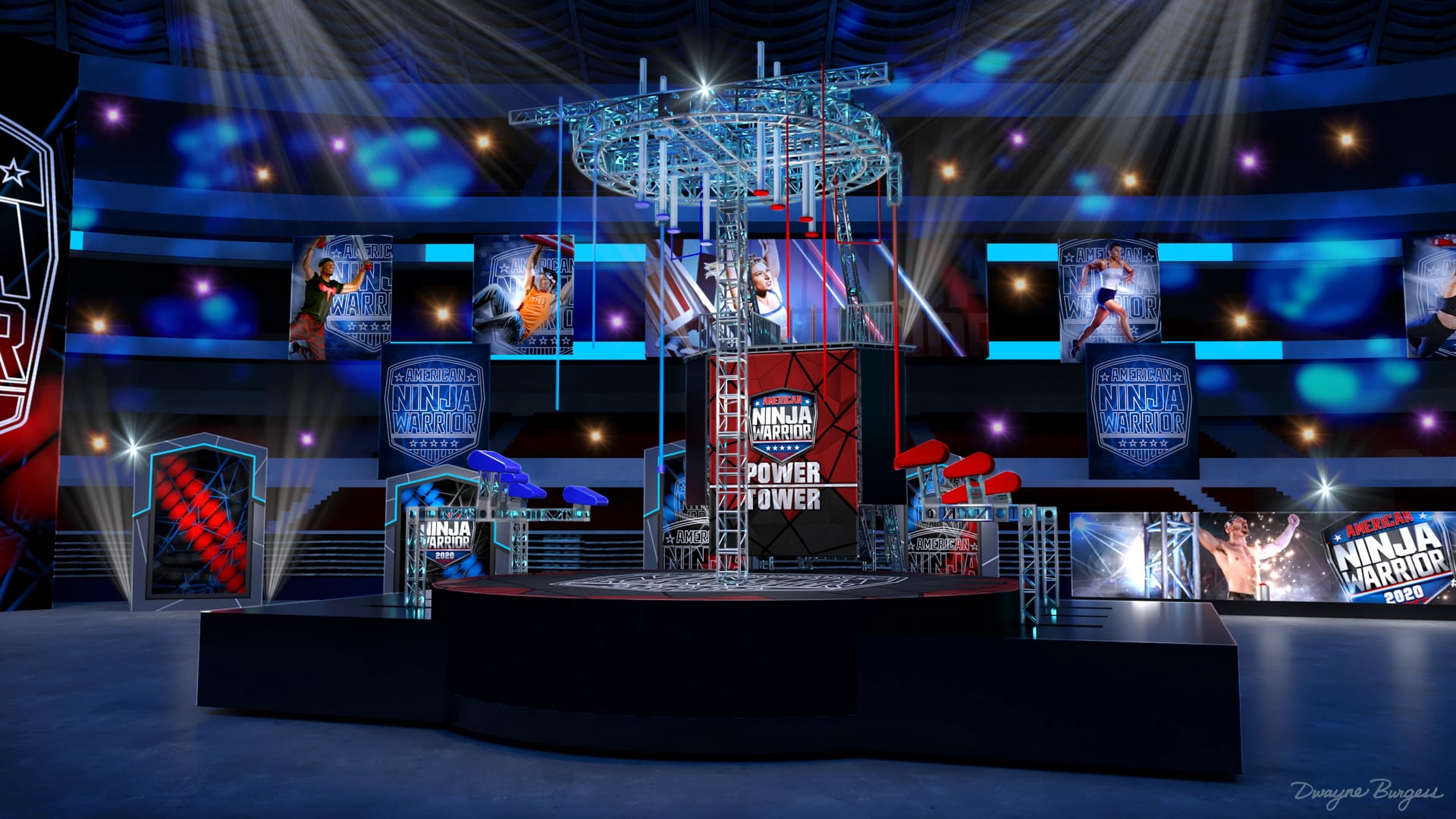 How does it feel to see your work take shape in real-life?
DB: Seeing a design you helped create show up on your TV is always a surreal experience. These days, I might spend weeks modeling every detail of a set for the renders and then not see the finished product until it shows up on my tv screen months later. I like it better this way than when I used to do production design and art direction. There was no mystery there; your blood, sweat and tears were all over that set. Now I get to be surprised by the finished product, what they kept, what was cut, the component you added to the model that the set decorator actually sourced in real life.


What are you working on next?
DB: Right now, I'm working on a new Ryan Murphy series for Netflix that I can't say much about yet. I can say that I'm grateful to have work right now because 2020 has been a tough year for the entertainment industry. There were a few slow months this year when television and film came to a standstill. When shows pop up, it's usually with very little notice, so I like to make as much use of my free time as possible, working on personal render projects and fixing up a homesteader cabin that my husband and I have in Joshua Tree.
Whatever comes next, I'm tremendously grateful that I made the switch to full-time concept artist. It's really turned out to be a much more fulfilling career for me.
Obstacles in your design workflow?
Find out how V-Ray 5 for SketchUp can overcome them with a 30-day trial