Chaos' asset library contains everything you need to create stunning 3D scenes — and it can transform your workflows. CG Specialist Nikolay Bulev explains more.

Since its launch last year, the Chaos Cosmos library has become a go-to tool for architects, artists, and interior designers. It allows them to explore high-quality ideas and implement them quickly and easily, and it can help combine processes such as planning, design, engineering, and construction.
Combine the Chaos Cosmos library with knowledge and talent, and it can become an integral part of every project's success. In this guide, you'll discover how the power of Chaos Cosmos and its 3D assets can enrich your next scene.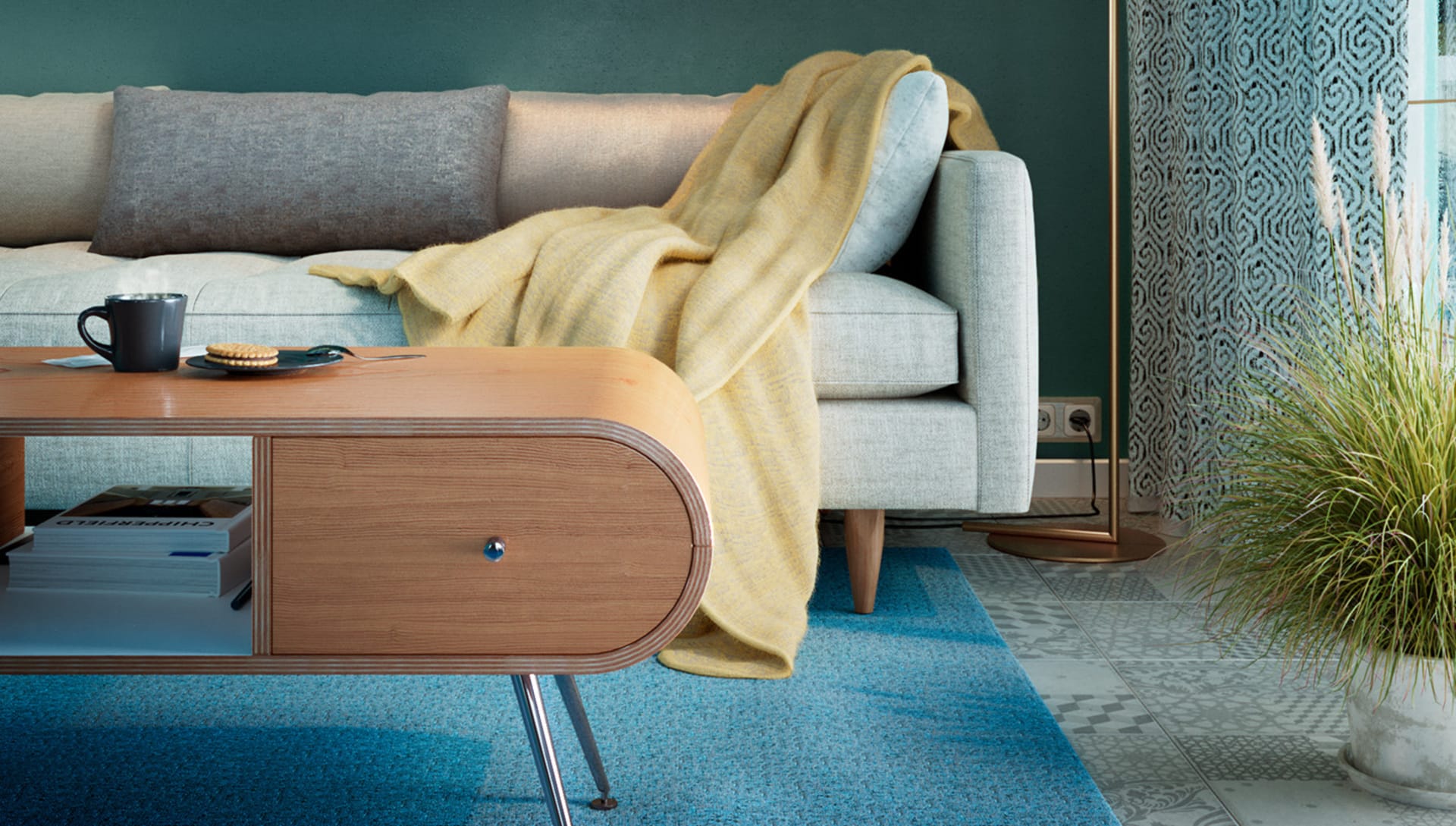 Realism added
Chaos Cosmos delivers high-quality 3D assets across the Chaos ecosystem and dramatically improves projects' realism. It also saves time while giving greater creative control to the professionals to do their work and creates a better client experience.
Architects and designers can browse, import, modify, and render assets quickly and efficiently with different Chaos products such as V-Ray, V-Ray GPU, Vision, Vantage, and Corona. The library is free and is available for all major host applications. The Cosmos library is included for free as part of the Chaos products and can be used in any host platform that supports V-Ray 5.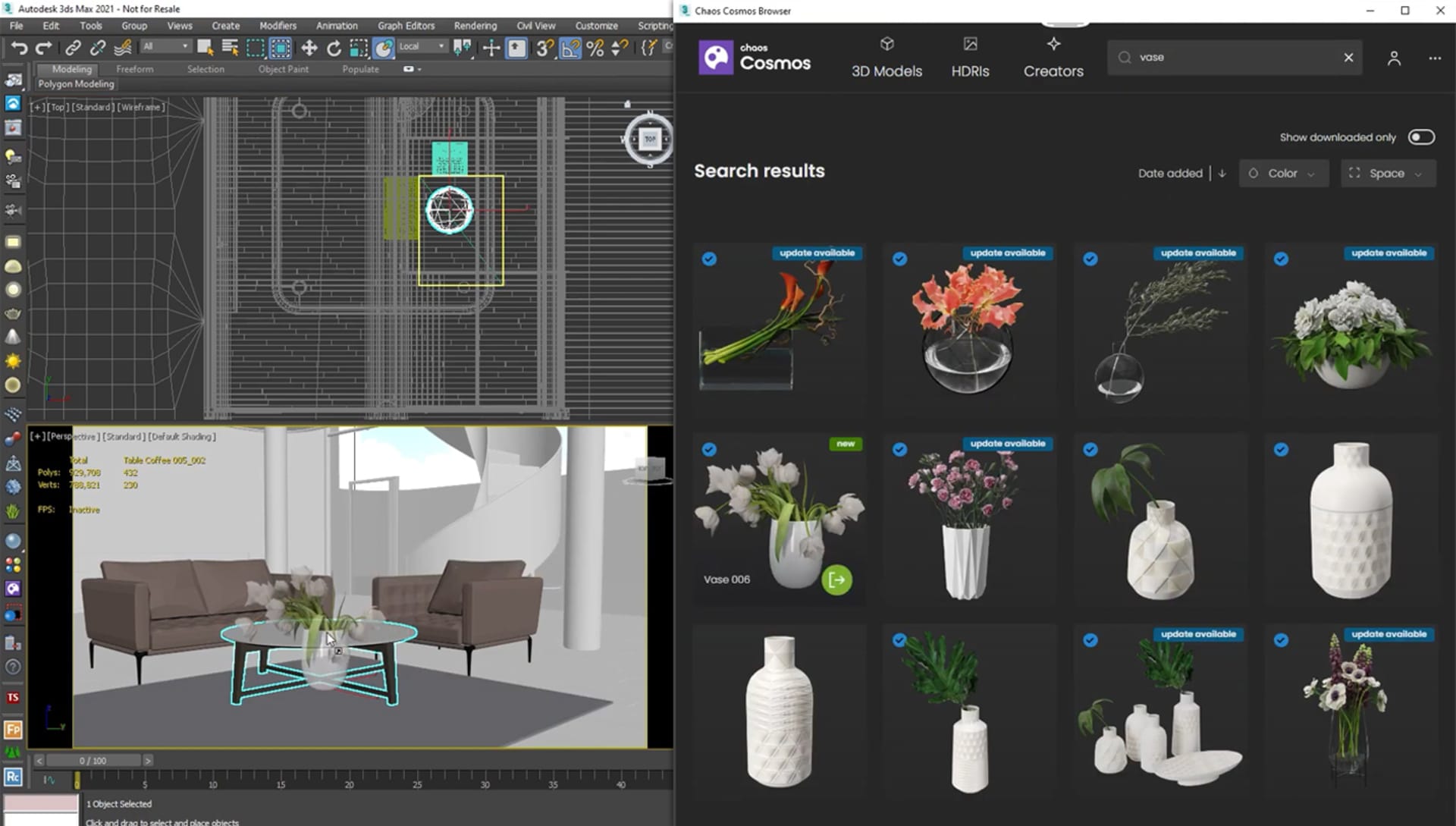 All you need right at your fingertips
A fundamental component of modern high-quality photorealistic rendering as a medium of communicating vision and ideas is undoubtedly the quality of the 3D geometry used in the creation process. This includes proper proportions and details, clean topology, the correct level of detail depending on the usage of the model, and realistic materials.
Focusing on high-quality geometry can improve the overall realism of your projects; however, it can be a time-consuming job with a long learning curve. 3D modeling is, essentially, a separate niche of the 3D world.
The main benefit architects and designers can enjoy when using the Chaos Cosmos library is that they have access to eight groups of constantly growing and carefully prepared high-quality and render-ready assets: 3D models of furniture, accessories, lighting, vegetation, vehicles, and people; materials with all the different types of textures used in arch-viz; and high-dynamic range images (HDRIs) ready for lighting or background usage. As the assets are render-ready, no setup is required, and every asset produces consistent results across different platforms.
We've ensured the quality of the Chaos Cosmos library by partnering only with renowned creators, such as Design Connected, CGAxis, Hum 3D, Maxtree, and more, with an ever-expanding roster of new partnerships. The 3D assets include three levels of detail that automatically adapt to different viewports. For example, in Chaos Vision, depending on the asset and the distance from the camera, a low or medium level of detail will be used to keep performance high without compromising the project's aesthetics. The asset's file format is also optimized for each platform.
Cosmos assets are in a V-Ray native format - *.vrmesh for geometries, which can be imported as an editable geometry for future editing, and *.vrmat for materials, which you can additionally tweak through the material editor in the respective host applications. The users of Chaos Cosmos can even request additional assets through the Chaos forum.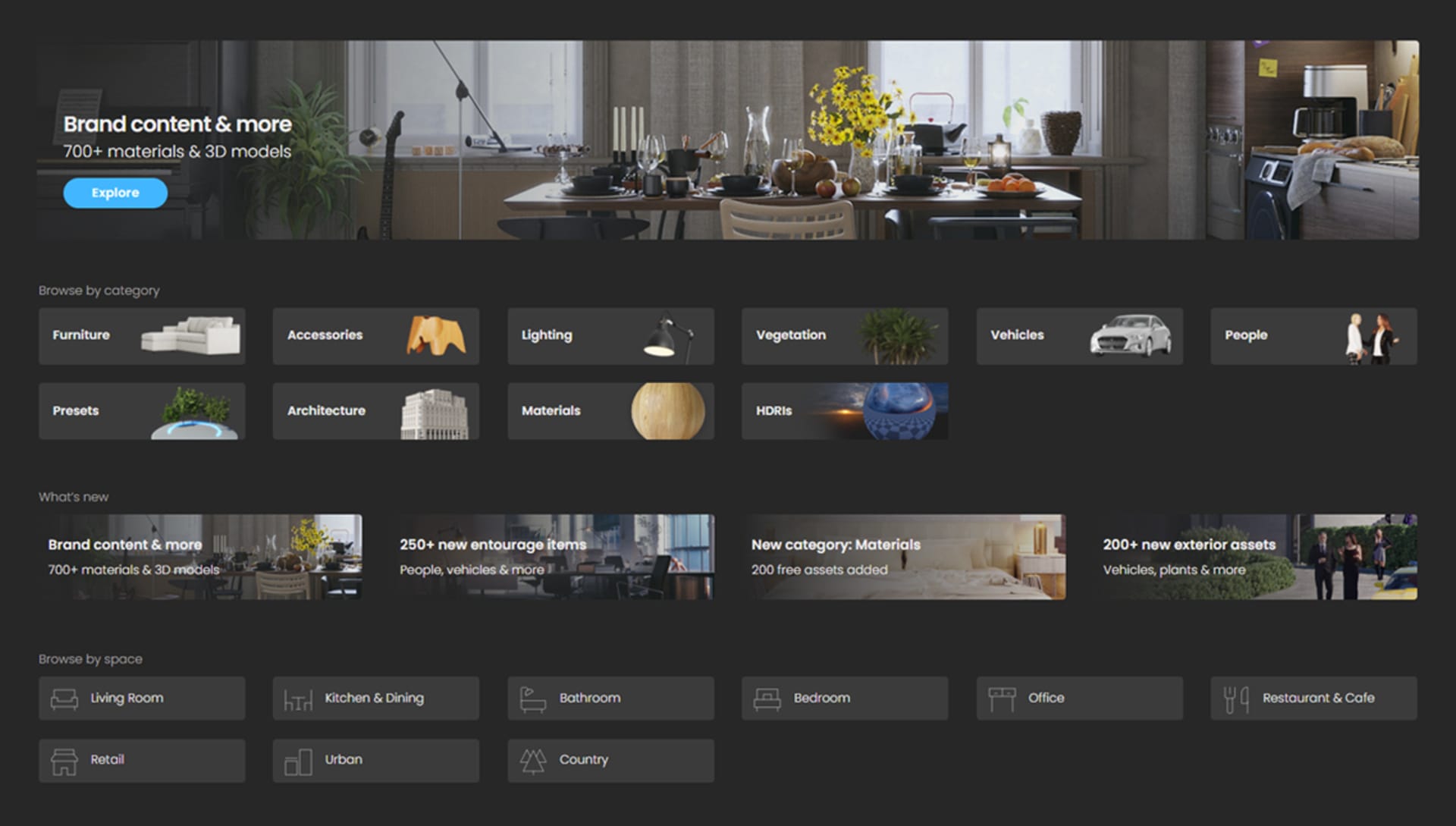 Everything in one place
The way Chaos Cosmos is organized and functions significantly speeds up the user's workflow, thus saving time. The "everything in one place" concept allows for fast interaction without jumping into other software. Artists and designers can go from quick planning of interiors, to building detailed spaces with high-quality materials, furniture, lighting fixtures, interior planting. When they're ready, then can add final touches such as accessories and decoration, and make use of vegetation, people, and vehicles to establish context and scale or building complex exterior environments.
In fact, speeding up the interaction provides more time for the design process. Architects and designers can focus on experimenting with different environment lighting scenarios with the Cosmos HDRI collection, as well as on setting up interior lighting from the lighting section models and playing with lights intensity and color.
Furthermore, artists can explore different furniture styles, color schemes, and material combinations simply by using ready-to-render assets. They can quickly tweak the assets' materials, or apply different materials to the project's base components such as floors, walls, facades, road elements, terrain, and so on.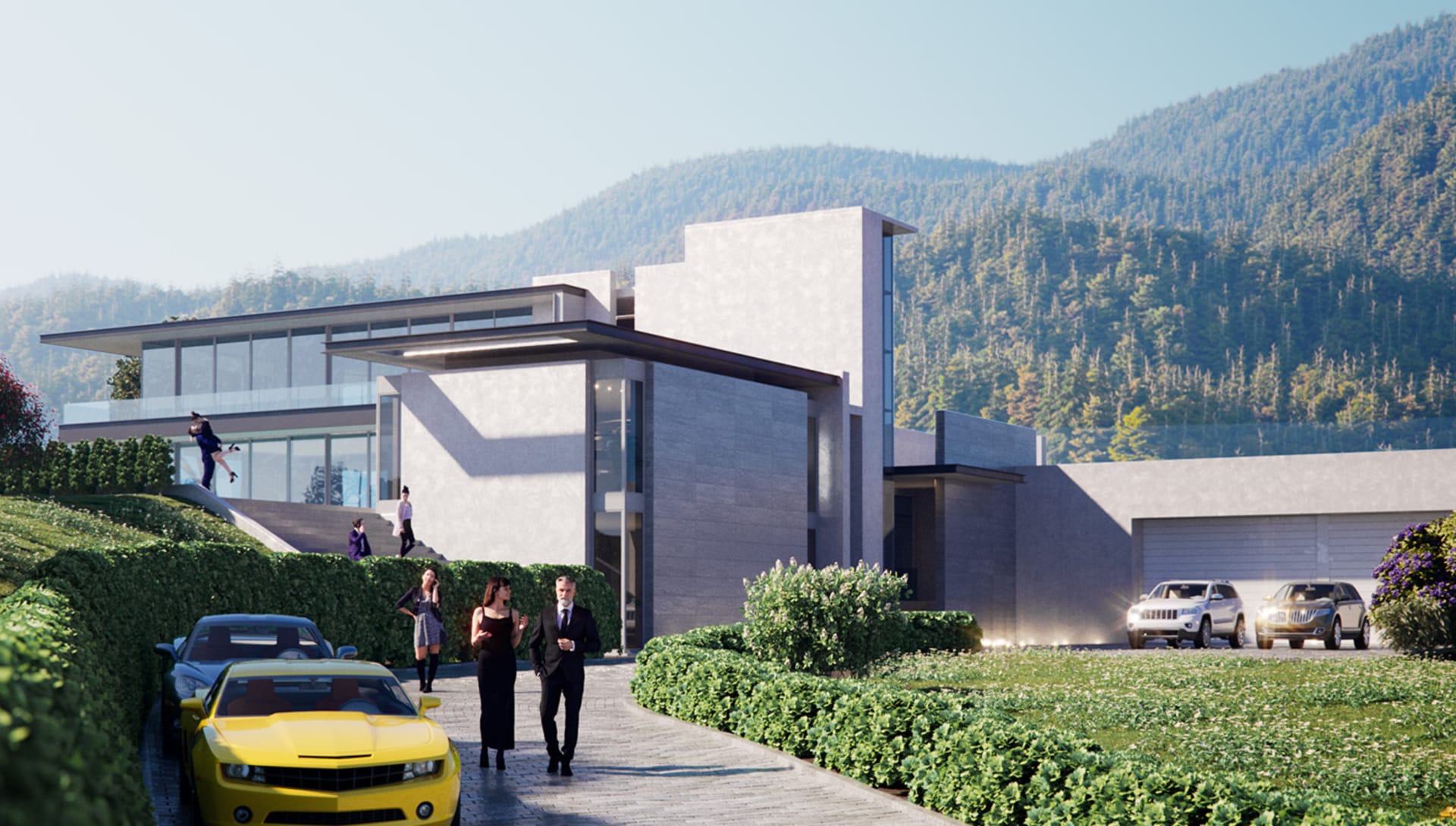 Better client experience
The importance of tools, optimized for communication between architects, designers and their clients is growing. Such tools become crucial for improving the client experience and ultimately the success of the projects. As an important step of the design process, interaction with the client at certain stages will ensure the project is moving in the right direction.
Chaos Cosmos provides a large number of ready-made objects that can be used as a life-like catalog and guide the client towards what they are looking for, either via real-time demonstrations in Vision or Vantage, or through hyper realistic rendering sets made in one of the host applications supporting V-Ray. Choosing from numerous objects and materials, the ease of swapping one with another, and the ability to modify the assets to the client's liking make digital communication with V-Ray and Cosmos Library a recipe for success.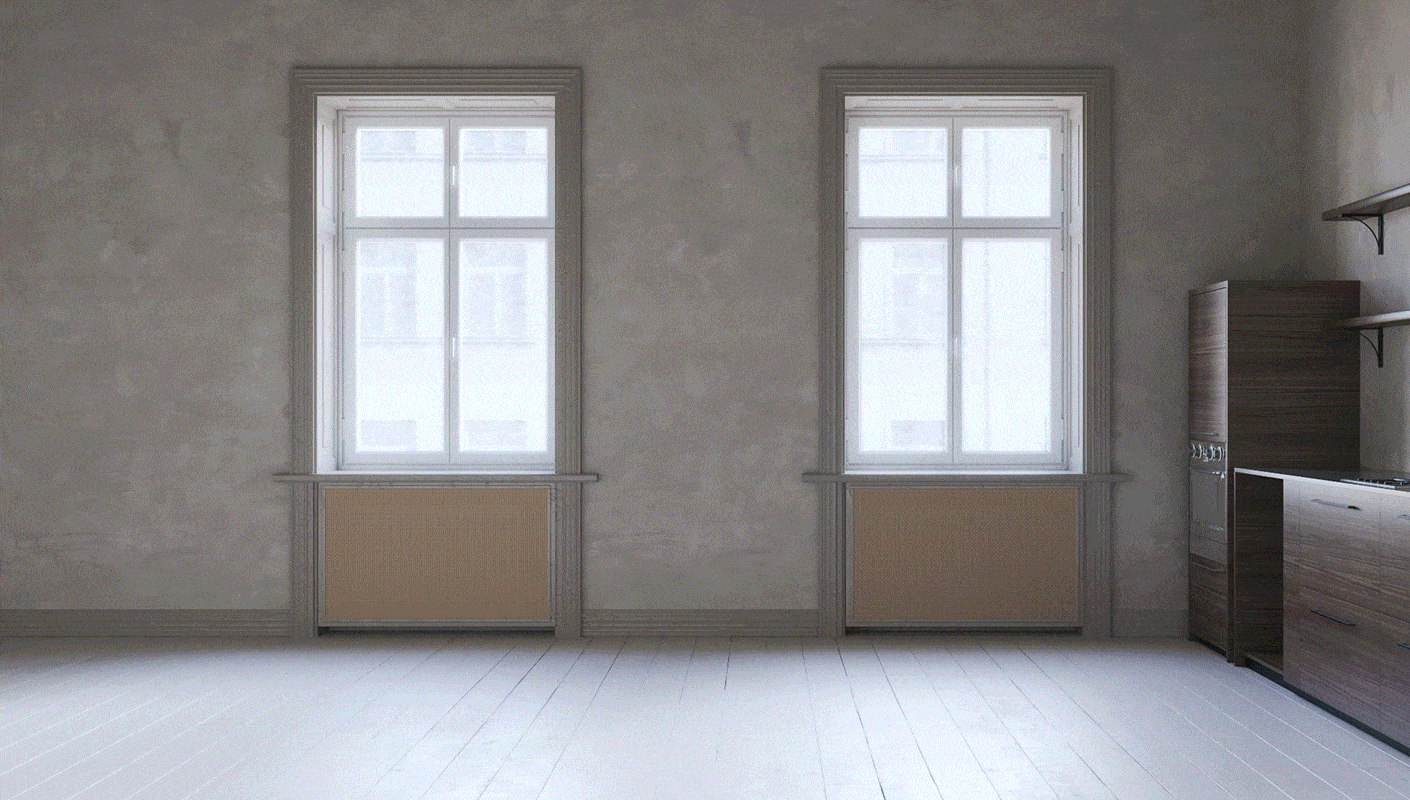 Stage your project with just a few clicks
As professionals practicing a multidisciplinary but highly art-oriented activity, architects and designers will always need tools to express their creations. As such a tool and an addition to V-Ray, Chaos Cosmos gives architects and designers the power to make the most of 3D assets as they add realism to their projects, save time, improve client experience, and give greater creative control over their work.
Add a whole new level of realism in your scenes.
Explore a universe of smart 3D content in Cosmos.