How do you teach computational thinking? DesignMorphine talks us through how its new Master of Science program is creating and empowering designers of tomorrow.
We had a chat with the co-founders of DesignMorphine – CEO Tsvetelina Georgieva, CCO Pavlina Vardoulaki Pryor, and CDO Michael Pryor, who gave us a deep insight into how technology is shaping design. They share their reasons for choosing V-Ray for Max, Maya, Rhino, Revit and Unreal and the reasoning behind the curriculum of the academy's new program, Master of Science in Computational and Advanced Design.
If you could describe DesignMorphine in three words, what would they be?
Education, design, innovation.
How has DesignMorphine evolved since it started?
During the past eight years, we have taught thousands of specialists and nurtured their progress in some of the biggest companies in the world. We have reached more than 82 countries and have traveled to over 20 cities for our workshops. We have created projects on 15-plus topics, including advanced design, coding, robotics, and virtual reality. Our pedagogy has surpassed the teaching of technical skills; we always challenge our students to give their best.
First and foremost, we are a community and we support and empower our students' dreams. Many have been accepted to universities such as Harvard, the Architectural Association School of Architecture, SCI-Arc, or they have begun careers at Zaha Hadid Architects, BIG, Foster + Partners, Nike, Moonray, and more.
In September 2021, we started a one-of-a-kind fully accredited Master of Science Degree in Computational and Advanced Design in collaboration with the University of Architecture, Civil Engineering and Geodesy in Sofia, Bulgaria. This is the first year of the program and we have the privilege to teach 38 incredible designers and architects from all corners of the world.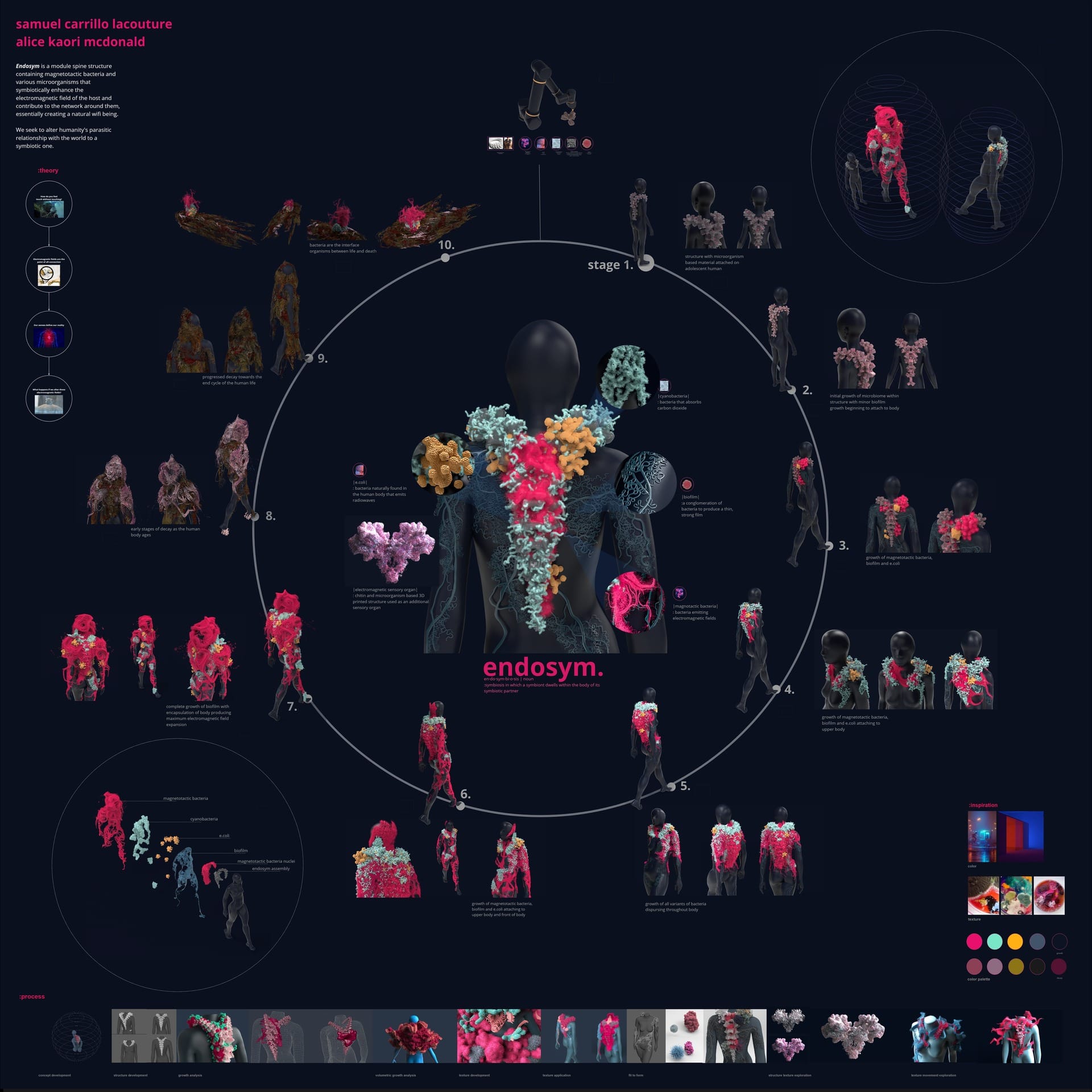 In your academy's manifesto, you claim that technology will eventually shape our minds and body. Is that a good or bad thing?
During the program's Design Chapters phase, our students start with the generation of a single unit and its new features; for example, the enhanced human body. They progress to developing more complex architectural entities around that, reaching the state to build global systems and networks. Everything humanity has designed so far is limited and based on the way our bodies are designed and work, as well as the way we experience reality around us through them.
Technology is accelerating, and it has reached a level where it interacts with our bodies, including the human brain. Technological advancement could be positive or negative depending on how we choose to use it, however, it certainly is inevitable. This is the reason that we feel it's vital for us to be at the forefront of this change and shape its progress as much as we can.
What skills are critical for designers to develop in this era of rapidly evolving technology?
We are focused on the development of computational design thinking which is defining the parameters and rules of design, but having a computer processor execute it. Design becomes a series of operations that can be adapted to multiple situations and conditions. We teach a wide variety of software for parametric and generative design, including Maya, ZBrush, Rhinoceros, Grasshopper, Houdini, Unreal Engine, C#, etc. However, the most important part is developing unique thought processes that can be applied to any creative field.
The technological advancement in the fields of advanced and computational design has led to exciting new opportunities that blur the lines and norms of conventional design education and its application. DesignMorphine's mission is to democratize these innovative design practices and allow all fields of design to blend. Today, more than ever, architects, engineers, and designers should be exposed to the computational design mindset in order to be on the frontier of a new era.
How have professions and skills in the creative industries evolved over the past few years?
Rapidly emerging new technologies are changing the design industry's reality all the time. . Computational and advanced design is no longer just the profession of the future for all creatives; it's relevant right now. And we see that with leading companies from all industries creating innovation teams focused on computational and generative design.
Computational design enables you to automate repetitive tasks, lets you prove your design decisions with real data, and forces you to think of design in terms of chunks of processes that can be used in many conditions. And the best part is that computational design is multidisciplinary and multiscalar because it allows for this mindset to be applied across all industries of design. If we take it a step further, into the fusion of multiple pieces of software and hardware, and use them unconventionally, that's where you find the most breathtakingly innovative design ideas.
The mindset, techniques, and software taught in our programs can be applied to any creative field. And this is vital because it allows for great versatility and diverse professional experiences. We aim to prepare a new generation of designers to thrive, and drive progress and change in design.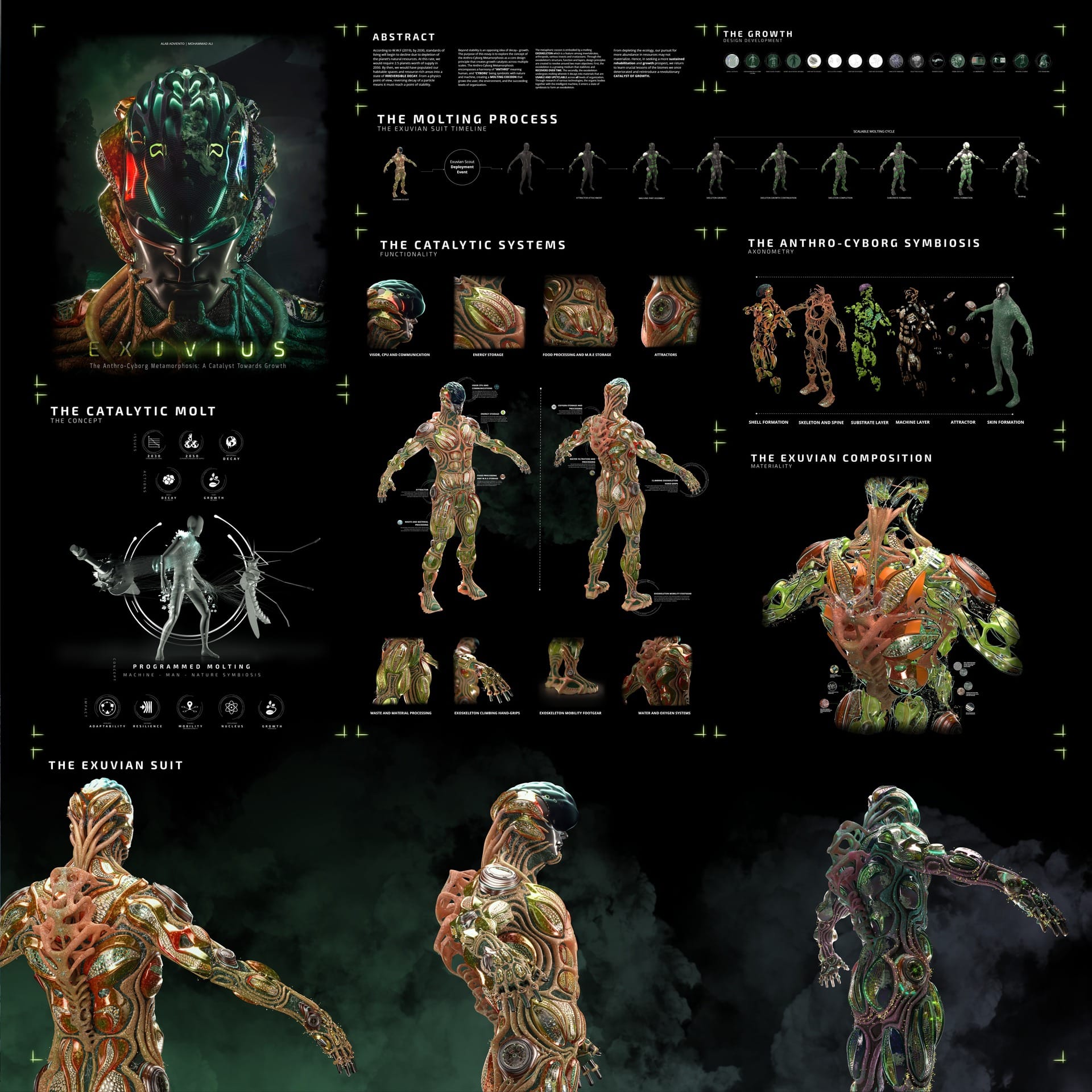 Your curriculum teaches students how to work through cosmogony, rather than conventional design processes. Could you explain what this is?
The program is organized in a unique way, based on five Leading Design Chapters and five Supporting Technical and Theoretical Labs that span nine months. The approach is scenario-based and revolves from the fundamental element – the human body in relation to the whole city or, even world or universe.
As we discussed before, designing for tomorrow entails, first and foremost, creating a body that will live that future. Challenges inevitably arise and demand innovators and pioneers to overcome them; new tools and technologies are required to materialize the answer; limits and boundaries need to be crossed, and the equilibrium will change. In this journey, the compass will be a scalable notion of the human condition.
Housing, transit systems, the ways one moves around in the city, and even the whole structure of the city itself, are essential aspects one has to consider when designing for this new reality. The whole world is built around the human body, but by changing this core unit, we are no longer concerned with just designing parts of the world we live in. We are designing the whole world we live in. It's not a mere design process, it's cosmogony.
What were your reasons behind choosing to have our product ecosystem in the curriculum?
Chaos has been an amazing partner of DesignMorphine from the beginning. In our view, V-Ray is the most powerful visualization tool, and it continues to evolve. Many of us are architects and designers who have strong connections with V-Ray from our student years. Now, we are continuing to implement it in our professional work. As a Bulgarian company ourselves, we are also very proud that it has been created by Bulgarians.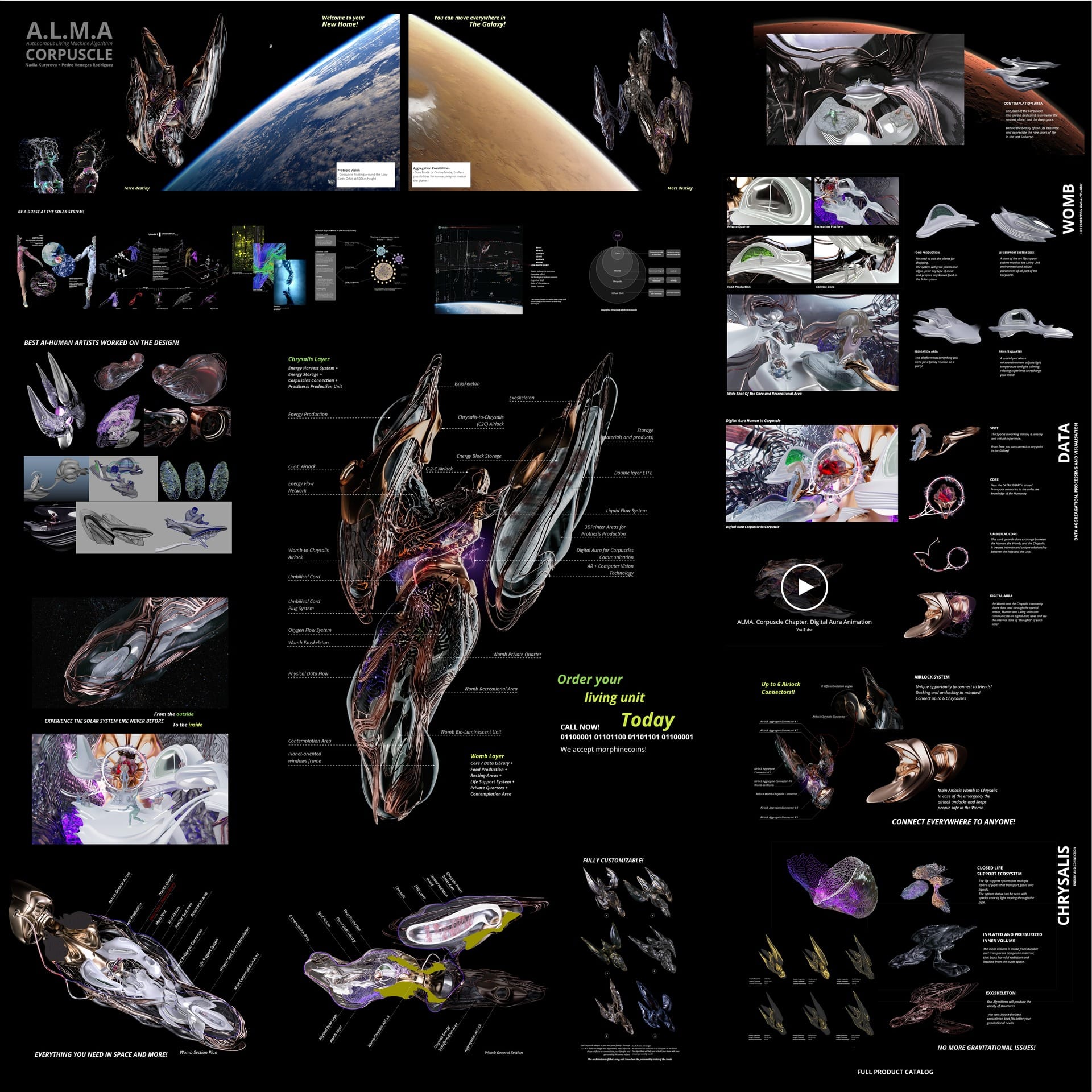 Where can we find work from your top students?
We are proud of our students' achievements and growth. All projects have a unique voice based on a personal scenario developed by each individual team. Anyone interested in looking into more information and projects can check our Instagram account @designmorphine.
It's interesting that you divide your program into chapters and labs. What is the idea behind that? And how did you come up with the chapter's names?
The program is based on five leading Design Chapters and five supporting Technical and Theoretical Labs. The aim is to provide a multitude of diversified design experiences that amalgamate to a bigger vision. This is the most unique part of the program as there is no other Master of Science Degree structured in a similar way. Students create a scenario at the beginning which leads the design process during all Chapters.
Students start with the generation of the enhanced human body and then they progress into the development of more complex architectural entities, and build global systems and networks reaching the state of cosmogony. All Chapters are connected, and they lead to the master thesis. The Chapters' names reflect their scope and mostly derive from the Greek language in which the English scientific language is rooted.
Through the Technical Labs, students master a variety of software for parametric and generative design, including Maya, ZBrush, Rhinoceros, Grasshopper, Houdini, Unreal Engine, and C#. They get to utilize virtual reality, visualize their concepts through the Media Lab, and work with prototyping machines and swarm robotics. At the end of each monthly cycle of lessons, participants present their work to a jury of eminent specialists. When students complete their journey, they have obtained a variety of skills, and they're ready to take on any project in any working environment.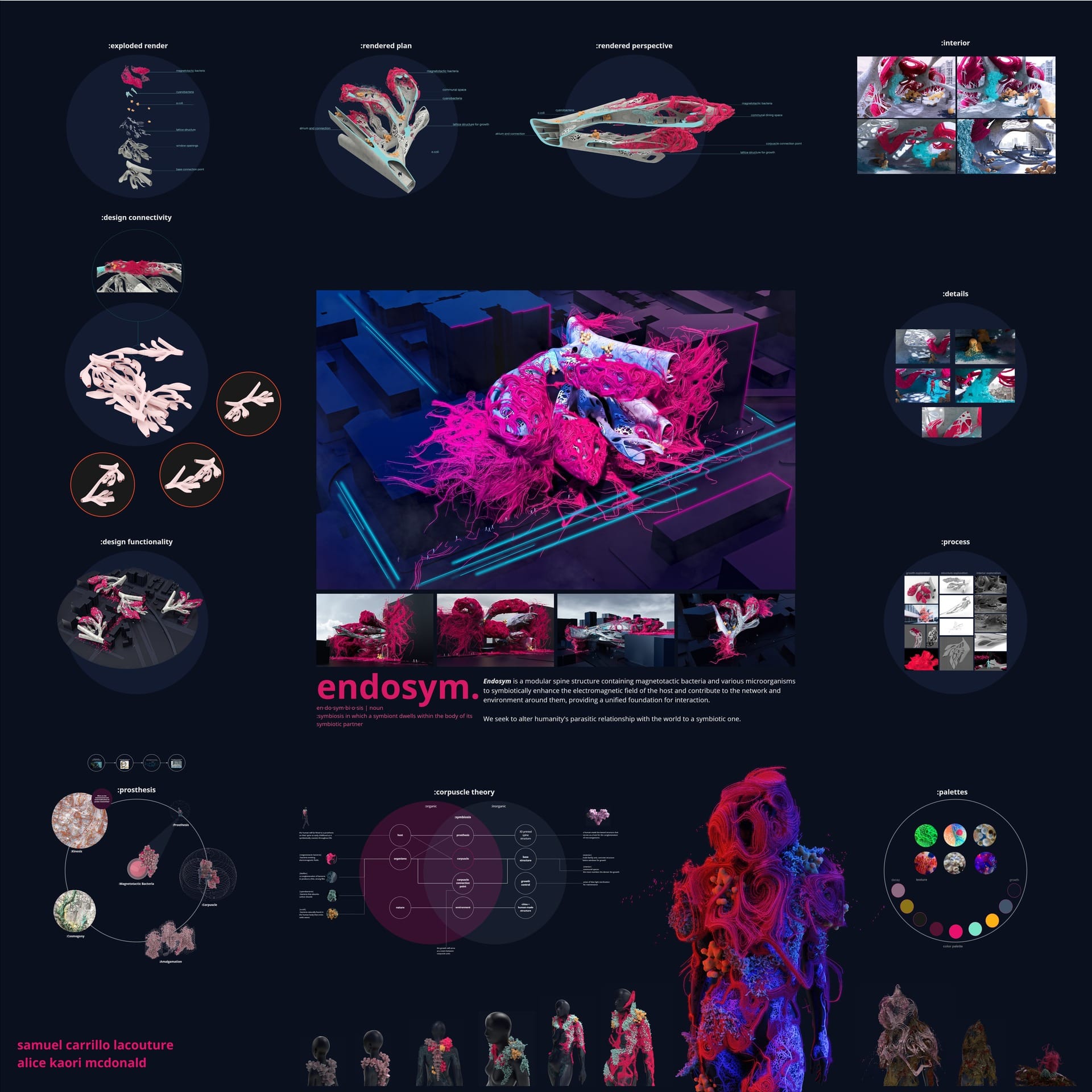 Your program explores some complex design concepts like "Amalgamation" in the third chapter of studies. How do instructors manage to break down more challenging topics so students can grasp them?
We have a lot of experience through years in teaching challenging topics during our workshops and webinars. We are also specialized in teaching advanced knowledge and techniques in the most efficient and fast way. One of the most important aspects of the program is that it has over 30 educators and mentors. All of them have real-life professional experience from the best companies and universities in the world. This is something unprecedented for a Master of Science Degree and it guarantees educational quality under our united vision.
What do you look for in a successful master's program candidate?
We are looking for individuals with unique design philosophy, fearless creative drive, passion, perseverance, and motivation. We hope to see candidates who have team spirit, a strong work ethic, innovative trans-disciplinary design work, and solid communication skills.
We are also looking for diversified and multi-scalar design background, creative problem-solving abilities, analytical theoretical approach, and determination to carve one's own design path. We take professional design and/or educational experience into consideration, but these aren't essential.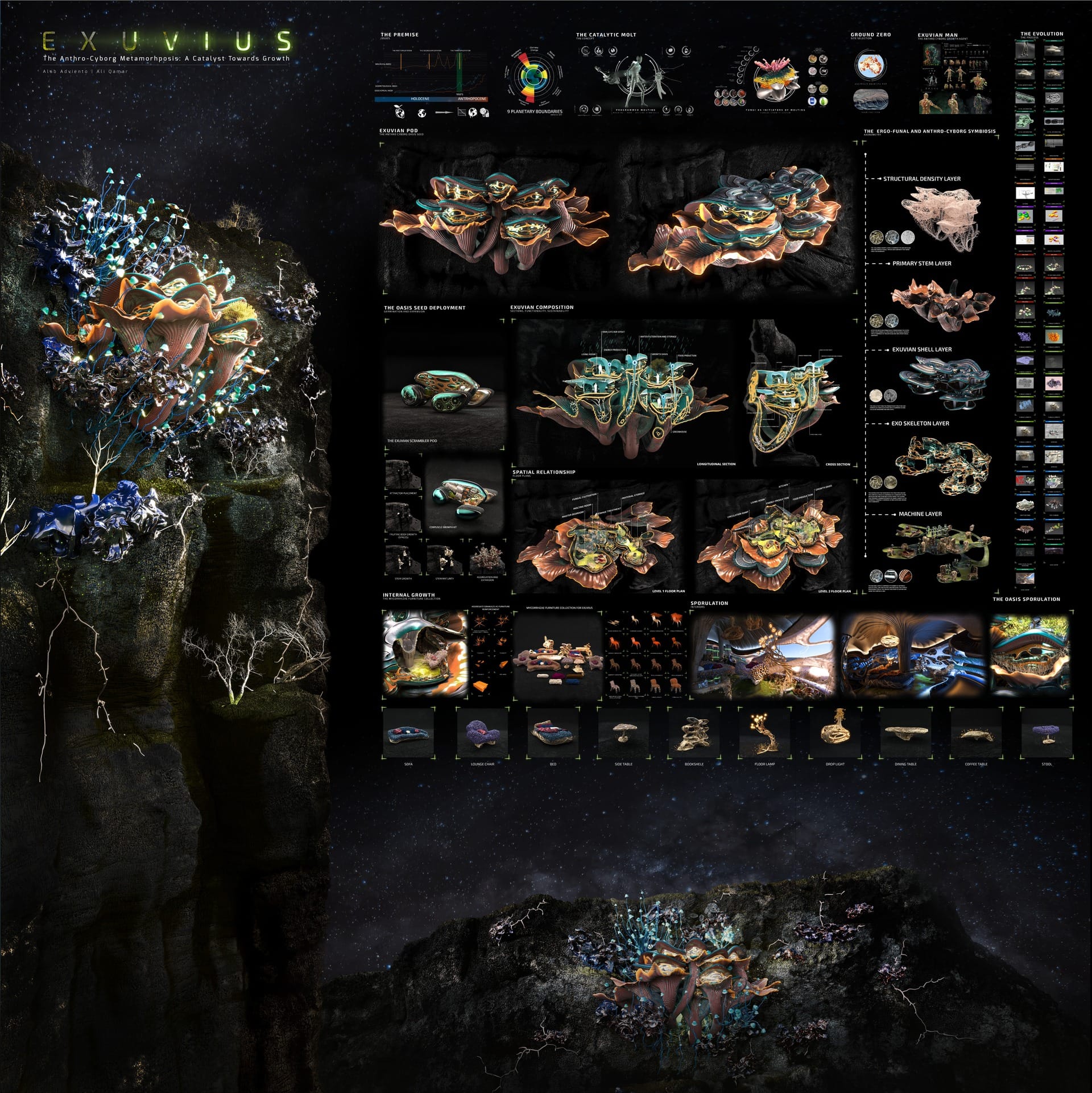 Apart from issuing Master of Science degrees, your academy holds workshops, conferences and webinars. Could you tell us a bit more about them?
We have had many workshops and webinars over the past eight years on many different topics, but they're always connected by experimentation and unique workflows. We are heavily invested not only in the virtual world, but also in fabrication. We are now focused on weekend webinars since it's the most effective way to stay connected to our design community worldwide.
One of our educational collaborations with universities is with the Harvard Graduate School of Design (GSD). This annual workshop series is very popular among Harvard GSD students.
We also co-create with our partners, and one example is our latest collaboration with the amazing Arturo Tedeschi. We created a suspension lamp called HorizON, which encapsulates a freeform 3D printed shape within a handmade glass shelter manufactured in Murano, Italy. It was exhibited during Venice Glass Week 2020.
What upcoming events can we look forward to from DesignMorphine?
Our most important upcoming event is DesignMorphine's Master of Science Degree Y22/23, where the application deadline is April 15, 2022. We are excited for the next academic year because there has been a high interest from students worldwide, and we have already received many applications from talented designers and architects that are interested in joining us. You can find more information here. We are also announcing webinars every few months; you can check them out here.
Bring the world of tomorrow to life.
Get all the tools you need with V-Ray Collection.