Explore El Obrador's latest archviz projects, learn about the studio's unique work philosophy, and how Chaos Cloud allows the team to collaborate efficiently.
Curious to discover what sets apart El Obrador's projects from those of other archviz studios? Apart from the team's passion for 3D design and graphic representation, Fran Andreo and Consuelo Ibáñez have made it their mission to pay attention to every single aspect of both the technical and conceptual parts of their images.
The Spanish duo really takes care to capture the beauty in the details. Combining extensive research with previous knowledge and critical visual analysis, they are meticulous and careful in each step of the production process. Keep reading to get to know Fran and Consuelo better, dive into their work philosophy, learn the role of Chaos Cloud in their process, and marvel at their stunning visuals which are sure to inspire your next project!
What led you to open El Obrador as an archviz studio?
FA: I think the beginning of our interest in archviz comes from our university days. Both my partner and I studied architecture and we liked to look for interesting and different ways to represent our projects.
In this way, a bit self-taught, we started to work with different 3D modeling software and rendering engines.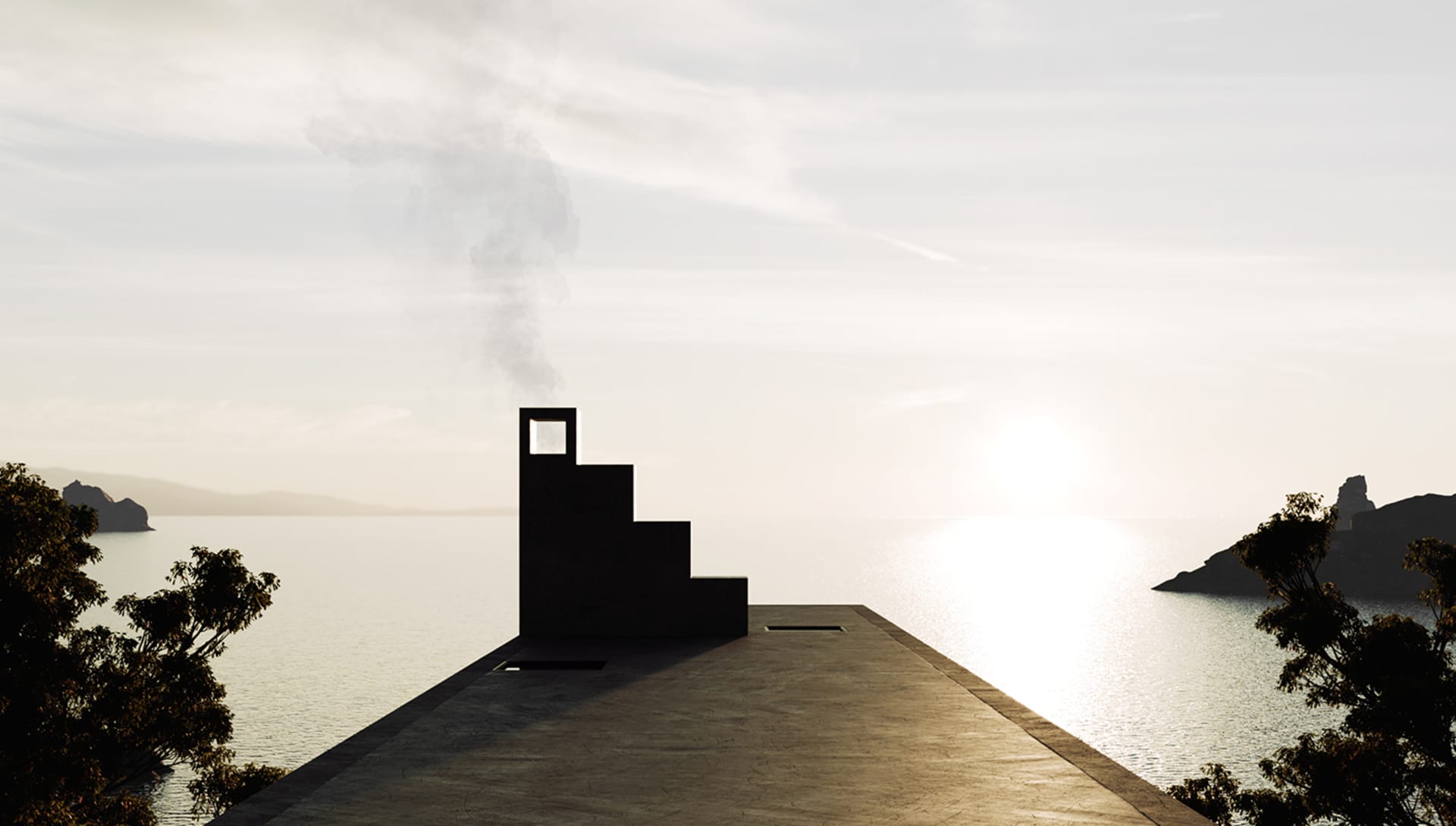 To what degree do traditional drawing and illustration methods inspire your work? What role does sketching play in the planning stage of a new project?
CI: Due to our training as architects, we usually approach each archviz project in a similar way to an architectural project. We start with sketches, color ideas, and atmospheres. From there we develop the look of each project.
We like to pay attention to detail, thinking about every element that appears in the images, from the furniture to any object that can bring them to life. During our first years as architects, we lived in Portugal and there we learned the importance of detail, and how to focus on maintaining a simple aesthetic that can explain the project without a lot of artifice or elements that blur the concept.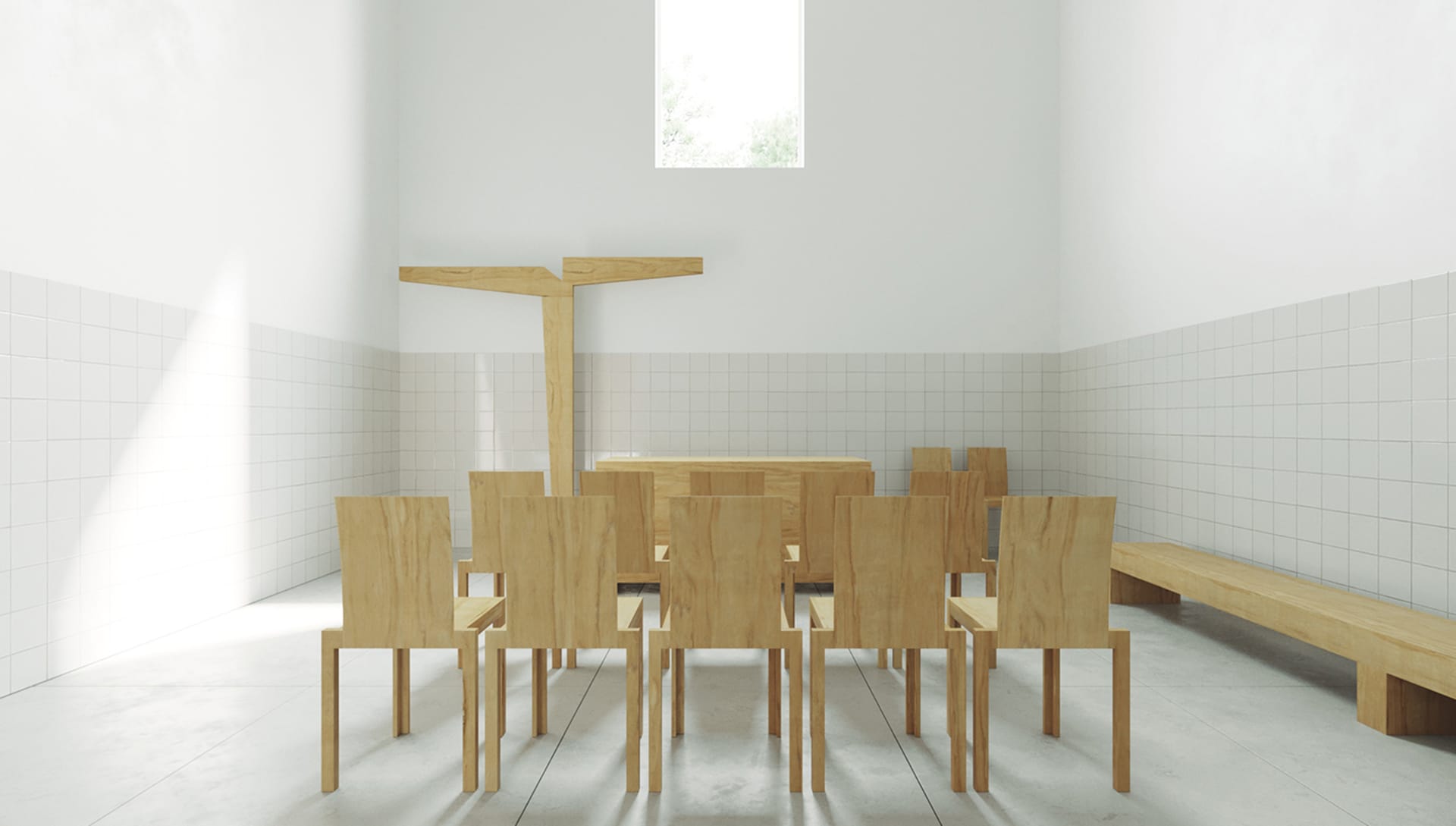 How do you transform your sketches into 3D while keeping the initial spark of the idea?
FA: Test, test, test. One of the most powerful things about working with render engines compared to other ways of representing architecture is how easy it is to try out different scenarios for the images. It is very easy to consider different types of lighting, cameras, colors, and compositions, and from there choose the one that best suits the initial idea, or even try out other opportunities we may have found along the way.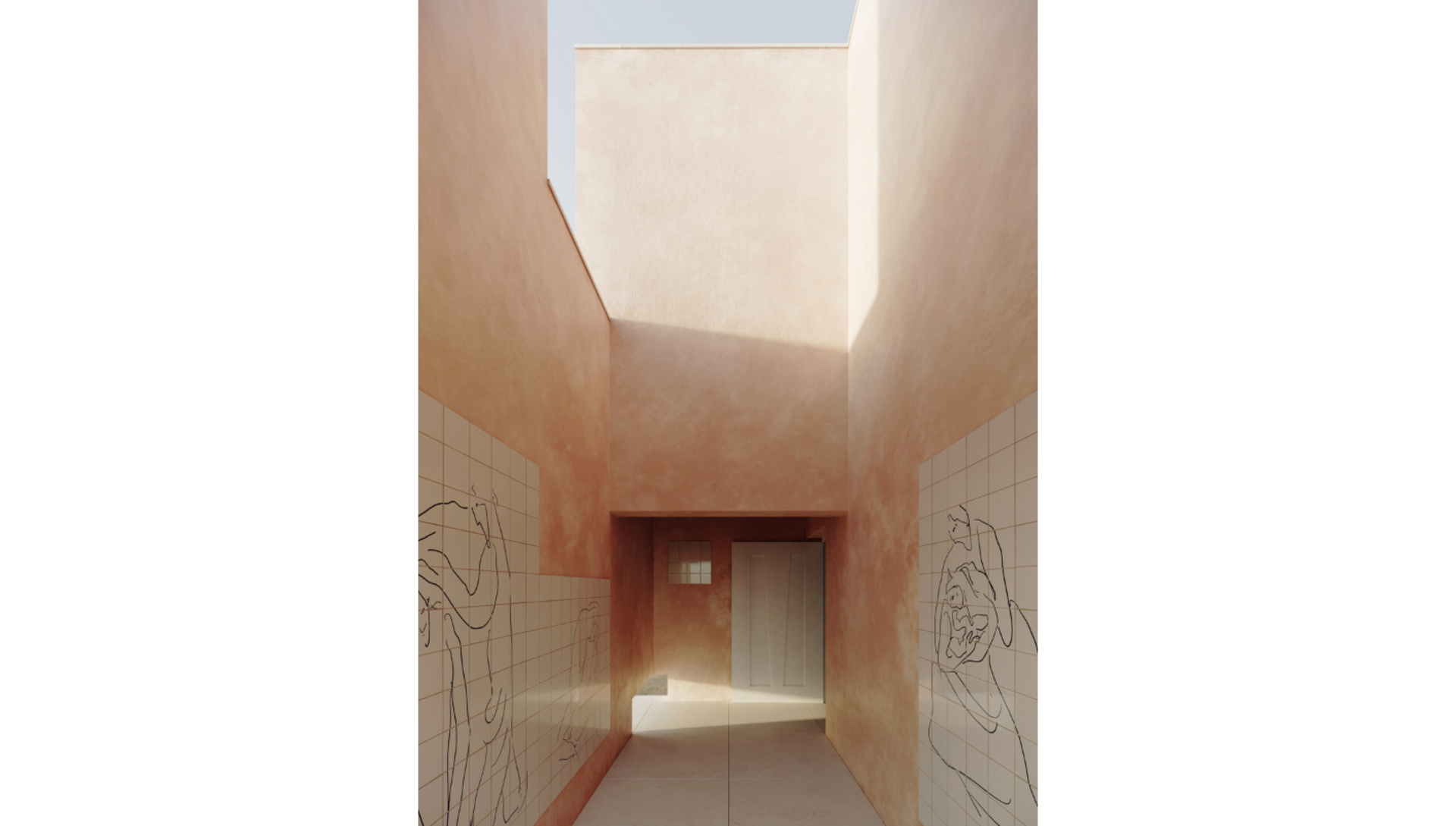 You have implemented a very unique style of analyzing your work. Can you explain the process of studying an image on several scales – sensation, emotion, and care for detail? Do you do that for each project?
FA: Undoubtedly the most interesting thing about architectural representation is the ability to show spaces and sensations. For us, it is very important that the images have a unique atmosphere, and that they show the space from a personal perspective. In this sense, we try to use the smallest elements to tell a little story or to draw you into the picture. This can be achieved with different scales and elements, from a climatic condition to an element placed on the table that suggests that the space is alive, it is changing but explained in a less explicit and more evocative way.
How did Chaos Cloud help simplify your workflow as designers?
FA: We are a small studio and at the beginning, we spent a lot of time rendering the images in the studio. We had to stop what we were doing for a while and leave the computer working. We soon realized that this was highly unproductive and started looking for a solution. After trying several things, we decided to work with the Chaos Cloud. It allowed us to improve our rendering times and maintain control over the process.
The integration with the software is seamless and it's incredibly easy to use. We integrated the system into our workflow from one day to the next and have been using it ever since, from rendering images internally for sharing to final images for clients.
Does it help when you have tons of design iterations?
CI: Of course! Often clients want to see small changes to projects that involve little work but a lot of rendering time. This way we can make the changes quickly, leave the images rendering in the Chaos cloud and continue working on other projects.
Is there a specific project in which Chaos Cloud saved the day?
FA: Lots of them! On several occasions, a client has asked us to make last-minute changes for an important meeting and we have had to re-render several images in a very tight time frame. This would not have been possible without the cloud, as sometimes the render time alone is more than we have time to make adjustments.
What difference did it make to your render times?
CI: For us, it was a huge improvement. We could render several images at the same time, which definitely reduces rendering times a lot. When we were using our computers we had to render the images in series, one after the other.
It also meant an improvement in the quality of the images, we could render in qualities and resolutions that would have been impossible on our computers.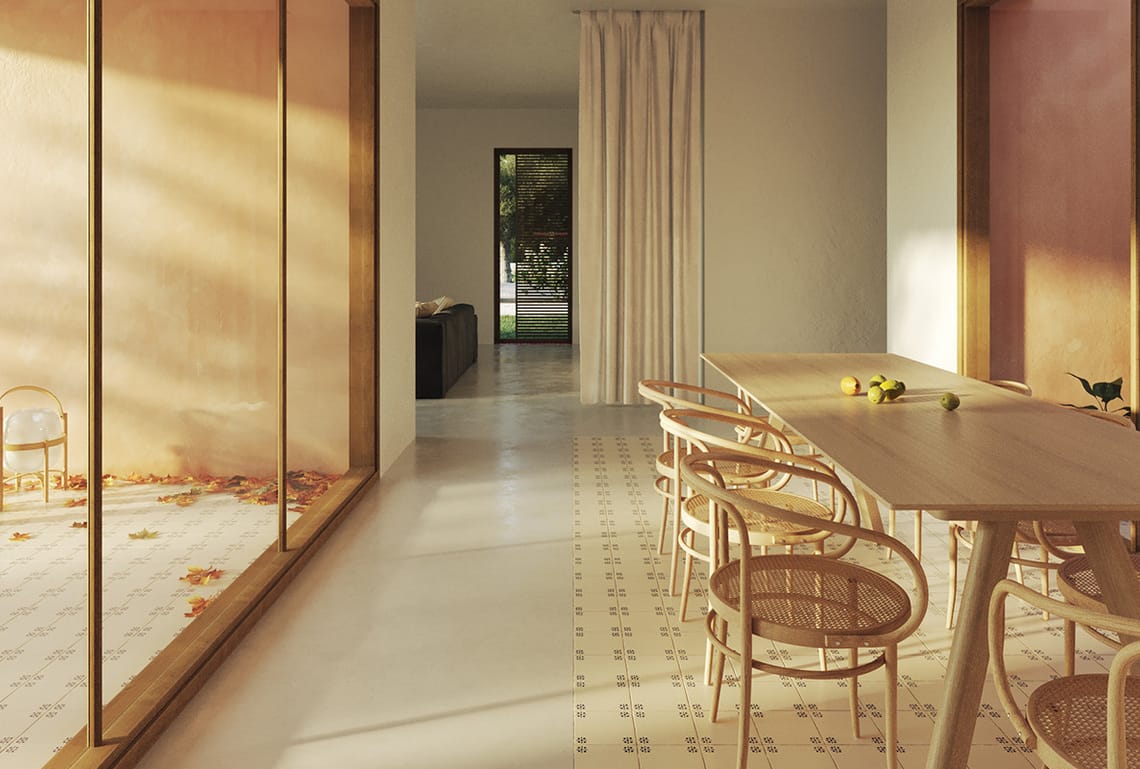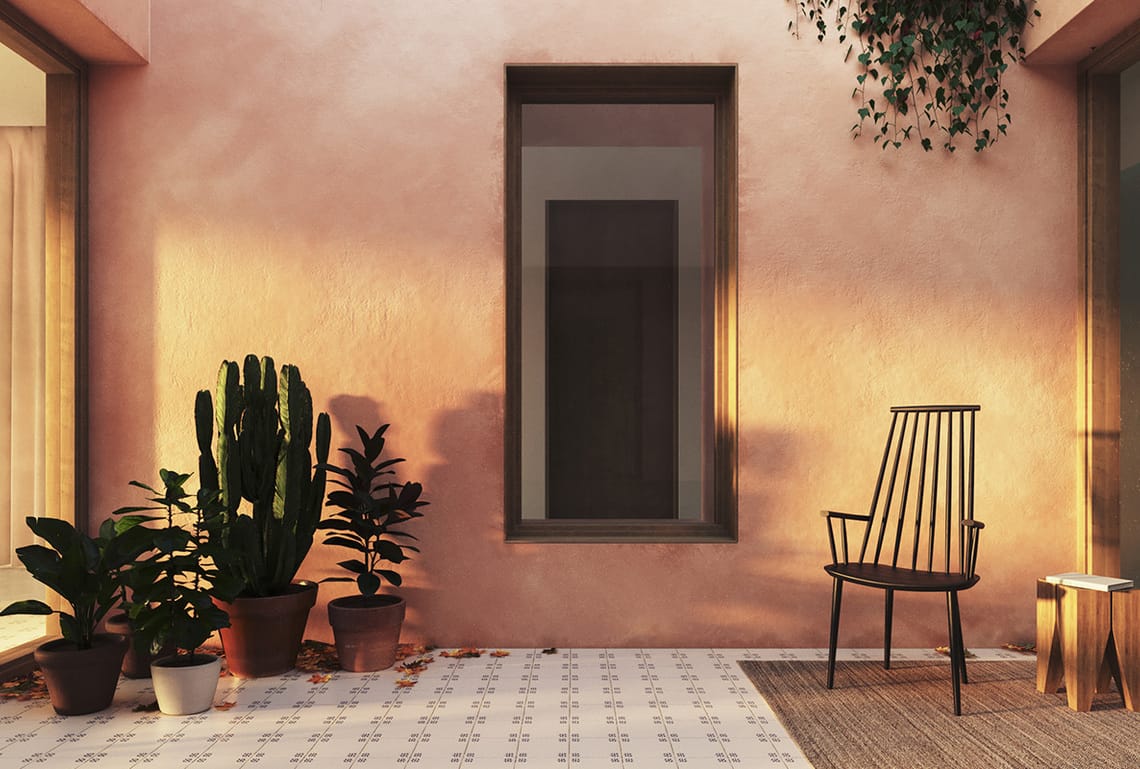 Casa 41 evokes a very serene and in-tune-with-nature environment. What type of person would appreciate living in this space? Do you find assigning a person to the space beforehand helps you create a more convincing visual story?
CI: What a good question! This project was developed in collaboration with another architectural studio for some members of our family. No doubt knowing how they imagined each space helped to generate the images.
It is a very interesting exercise to imagine each space lived by the people who will occupy it. In our case, we like to generate a scenography that can help them to imagine themselves. It is important in this process to suggest rather than show.
In the case of Casa 41 the apparently empty spaces are complemented with some elements on the table or chairs that show us that it is not an uninhabited space. The play of shadows also helps a lot to suggest elements that are not seen in the camera but exist beyond what we see at that moment in the image, giving the sensation of a living world that is not limited to what the camera captures at the moment of the photograph.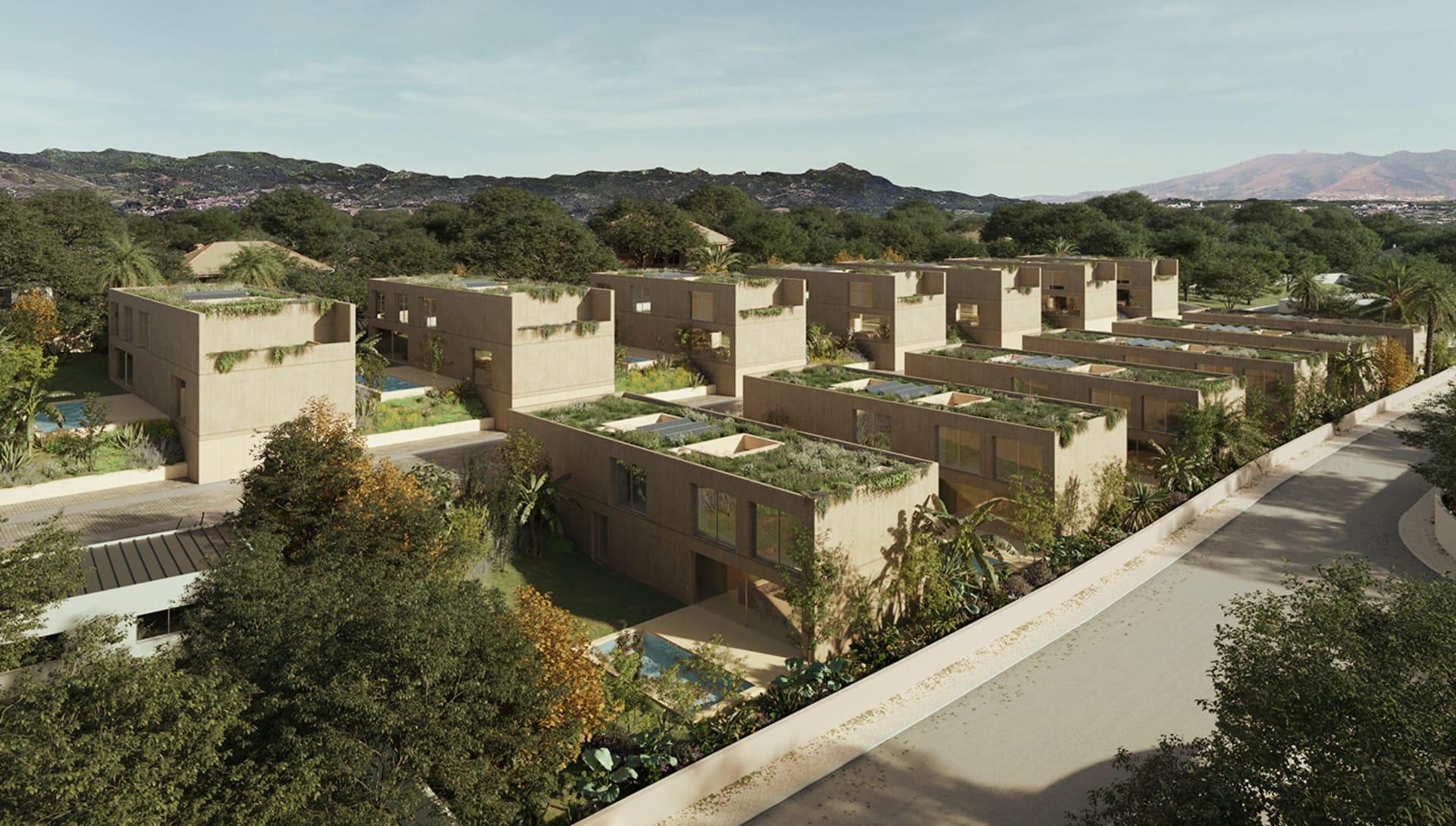 The leading lines and viewpoint work very well in Rua Platanos. Do you view such artistic rules as essential in your work? When is it okay to break composition rules?
FA: It is a very interesting project, with an incredible relationship between all the spaces in the house. This was important when planning the images. The large number of gaps and lines of composition made us look for a powerful but orderly point of view, which would allow a clear reading of the spaces and not confuse the viewer.
I think that the rules of composition help a lot to create images, but sometimes intuition leads us to equally interesting results without a compositional approach. The challenge lies in the relationship between composition and intention.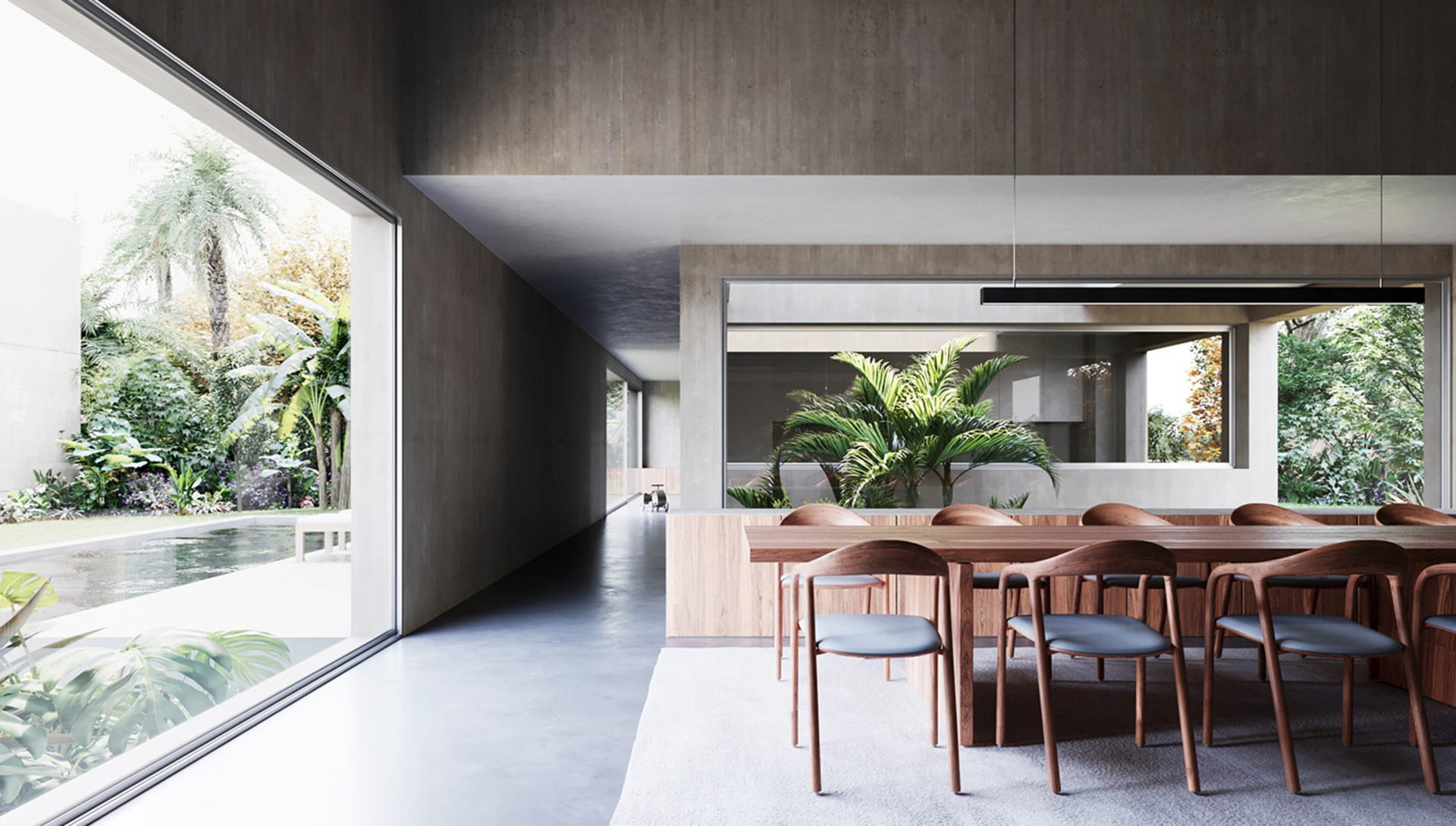 How do you approach post-production? Do you rely on applying minimal finishing touches with the heavy lifting already done, or do you devote a lot of time to iron everything out to perfection?
FA: It depends on the type of work. In smaller-scale, more domestic projects, we don't usually apply more than some color adjustments or integration of some elements. We look for a fairly definitive finish in the rendering software itself.
On the other hand, in larger projects or competitions where we are looking for a more "cinematographic" finish, we rely on post-production to retouch and add elements and atmospheres to the images.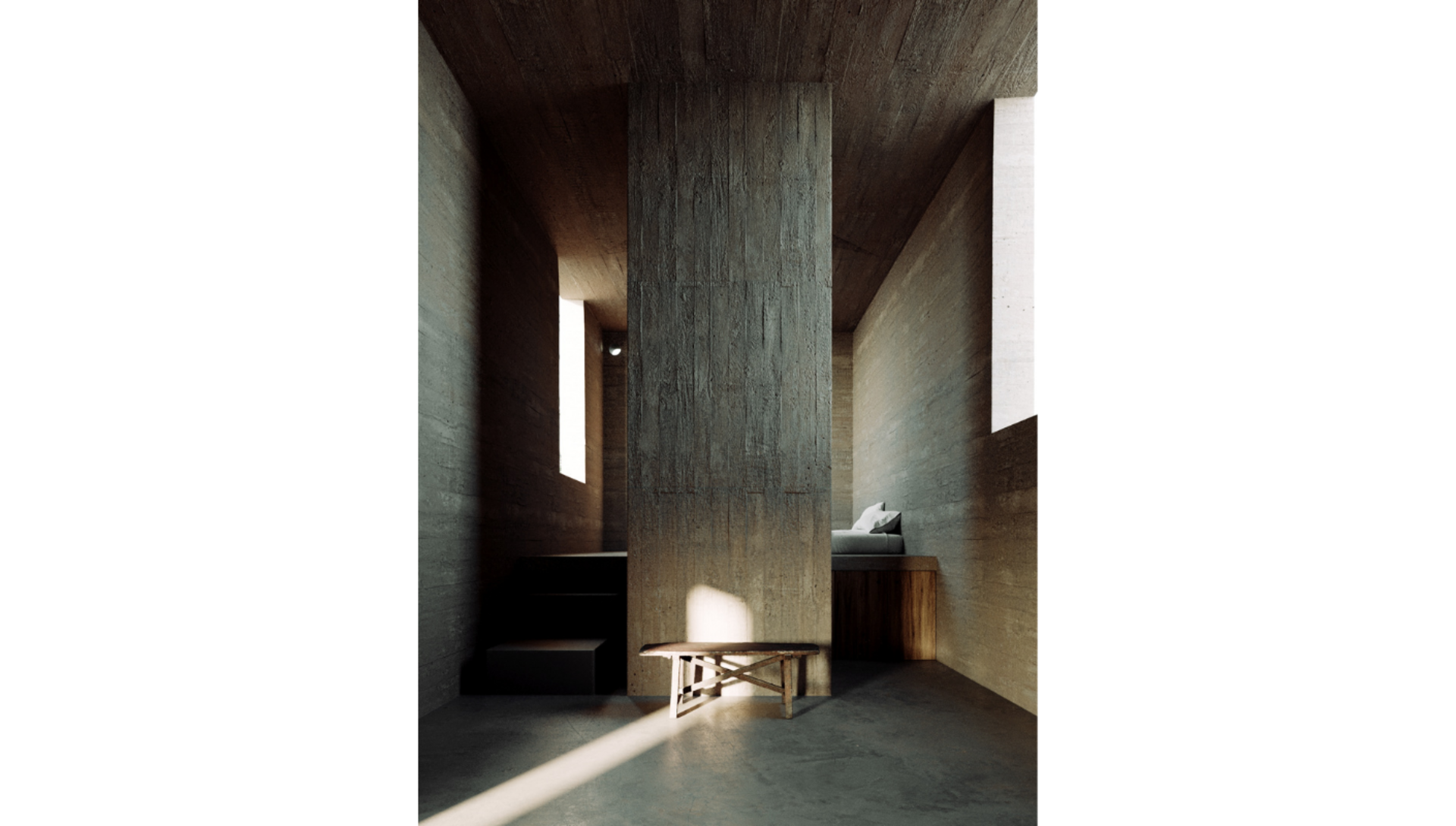 What personal projects have you taken on that you are passionate about?
CI: I think archviz is an amazing and different way to approach projects and architects that you like. That's why when I see a project that catches my attention I like to work with it and try to make images of how I imagine those spaces. It's something that helps me to explore and improve. This is the case of the Capela do Monte by Alvaro Siza, a very small but very interesting project, it looks like a sculpted box with a lot of interesting situations in a very small space. The Loba house by Pezzo Von Ellrichshausen also follows this philosophy but with such crude materiality that it looks like a cave.
What advice would you give to archviz artists who are considering opening up their own studio?
CI: For us the most important thing is to make images that we like, not to make what we think people expect to see. In this sense, it helps us to develop our own projects that allow us to experiment with different scenarios, environments, lighting, and compositions and then apply them when necessary to other projects. In short, you have to know how to enjoy what you do.
Achieve more with the push of a button.
Get 20 free credits and start rendering in Chaos Cloud.