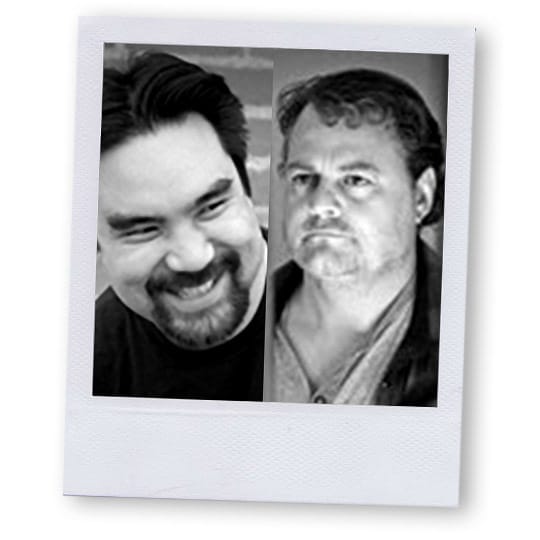 Kirk and Christopher from A52 chat about their work at A52. We learn about the history of the company as well as some of the amazing work, including the Daredevil main title and Nissan #WithDad spots which got them nominated for Emmys this year. They are an extremely creative company which plays of their expertise in Directing, editing, and VFX.
Links:
Marvel's Daredevil Main Title from Elastic on Vimeo.
Network | Netflix
Studio | Marvel
Creative Director | Patrick Clair
Designer(s) | Paul Kim, Kevin Heo, Yi-Jen Liu, Henry DeLeon
Producer | Carol Salek
Production Coordinator | Kyle McIntyre
Executive Producer | Jennifer Sofio Hall
CG Lead | Andrew Romatz
2D Artist | David Do
3D Artists | Miguel A. Salek, Vivian Su, Katie Yoon, Erin Clarke, Kirk Shintani, Jose Limon, Jon Balcome
Compositor: Shahana Khan
VFX Editor: Arielle Zakowski
Editor: Arielle Zakowski
NissanBrand #WithDad from a52 on Vimeo.
Agency: TBWA\Chian\Day
Cheif Creative Officer: Stephen Butler
Creative Director: Chris Ribeiro
Creative Director: Drew Stalker
Park Pictures
Director/Cinematographer: Lance Acord
Editorial: Whitehouse Post
Editor: Russell Icke
Assistant Editor: James Dierxior
Senior Producer: Joanna Manning
VFX A52
Producer: Scott Boyajan
VFX Supervisor: Patrick Murphy
CG Supervisor: Kirk Shintani
Flame Artists: Patrick Murphy, Steve Wolff, Stefan Gaillot, Michael Plescia
CG Artsits: Andrew Romatz, Erin Clarke, Brian Lee, John Cherniak, tom Connors, Michael Cardena, Jon Balcome, Wendy Klein, Tiffany Chou
"Game of Thrones" Main Titles from Elastic on Vimeo.
Network | HBO
Design + Animation | Elastic
Creative Director | Angus Wall
VFX | a52