Marton Zoltan Toth has remade Mednyánszky's classic painting with a sci-fi twist. Find out how this arch viz artist used V-Ray to take his talents back in time.
Marton Zoltan Toth is an awesomely named man of many talents. In his day job, he employs V-Ray for 3ds Max to create incredible arch viz imagery for Hungarian studio Brick Visual; in his spare time, he uses it to create awesome sci-fi passion projects which neatly blend architecture and landscapes with mysterious machines and levitating buildings.
For a recent side project, he was influenced by a painting by László Mednyánszky. This fascinating Impressionist painter came from a noble Hungarian family, but traveled around Europe and mingled with rich and poor, painting the countryside and people. For Marton, recreating one of Mednyánszky's evocative landscapes was a natural choice.
"I've never lived in and rarely visited the rural areas of Hungary that Mednyánszky depicts, but somehow how he visualizes these environments in a way that is both wild and calm," Marton says. "I just want to be there in some of his paintings. And his techniques are amazing; the way he plays with contrast and colors is both moving and realistic."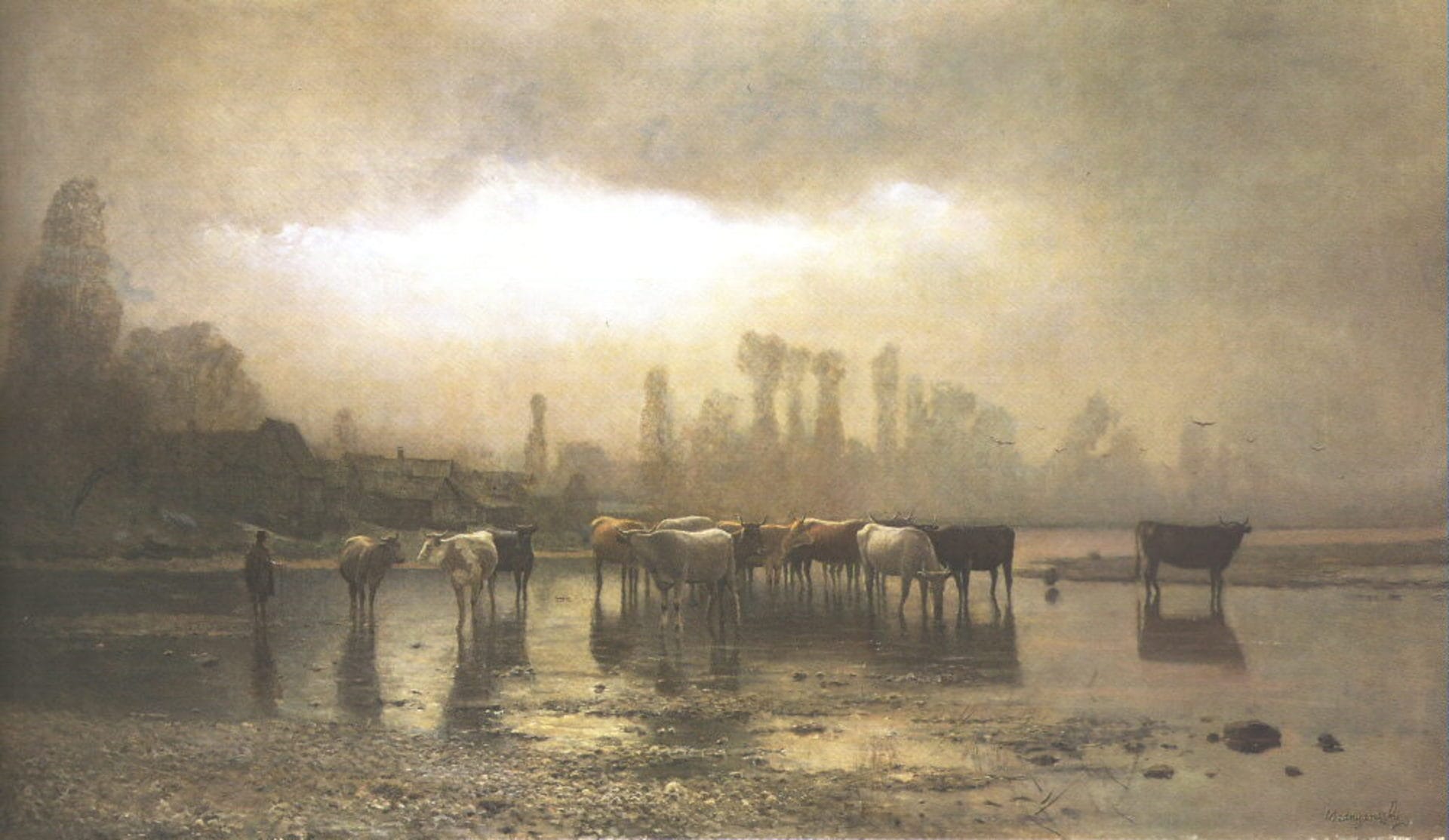 Watering, an 1880 oil painting by Mednyánszky, proved to be the perfect subject for Marton — but he added sci-fi twists to turn the pastoral past into a dystopian future. The environment is littered with BB8-esque spherical drones and robots, and the shepherd in the original is given a Banksy-inspired shopping cart so he can collect vital parts for shelter and communication.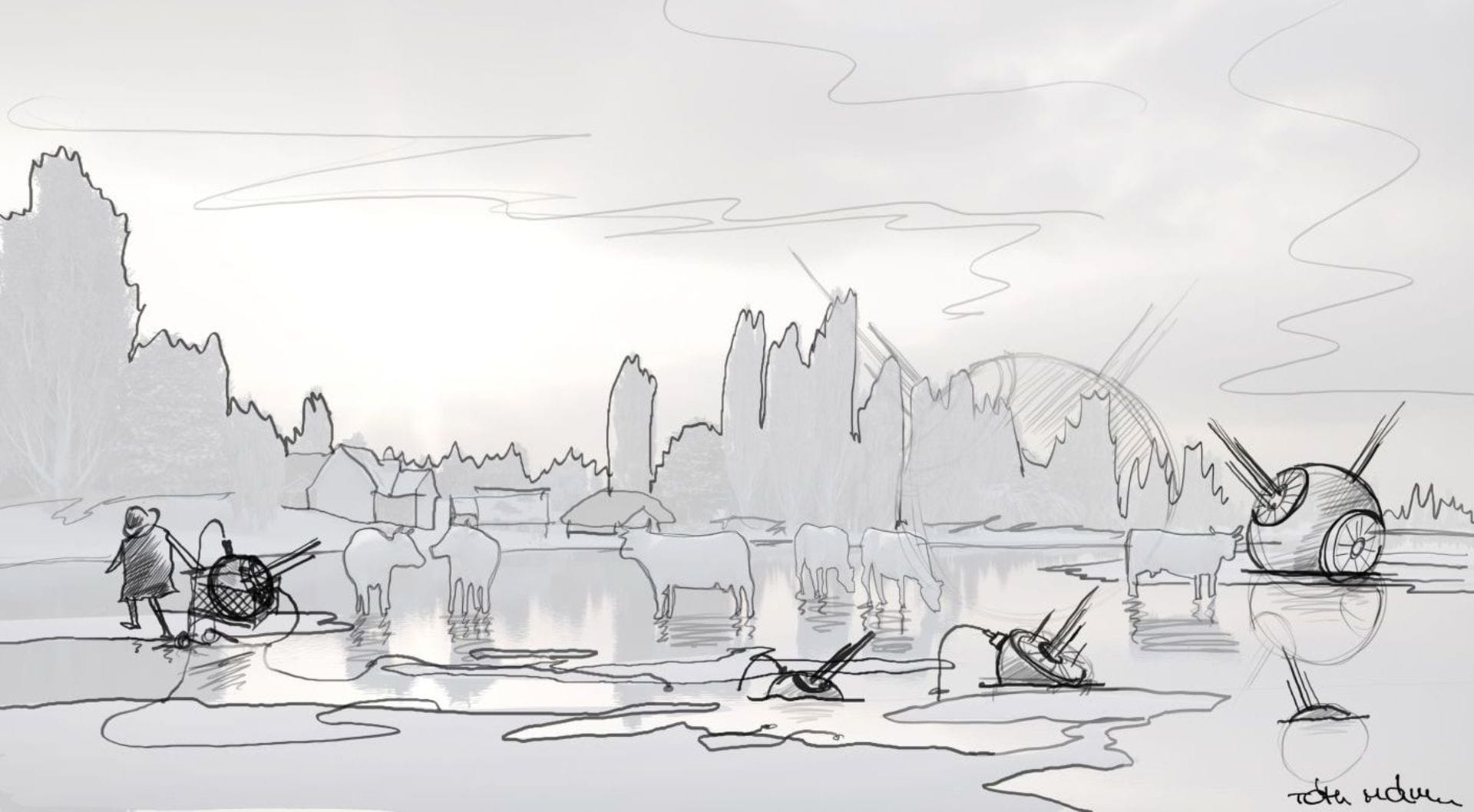 Rebuilding real-world places from photographs and the real world is part and parcel of Marton's arch viz day job, but recreating Mednyánszky's painting in 3D proved trickier. "It's easy to remodel man-made things according to a photo," explains Marton. But, when you try to do it with a painting, there are no straight lines and you don't know the measurements of anything. I estimated things from the height of the trees or the cows, but it was really hard to guess the XY distances. After a lot of trying and failing it kinda worked out somehow."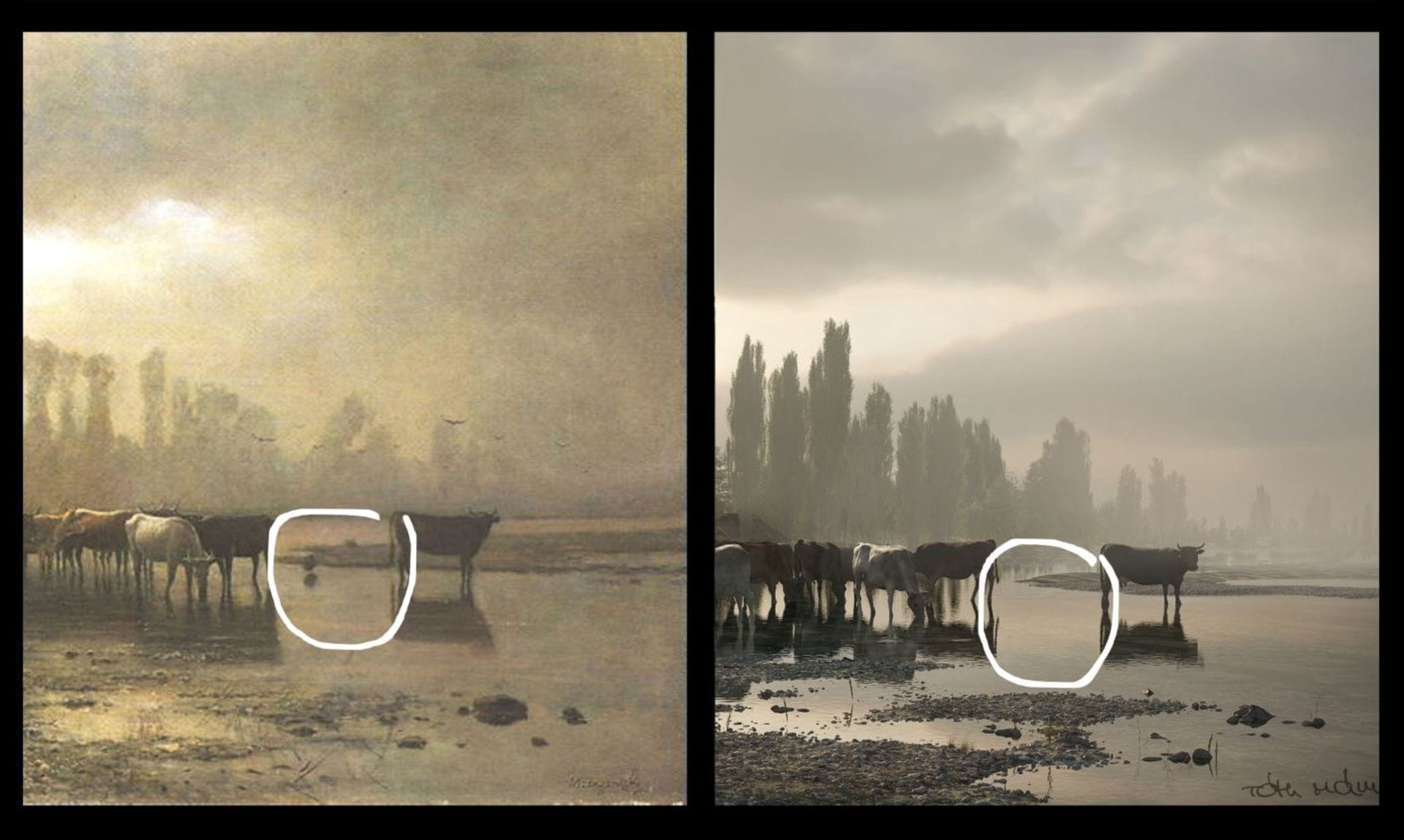 Through the process of remodeling the scene, Marton got to know Mednyánszky's painting intimately - to the point where he felt something didn't quite add up. "When I made the first test renders it was really confusing because the reflection of the tall trees in the water looked very messy with the reflection of the cows. After trying many different ways to make it look right I finally realized that Mednyánszky may have used artistic license here and did not paint the reflections — although I'm sure they were there in real life."
Marton's observation has sparked a debate here at Chaos Group HQ: Are the trees' reflections missing? Or is it land directly beneath the tree? Let us know your thoughts in the comments section.
Mednyánszky's understanding of light, shadows and indirect illumination was astonishingly accurate. In fact, all Marton needed was an after rain HDRi from Peter Guthrie for a very close match of the lighting of the original painting, combined with an additional low-intensity V-Ray Sun, and a few boosted highlights in post-production. Marton also used VRayAerialPerspective for environmental effects.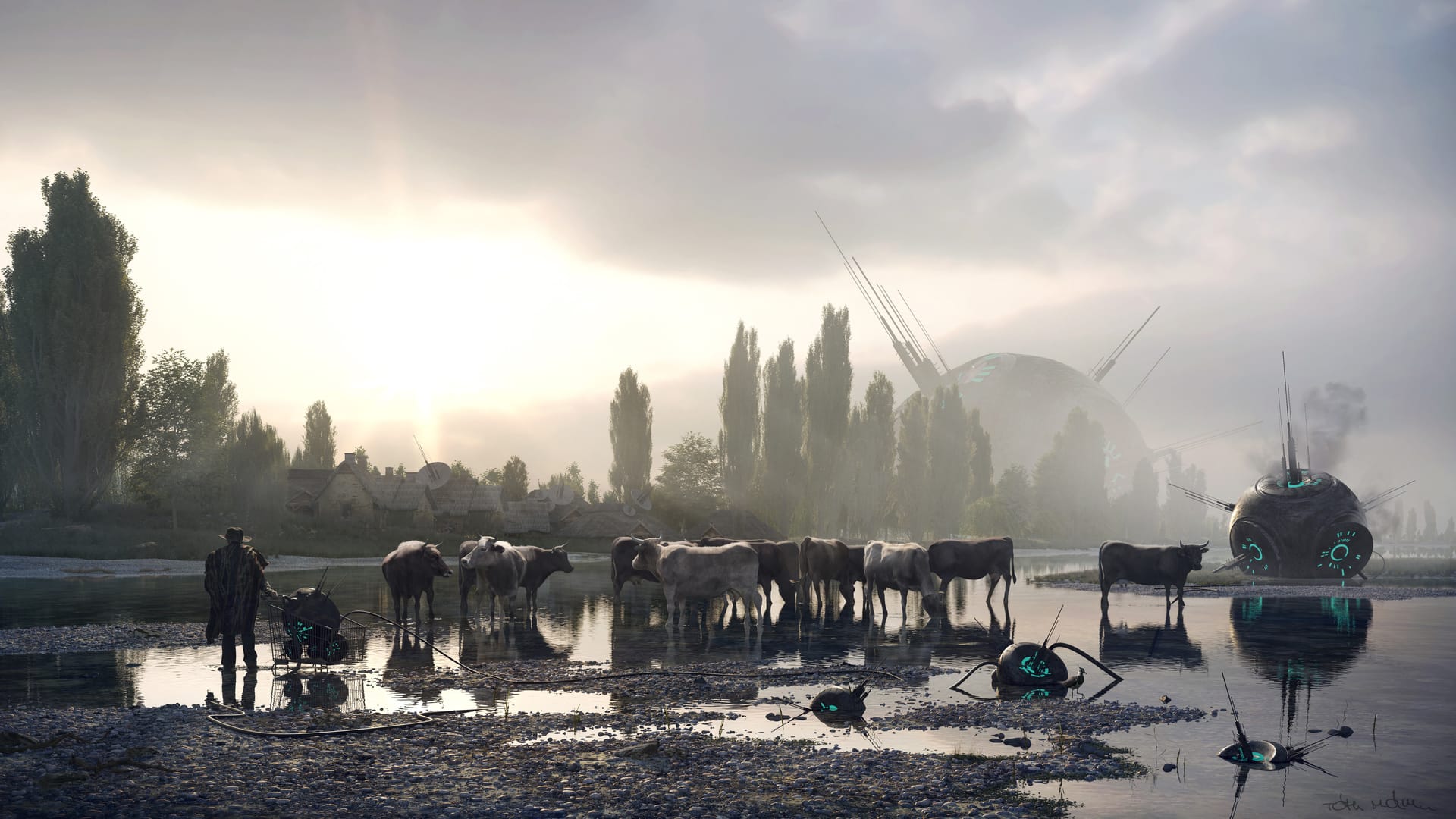 The resulting render is a spectacular homage to a skilled artist, reinterpreting the original painting in a way which is at once respectful and photorealistic, with sci-fi elements which feel completely at home in the scene. It's enough to make you wonder what Mednyánszky would make of the tools 3D artists use to create their scenes.
"I think if Mednyánszky traveled in time to 2019 he would use V-Ray," says Marton. "Especially when he realizes that it's so easy to set up lights and turn off tree reflections."

Want to see more from Marton? Follow him on Instagram.