How Pedro Conti and Fernando Peque rendered a 3D short for Ron Artis II using V-Ray. Go behind the scenes and learn about their first experience with Phoenix FD.
Pedro Conti and Fernando Peque are an almighty duo that have been developing, directing and designing incredible characters and films together for five years. Both hailing from Brazil, Pedro started out in CG as a self-taught 3D artist in 2005 and Fernando began his career designing for comic books in 2003. Over 16 years, they've amounted an impressive client list between them, including everyone from Dreamworks, Walt Disney Animation Studios, Marvel and Guerrilla Games, to Aardman, Netflix and many, many more.
It was a short film for Trojan Horse was a Unicorn (THU) that provided their first opportunity to collaborate in 2014. The opening spot for the THU festival in Portugal was produced by Techno Image in Brazil, and Pedro and Fernando have been collaborating ever since. And some five years later, their latest film — a music video created for the incredibly talented musician, Ron Artis II — was premiered at THU in Malta.
We talk to Pedro Conti about how the opportunity to create this three-minute music video came about and how a small team of artists pulled off big-studio results in next to no time using V-Ray for 3ds Max and Phoenix FD.
Tell us how the music video for Ron Artis II arrived at your door.
PC: Life events led me to look for opportunities to contribute to projects that would be more artistic and meaningful. And I was in contact with the Brazillian musician, Emicida, whose music helped me through a very hard time after my father passed away last year.
Music has always been something I have loved and it can bring amazing experiences. This has happened to me a few times: When my mind is very focused on something, I'll somehow attract an opportunity. In this case, I received an email from Ron Artis II; he wanted to do music video about his song "In My Heart."
Ron already had an idea of what the film would be: A boy singing in a gray city. The boy, when playing, connects with himself and goes inside his heart and somehow transforms his reality. After the initial conversation with Ron, Fernando visited my office for lunch and I presented the project to him — he immediately felt it was a worthwhile venture.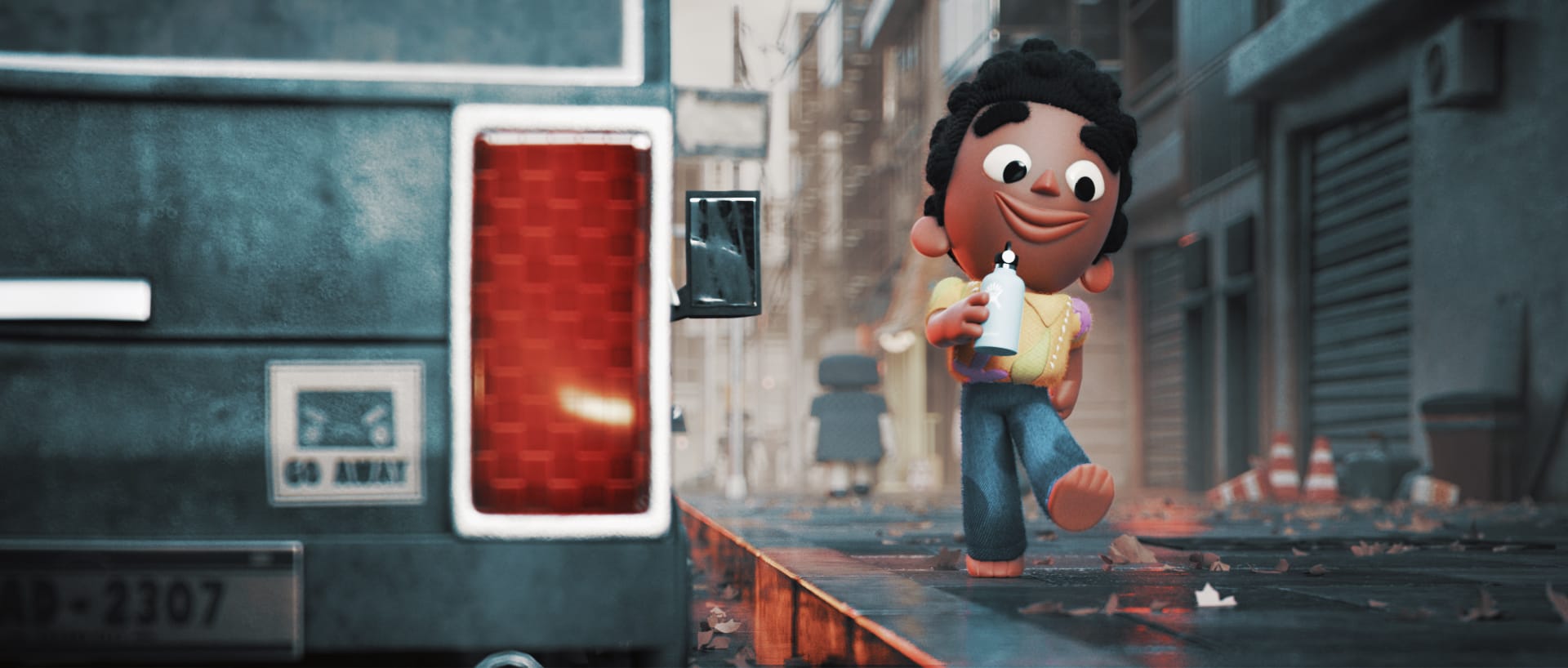 How many artists worked on the film and how did you keep the project on target?
PC: We were a very small team. I would say the core team that was working during all the production was around 6–7 people but we scaled up to 10–12 in the moments we needed extra help. Keeping the project on target was a challenge due to the limitations we had but we tried to keep all our decisions as simple as possible when it came to the storytelling, design and animation. We reused rigs, animation cycles and kept the design based on basic primitives like spheres, boxes and so on.
Was it important to render with photorealistic lighting from the beginning?
PC: Sure! I love super-stylized designs with a realistic approach. I think this tactile feeling is something really important as it allows viewers to believe they can touch what they can see. Somehow, this makes the world feel more believable, in my opinion.
We tried to be smart when it came to the environments as we wanted to reuse as many materials as possible. So we created a little library with concrete, wood, metal and lots more, and we use V-Ray Triplanar Textures for all the maps — so we didn't need to worry with UVs at all. V-Ray Dirt was also very handy as we achieved some really cool aging effects on our digital set without painting any maps. It was pretty much all procedural.
We had two splashing-water shots that we didn't know how to approach. We had no experience at all with simulation and I decided to give Phoenix a try one weekend. It felt like the most artistic tool for simulation ever created.

Pedro Conti, Director and 3D Artist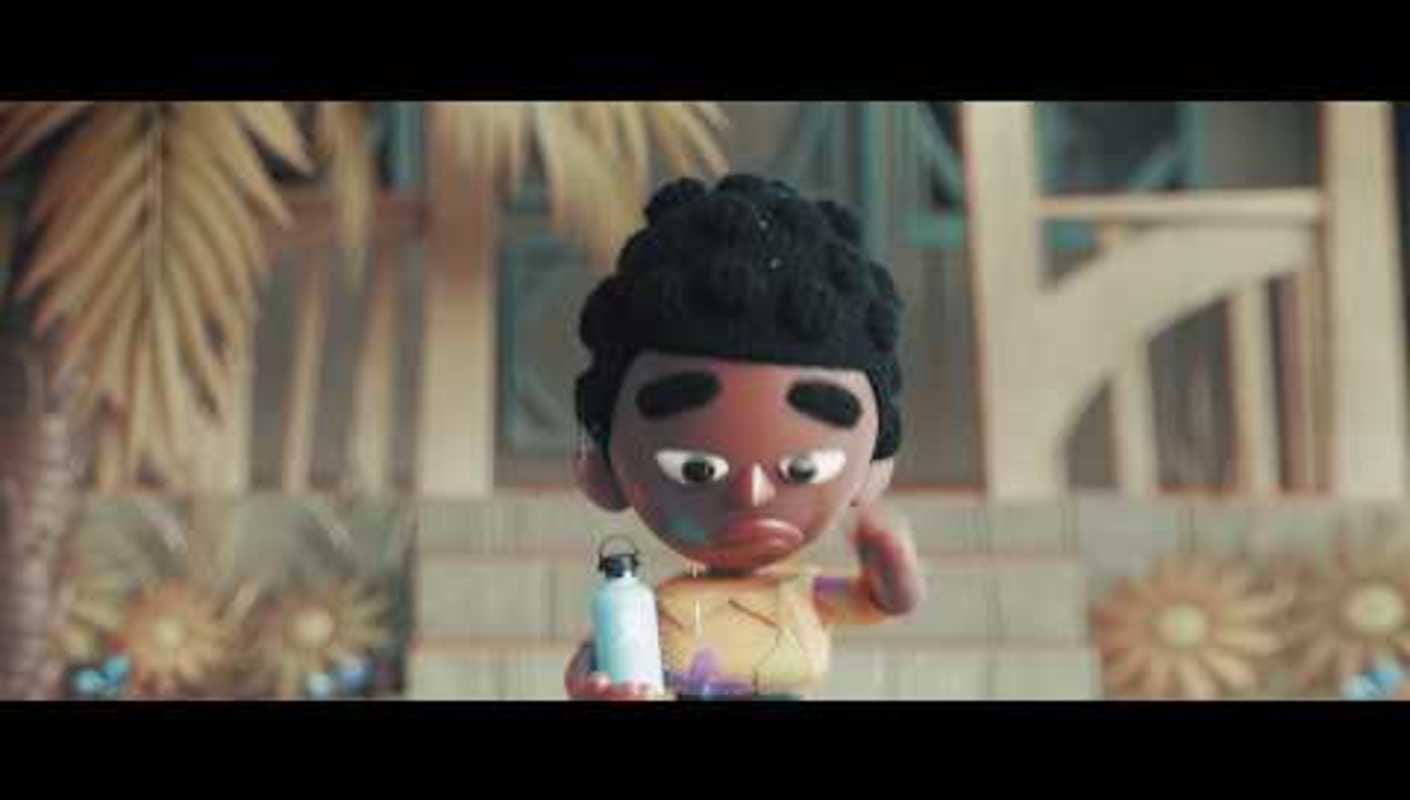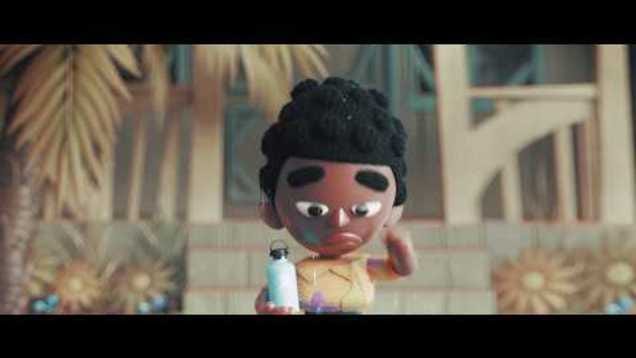 Can you talk about your (first-ever!) experience using Phoenix FD to simulate splashes?
PC: Oh wow, Phoenix FD for 3ds Max was surprisingly amazing. We had two splashing-water shots that we didn't know how to approach. We had no experience at all with simulation and I decided to give Phoenix a try one weekend. It felt like the most artistic tool for simulation ever created.
So the two shots were created over a weekend without any previous experience. It was really fast to run the simulation and I liked the fact you can get really good results right out of the box. Usually when trying a simulation software without experience, it looks like a blob mesh! But with Phoenix FD, it was the opposite. I also found some good Phoenix FD tutorials online that helped me understand all the settings I needed to get the effects I wanted.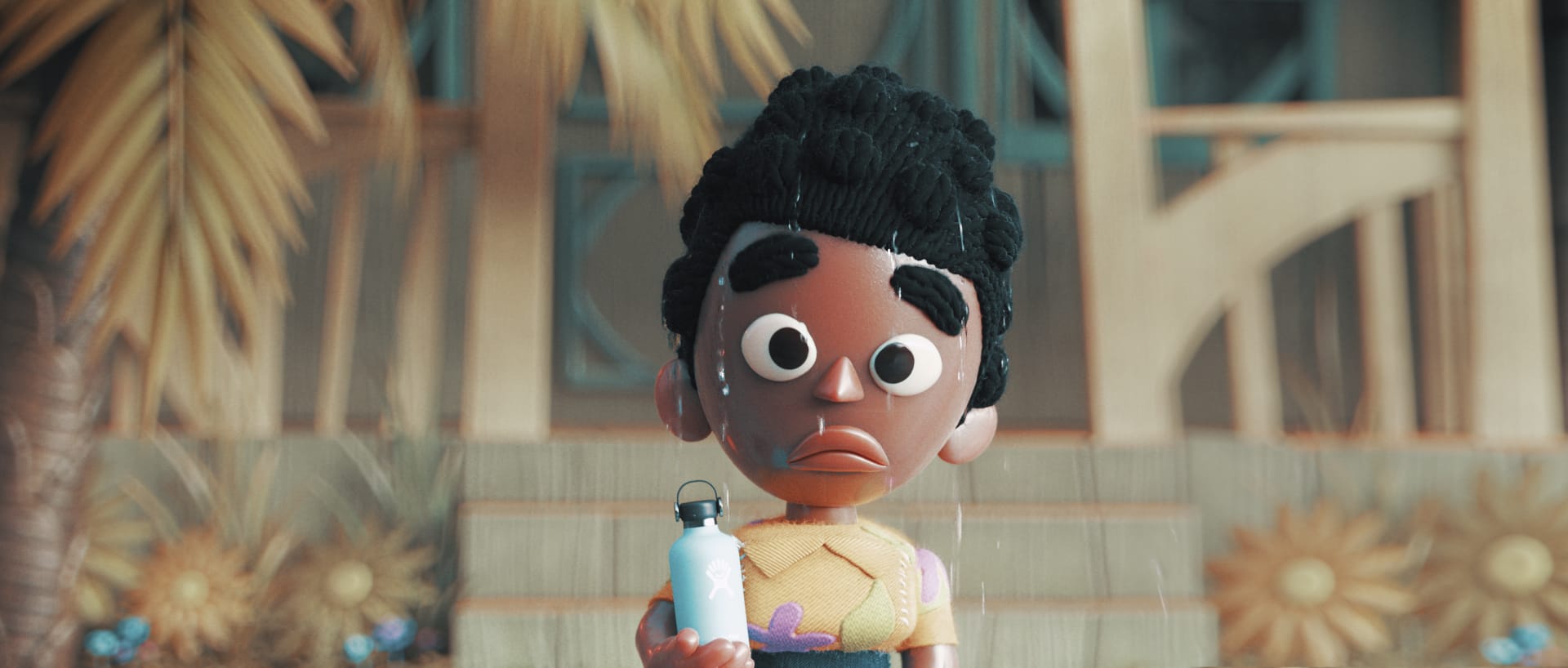 Can you talk about how you enhanced the mood/story through styling and movement?
PC: We wanted to have contrast throughout the film. Ron is the character that needed to shine in the first act. So we decided to use squares as our shape language for the crowds, cars, buildings and props. Ron is colorful and has rounder shapes.
We also we tried to add contrast in the way the characters move: Ron is more relaxed while the crowds walk fast and more stiff — they are all so busy and have no time to enjoy their lives. We wanted the city people to feel desaturated to imply sadness. It also allowed us to create a nice contrast with the much sunnier moment when Ron goes inside his heart.
In the last part we combined the two worlds using colorful graffiti on the walls and letting the sun shine on the city.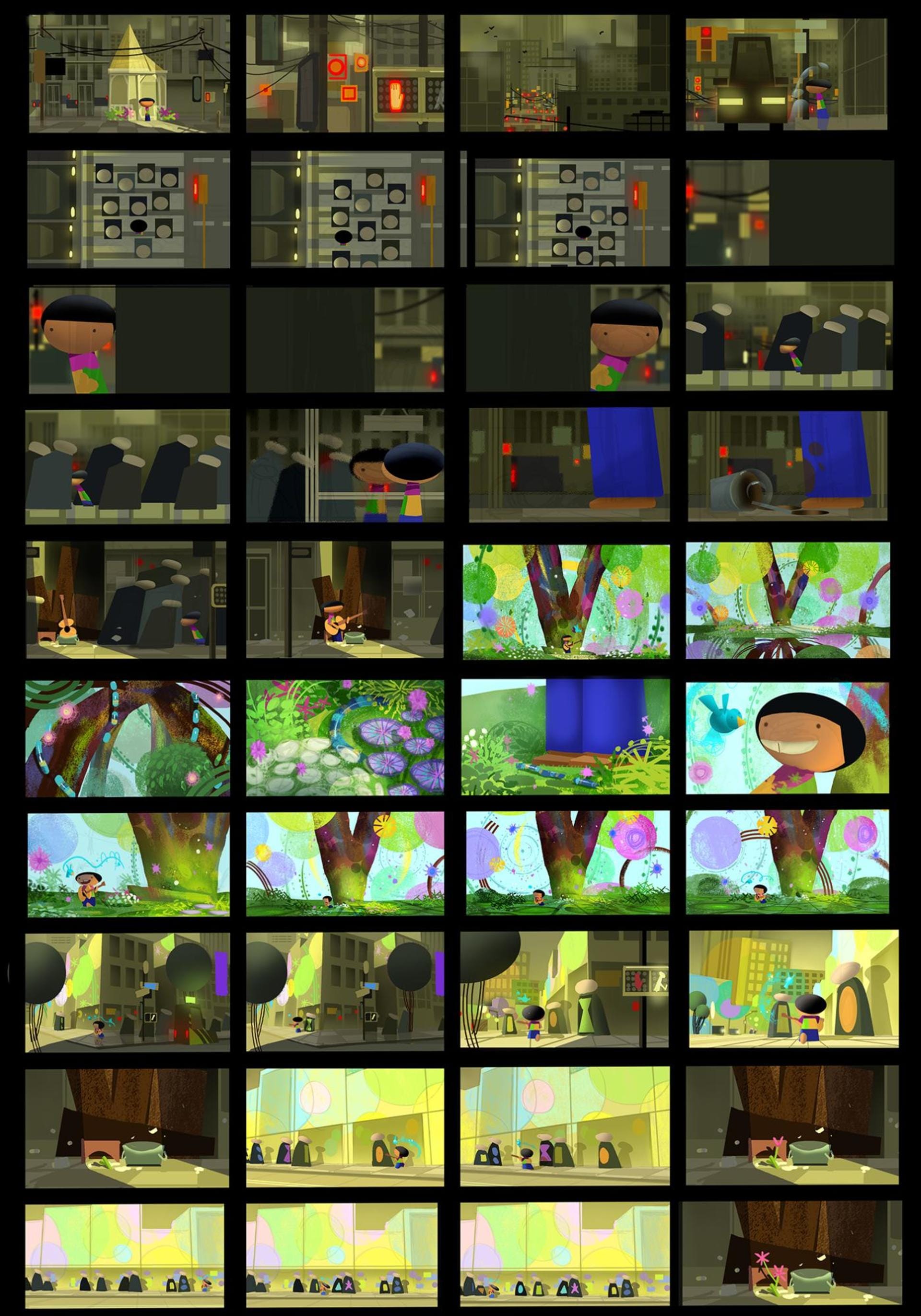 Can you breakdown your process for creating the hair and clothing of the characters?
PC: We wanted to have a polished and high-end look for our film so we had to make smart decisions when it came to the materials. We also wanted to reuse things as much as possible between the characters so we created a few clothing shaders. Some of the maps I created myself and some of them we purchased online. The most important thing for having a good-looking clothing is to have a good displacement map.
We also added fur so we could achieve extra details with rim lighting. We used a lot of references of plush toys and I think we achieved very appealing results. Everybody has — or had — a soft toy and it helps the viewer to connect with the characters in the film.
Color-wise, we tried to create different moods for each sequence we had. In the first act, we used gray and reds along with signs like "NO TURNS", "BAD" for car plates or "GO AWAY" for car stickers — everything he saw made the little boy uncomfortable with his environment.
Even your camera movements play a part in the story! Can you talk about these?
PC: We tried to create flat compositions for the first act in the city. We kept the camera very slow and used simple zoom or pan movements. For the second act, inside Ron's heart, the camera has some more energetic movements where it flies and turns through the set. This is a contrast we purposefully used to tell different stories in various moments of the film. The final part has a more hand-held recording feel to it.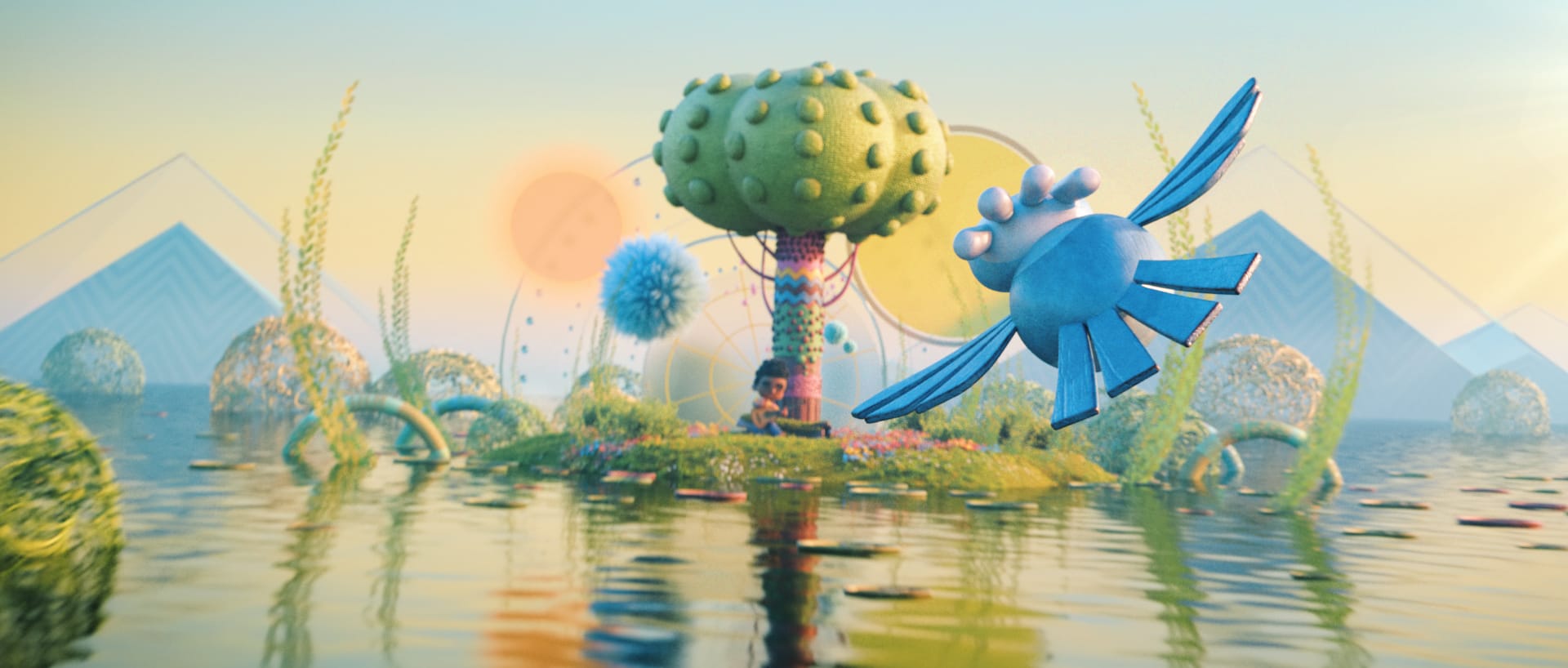 How close did the V-Ray renders get you to the final look of the film?
PC: The rendered shots were very close to the final film. The only thing I composited was the fog in the first act. I usually do everything in the render, but as we had a lot of shots I decided to make a cheaper solution.
In the second act, what you see in the film is the almost-raw render plus denoiser and basic color grading. We also used V-Ray Aerial Perspective and some of the cool lens effects on the V-Ray Physical Camera to help to make everything more cinematic-looking.
Render times ranged from around 8 to 30 minutes with some of the frames of the splash shots taking up to 2 hours for 3 or 4 frames due the refraction.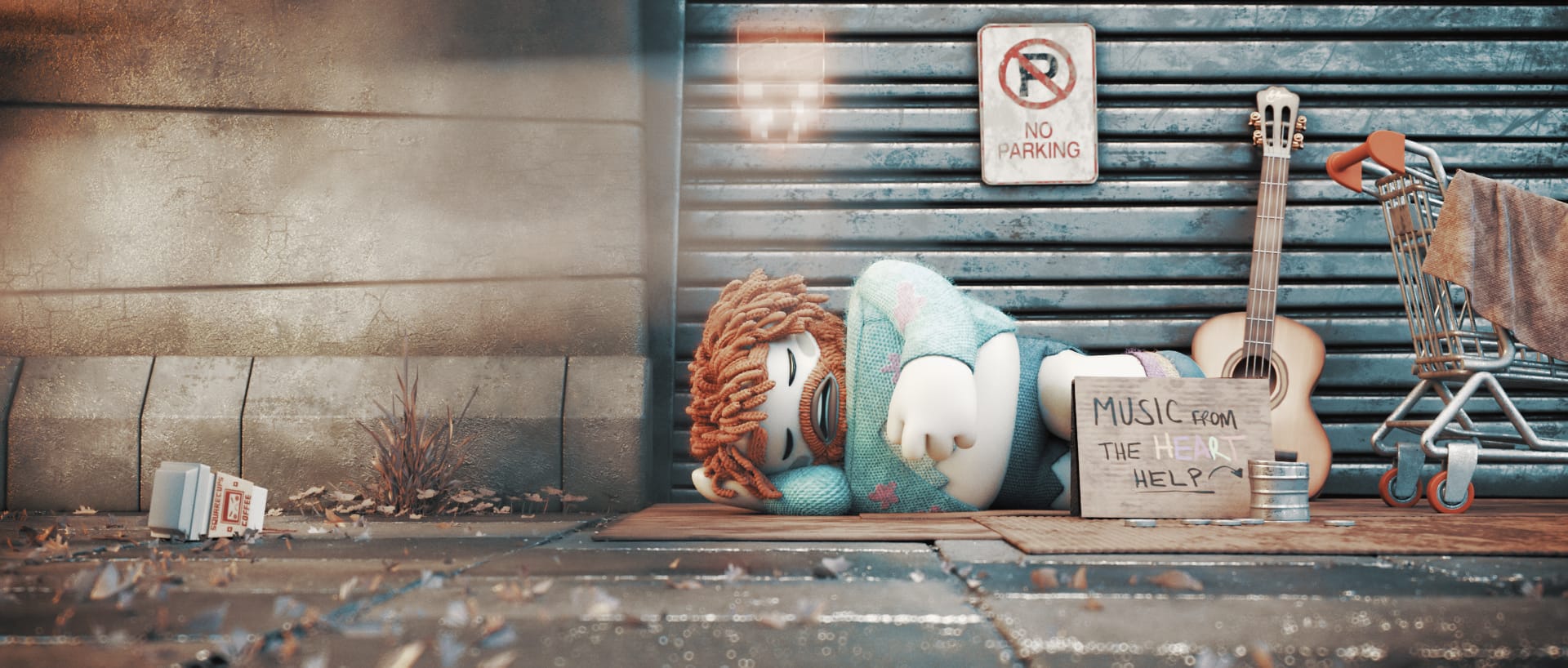 Can you talk briefly about your rendering workflow?
PC: We first focused on a main shot of the sequence. Choosing this shot was really important so that we could develop the assets and start to put things together. At this stage, we tried to think about how we could replicate things as a sequence afterward.
For the city sequence for example, we spent most of the time working on the first shot, which is the one camera comes from the sky. In this shot we tried different materials, lighting and set-dressing styles. So it's here that we found the look of the film. With this shot nailed, we then created V-Ray proxies for the assets so we could reuse them over and over throughout the film.
Instances were also a big thing for us — either using V-Ray proxies or MultiScatter to scatter objects in the scenes. We also used V-Ray proxies for the crowd characters, too, which made things really quick to render.
What were the key ingredients that helped you realize the closest vision possible?
PC: A key ingredient for us was first to have a great song to work with. We always wanted to have a project that we could explore design and tell a story we wanted to tell. I think the project ended up looking better than we initially thought and I believe that's a reflection of our intention with the project. We had no big expectations; we knew we wanted to do something where we would enjoy the process and learn from each other.
The big lesson learned was that things can be done if we really want to do them. Things can seem impossible when you start, but breaking things down into small steps and trusting in the process is really important.
We didn't know how to solve a lot of stuff but we figured it all out along the way. This project was like a big puzzle where we were connecting pieces and changing things until the last minute. From our past experiences, we tried to not make all the main decisions in the first few days, so we could leave room to find answers during the process, and improve it with fresh eyes.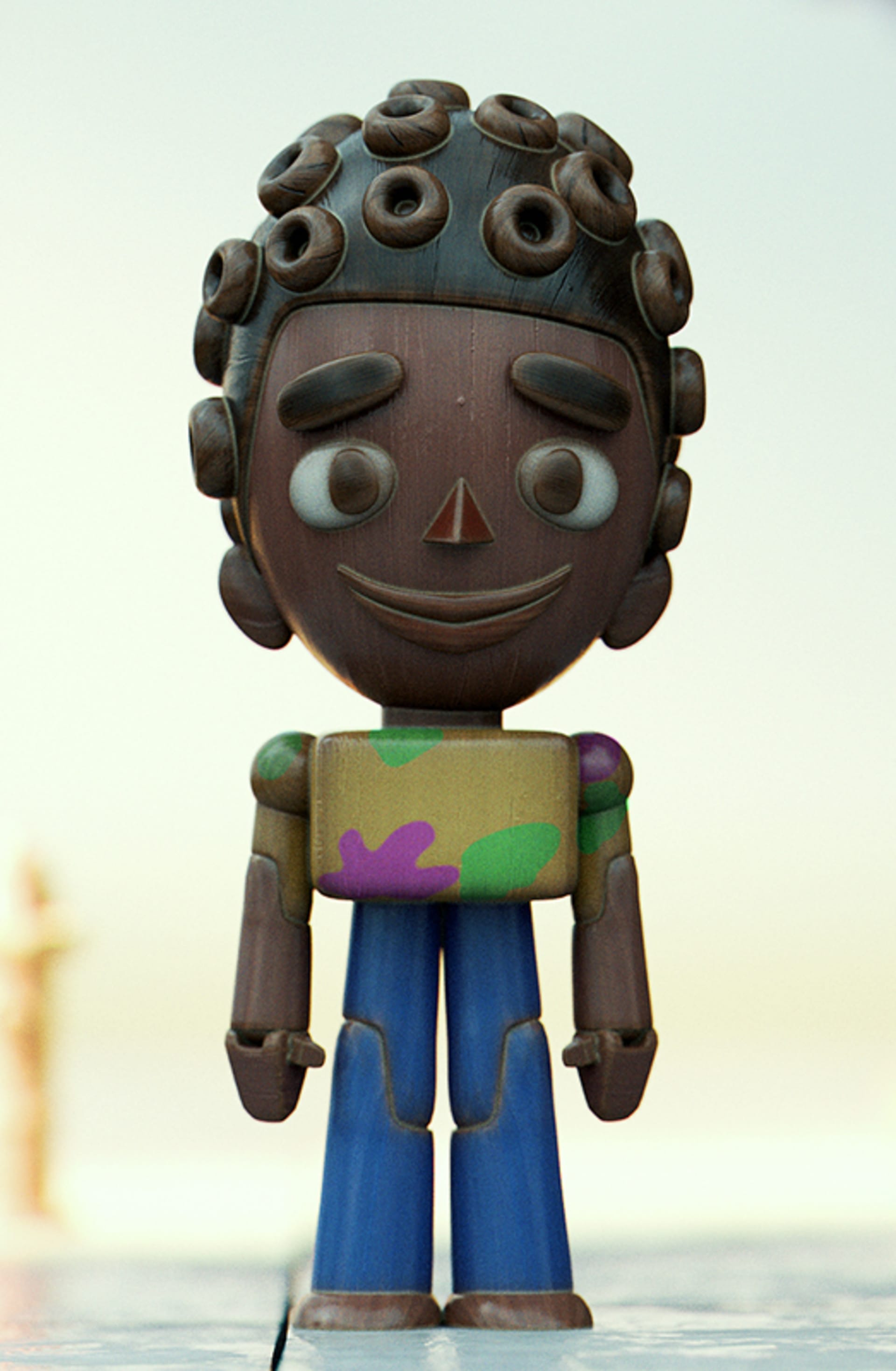 For those inspired by your story, what advice can you offer for their own film projects?
PC: Trusting in yourself is a big thing in order to make a film. We all have things to learn and improve but we all are able to tell stories. Filmmaking requires a lot of confidence; it's making decisions all the time — story choices, design choices, color choices, cameras, and so on. I think making a film is like learning more and more about yourself and the people you are sharing the ride with.
The advice I would give is: Don't be afraid of making mistakes or trying something that feels out of your comfort zone. Exercising confidence is hard to do, but making smaller decisions will help you to decide on the bigger things.
As a director, I feel I have a lot to learn and improve, but it's a good feeling that we managed to complete this film together. We knew our boundaries and limitations and having this in perspective is really good. It's great to know we made all those decisions and have something that people connect to.
If you can feel things, you can tell a story — even without a huge background in storytelling. Trust your instincts and keep doing it over and over again. Defining your expectations is important, too. Nowadays, we can compare our work with what is being produced in the big studios, and if you don't define your expectations well you could end up finishing the project feeling frustrated.
For this project, our expectations were to have fun and learn how to do a film, so I consider this an incredibly successful film. We ended up meeting Ron Artis II, we presented our film at THU, we had incredible companies that sponsored our project, and all of these things were completely unexpected. So we feel really grateful. It may not be the best film out there but we know we did our very best.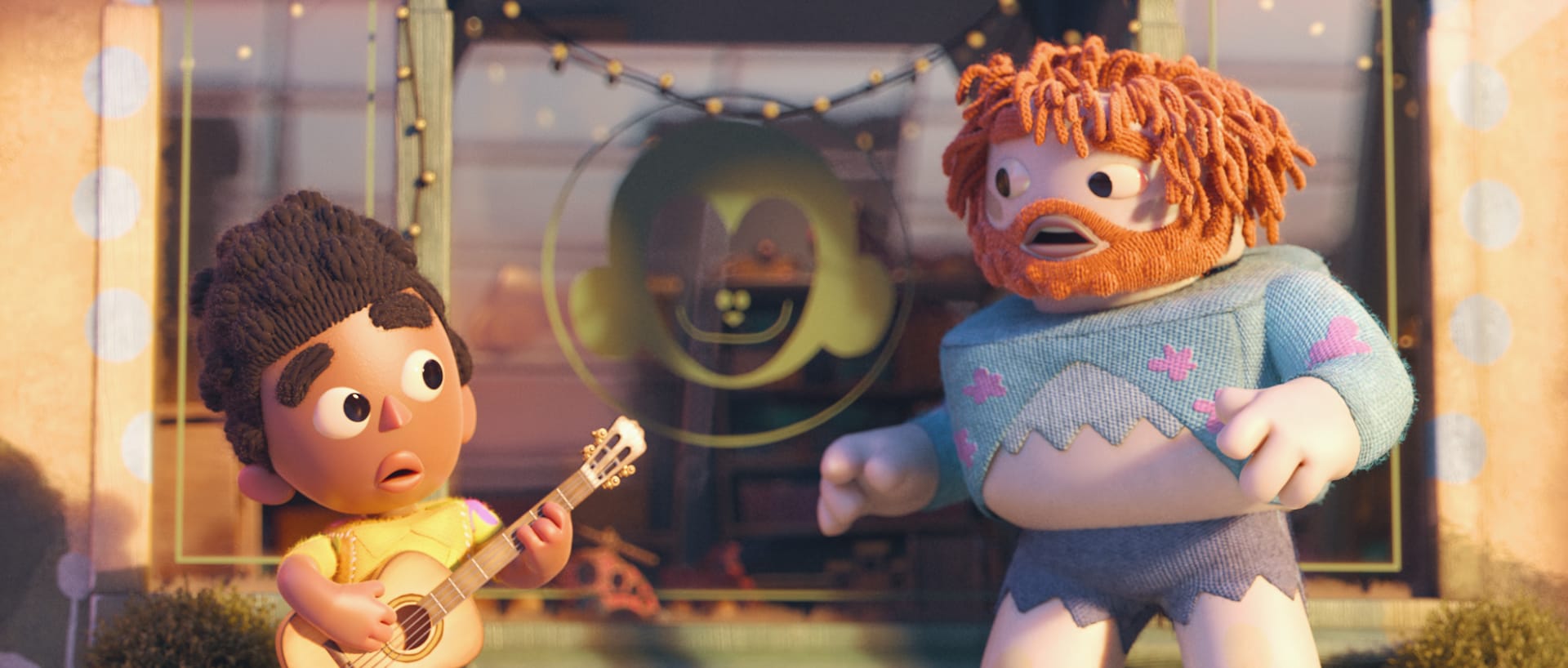 What was the audience response like when you revealed the film at THU 2019?
PC: Sponsorship was something we didn't plan. We accepted the music video before we had all the resources we needed to produce it. For some reason, we felt confident that people would like it so we started developing things as much as we could. I have a really good friend that encouraged me to reach out to companies that I would love to collaborate with. Gustavo Ribeiro and Thais Peixe really helped us out with this. And for that, I'm also really grateful.
Everyone we reached out was really open to contribute in some way and it was a really surreal feeling. Rendering licenses and render power was something I was really worried about and we managed to make it work with Chaos Group and Rebus Farm. We were already invited to talk at THU, so we decided to share the project with Andre Luis, THU Founder, to see if he liked it. He not only liked the project but really loved Ron's music, too, and he decided to fly Ron to Malta for the event as well. It was surreal!
Ron is a really blessed person with huge talent. In my opinion, he made a big difference this year at THU by bringing his own reflections with his lyrics and creating some really special moments for and with attendees. We showed the film together there and it was just crazy for me. I never thought this project could get this big and it's very touching to think how many kind people we met on this ride.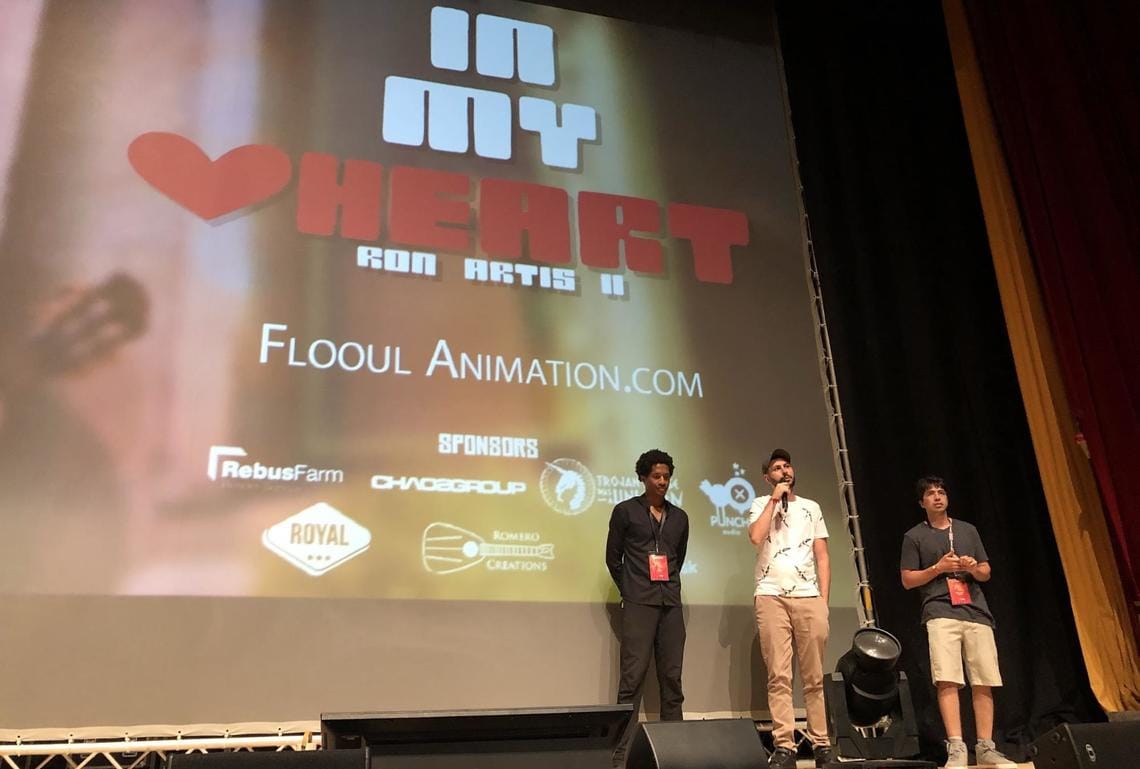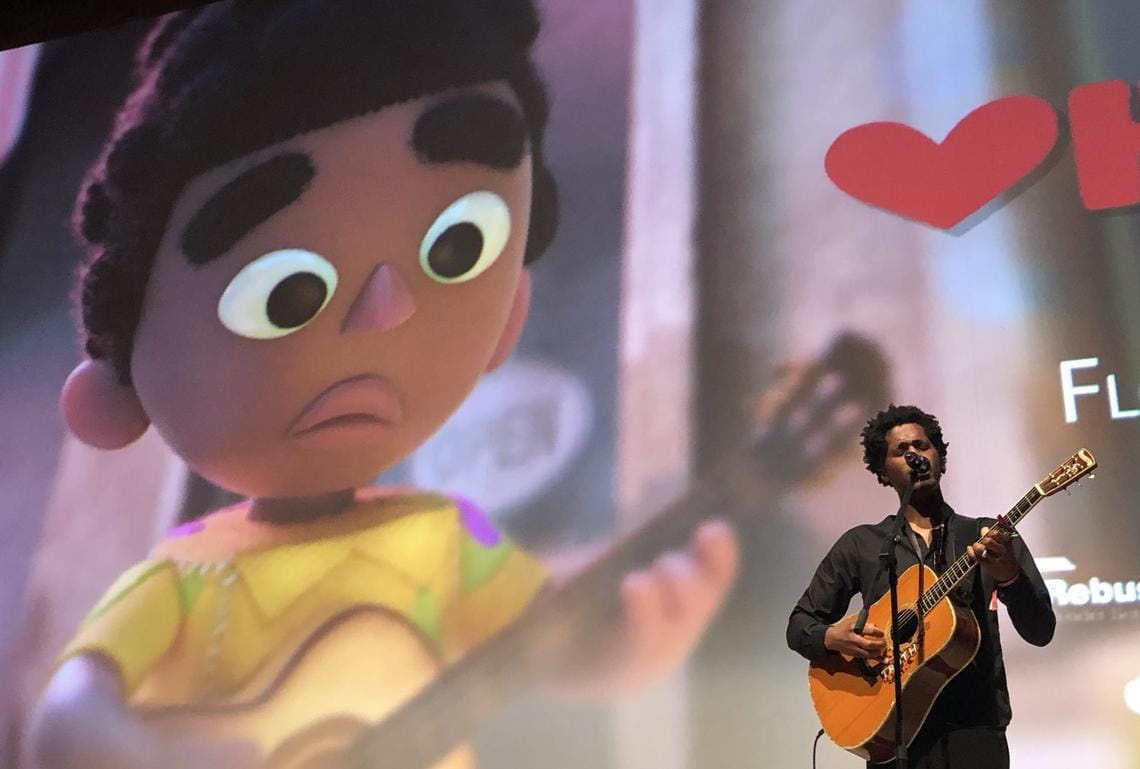 Will there be more music video projects in your future?
PC: I used to play guitar, so 3D and music bring my favorite things together. There are so many artists I would love to collaborate with, including Gary Clark Jr., John Mayer, Derek Trucks, Tom Misch, H.E.R., Emicida — working with any of these amazing artists would be so surreal. I'm just leaving these names here for the universe to see if it somehow returns!