Spine-chilling short film "The Seahorse Trainer" explores an old man's hobby of seahorse training. Director Babak Bina shares how V-Ray made it come to life.

Babak Bina is an inspiring example of an artist who succeeded to grow creatively and find success after making the decision to immigrate to another country. Leaving his familiar surroundings of Iran behind at age 25, Babak moved to Canada to pursue multiple creative disciplines, including graphic design, sculpture, digital art, and animation. For the last 10 years, he has been working as a Visual Effects Artist for Double Negative, Method Studios, and Scanline VFX on numerous productions.
We decided to have a chat and learn more about Babak's journey in VFX, delve deep into his workflow, and discover how his favorite V-Ray for Maya feature created a realistic sea creature for his short film "The Seahorse Trainer."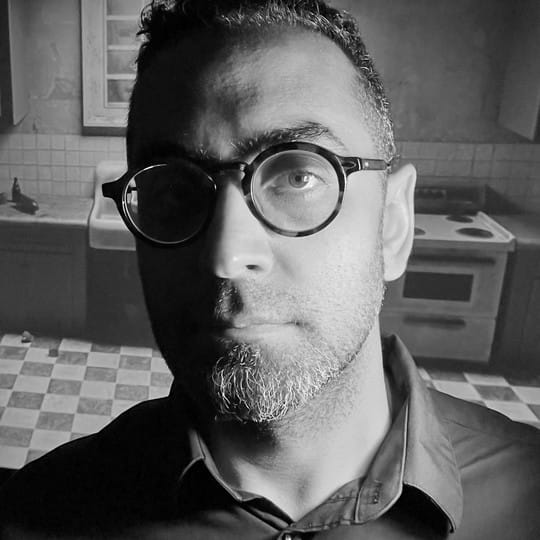 About Babak Bina

Babak is a visual effects artist and filmmaker with a strong multidisciplinary art background and extensive production experience. Previous VFX credits include Game of Thrones, Star Trek Beyond, Avengers: Infinity War, Black Panther, Wonder Woman, and Alice Through the Looking Glass. He recently co-wrote and co-directed his award-winning debut short film, "The Seahorse Trainer," which qualified for the 2020 Academy Awards.

What have been some of the highlights of your VFX work?
BB: I started my VFX career in Toronto at a studio called Sinking Ship Entertainment, working on the show Annedroids which was a live action/CG series produced for kids. I had to do a multitude of tasks including concept art, modeling, texturing, lookdev, lighting, and FX. I had always wanted to break into the film industry, and even more so into character, creature creation.
I had to move from Toronto to Vancouver after I got an offer from ScanlineVFX to work as a 3D Generalist. I have also worked in other studios including DNEG and Method Studios on projects like Star Trek Beyond, Justice League, Avengers: Infinity War, Game of Thrones, Godzilla vs. Kong to name a few. I am currently working as a creature artist at Method Studios. It has been and continues to be a wild and fun ride.
"The Seahorse Trainer" is a wonderfully surreal short film. How did you come up with its premise?
Ricardo Bonisoli, the friend I co-directed "The Seahorse Trainer" with, told me his idea for a mockumentary about the fictitious art of seahorse training, where we enter the life of an old man with a peculiar hobby. The idea seemed odd and magical and after giving it some thought I suggested we turn it into a narrative short instead of a mockumentary. Something with an abstract storyline that gives the viewer room for participation by connecting the dots and projecting their own thoughts and feelings.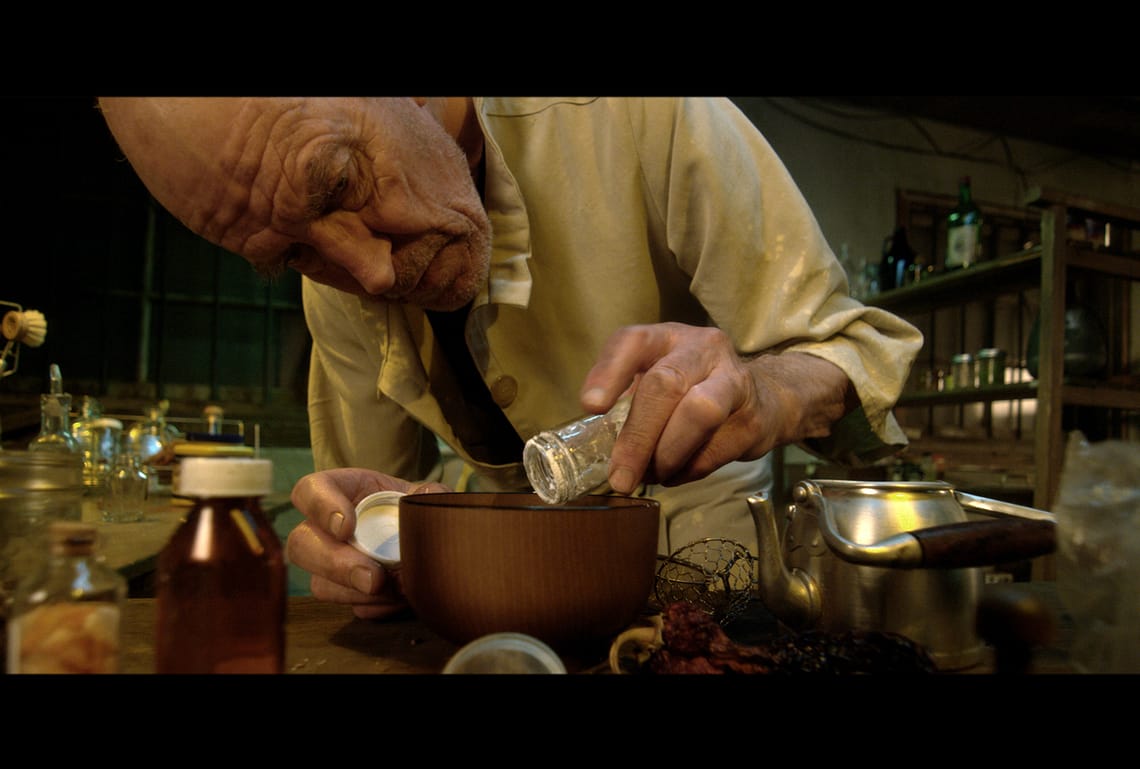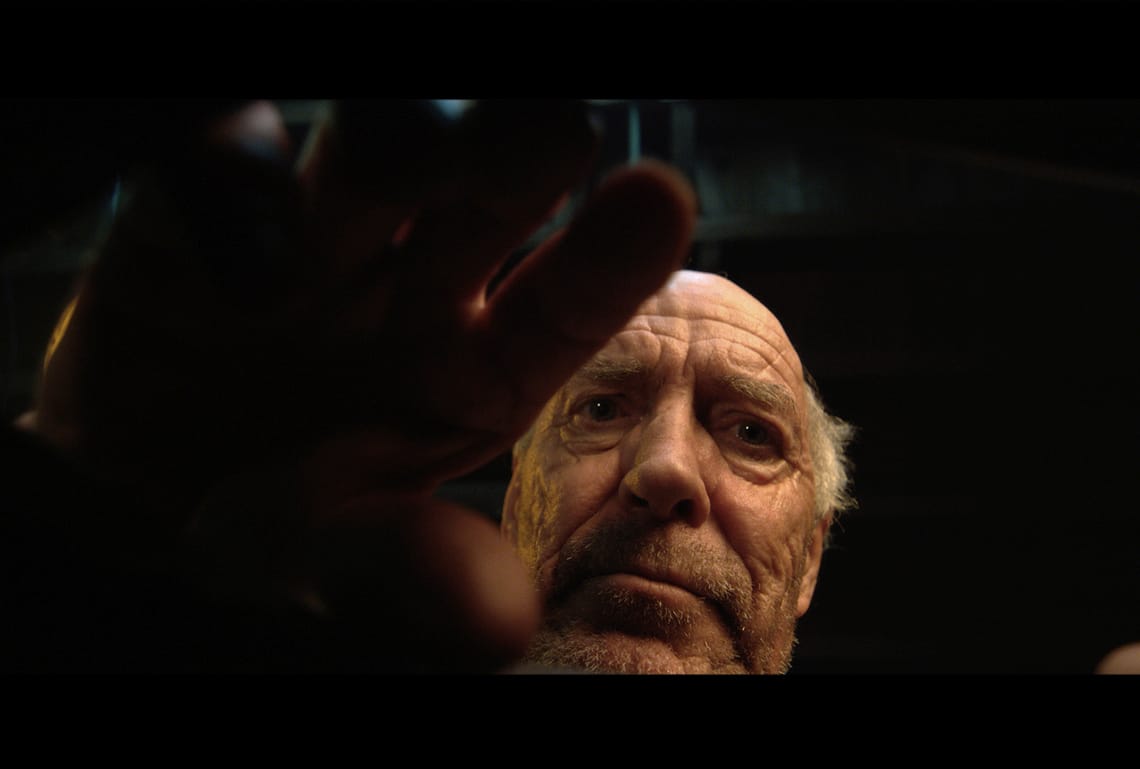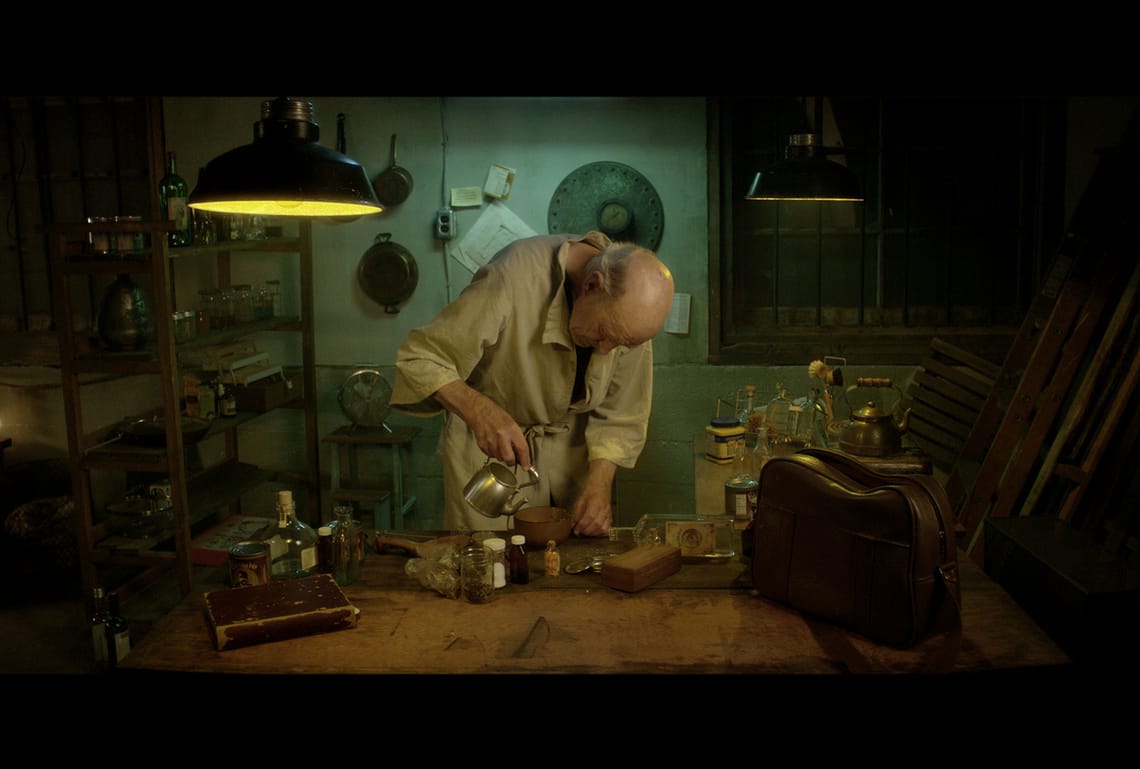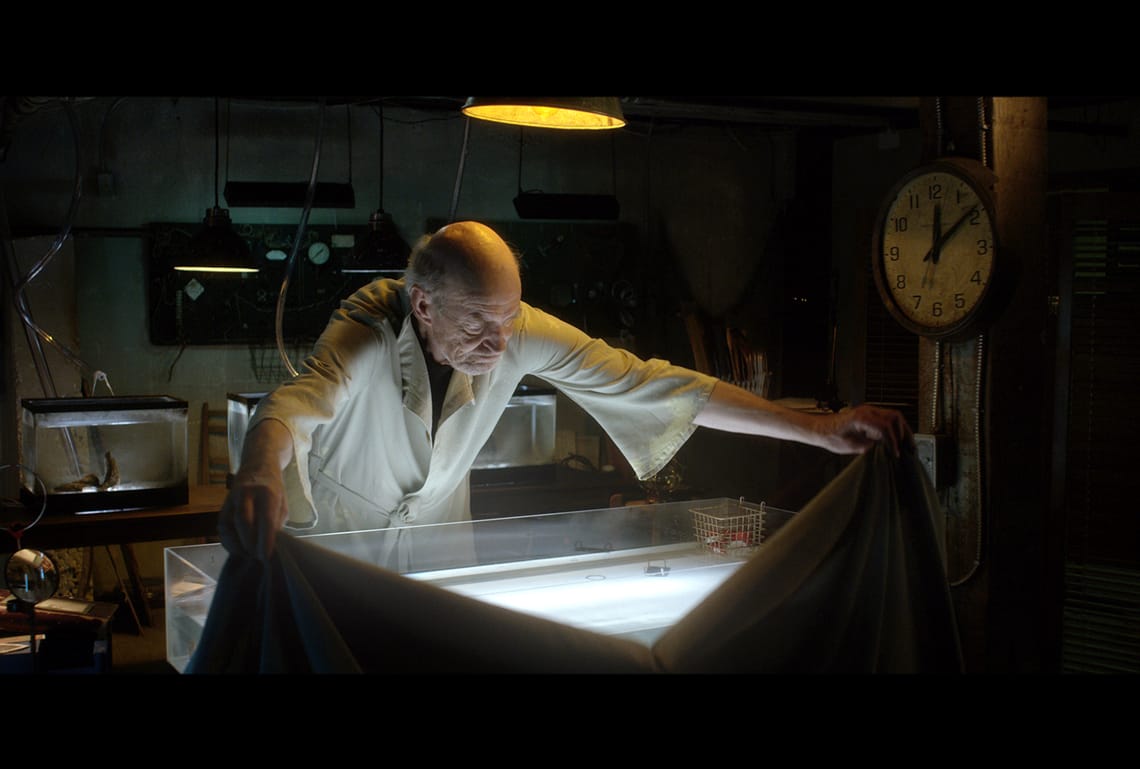 My favorite films include Eraserhead, Institute Benjamenta, and Delicatessen, which create surreal landscapes to tell stories that require the viewer's mental and intuitive participation to come up with their own interpretation. So, we worked with Rodmon Sevilla, our producer, to write the story.
We had brainstorming sessions where each of us would bring some ideas to the table and after talking them through we chose the ones we all agreed served our story, like improvising music in a band to come up with a song in the end. We teamed up with Holly Pavlik (editor) and Alejandro Mozqueda Torres (animation supervisor) to form Rooxter Films and made "The Seahorse Trainer" as our first project.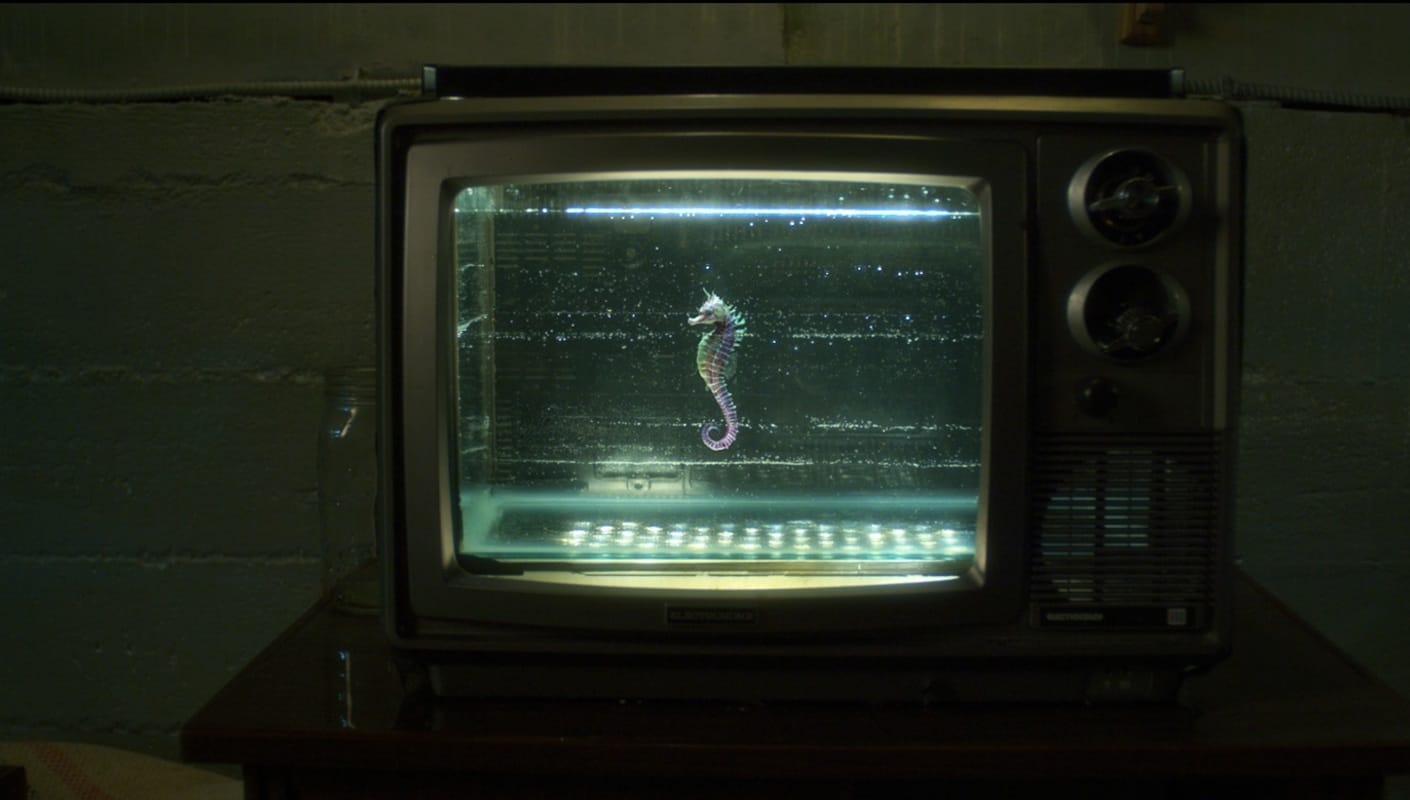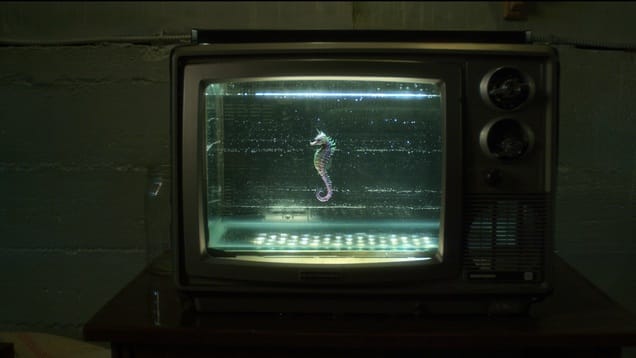 Could you talk us through writing, planning, and shooting the short?
BB: As VFX artists, previsualization is a concept very familiar to us. So, we decided to play on our strengths and made a lot of concept art, storyboards, and even animatics to make sure our lack of experience as directors would not affect our efficiency on set. We thought everything through during the pre-production phase and with detailed previsualization, we were able to clearly communicate our ideas to the crew.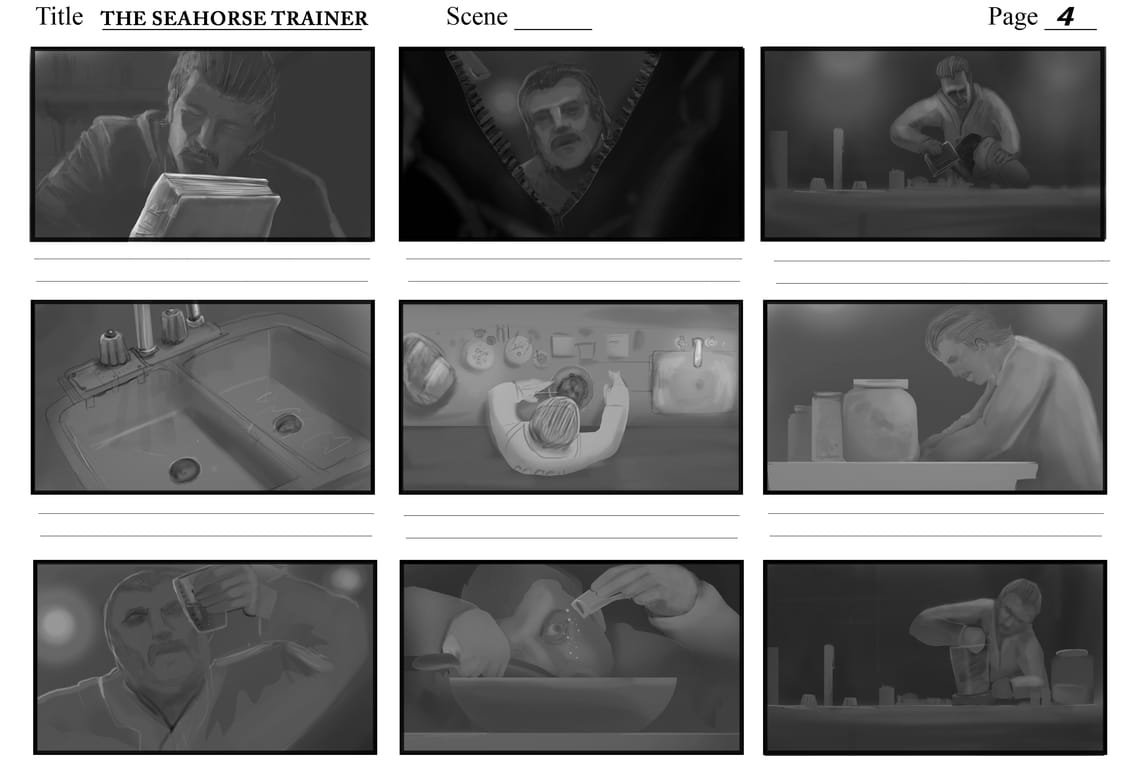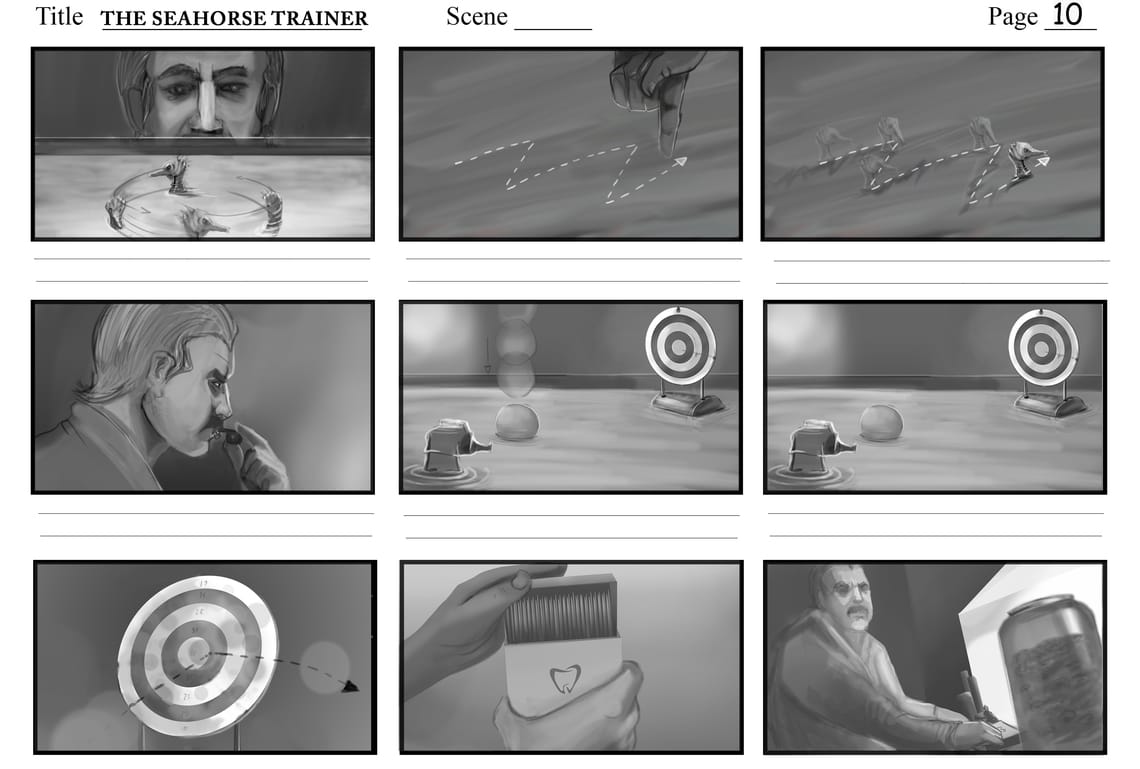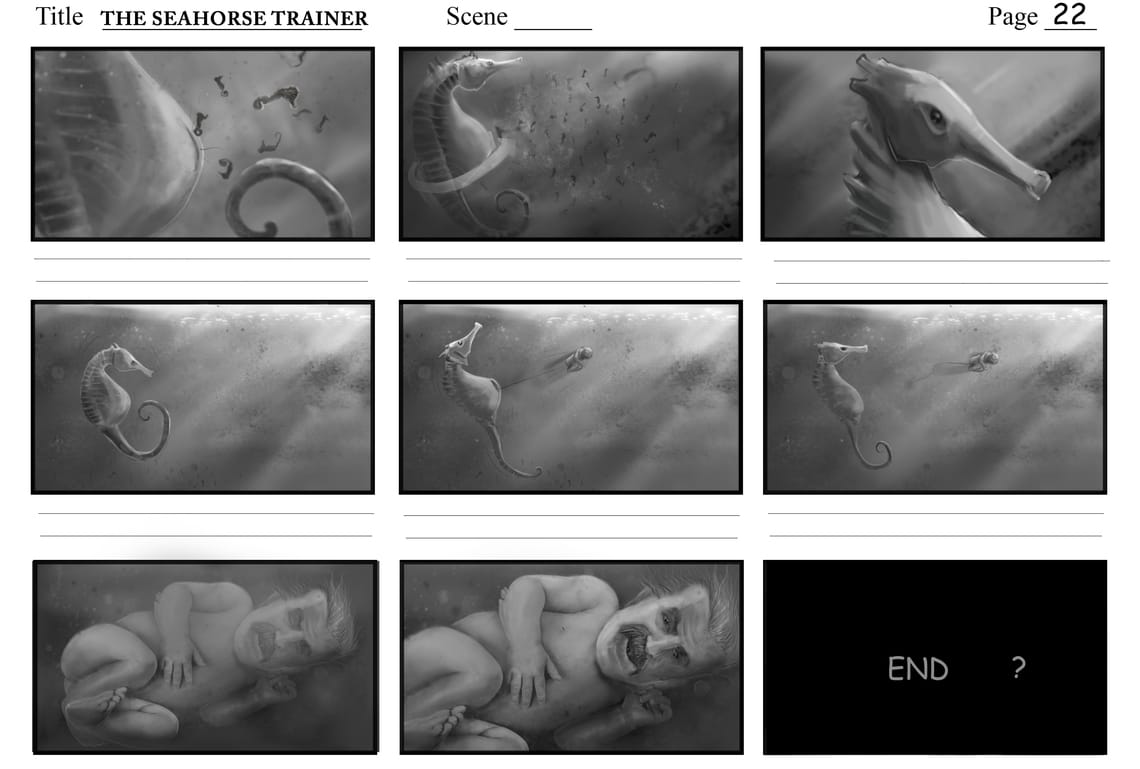 We discussed pacing, framing, mood, and everything in between for each shot before we even started filming on set. The nature of this short film as a collaborative project required us, the directors, and the producer, to be on the same page first and foremost. Also, knowing our limitations in budget and resources has helped us contain the story within the realm of practicality. One set, one actor and multiple CG seahorses seemed like something we could manage.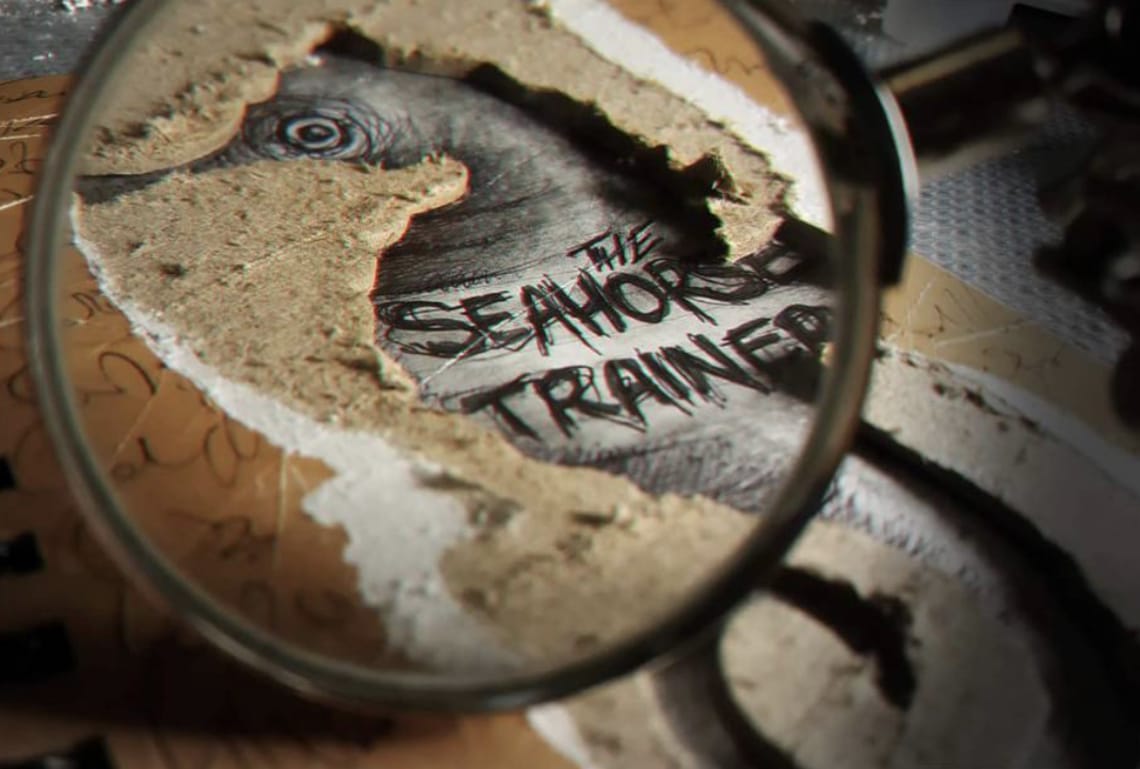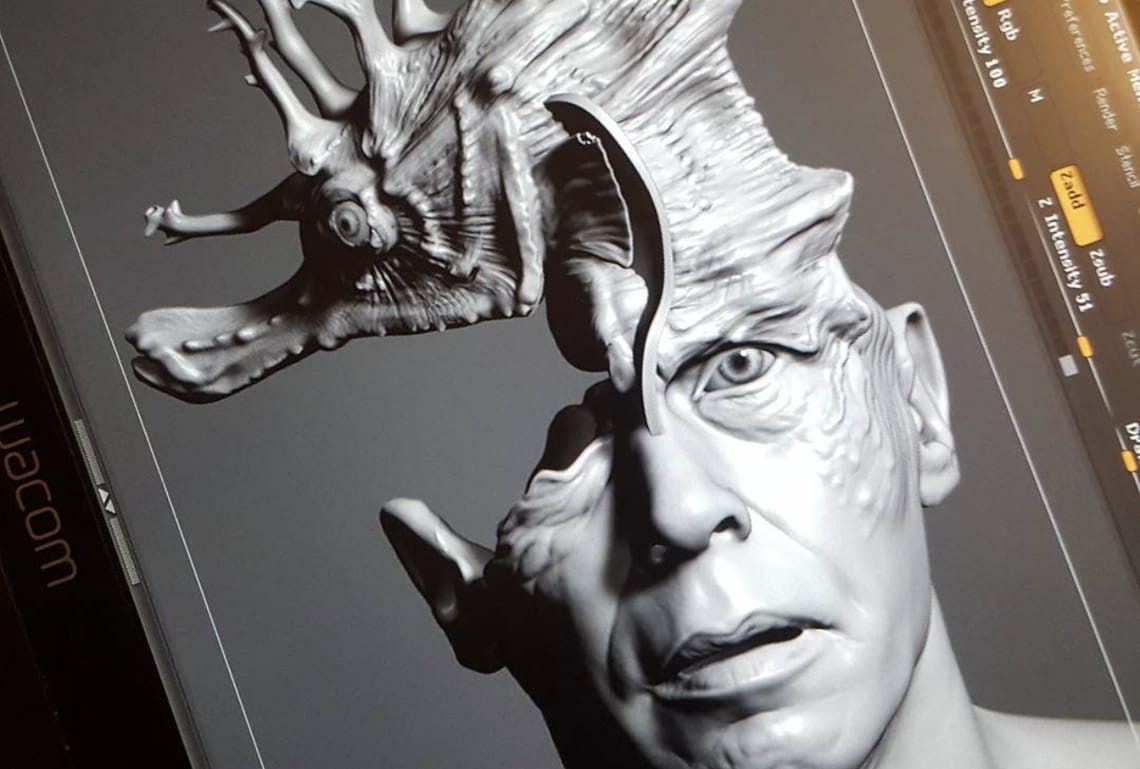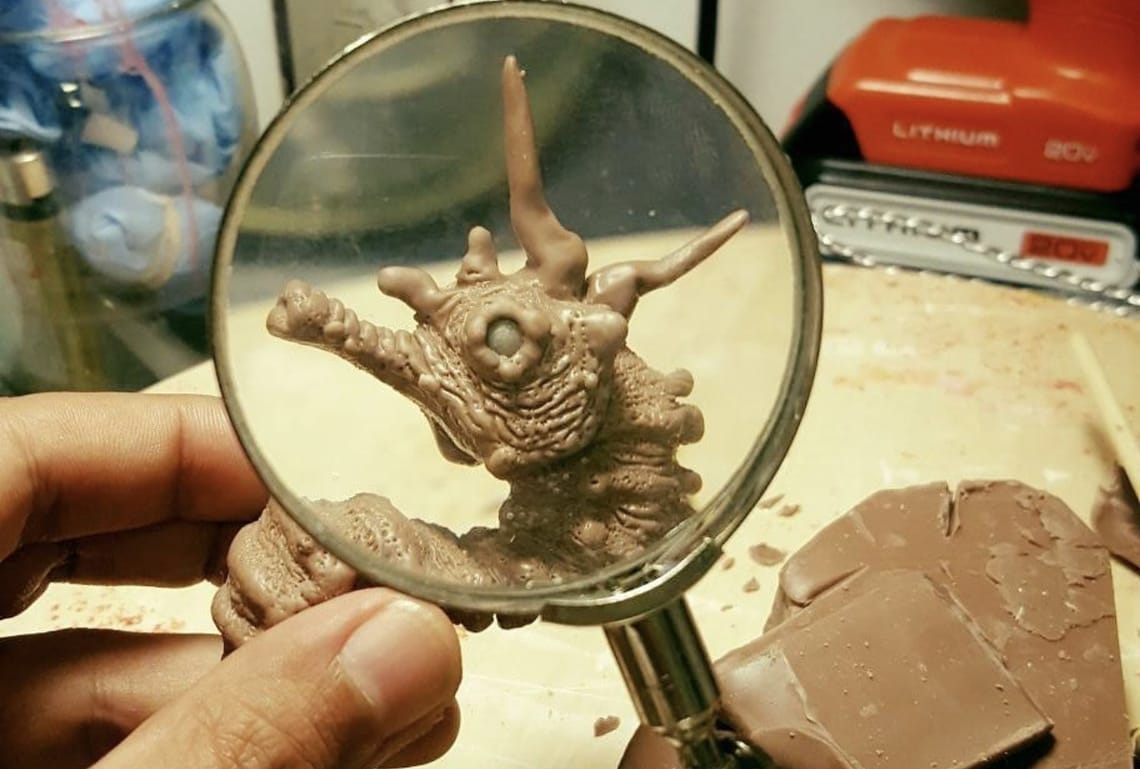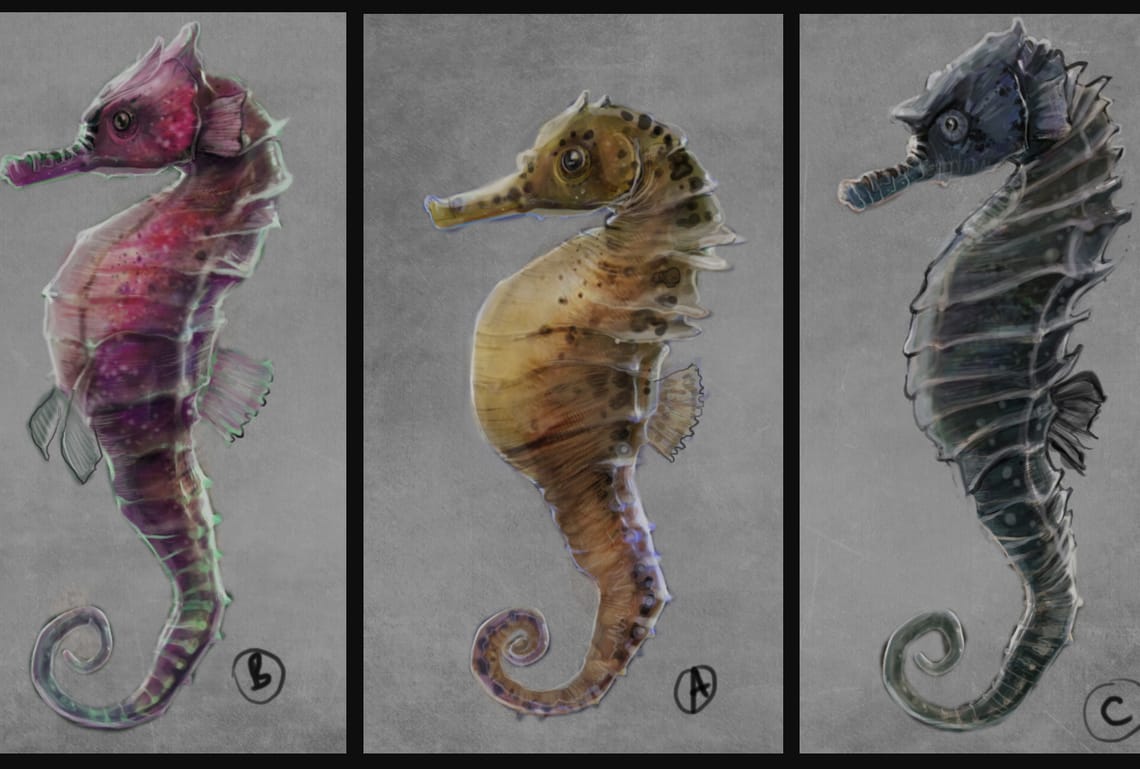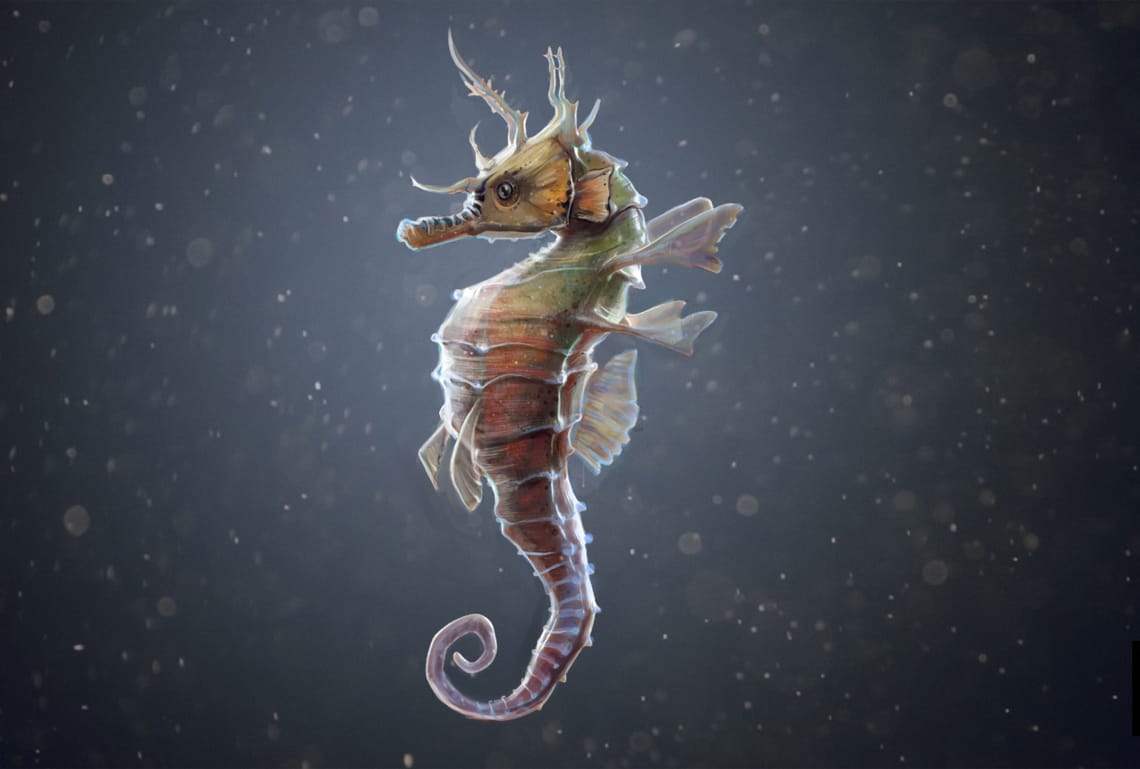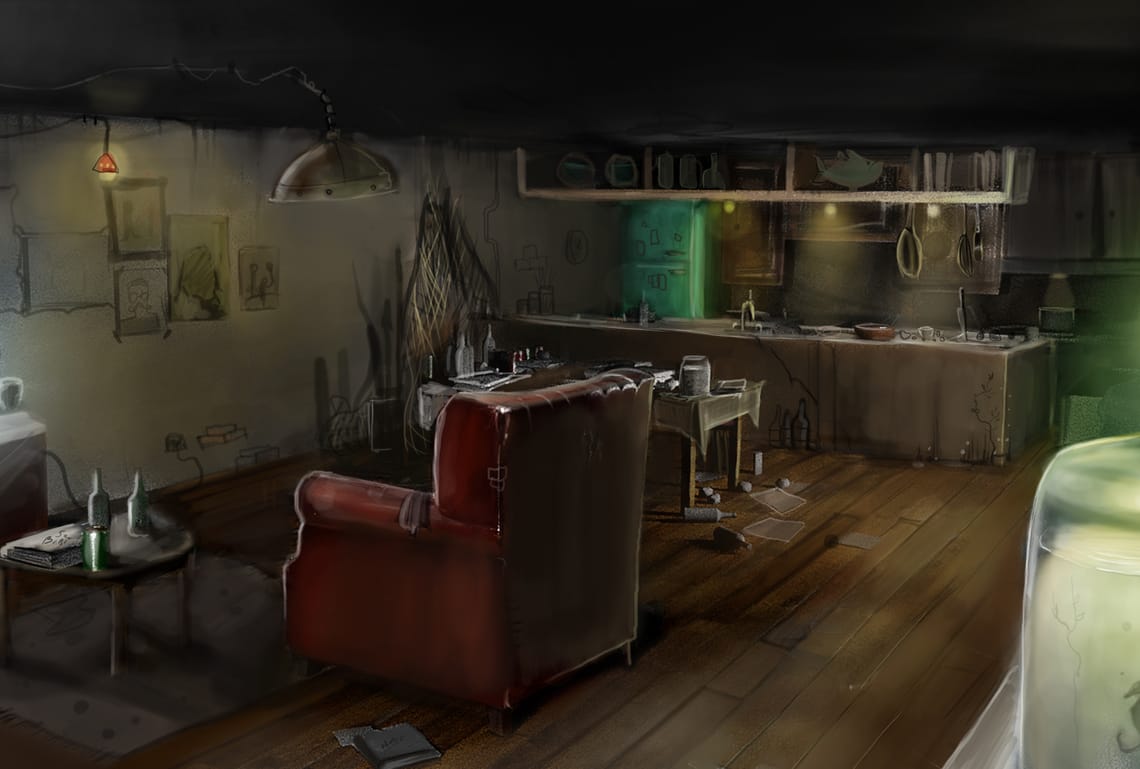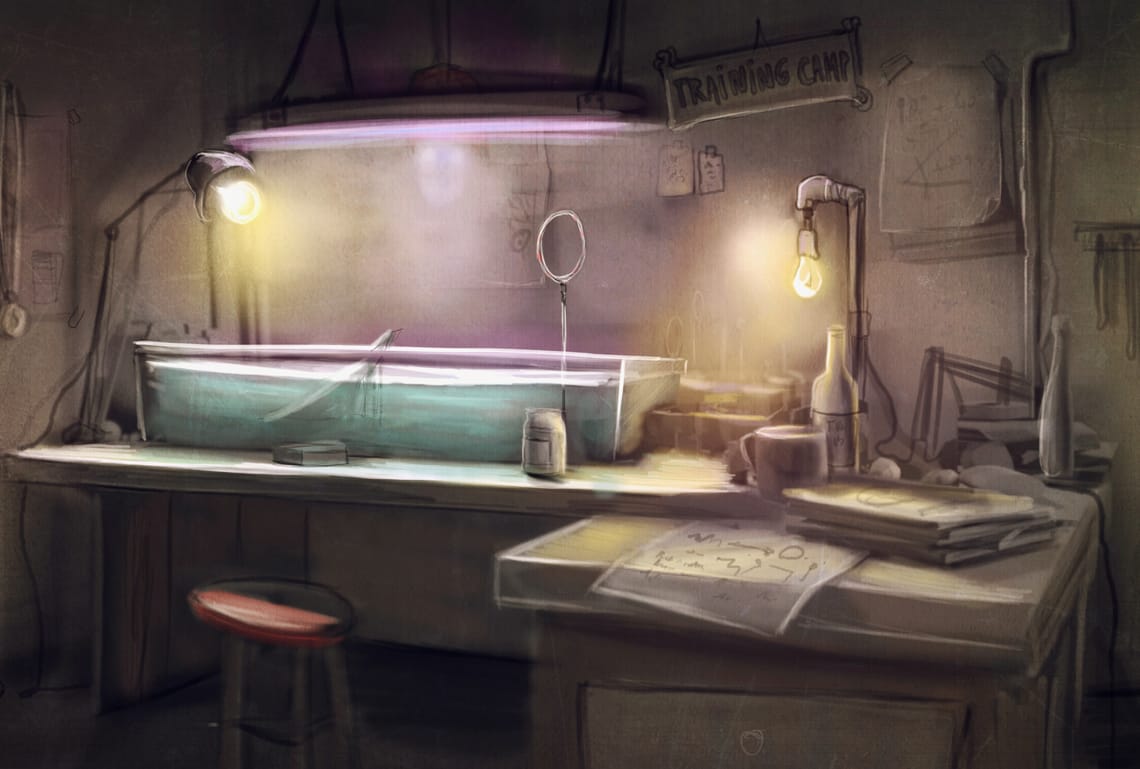 We'd love for you to share some of the most important lessons you've learned from working on movies and how you applied them to "The Seahorse Trainer."
BB: VFX is an integral part of filmmaking these days and being familiar with that process helps directors, cinematographers, and editors. It helps to know what is doable in post and what is not and how to take the most efficient approach and split your work in pre-production, production, and post-production. The more calculated you step into the project the more cost and time effective you move along. Knowing how much it takes to make a production look great was a guiding factor for our decision making all along the way.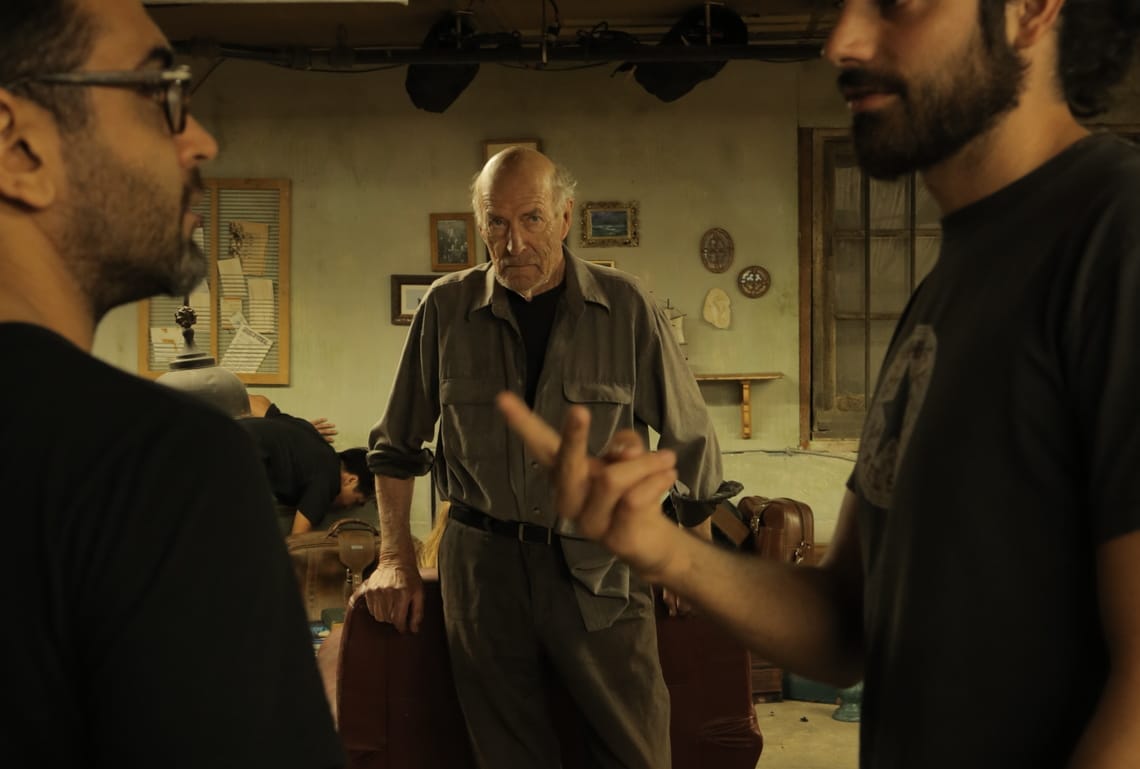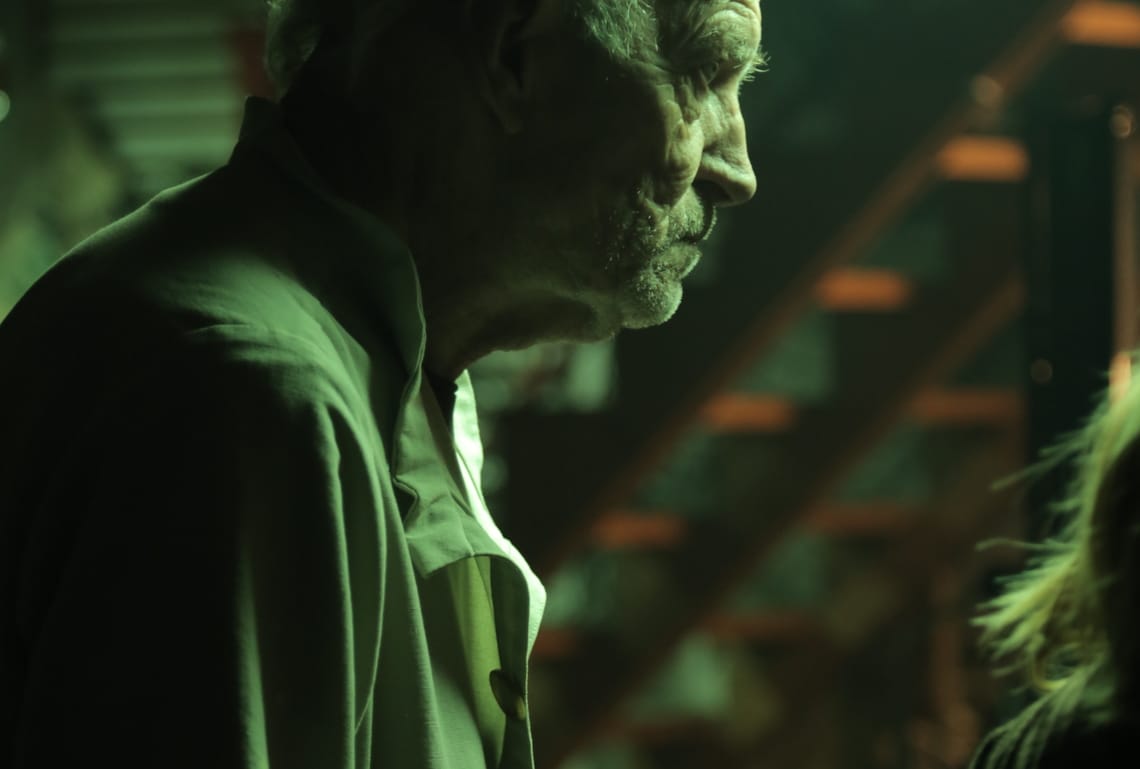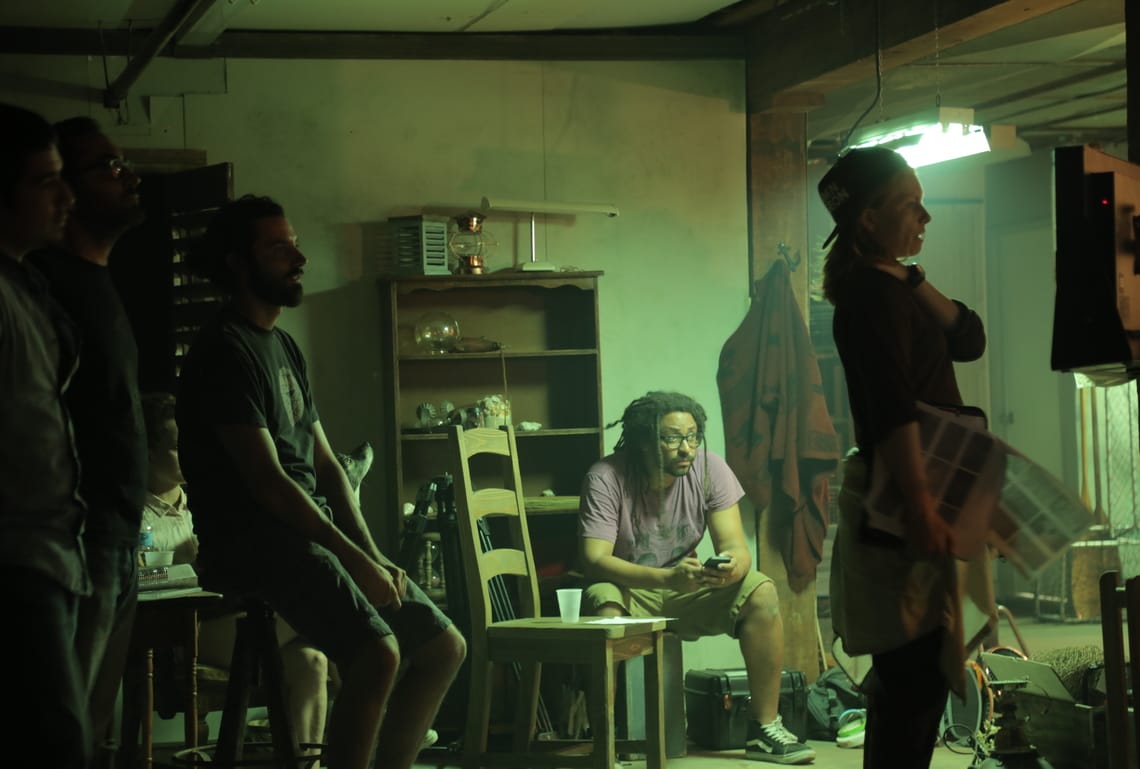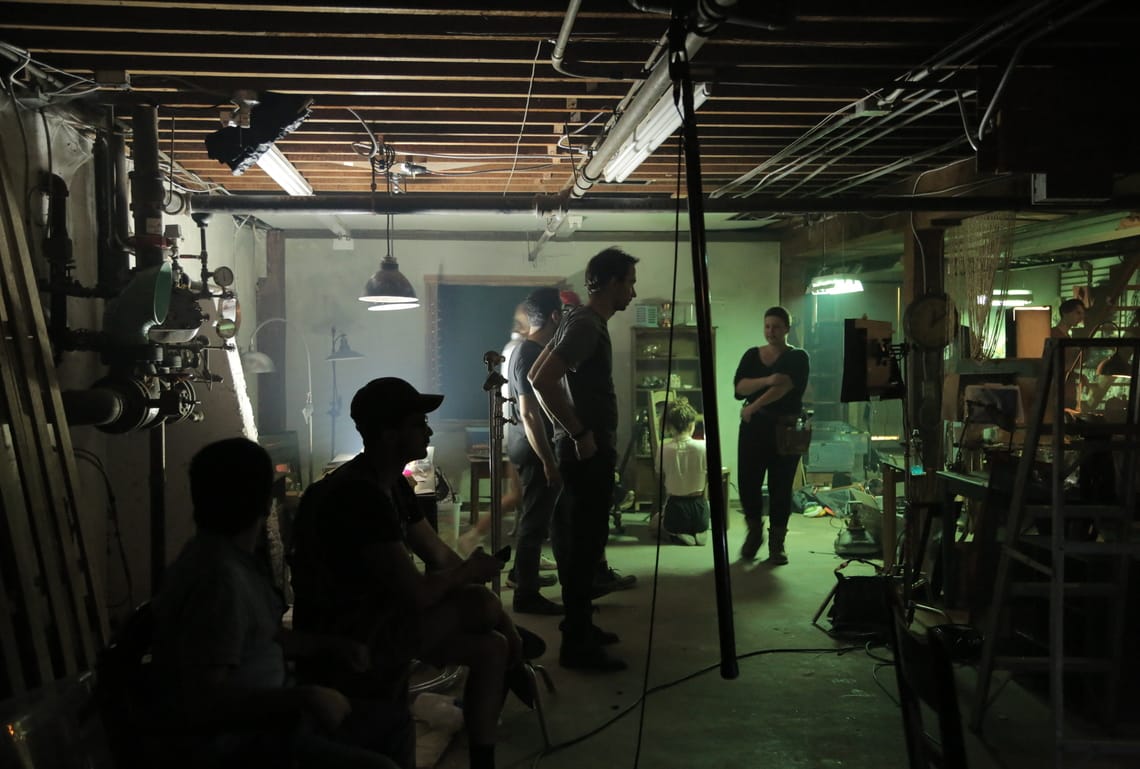 Our story relies on only one actor, one location, and some computer-generated seahorses and with our budget and knowledge it seemed achievable. We knew how the seahorses would look prior to finding our actor.
Designing those seahorses beforehand has helped us in multiple ways. For instance, when talking about lighting with our cinematographer the fact that our main seahorse had bioluminescence features was a factor to consider. The actor who was supposed to act as if the seahorses were there had a better idea about what sort of creatures he was training.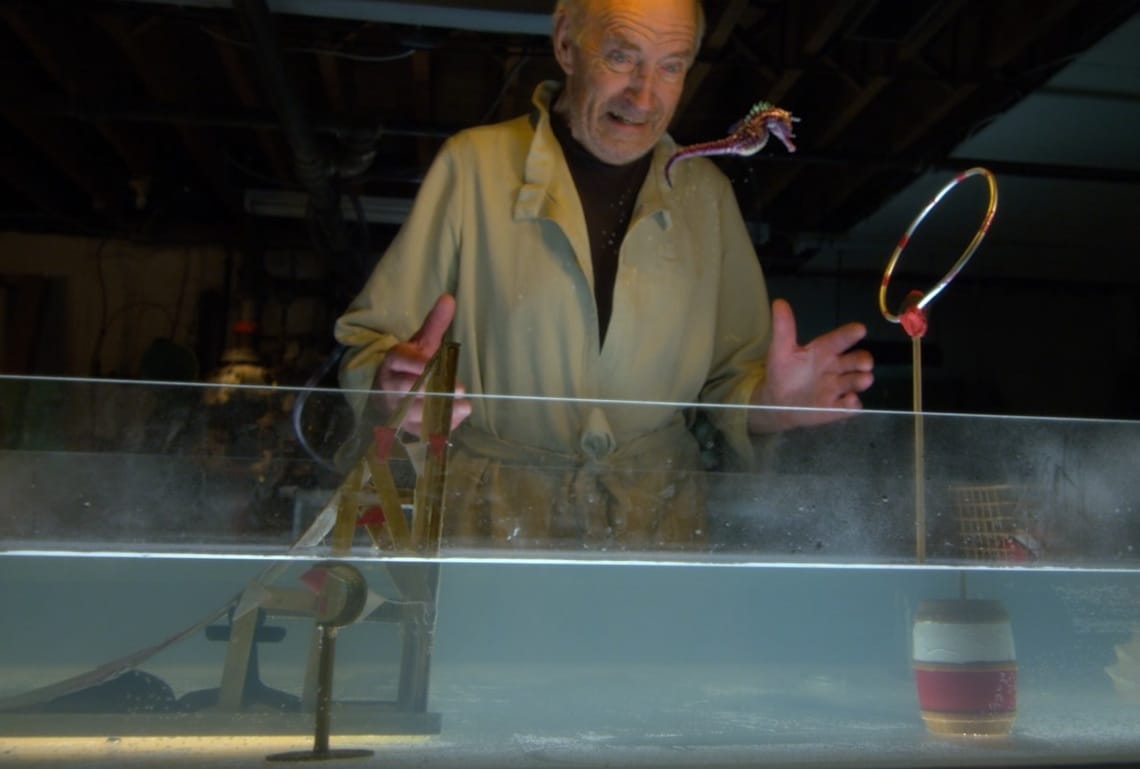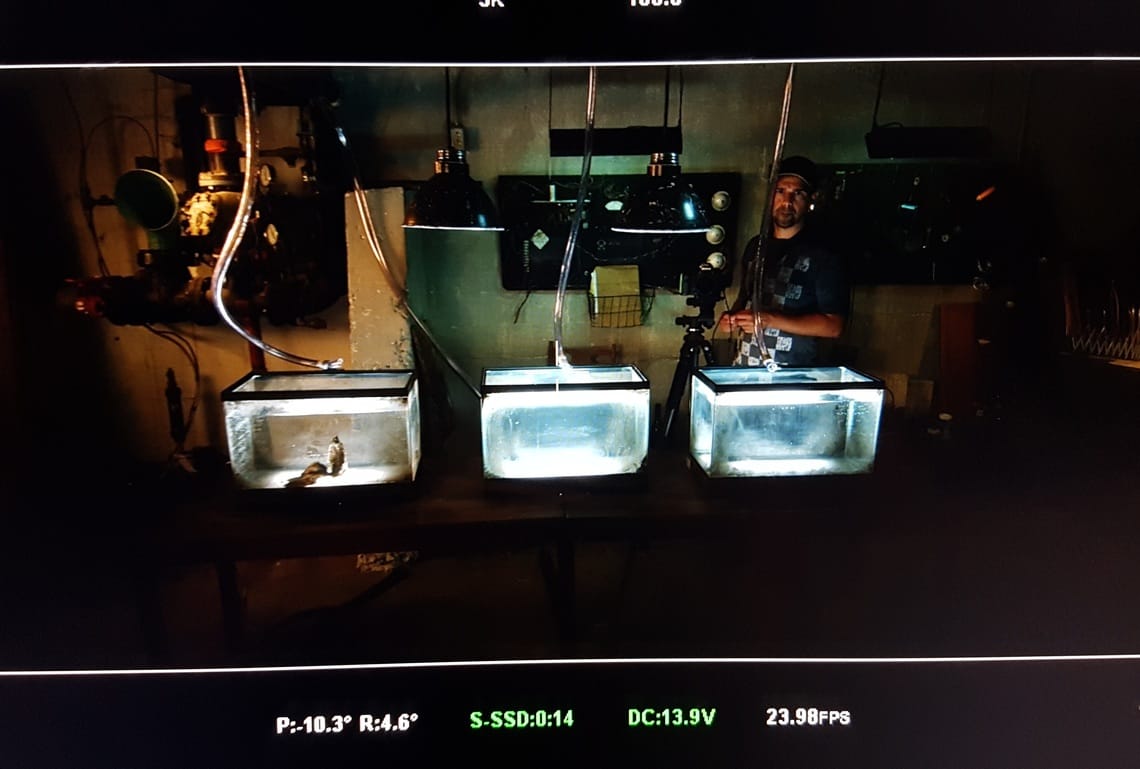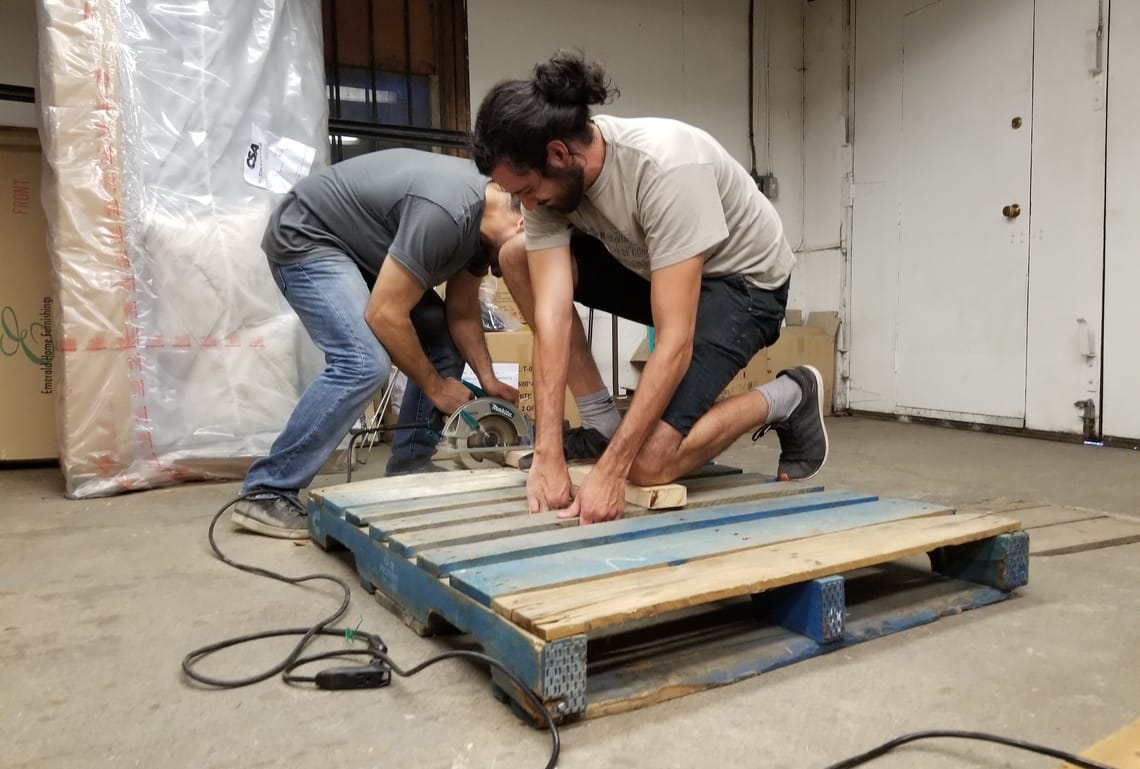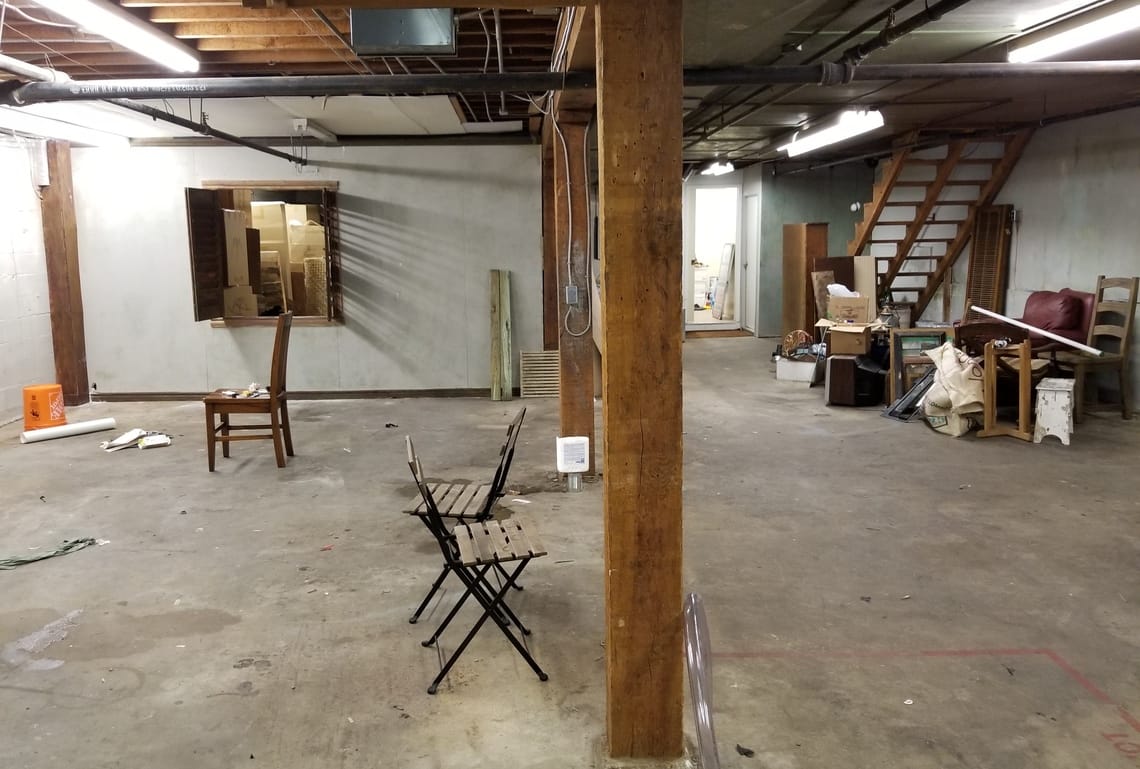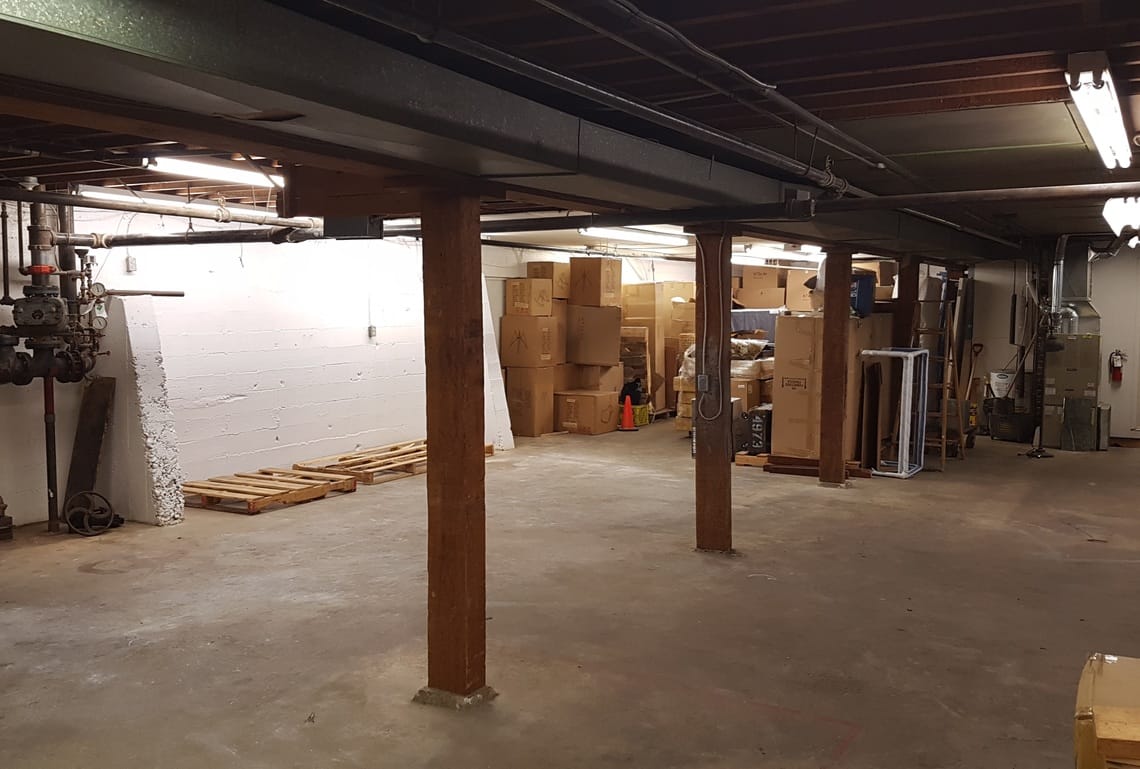 What made V-Ray for Maya a great fit for "The Seahorse Trainer?"
BB: Our familiarity with V-Ray, its ease of use, and the amazing photorealistic results it can provide as an industry standard render engine made us decide it's the right tool for us. I have been using V-Ray as a lookdev artist for more than 10 years in companies such as Scanline and Method Studios and therefore I am quite familiar with what it offers. V-Ray has everything you need for hyperrealism packed under the hood and all the features work together smoothly and effortlessly.
From shading and lighting to environment and volumetric effects, V-Ray has it all.

Babak Bina, Senior Character Artist, Method Studios
What is your favorite V-Ray feature?
BB: One of my favorite V-Ray features that many people overlook is V-Ray Fur. On the seahorses I used V-Ray fur to create fuzz and flakes you usually see on underwater creatures when you look at them up close. Using its many maps for density, length, and thickness, I was able to control the look, and connecting it with the V-Ray Hair material and Hair Sampler node gives so much control over nuances. Knowing the work we did on "The Seahorse Trainer" has been chosen by Chaos to be featured in the V-Ray VFX and animation showreel is absolutely gratifying and means a lot to us.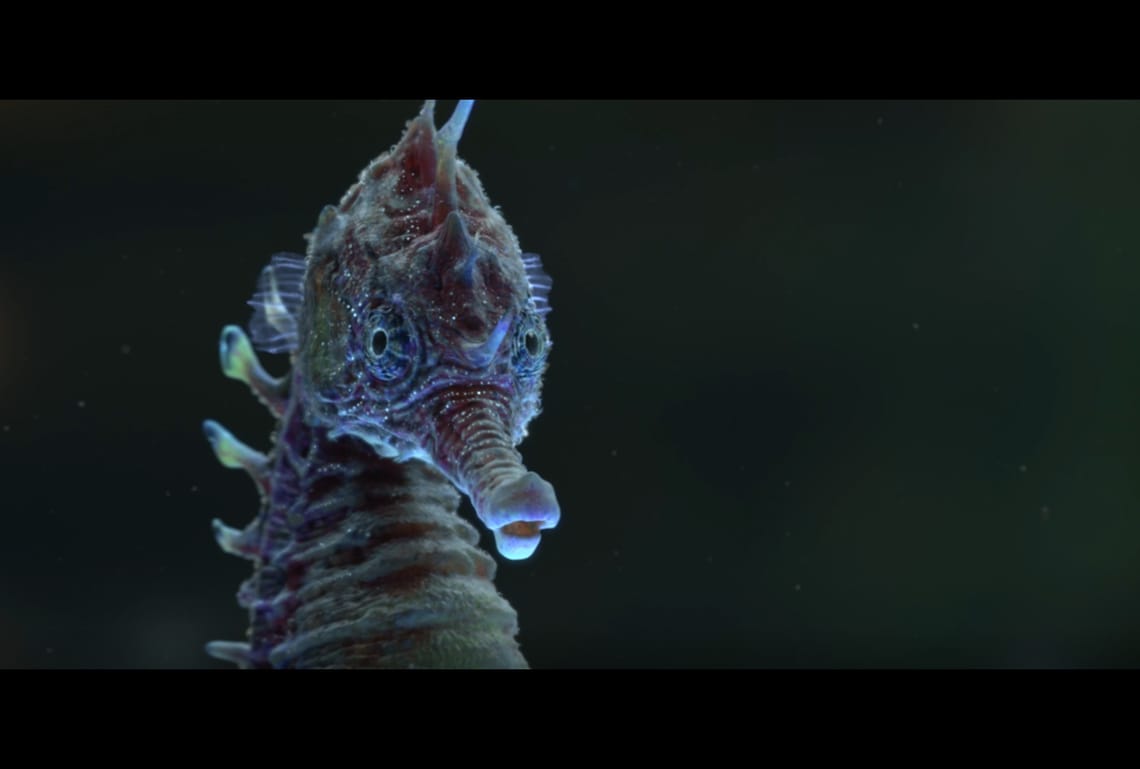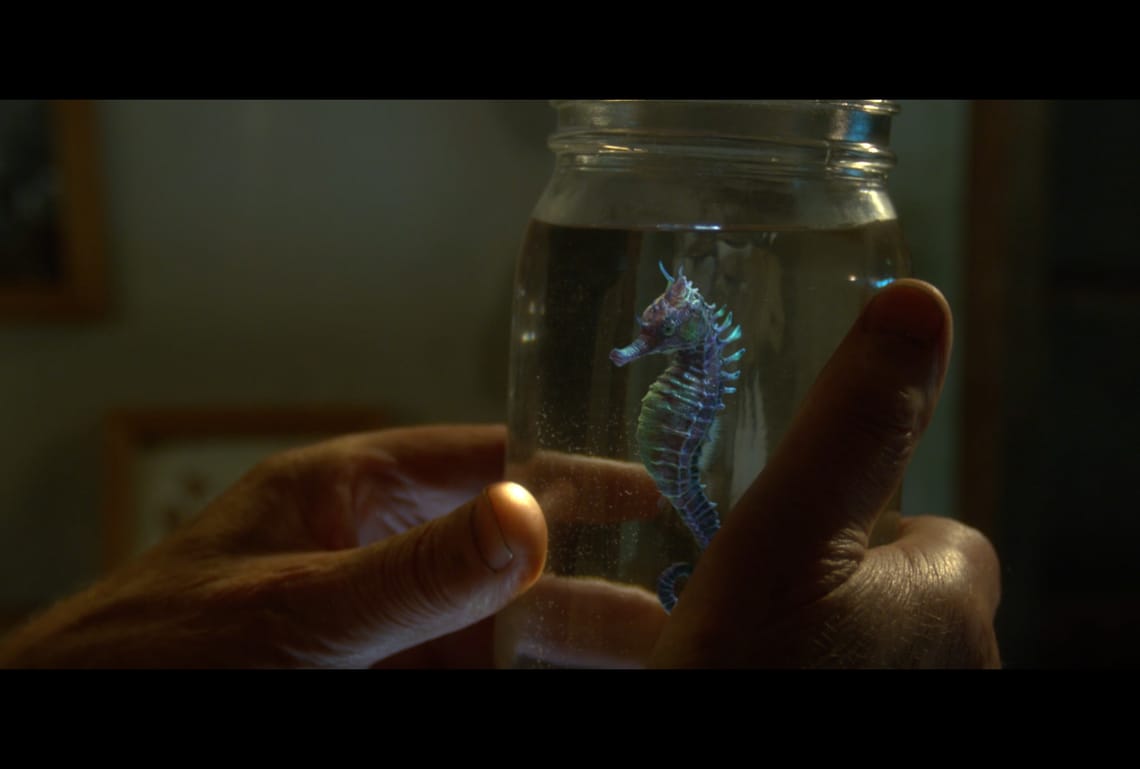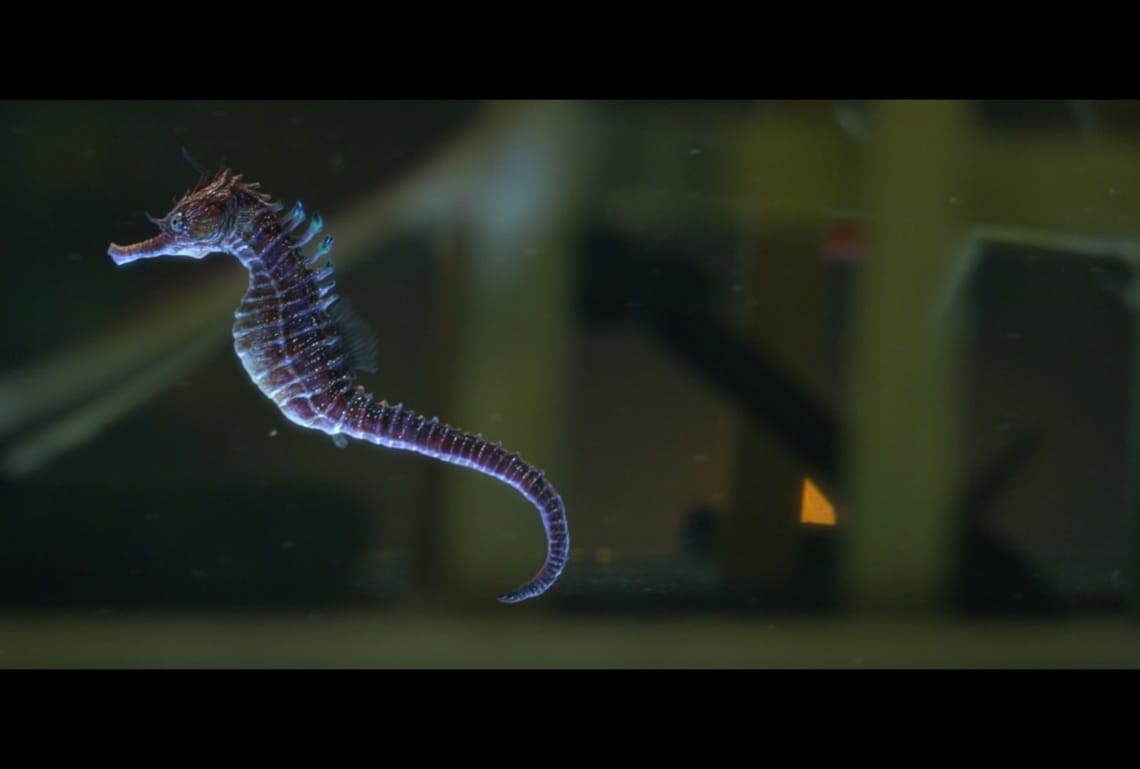 You're also a Gnomon tutor. Do you feel this helps with your personal work? And do young students give you any ideas?
BB: Teaching is the best excuse to keep yourself up to date on and dig deeper in any subject you teach. You need to know more than your average everyday go-to tools and what are the best practices and approaches to be able to confidently show up as an instructor.
Some students really inspire me with their enthusiasm and ambition and remind me that I need to constantly expand my skills to stay relevant in a rapidly evolving industry. I started learning VFX using Gnomon tutorials years ago and I am very happy to be a part of the Gnomon family of tutors while also still using their tutorials to educate myself. It's a reminder that I have come a long way and still have a lot more to learn.
What's next for "The Seahorse Trainer?"
BB: We have recently released the film online, after a couple of years of festival run it seemed like a good time to unleash it into the public domain. It is now going to have a life of its own, some will like it and get inspired by it and some won't. Who knows what surprises it is going to bring back to us!?
What is your next project?
BB: I am currently working on my next short film The Itch. It's a fully animated short that could be best described as an experimental approach to narrative storytelling. It relies solely on the strengths of visuals and sound rather than language and dialog to tell an allegorical story that blurs the lines of dream versus reality, conscious versus unconscious, and explores the concepts of maturity, self-discovery and transcendence. To get updated on the project and more please follow my personal Instagram and Rooxter films.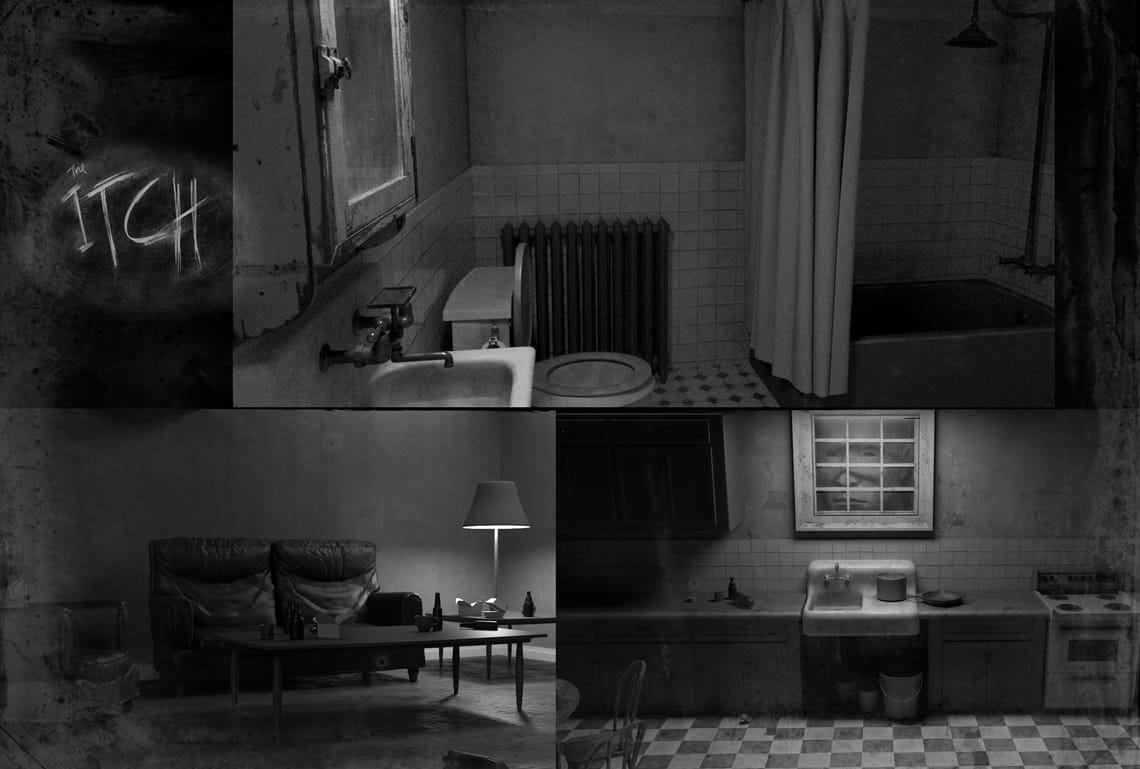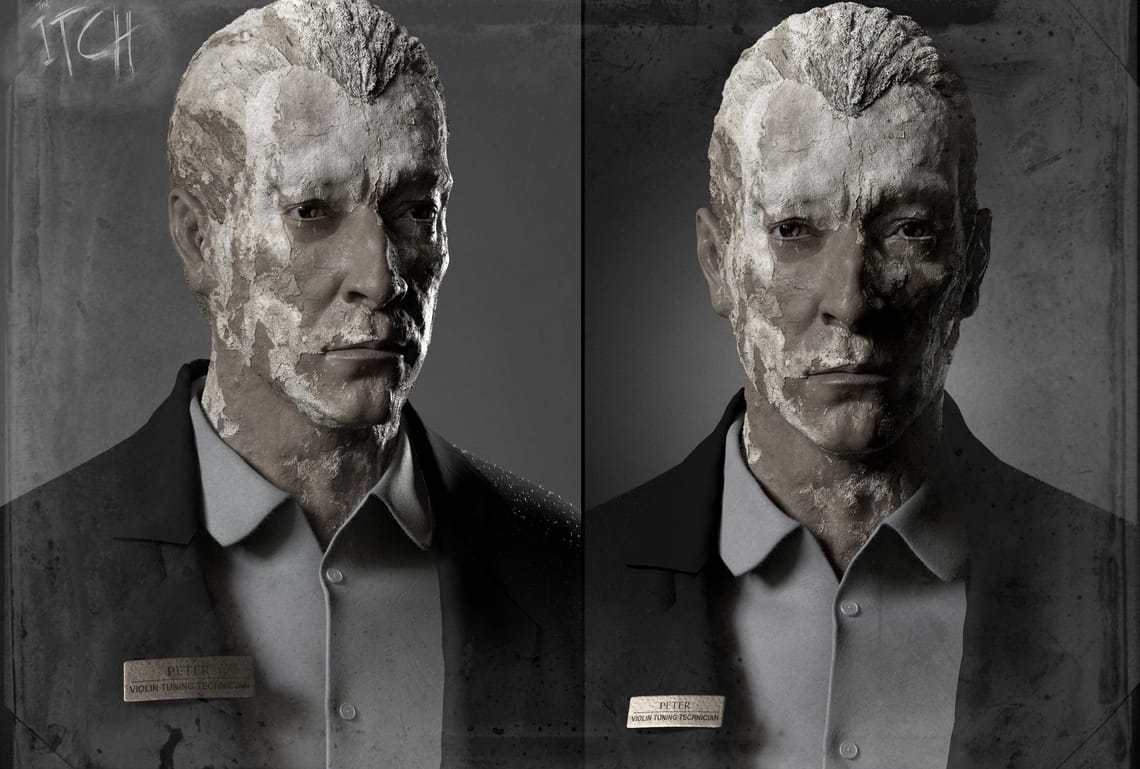 Create creatures that are out of this world.
Try V-Ray Maya free for 30 days.