Learn how the award-winning VFX studio Digital Domain used V-Ray to render an even better Thanos for Marvel's Avengers: Endgame — the highest-grossing film of all time.


An epic VES win for "Outstanding Animated Character in a Photoreal Feature" on Infinity War was a perfect boost for Digital Domain to evolve Thanos into his most ultimate version for Avengers: Endgame. "It's a huge win and I don't think anyone took it for granted," Séraphin Guery, Lead Look Development Artist at Digital Domain told us. "The goal was to take Thanos to another level [for Endgame] while maintaining the already incredible result from the previous movie."
Recognition from the VES was a huge boost for everyone involved. Chris Nichols, Texture Lead on Endgame at Digital Domain, explains: "We were enormously proud of how well Thanos was received after putting so much time and effort into bringing him to life for the screen. However, a character like Thanos can always be further developed, and we wanted to make sure we put our resources into enhancing and building on what we achieved in Infinity War. Extra work went into refining the textures for the displacement and reflection — especially in the forehead region, which always bothered me from the last film. Making sure he had consistent levels of detail across the surface."
We talk to Séraphin Guery and Chris Nichols ahead of the home entertainment release of the movie to learn more about some of the key challenges, essential teamwork, and how they made a better CGI Thanos for Avengers: Endgame.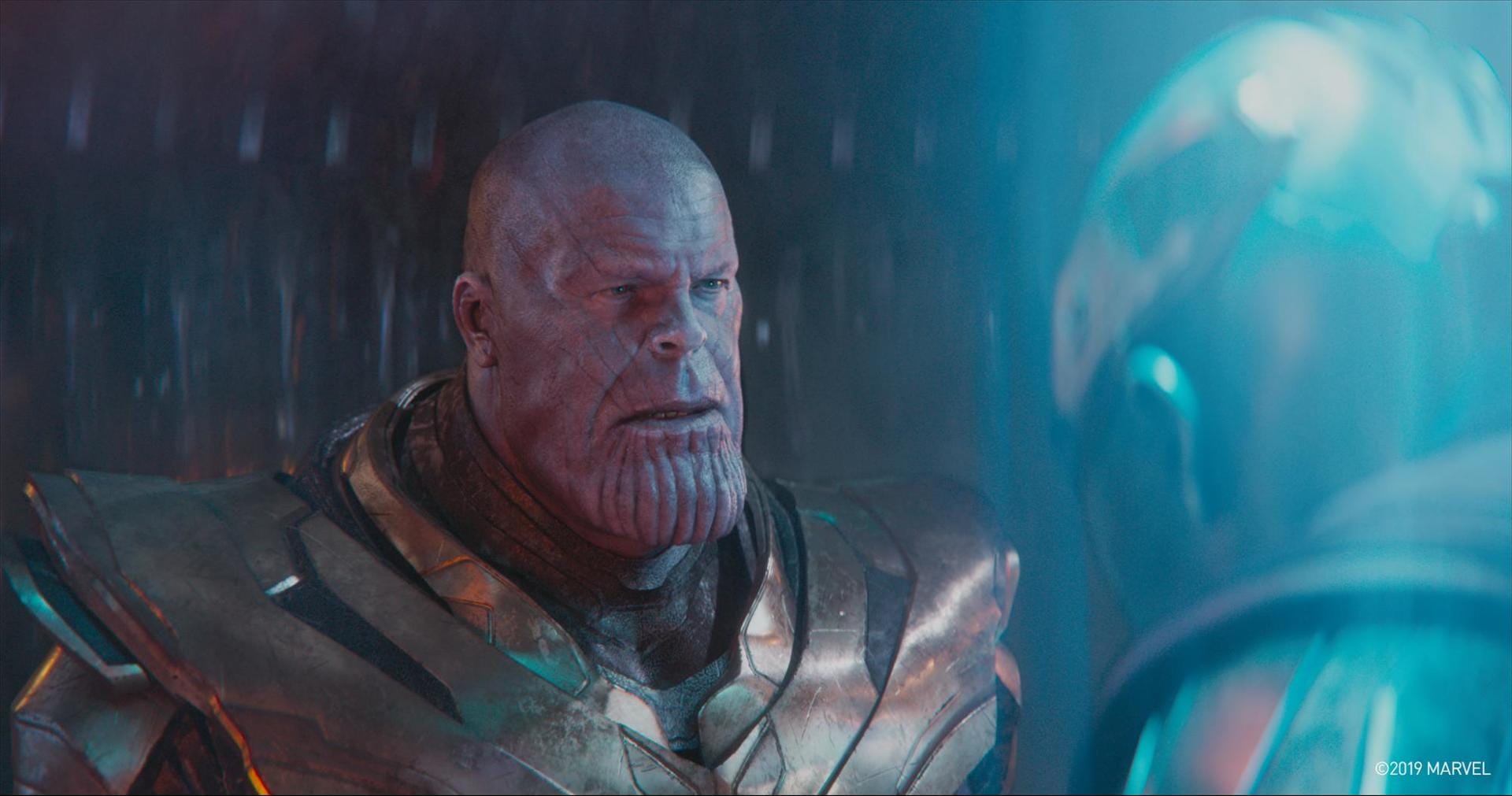 We just kept stacking layers and layers of extra details using V-Ray Blend materials; having everything separate and easy to update without significant impact on render time."

Séraphin Guery, Lead Look Development Artist, Digital Domain
Can you talk about the evolution of Thanos in terms of his virtual skin? How does Digital Domain make Thanos so utterly convincing and what tools/features are essential to capturing his perfect look?
CN: Since I initially textured and sculpted the fine details of Thanos using TexturingXYZ scans in 2016, the technology for surface scans has greatly improved, so I took advantage of some of the latest face scans and used them to enhance certain areas of the face, getting much more crisp detail than I had previously. I also went back into ZBrush and sculpted in more secondary detail to improve the combinations of detail frequencies.
SG: I wasn't personally involved in the early stages of Thanos' look but it definitely came a long way from the early 2012 version. I think the work that was done by Chris Nichols on Avengers: Infinity War was critical. Using multitudes of scans to keep the general structure of the actor was the foundation.
In addition, having multiple levels of skin details — from larger skin folds to very fine wrinkles and pore details — sculpted on top was a key element in the end result. Relying almost entirely on displacement to control the specular responses allowed a lot more freedom to implement subtle things like sweat, blood splatter, or things of that nature to add extra layers of complexity.
Relying almost entirely on displacement to control the specular responses allowed a lot more freedom to implement subtle things like sweat, blood splatter or anything of that nature. We just kept stacking layers and layers of extra details using V-Ray Blend materials; having everything separate and easy to update without significant impact on render time. In the end, we just picked the layers needed for each sequence with material overrides.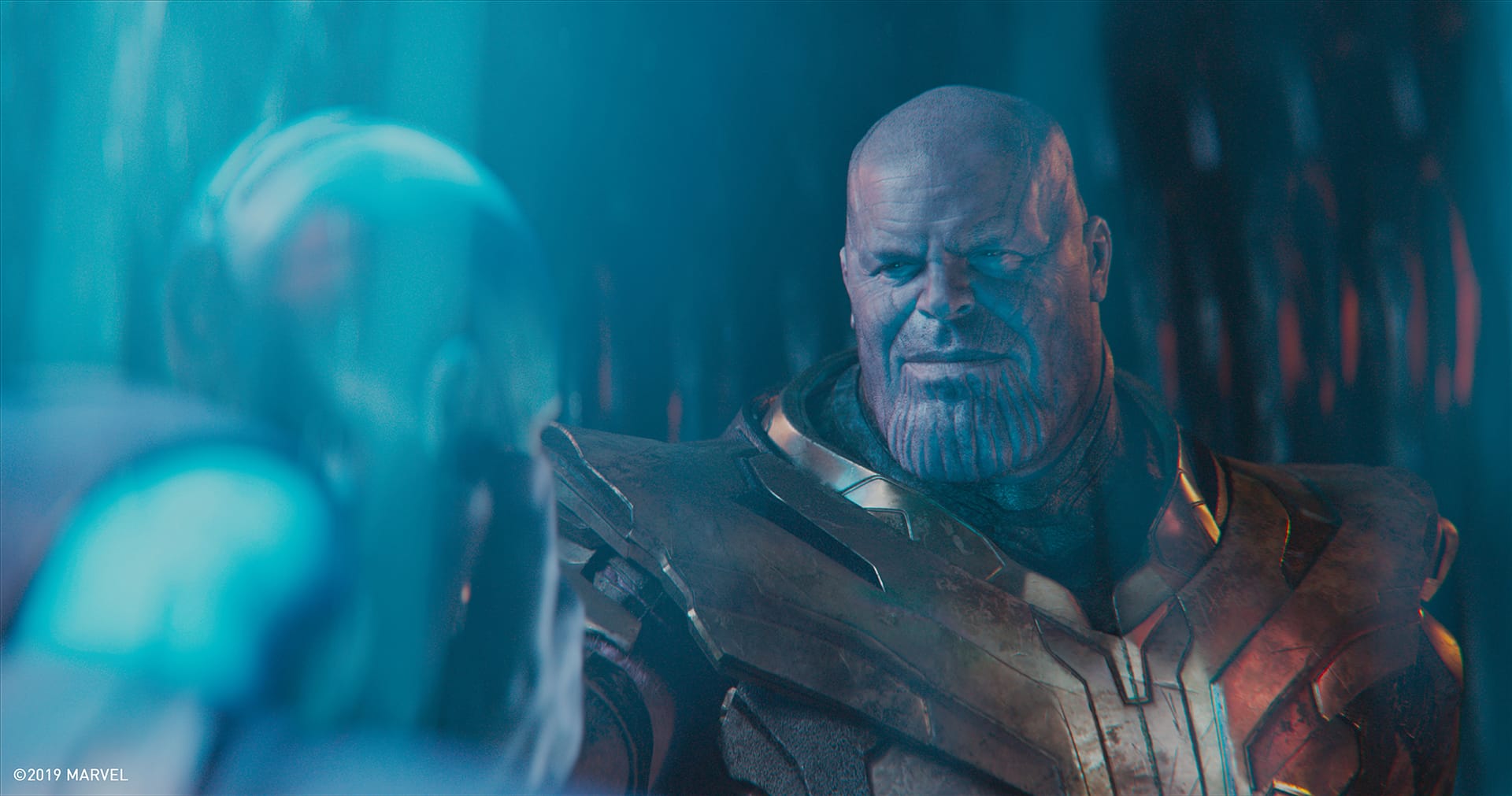 It's remarkable how Thanos has the ability to emote both pure evil and empathy in a single scene. How does Digital Domain make the eyes as believable-looking as any of the human characters on set?
CN: Digital Domain is very good at creating realistic eyes for its characters with a legacy stretching back years. We try to build them as physically accurate as possible with multiple pieces of geometry to get the correct refractions and reaction to various light environments. This will give correct results in lighting with slightly further improvements in comp that ultimately bring life to the character — and sell Thanos as a living and breathing entity.
SG: The eyes play a huge role of course. It's something you see every day hundreds of times a day so there's not a lot of room for error. A lot of research about the human eye was done and each key feature such as the lens, pupils, iris, sclera and cornea, was developed in tandem from one another.
Having detailed models and textures allowed a more physically accurate layering in the shading network with proper refraction, depth and shadowing. Extra attention was given to the eyes in lighting and compositing as well to enhance the performance. It was definitely a team effort.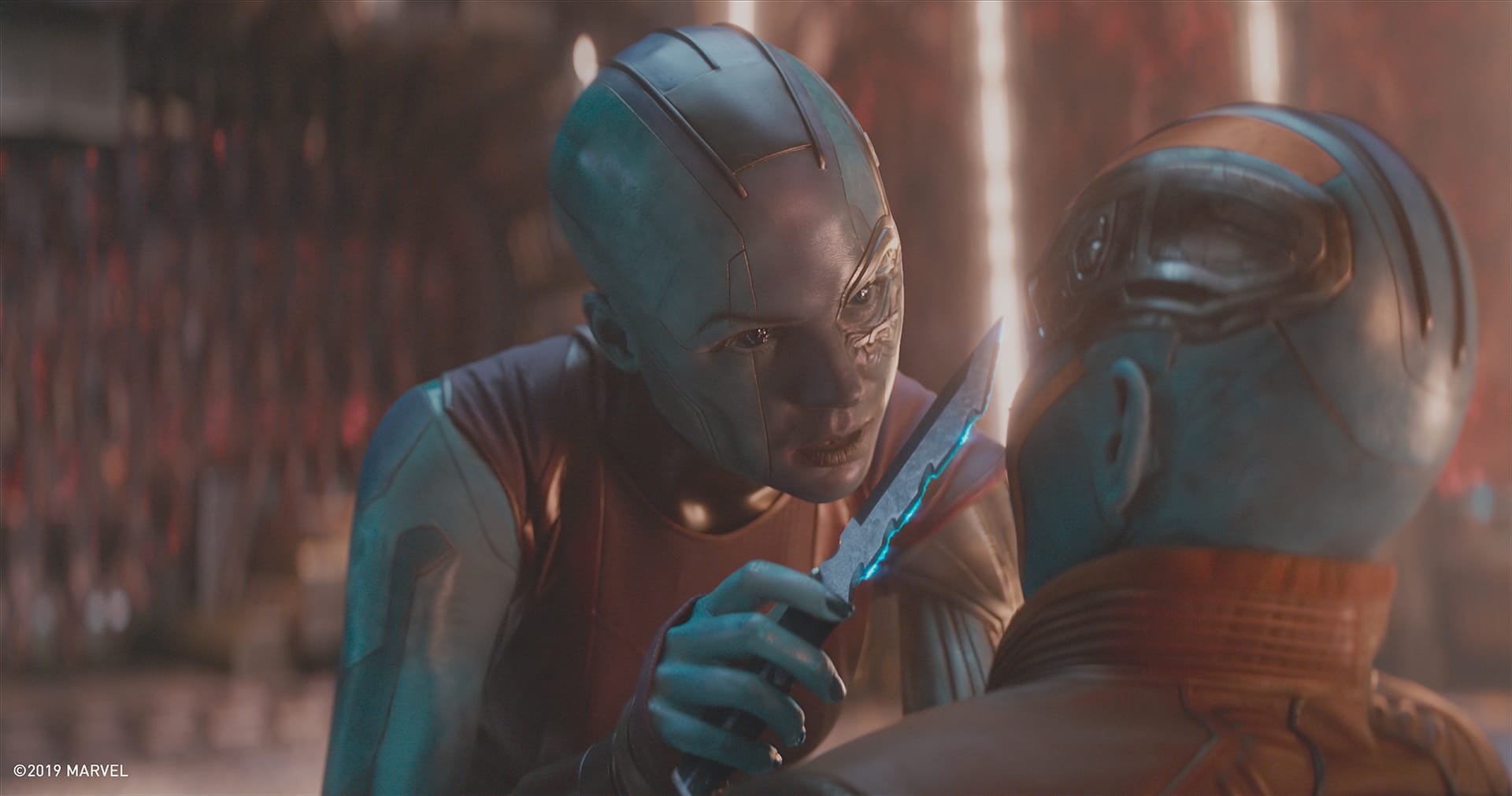 And what about the new characters and character adaptations in Avengers: Endgame — can you talk a little about your work on the characters that required new levels of detail for this final movie?
SG: War Machine was an interesting character to work on. Even though it's a completely different approach from virtual skin, it requires a lot of attention to detail as well. A big part of the job was to rely heavily on real-life references for scratches, dust, dirt and general weathering of military-grade gear to imply some kind of history to the armor.
To add another layer of realism, we used a micro-scratches system based on normal map tileables to recreate the radial scratch pattern effect often found on cars or various aluminum hardware. It helped break up the specular ever so slightly to get away from the CG/fresh-out-of-the-factory look.
While painted texture work is needed to reach the finish line, there's a whole lot you can do with the existing V-Ray 2D/3D textures and utilities to quickly establish the look and support any manual additions. Tools like VRayCurvature, VRayFalloff or VRayDirt, combined with all kinds of procedural textures, were used on a lot of assets.
Nebula was definitely brought to a new level for Endgame. Digital Domain worked on sequences where she was meant to be extremely close to the camera and fully CG. The challenge was to find the right amount of detail for her skin and body parts without breaking away from the fact that she's a robot. She couldn't look too human. She almost required a complete do-over and received a lot of attention. Being able to control subdivision and displacement quality per objects through V-Ray Mesh attributes came in quite handy to balance out the number of details needed as well as optimizing render time.
It's basically an all-you-can-eat buffet for look development. Aliens, humans, robots or spaceships — it's all in there!"

Séraphin Guery, Lead Look Development Artist, Digital Domain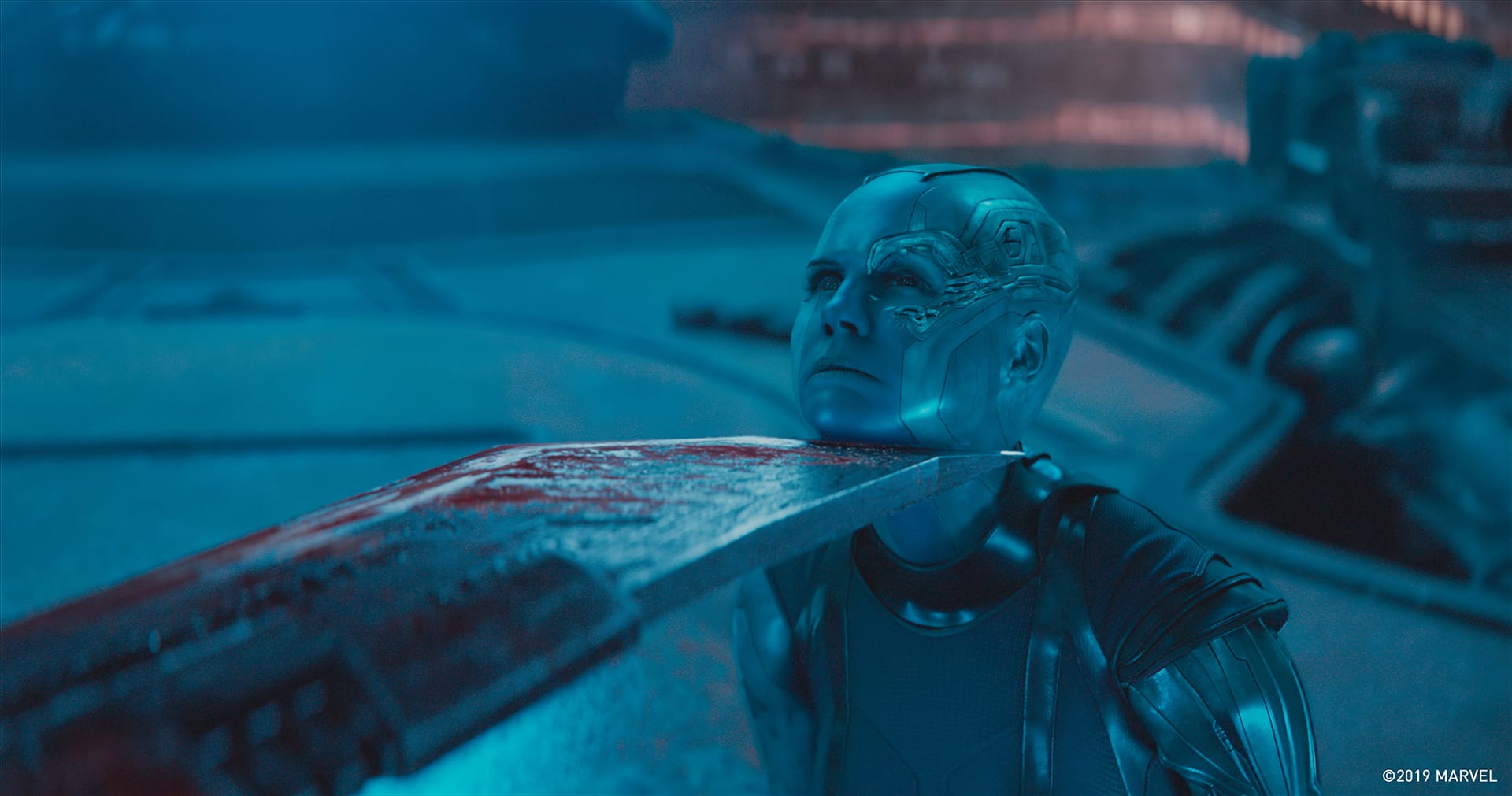 With Endgame depicting various Thanoses — from the younger character through to the vicious fighting sequences of the present day — what were some of the new rendering challenges encountered when portraying Thanos in various habitats?
CN: We knew early on that Thanos was going to have to endure a second round of snap damage, having created a good foundation for it on the first movie, but only for a couple of shots towards the end of the film. This time he was going to get a lot more screen time so the challenge was how to transition from Thanos' normal skin to a scarred and burnt side of the body.
I spent several weeks doing concept art of the various versions of damage for the supervisors to buy off on, from almost a missing side of the face to a more subtle, flakey, scabbed version — which is close to what we ended up making for the infamous showdown.
SG: There were quite a few versions of Thanos indeed. During the sequence on Titan II, depicting a "double-snap" wounded Thanos was no small task. A lot of research and development work went into Thanos' burnt skin and damaged body. Chris and I spent weeks researching on the subject, studying references of burned victims, war casualties, various skin conditions — as well as the different scarring stages of the skin — to be able to recreate something as realistic as possible.
Various layers of displacement were built on top of the original skin for scabs and healing tissue.
Combined with very detailed textures, the V-Ray alSurface shader did an amazing job at handling the complexity of these layers out of the box, preserving all the information sculpted by Chris — very little tweaking was done within the shader. There was also hair regrowth for his beard and peach fuzz around the wounded area that contributed greatly to tying it all together.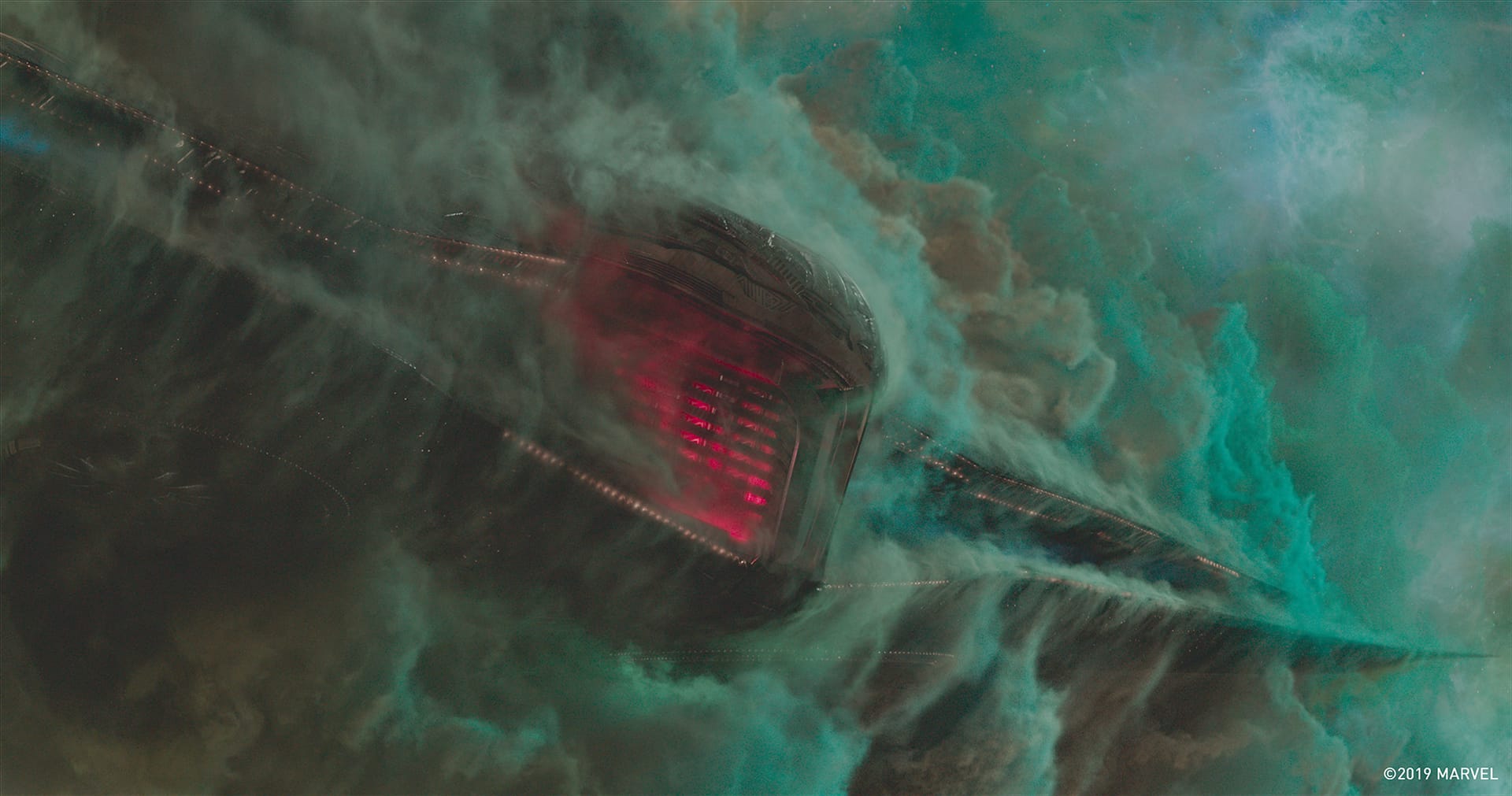 And when it came to creating the believable and photorealistic alien planet, Titan II, what were some of the challenges and tricks involved to make it a plausible new world in the MCU?
SG: The big challenge was to make it look alien but still relatable. Having field crops of alien plants that the audience can understand as being Thanos' little garden, going back to a simpler life. We ended up crossing different types of fruits and plants to come up with something that you haven't seen before but that you can somehow recognize and understand.
"Whatever it takes" was one of the repeated phrases in Endgame. Can you talk about some of your own whatever-it-takes moments? And did you have any of your own in-team mottos that kept you going?
CN: I felt so fortunate to have a team of battle-hardened texture painters that had already got us through Infinity War, so it was much easier for me to guide the artists through the production and get through the sheer volume of assets. Knowing each artist's particular strengths allowed me to assign tasks based on their performance from the previous show, which kept things fluid and moving forward — even when we got unexpected requests from the client.
Having a close and collaborative relationship with Seraphin and his team kept things creative and exciting as assets were showing up in shots relatively quickly.
SG: There were definitely a few times where we had to push harder to get things out. Having a team you can rely on and communicate easily with is essential. I was lucky to have very dedicated people beside me who tore through the list of assets we had to complete. When we had to pick up the pace on certain assets, we would spread the work as much as we could to get there faster. The good old "divide and conquer" method!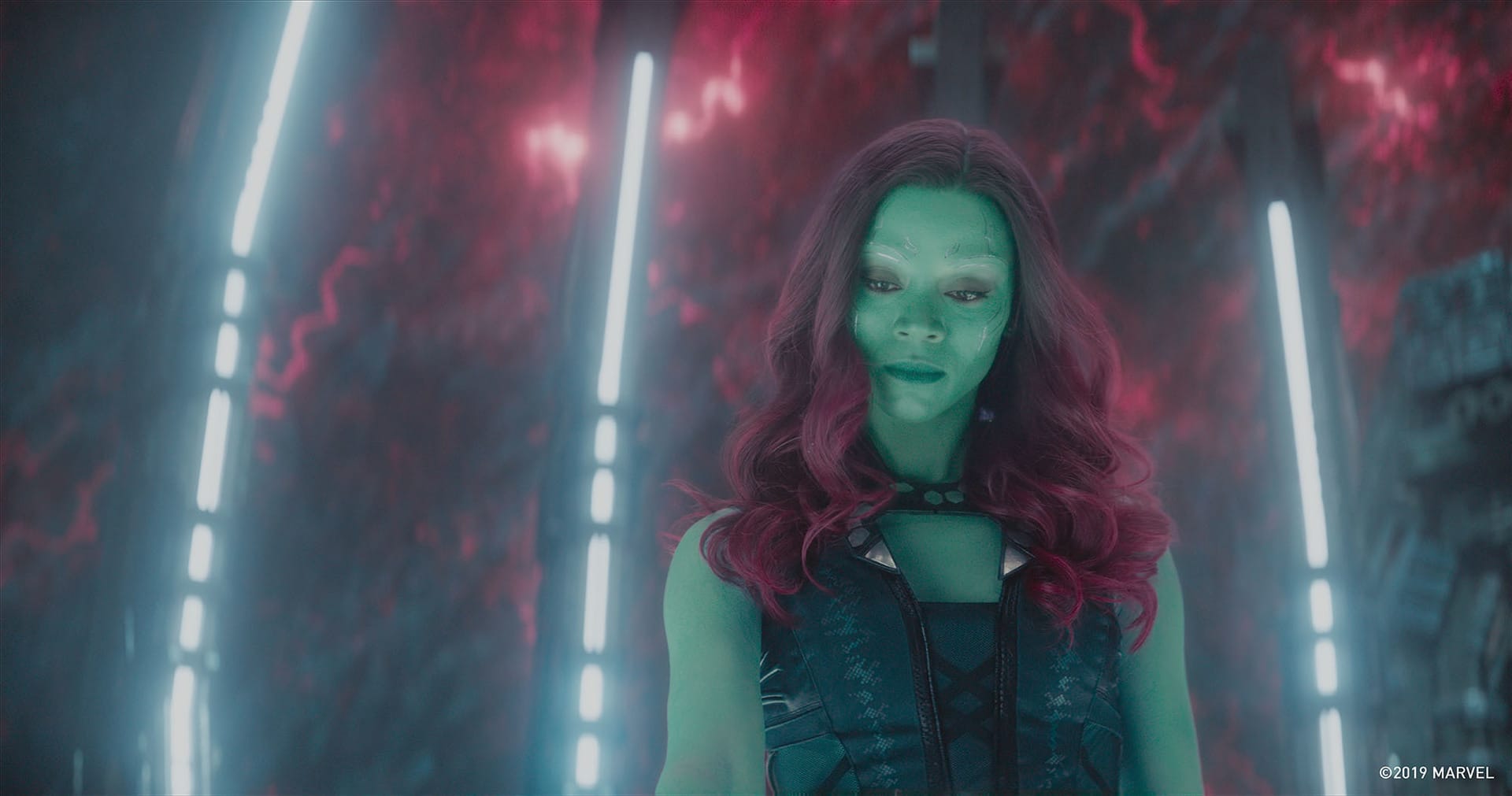 After working with Thanos and the Avengers for so many years, what will you miss most about working with these complex characters? And what lessons will you be taking with you to tackle future challenges of massive proportions?
CN: Working on Thanos was definitely the crown jewel of my career and I learned so much from the development process. It's so great to see him in both films as a fully formed dimensional character, and I think it's because everyone put their all into his creation on all levels.
For me personally, trying to get as much of Josh Brolin's performance into the digital creature was the key to our success, which really came down to analyzing and translating at a miopic level, from the wrinkle details to the pore structure — and, of course, the base shapes and forms.
SG: I've only been able to work on Endgame but the variety of all the characters and assets is what I'll miss. It's basically an all-you-can-eat buffet for look development. Aliens, humans, robots or spaceships — it's all in there!
I think consistency in the workflow and communication within the team are crucial. Having so many assets to work on simultaneously, there will be times where artists have to pick up work from someone else. Establishing clear guidelines from the start will save you a lot of trouble when the pressure rises.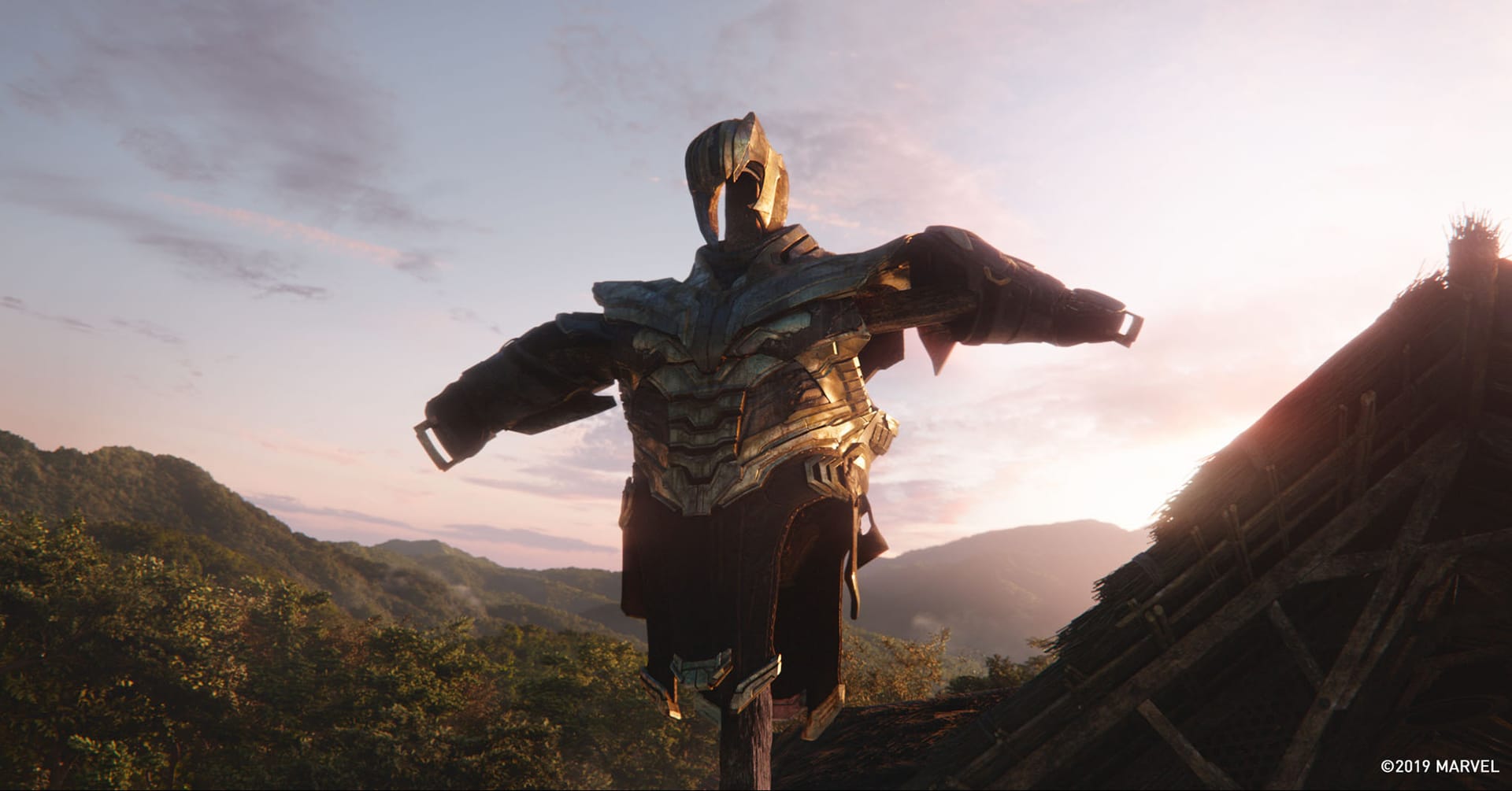 Lastly, in the words of Iron Man: "Part of the journey is the end." Now that Endgame is over, what exciting projects and or characters can we expect to see from Digital Domain in the near future?
CN: Digital Domain is in a very busy period and experiencing massive growth with the opening of its Montreal Studio. We are blessed to have some great shows lined up that will demand the highest level of fidelity which we will tackle with everything we have learned from our work on Thanos!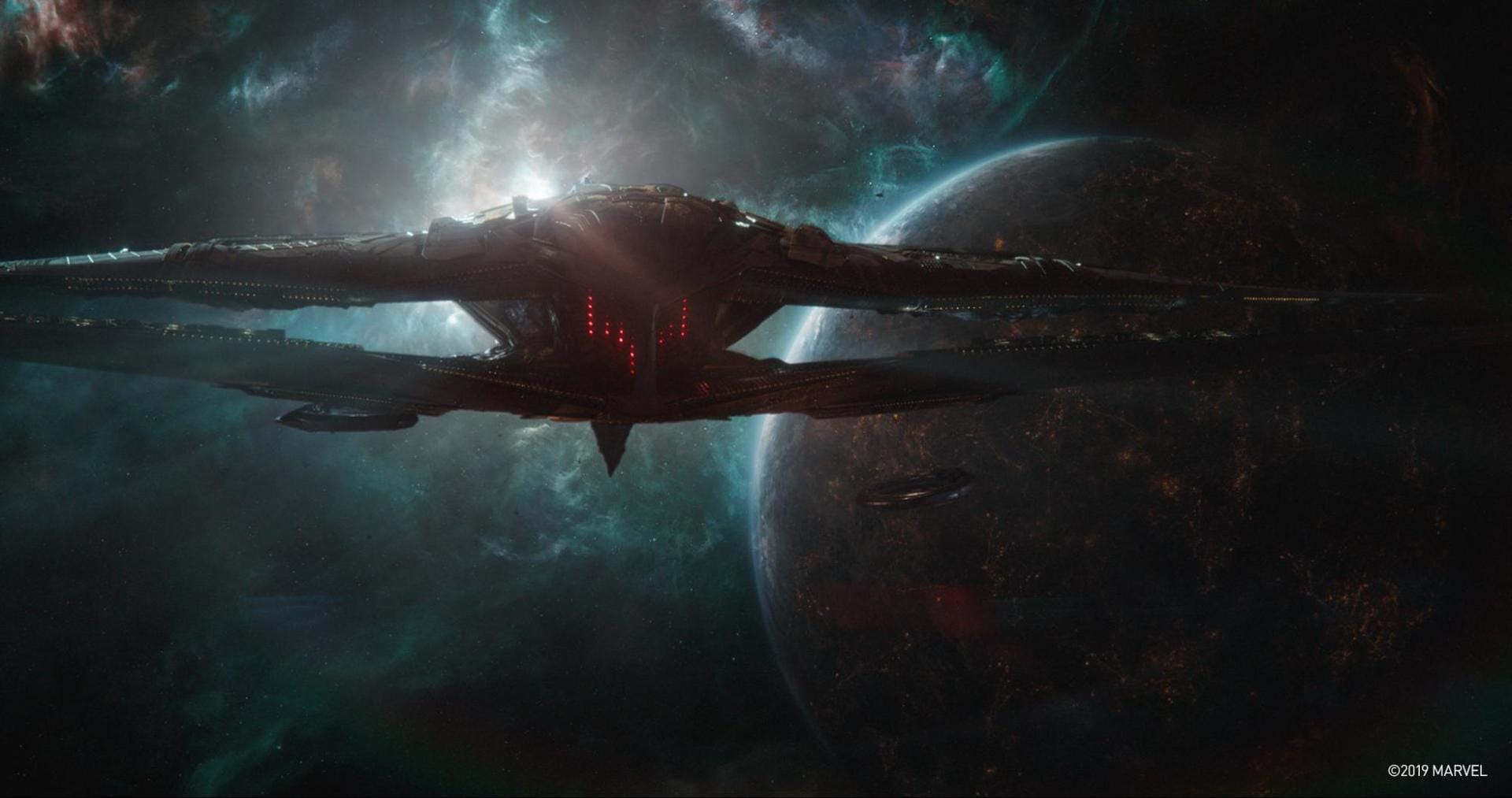 This week, Avengers: Endgame surpassed $2.79 billion, officially taking the number one box office spot from James Cameron's Avatar. Avengers: Endgame is scheduled for release in the US on digital download on July 30, 2019, and on Ultra HD Blu-ray, Blu-ray and DVD on August 13, and on both Digital HD and Blu-ray on September 2, 2019, in the UK.
Want to try V-Ray Next for Maya?