The latest season of Netflix's megahit includes some of its scariest scenes yet. Scanline VFX's Justin Mitchell reveals how V-Ray rendering helped tackle them.
Warning: This article includes spoilers for season 4 of Stranger Things.
From children of the 1980s to teenagers and everyone in between, Stranger Things has connected with audiences worldwide. The fourth season is the most epic yet, racking up a record 1.15 billion viewing hours from Netflix subscribers. With superpowered showdowns, exploding helicopters, and sinister vine attacks, these episodes presented Scanline VFX with its fair share of challenges to battle with, thankfully V-Ray was its weapon of choice.
"The visual effects work in previous seasons was stellar, but this season was more like nine blockbuster movies," says Justin Mitchell, VFX Supervisor at Scanline VFX. "We were given some huge sequences and complex effects to work on across eight of the episodes."
Picking up eight months after season three, Stranger Things 4 finds our heroes separated for the first time, a situation made all the more difficult by the complexities of high school, a sinister new supernatural threat, and revelations about Eleven's origins. Scanline had a hand in many of the season's most exciting moments, with the climactic events of Chapters Seven, Eight, and Nine forming the bulk of the work.
More about Justin Mitchell
Want to know more about the Stranger Things VFX supervisor? Listen to CG Garage Podcast #390 to hear about his inspiring career and work on projects including 2012, Super 8, Iron Man 3, Tomb Raider, Cosmos, and The Nevers.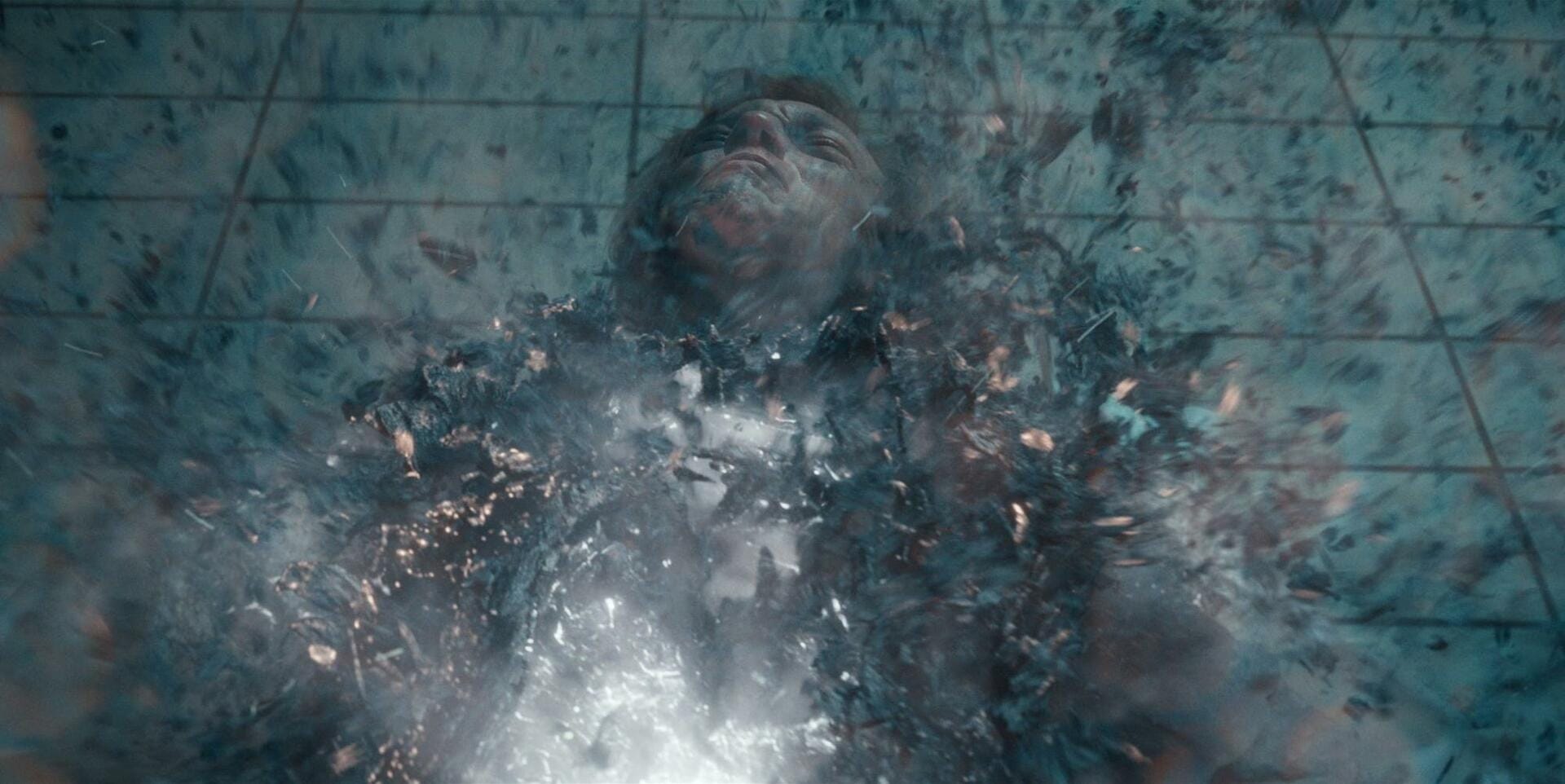 One Big Disintegration
Chapter Seven builds to a critical moment in the story of Stranger Things when a young Eleven stands up to the villainous One in the Rainbow Room of Hawkins Lab. The superpowered face-off ends when Eleven throws One through a window and causes his body to erupt in a maelstrom of ash and light, creating the first rift, a nightmarish portal to the Upside Down.
Scanline put V-Ray's superior capabilities through their paces to achieve this jaw-dropping effect. To start with, Scanline built a full 3D replica of the Rainbow Room and a digital double of One, with which they matched the performances of the actor and stunt professional. One's digital double contained a full series of bones and internal organs. "I don't know how much of that appears in the final image, but you get a sense of the volume," adds Mitchell, "I wanted it to be volumetric and not simply a shell tearing into an empty space."
Houdini's procedural generation tools then took care of tearing the detailed mesh into discrete particles, as One's body dissolves into ash and light. While V-Ray quickly and efficiently rendered the sequence's physically accurate effects, meaning Scanline could render multiple lighting passes and extra textures, allowing them to deliver interactive lighting that created a burning effect as One disintegrates.
Scanline VFX © 2022 Netflix
Black Hawkins Down
The action ramps up in Chapter Eight when Eleven, having been drawn into a trap, makes a superpowered escape from Dr. Brenner's shady laboratory and the attacking military forces. Her newly restored powers bring a helicopter crashing down outside the facility, a major moment for a character at their most vulnerable.
Scanline was tasked with adding and animating the CG helicopter, using V-Ray to create a cinematic spectacle as it spirals down to the ground. "I love V-Ray," adds Mitchell, "it's our renderer of choice. Whether we're working on huge superhero movies or high-concept TV shows, we can always count on its power and stability."
A real helicopter was filmed for the sequence, however, the action demanded that Scanline add the helicopter into approximately half of the shots. In lieu of crashing an actual helicopter into the set, the impact and subsequent explosion would be done in CG.
An on-set fireball gave the crash an explosive presence and provided a practical element for Scanline to build the rest of this big-screen sequence around. Artists created a digital double of the real helicopter, as well as the military Humvees and trucks that it would crash into on the ground. Digital fireballs and debris were then added to further augment the explosion alongside sparks, dust, and rotor wash from the crumpling helicopter – small details that when combined, led to one of Stranger Things' biggest moments yet.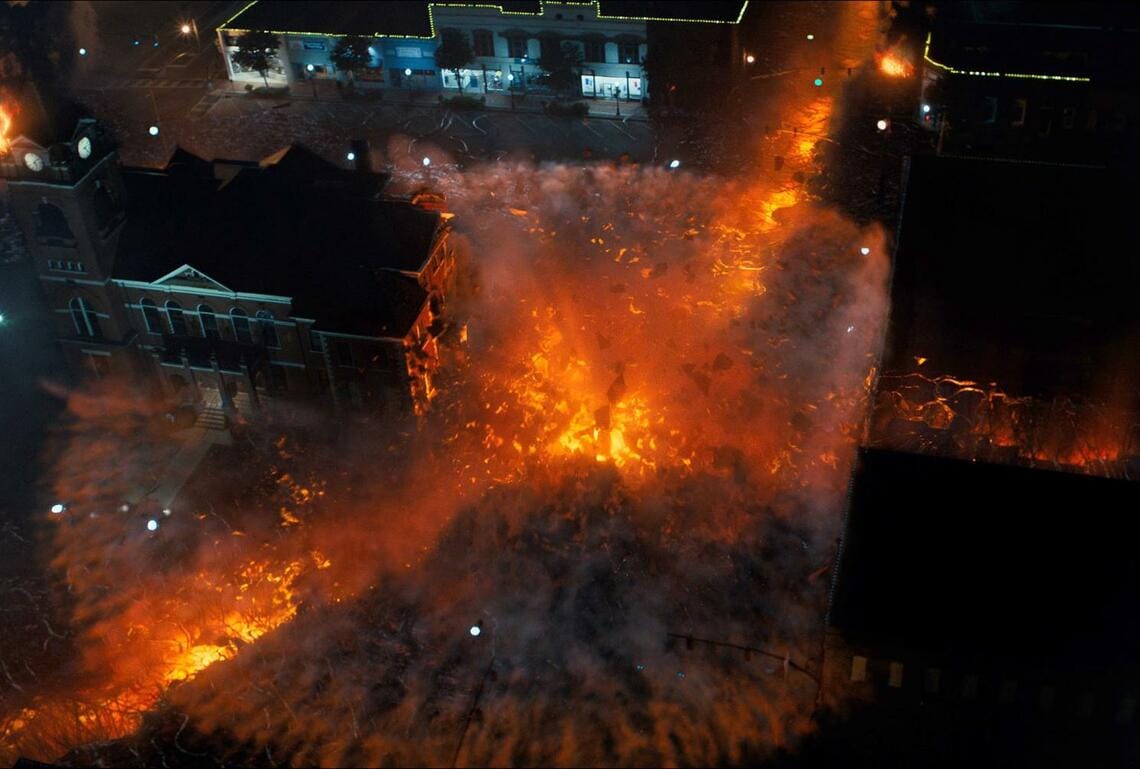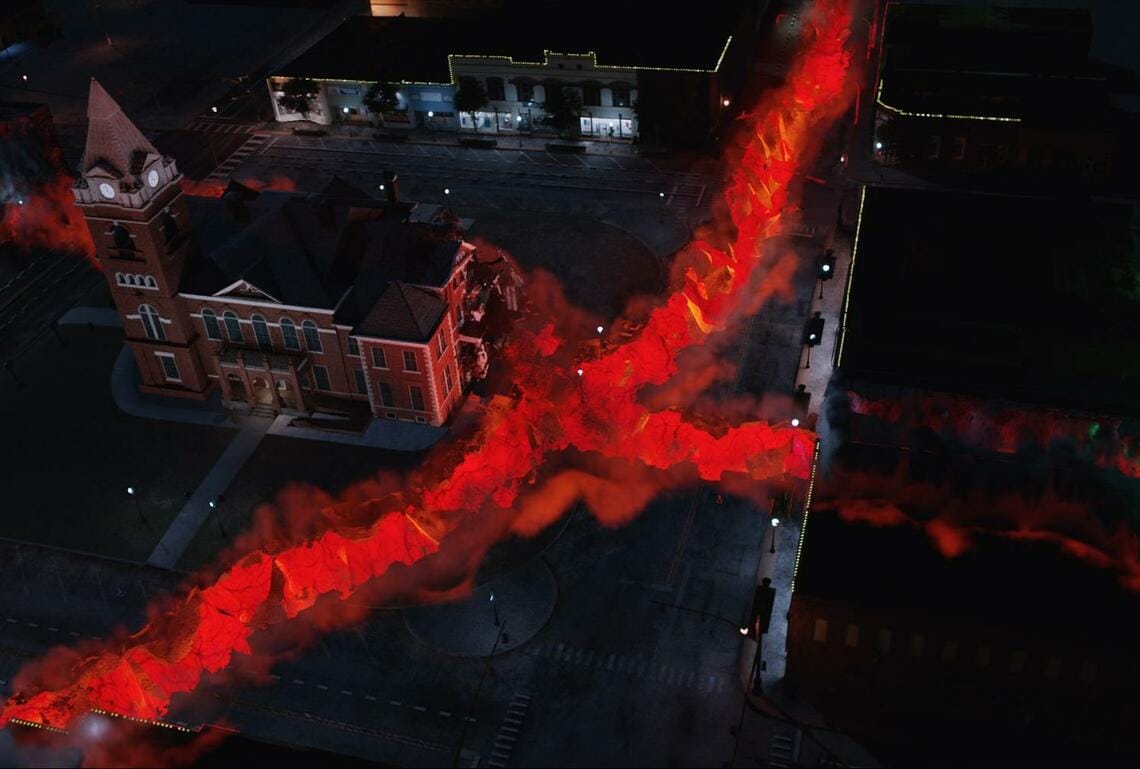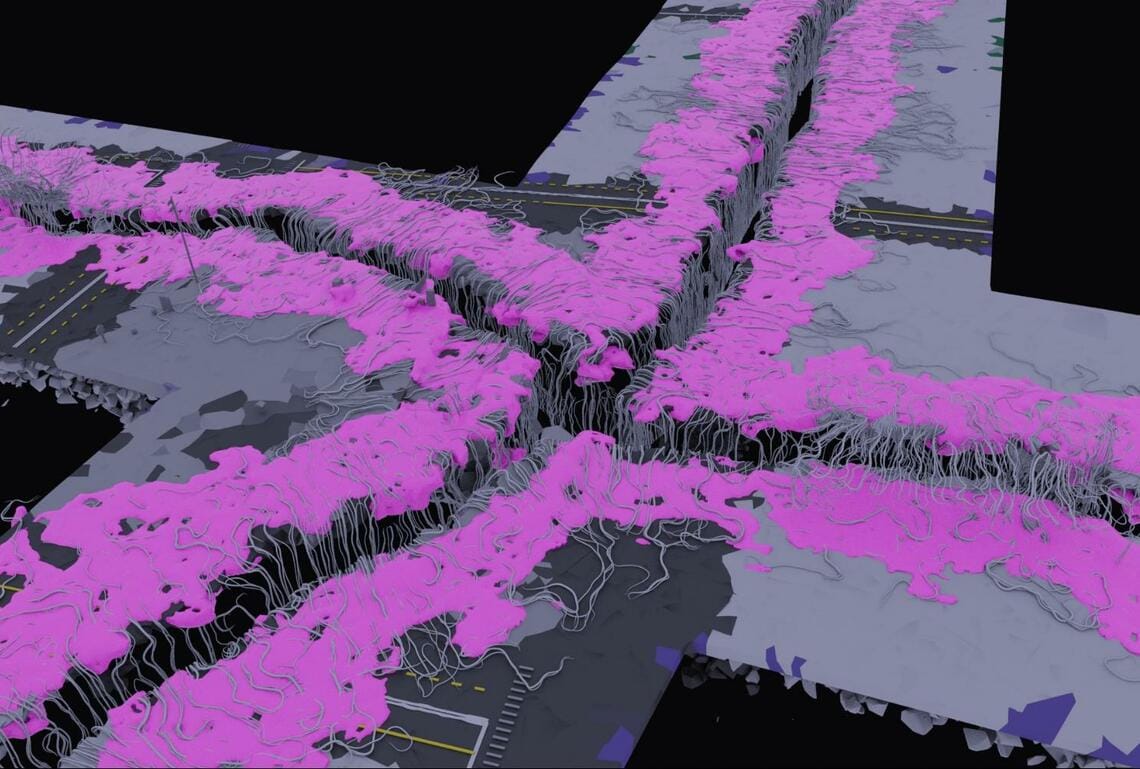 Rifts Apart
Stranger Things 4 sees various rifts open across Hawkins, shattering the barrier between our world and the nightmarish realm of the Upside Down. It's a defining moment for the show, as the level of threat expands beyond anything we've seen before and Scanline's VFX work had to ensure that the audience felt the danger.
"There are so many rifts this season, appearing at different scales, in different materials and environments," says Mitchell. "We had to develop a common language between them." Scanline used almost every 3D trick in the book to pull off these shots, cooking up a cocktail of rigid bodies, cloth, soft bodies, fluids, hair and particles to visualize doorways that could spell doom in season five.
By far the most complex rift came in Chapter Nine, Scanline's biggest episode of the season. As rifts carve their way across Hawkins, destroying everything in their path, one opens at the bottom of Lover's Lake. Realizing that the real-world effect of such an event would be decidedly uncinematic, like a bath emptying, Scanline utilized their creative license. "We had to devise a visual representation that was more dynamic, which is why we've got these two facing waterfalls that tear across the lake," Mitchell explains.
It's exactly the kind of effects-heavy sequence that would devour rendering resources without a tool as robust as V-Ray. Scanline made extensive use of the denoiser to get shots through the pipeline efficiently, achieving stunning renders in a practical timeframe, a crucial advantage when you have 220 shots to deliver across eight episodes of television.
Scanline VFX © 2022 Netflix
Chapter Vine
From slithering vines to flying bat creatures, everything living in the Upside Down is part of a villainous hive mind. For Chapter Nine, Scanline added CG vines inside the creepy Creel House that come alive, animating their interaction with the actors and adding FX spores, dust and atmos to emphasize the eerie atmosphere.
"The vines are in many shots that are part of the Upside Down," says Mitchell. "Most of them are created and dressed by the art department, but in this sequence, they needed to really move." V-Ray's speed meant that Scanline could iterate with different levels of subsurface on the CG vines, deciding, in the end, to scale back and balance a slimy, organic feel with the look of the physical vines on set.
Scanline used a digital replica of the Creel House to animate the vines and matchmoved the actors' on set performances for the terrifying moment that the vines grab hold and pin them to the wall. On-set elements helped to integrate the CG vines in the scene and V-Ray ensured realistic shadows and reflections, perfectly integrating with the practical effects.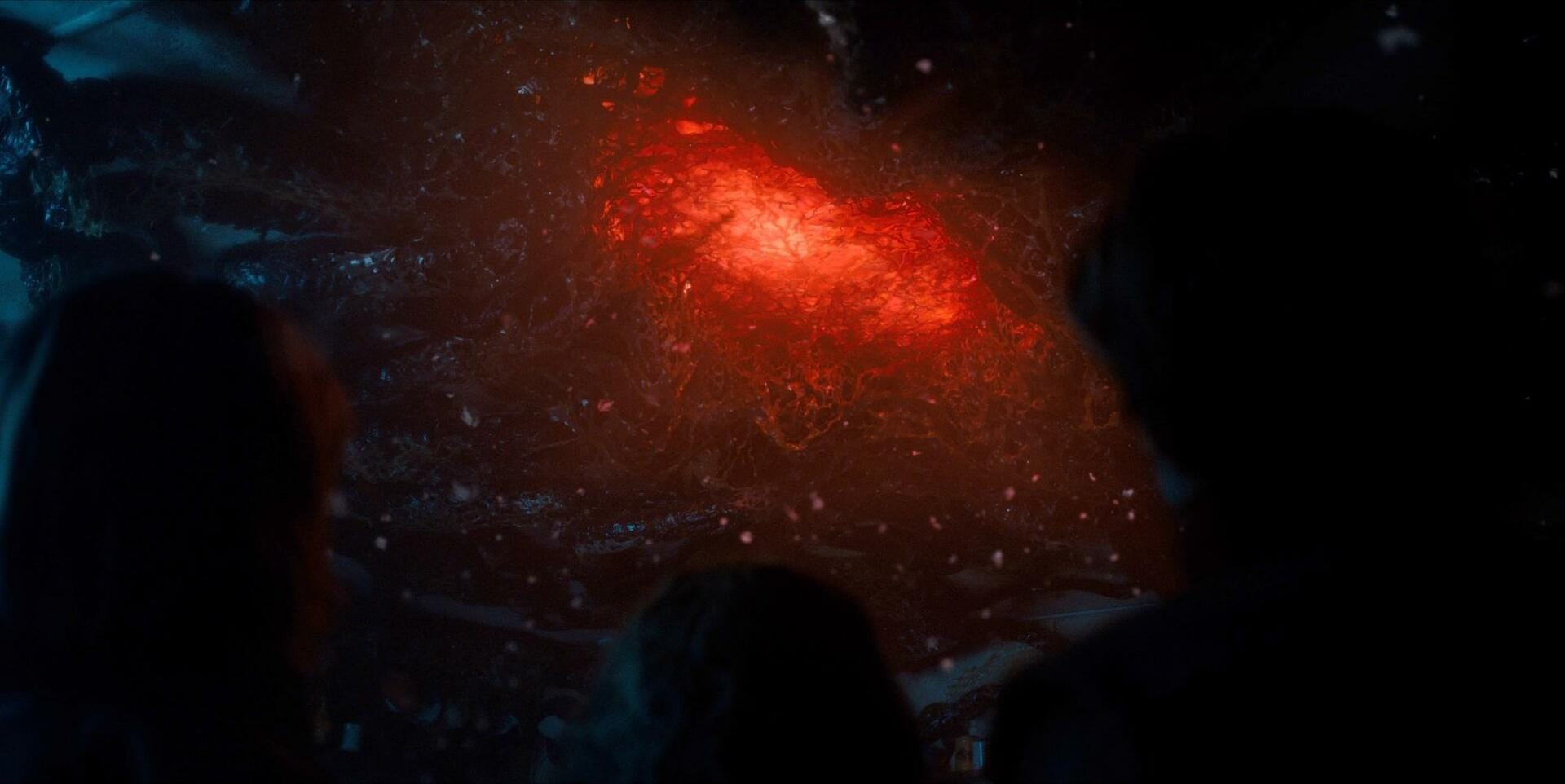 ...what you really want is a renderer that's robust, fast, and just works. That's definitely the case for V-Ray."

Justin Mitchell, Scanline VFX
The Upside Down is characterized by its unearthly atmosphere and the sequence was made all the more difficult by the kids' flashlight beams intersecting with various atmospherics. Scanline undertook painstaking work to layer elements in front and behind the volumetric light emanating from the flashlights, something V-Ray's light and atmospheric tools make it uniquely qualified for.
With several shots across the season needing as many as a hundred render passes, V-Ray's denoiser was crucial to delivering high-quality renders within a practical time frame, without devouring resources. While it's far from the most exciting feature, it's a reminder of the importance of reliability on projects like Stranger Things 4.
"V-Ray has a lot of great advanced features," says Mitchell, "but what you really want is a renderer that's robust, fast, and just works. That's definitely the case for V-Ray."
Be runnin' up that hill.
Try V-Ray free for 30 days.