INK is an award-winning creative studio working with technology brands. Read how its experimental approach to 3D rendering software simplifies complex ideas.
After the fun "Bloated Motors" series, it was back to business for INK. Technology company Amazfit reached out to the London-based creative studio to make a short film to launch its Verge 2 smartwatch. For INK, this was an ideal opportunity to create something unique, innovative and exciting.
"We're moving more and more into abstraction," says David Macey, INK's Founder and Executive Creative Director. "Our belief is that if you're going to make it in CGI, why not make something that isn't possible and show something that hasn't been seen? We're challenging ourselves to be more agile, more experimental with the software."
To iterate more quickly, INK is expanding its pipeline, adding Cinema 4D, Maya and Phoenix FD to its staple workflow of 3ds Max with V-Ray for 3ds Max 3D rendering software. We asked David, as well as Creative Director Miles Christensen, Senior Compositor Ruxandra-Elena Sandu and CGI Artist Hermun Mehat to explain how this bigger toolset is allowing INK to flow in new creative directions.
Pitching a project in Silicon Valley
Like many tech companies, Amazfit has located its design headquarters in Silicon Valley. The company contacted INK after its industrial designer saw the company's mold-breaking (literally!) campaign for sneaker manufacturer Asics Tiger. David happened to be in the United States at the time, so he grabbed the opportunity to meet Amazfit's design team.
"Miles put together a treatment and an idea, with a mood reel and a broader storyboard, and we pitched a treatment based on ideas they had about tranquility and a zen-like world," says David. "We had a collaborative discussion with Amazfit, which helped us better understand the message they wanted to communicate to their audience. They liked the idea and the way we approached it. We got on really well with them — and they commissioned the project."
Using Phoenix to develop ideas
The Verge 2 watch has a luxurious design that belies its very reasonable price tag: ripple glass which is convex, rather than concave; a gold crown (the multi-functional navigation button on the side) and a distinctive ice-hockey-puck shape. These were elements INK had to communicate via the product film.
"We decided to set it up in a way that we could create an 'Amazfit world,' as it were, which was all these things," explains Miles. "We wanted to have a reveal of the watch and we thought water could be an interesting place to develop some simulation-type things. We started off with whirlpools, but the notion of something draining away just wasn't really working — it was like a plughole!"
Phoenix FD for 3ds Max gave the INK team an opportunity to explore how a super-real fluid dynamics simulator would work in their pipeline. The results they got were impressively hyperrealistic — something they'd expect to see in a dramatic, VFX-heavy blockbuster. Adding more tools into their arsenal, they also tried out Cinema 4D to experiment with anti-gravity, deformers and ferrofluid metaballs to explore from a more abstract approach.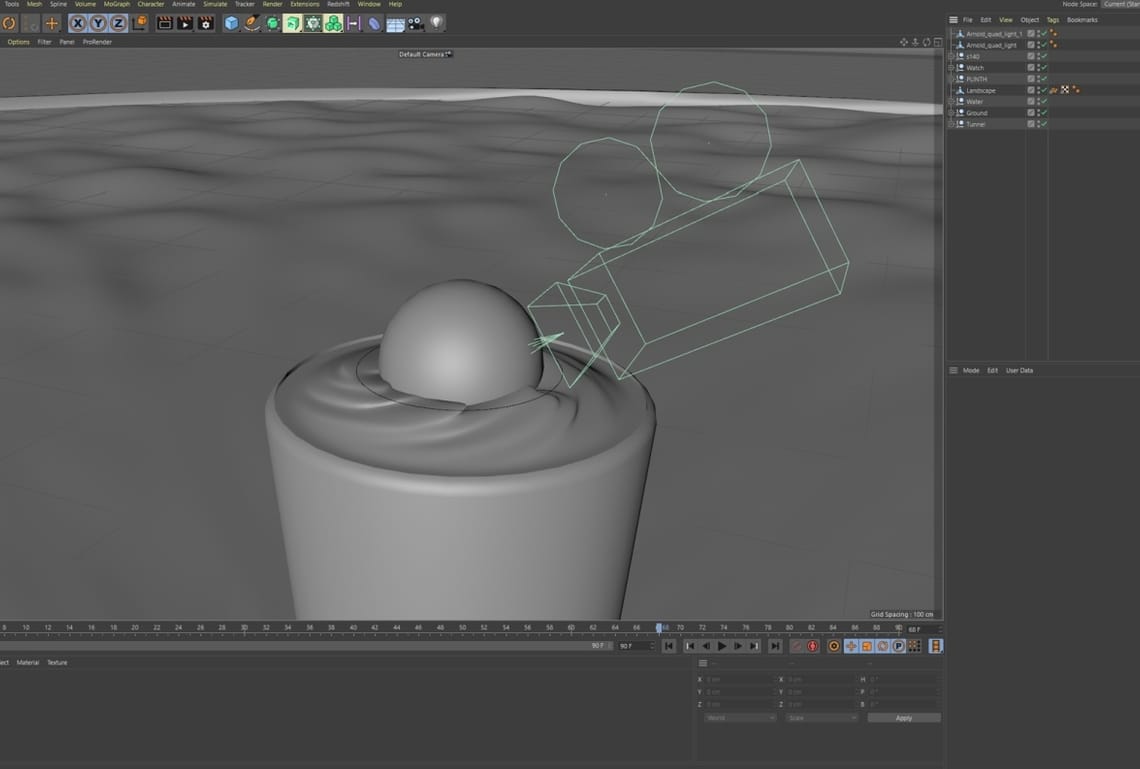 "I did a bunch of tests with Cinema 4D, and I could pre-viz shots quite quickly and then just port it over to 3ds Max and V-Ray, or reimagine in 3ds Max with the same toolsets called different things," says Miles. "And that gave us an interesting look — you could sculpt it as well, you could art-direct where the water was going."
Modeling a 3D watch
As it emerges from the ferrofluid surface, the watch slowly and elegantly morphs from a blank disc to its final form. CGI Artist Levente Szatmari worked from CAD data supplied by Amazfit to create a mesh that would be easy to manipulate into morph shapes in Cinema 4D.
"We had the basic circle puck, then one with a hole in it, one with the button half, and three-quarters, and fully out," says Miles. "We could animate across those morph shapes and get it really smooth. We did the same thing with the lugs which hold the strap, but they would articulate out. That was tricky to do because it looked a little bit sci-fi, like prongs coming down. It was a lot of work just to do some very simple moves."
The magical light ring
Inky black liquid and twilit skies helped build the mood for the Amazfit project — but they also made it hard to give the watch definition. Enter the light ring, which accentuated the shape of the waves and the form of the watch, with the added bonus of echoing its black-and-gold color scheme.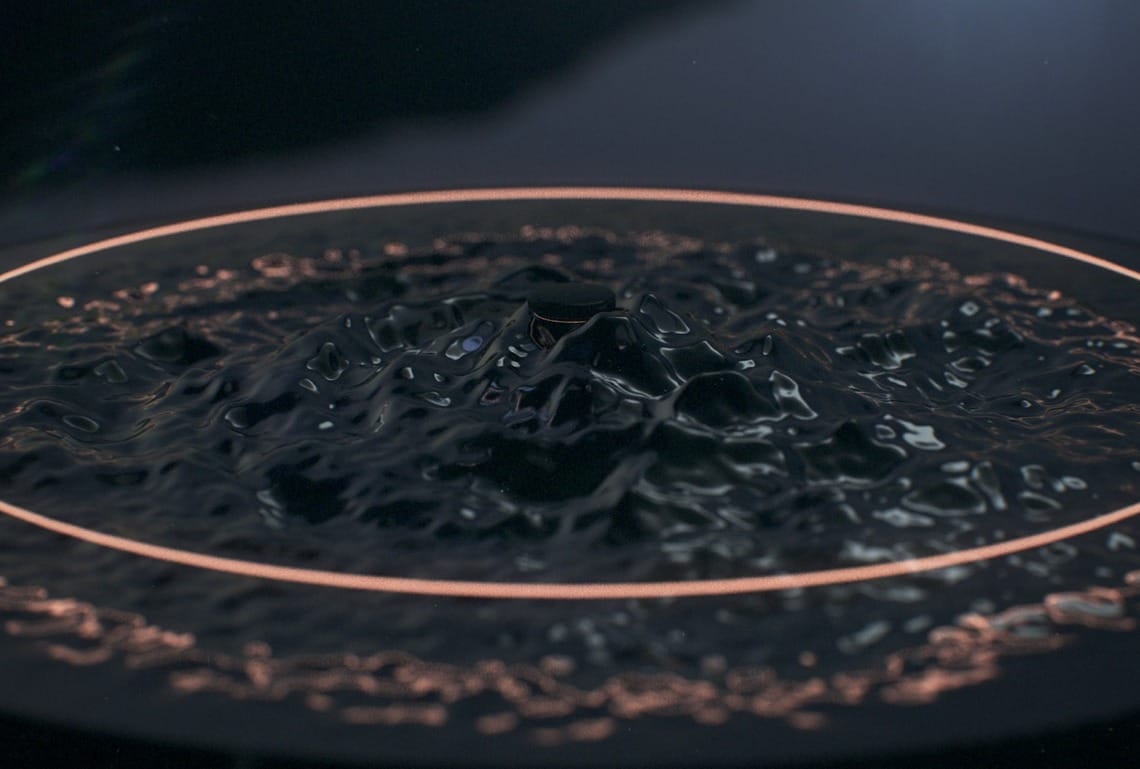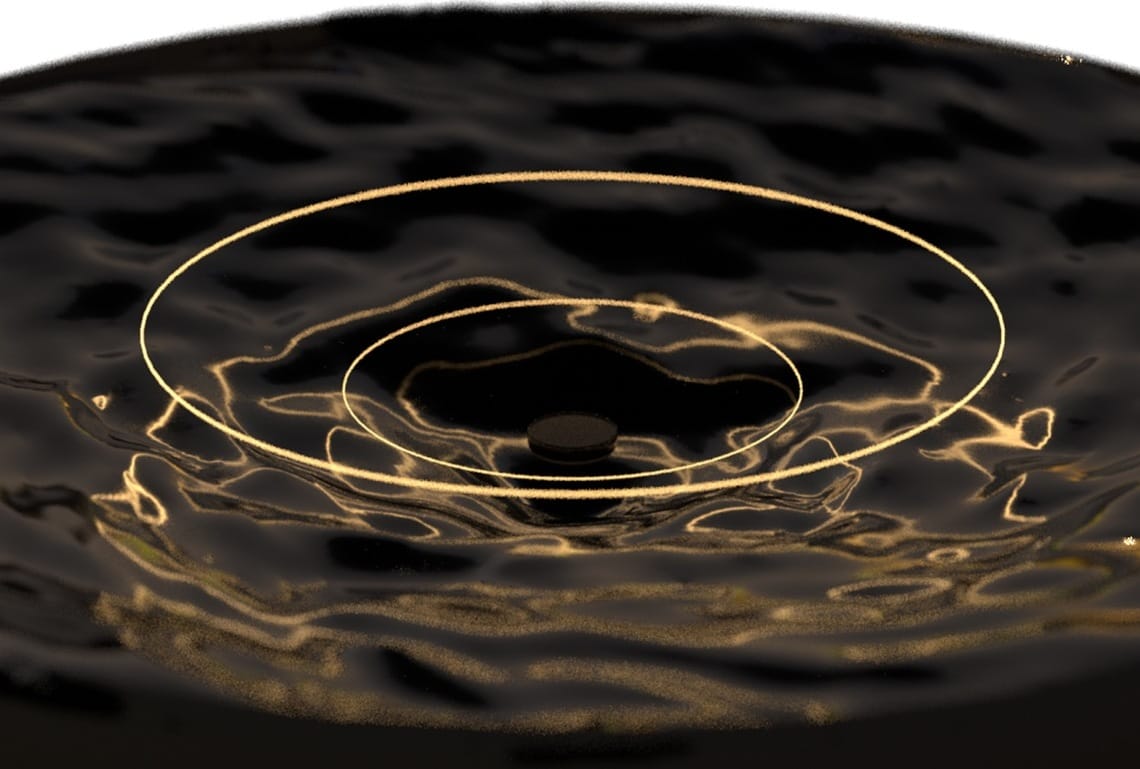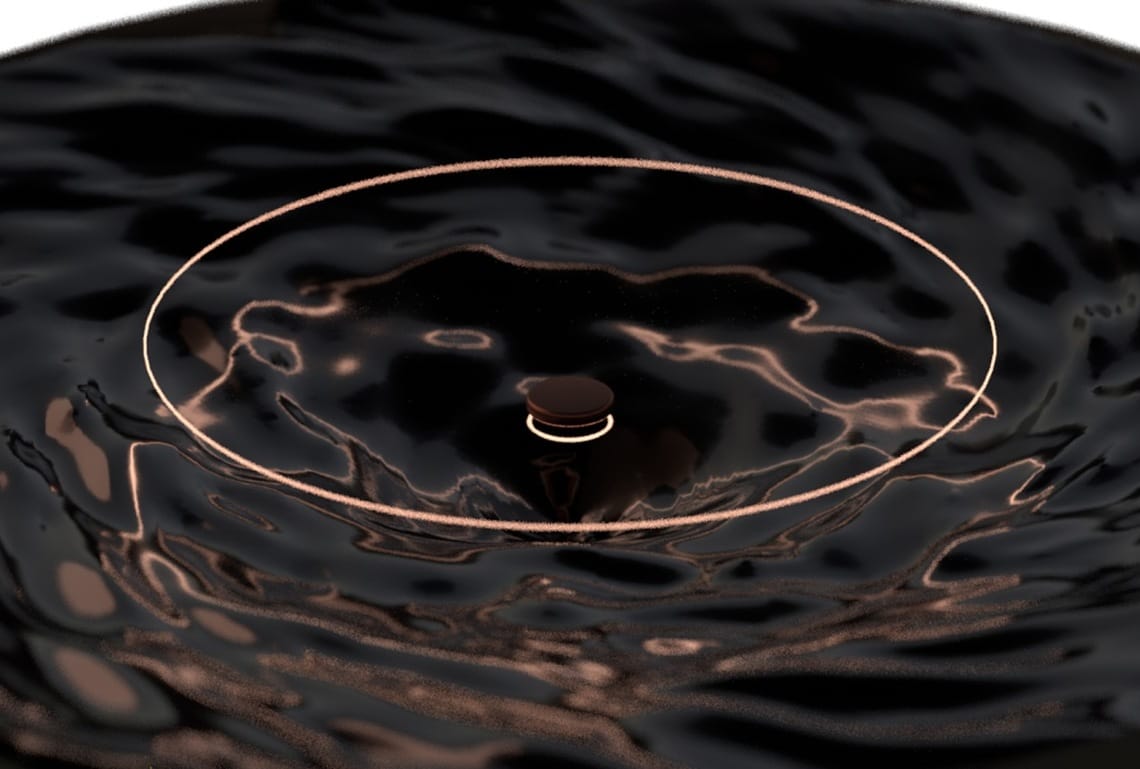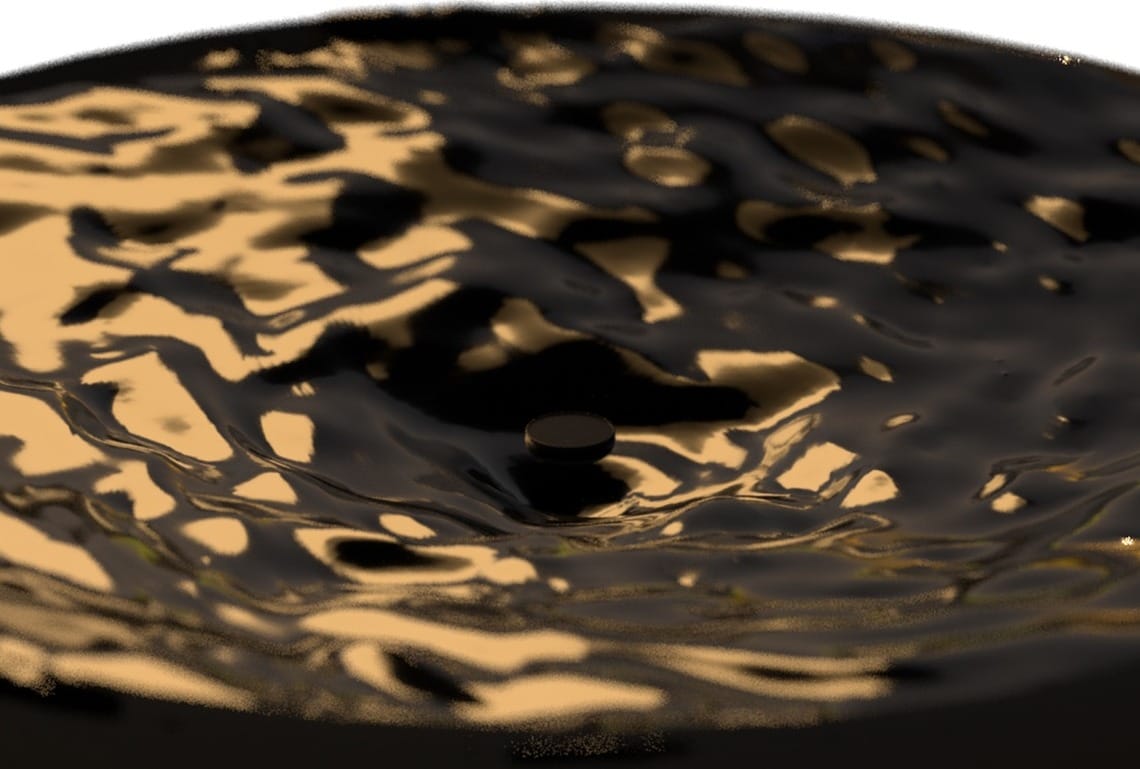 "We'd have a weekly call with the client where we present all our development work," David recalls. "We showed him the light ring — and there was just silence. We asked him if he liked it and there was nothing. So we thought, 'He doesn't like it.' We did a load of dev work where we took the light ring out. We showed it to him the following week, and he was like, 'Where's my light ring!?' And we were like: 'You liked it?' And he said, 'I loved the light ring!'"
Zen and the art of mountain maintenance
The low peaks of Amazfit's world subtly give a feeling of wide, open space — but it wasn't always this way. Kamen Sirashki, INK's technical director, initially created the landscape in 3D, but the mountains looked dark, ominous — and a bit too James Bond-y.
"When we rendered it, the horizon line was completely different, and when we put the mountains in the reflections came over the watch," says Hermun, who handled the lighting on this project. "In order to make it neater I squashed everything, so it's just a slight reflection of the mountains. This made the watch look way better."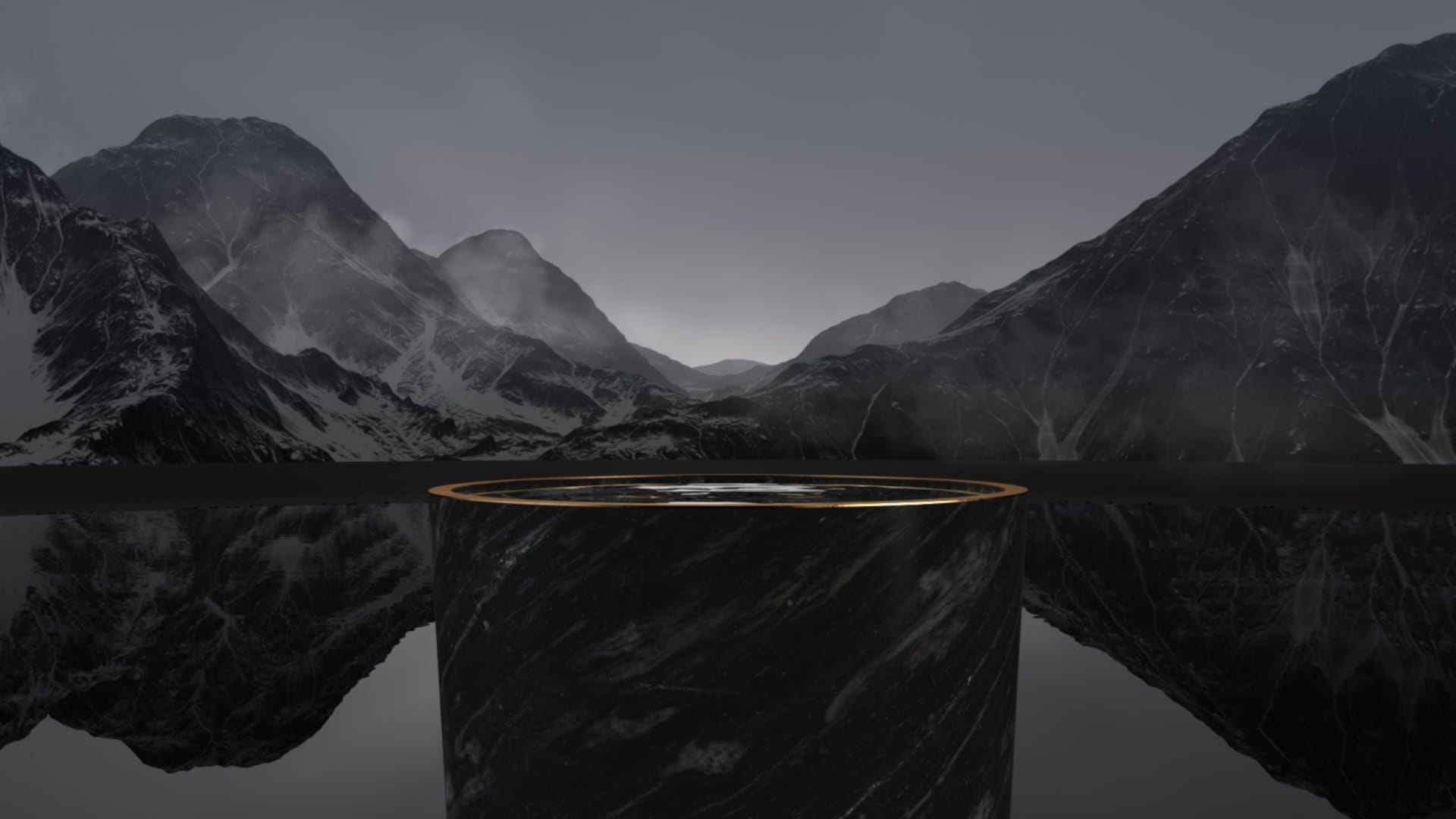 It was also around this stage that the project clicked into place. "We had to learn what zen is," explains David. "It's about how the water has to be totally aligned with the edge of the pool; the mountains have to be a certain way. We had the liquid, the pool, and then the mountains themselves — the CG came out nicely for that. That was the frame where we were like, 'That's the film!'"
Lighting the scene
For Hermun, Amazfit's levitating watch presented a similar challenge to INK's floating Bloated Motors — and he tackled the project with the same techniques.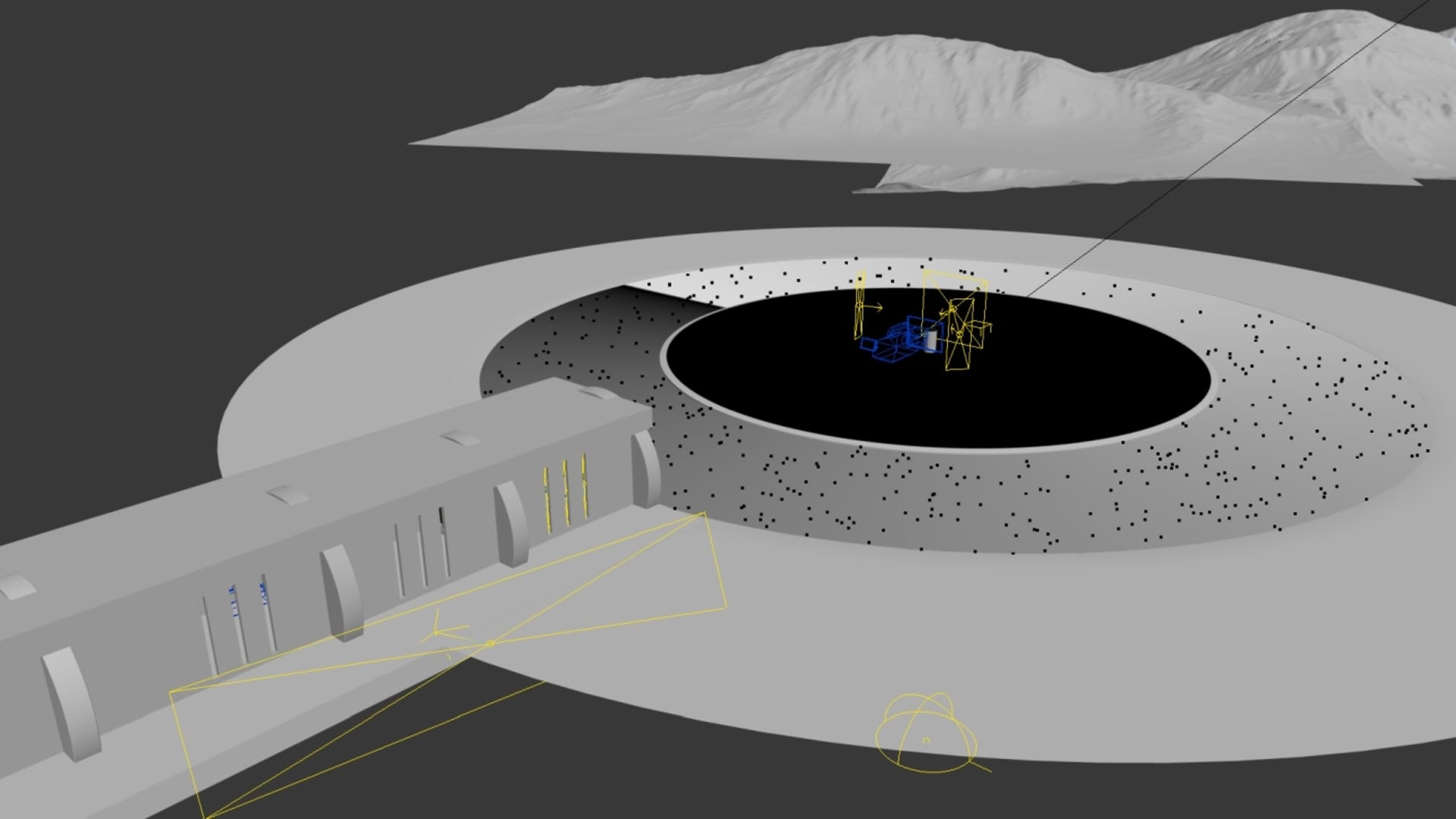 "The camera was moving in most of the shots," he says. "I would render out test renders and the lights would not match so I would have to animate the lights as well. So most of the shots have animated lights. The first time I "cheated" with gradient lights was on Bloated Motors, and then I transferred it to Amazfit as well."
Bloated Motors: The Next Generation
INK isn't one to rest on its laurels. After celebrating wretched British vehicles of the 1970s with Bloated Motors, it turned its attention across the Atlantic for its Bloated Motors USA series. Again, V-Ray for 3ds Max was used to render the piece with Phoenix FD for 3ds Max to create smoke and fog effects.
Final touches and compositing
To add a little atmosphere to the piece, Ruxandra added 3D smoke and fog elements — generated from noise — in Nuke. For more flexibility, the team rendered three passes of the setup: one without the light ring, only the light ring and reflection, and then just the actual light ring.
It was really nice to work with the renders split between the different elements. It was great to have Light Select; we could add more lights or take them out. It was really easy to control.

Ruxandra-Elena Sandu, Senior Compositor, INK
"That was great for post," enthuses Ruxandra. "We could control how bright or dark the ring is, and how blurred it is, and it was really easy to control. And the reflection was separate, so we could add more reflection or less depending on how it looked on the watch. It was really nice to work with the renders split between the different elements. It was great to have Light Select; we could add more lights or take them out. It was really easy to control."
See how far you can push your creativity with a 30-day trial of V-Ray for 3ds Max and Phoenix FD for 3ds Max.