AECOM's epic infrastructure projects span prehistory to the future. Discover how the company uses V-Ray 3D rendering software to plan and implement its visions.
The scale and scope of AECOM's work is astounding. The multinational infrastructure firm has helped plan and build the world's longest cable-stayed bridge and largest greenfield port development project, as well as the Western hemisphere's tallest building. More impressively, it's also helped millions of people with its disaster recovery programs.
AECOM doesn't just push boundaries in the real-world though. With its A303 Stonehenge project, it used a massive dataset with V-Ray for 3ds Max to create visualizations of new road infrastructure around the prehistoric monument. The firm has also built an online consultation tool to engage with a new, screen-savvy generation of the general public.
We talk to Andy Thomas, AECOM's Head of Visualization & VR, EMEA, to learn how 3D rendering software brings the company's groundbreaking projects to life.
… we love the photorealistic quality [V-Ray] can achieve, plus the ability to fine-tune parameters to meet our specific needs.

Andy Thomas, Head of Visualization & VR, EMEA, AECOM
What are some of your highlights from working at AECOM?
Andy Thomas: I've been at AECOM for nearly 10 years now, and have worked on some amazing projects. The highlights for me would be the Wessex Capacity Upgrade at London's Waterloo Station, the A303 Stonehenge tunnel and the annual Serpentine Pavilion project.
Which V-Ray tools do you use at AECOM and what do you like about V-Ray?
AT: As an organization, we use V-Ray with various pieces of software but my teams focus on V-Ray for 3ds Max.
I have used V-Ray since the first release back in 2002 and we use it extensively throughout the EMEA teams. Overall, we love the photorealistic quality you can achieve plus the ability to fine-tune parameters to meet our specific needs.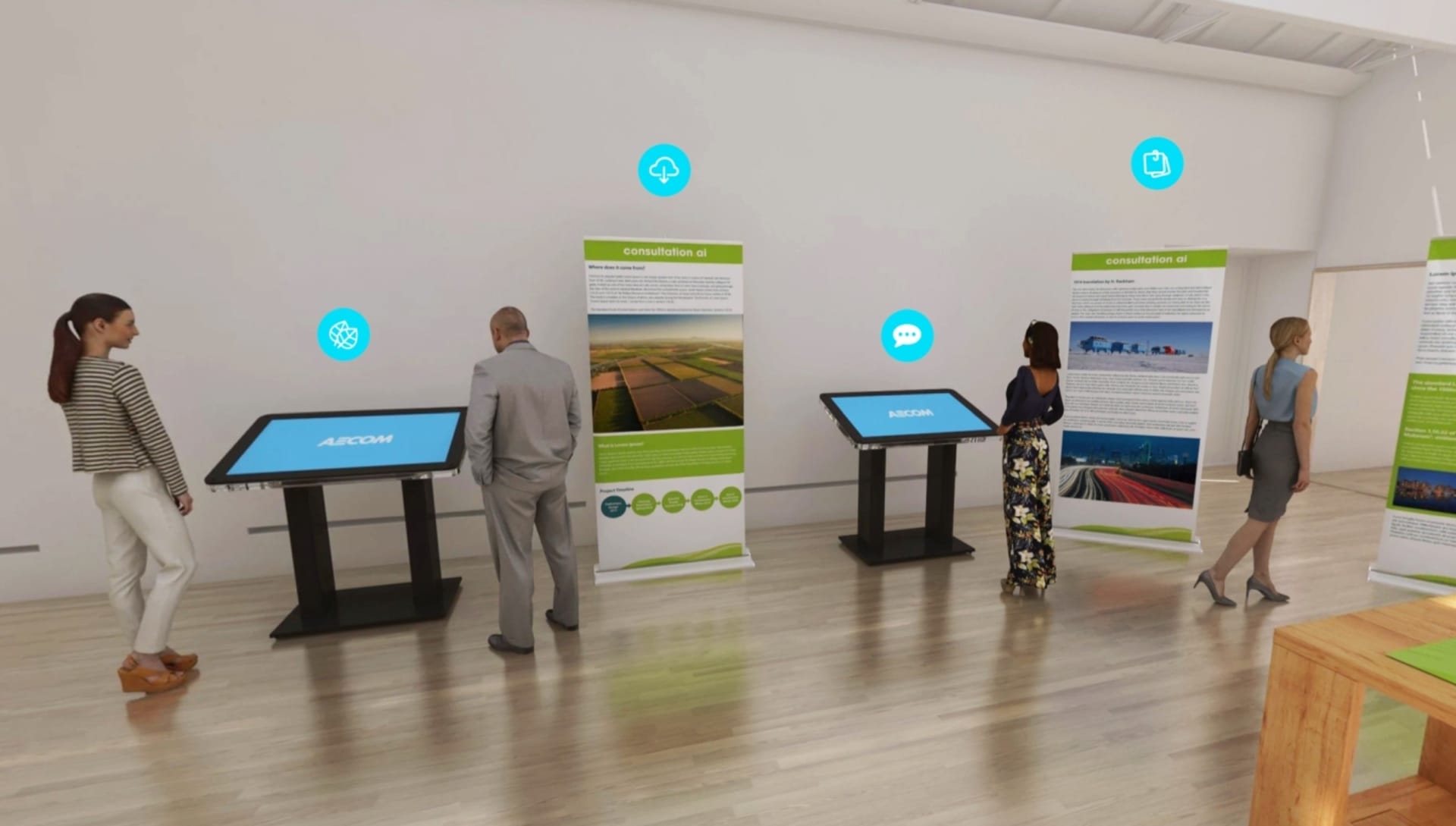 What inspired the Virtual Consultation system?
AT: Our Stakeholder Engagement team and I met in September last year to discuss how we could create a virtual platform to reach a wider demographic than those who currently turn up to traditional face-to-face events. There is a large section of society that can't or don't want to come to a public meeting. So how do we reach those people when consulting on a proposed scheme?
We came up with the idea to have a simple, user-friendly and interactive platform that works on any device. This could then be run alongside the physical public event, but it's hosted 24/7 for anyone to view at their own leisure. They can browse the exact same information (banners, maps, plans, drawings) from the comfort of their own home and even chat live or leave a message with one of the project or consultation teams.
Which problems does it solve?
AT: During the pandemic, where public gatherings are not possible, this tool has enabled many of our clients to communicate their plans and have meaningful dialogue with their stakeholders and the public.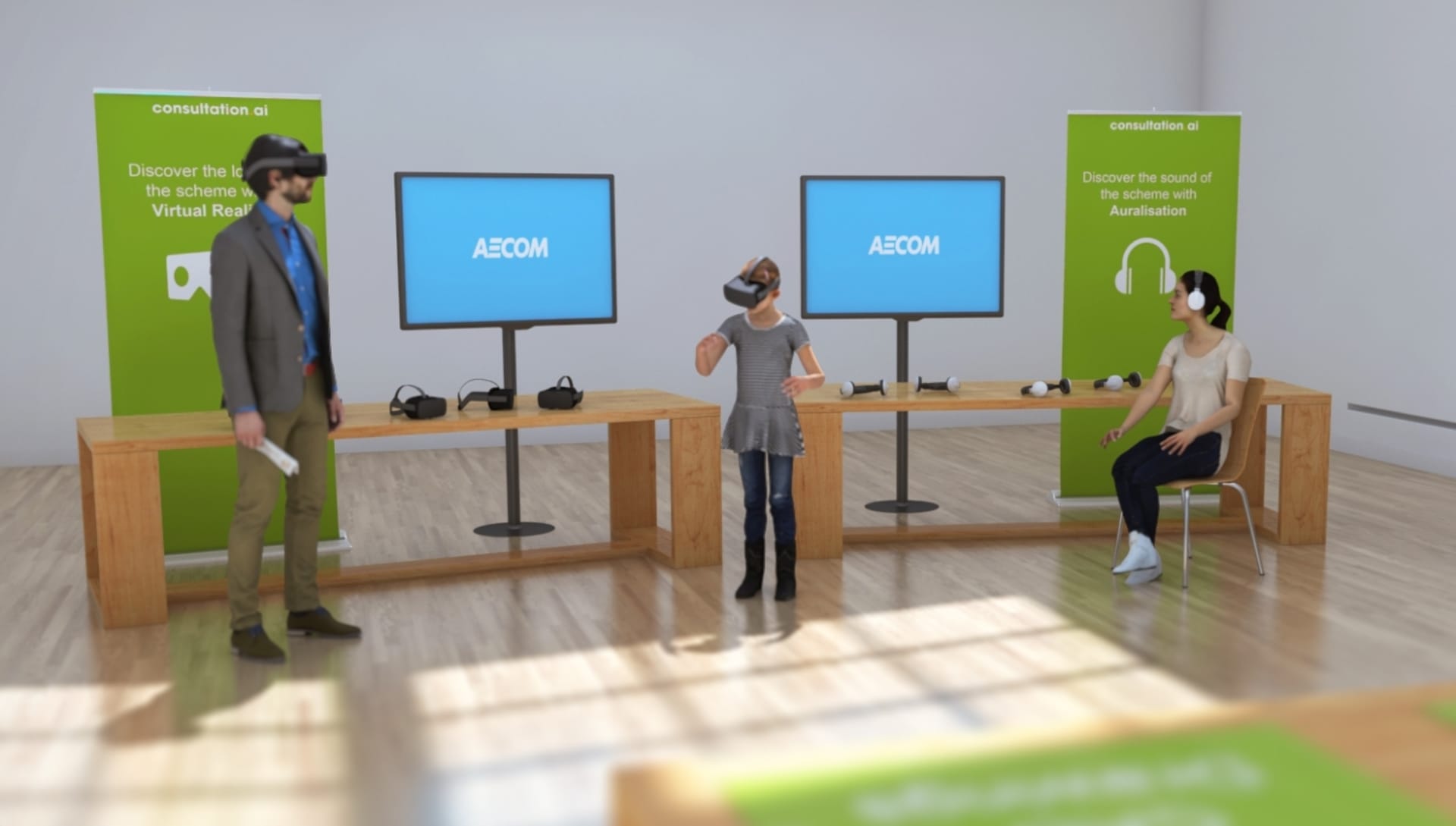 Which software did you use in its creation?
AT: The visualization of the room itself was created in 3ds Max with V-Ray for the rendering. We used Adobe Photoshop for a bit of post-production too. My team built and coded the rest of the site in-house.

How customizable is it?
AT: As we created this platform from scratch, it is extremely customizable to meet our clients' needs. We have already had requests to change up the room for other use cases. For example, it could be set up for career fairs, university portfolio showcases, and project bids and presentations.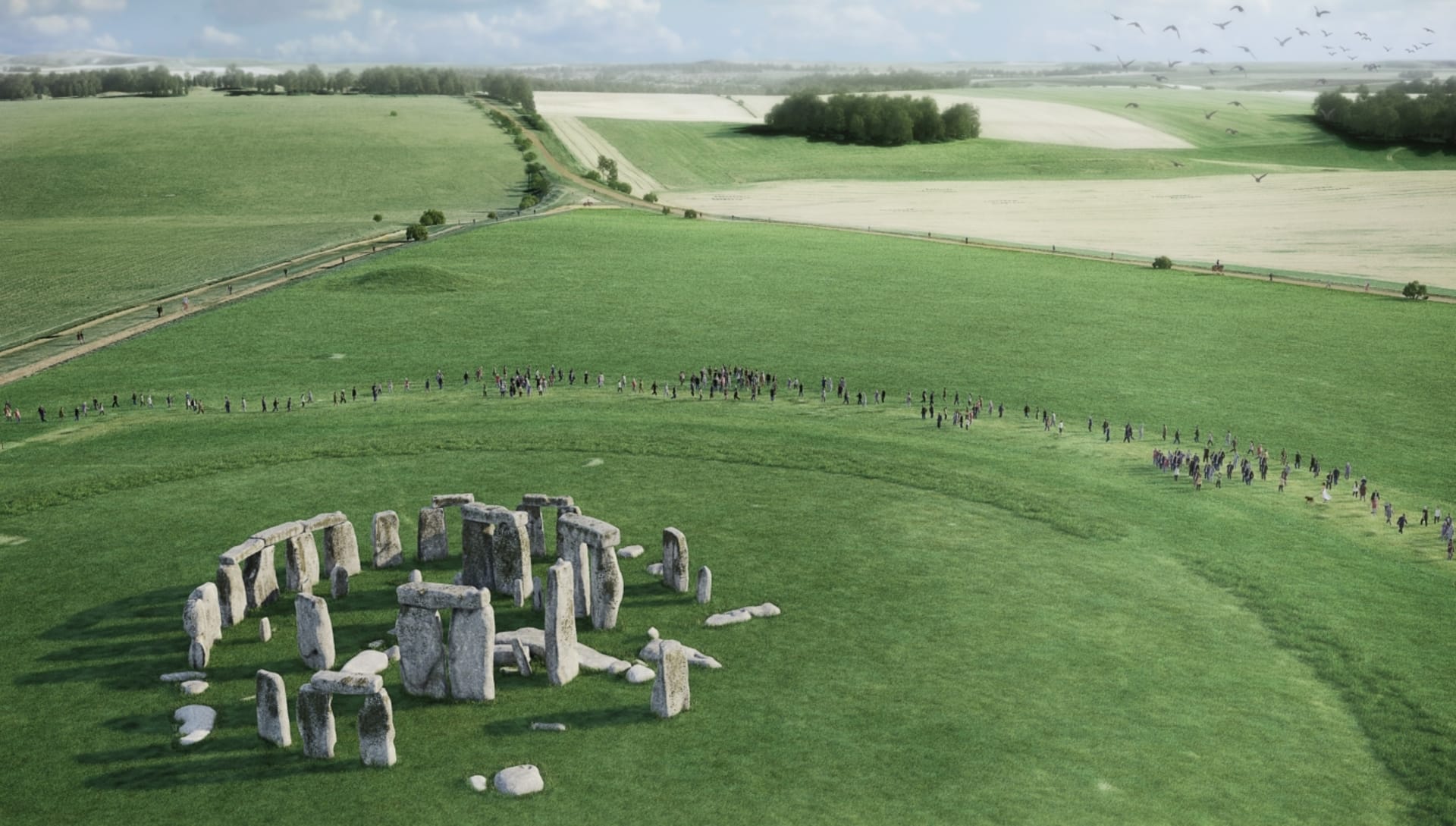 Tell us about the Stonehenge project.
AT: Stonehenge is a prehistoric monument in England with construction dating back at least 5,000 years. It sits within a wider area of ancient, interlinked sites and features that collectively form a UNESCO-designated World Heritage Site.
The A303 road forms part of the most direct route between the South East and South West of England. At present, the single-carriageway section, which runs just 165 meters from Stonehenge, creates a bottleneck, carrying around twice the amount of traffic it was originally designed for.
The current plan is to upgrade the A303 road while dropping 3.3km of the section adjacent to Stonehenge into a new twin-bore tunnel. This should create a new route that can meet future needs while protecting the archaeological site and opening up the wider landscape, reconnecting the interrelated features as they would have been thousands of years ago.
Our job was to support the multi-disciplinary design team, allowing them to visualize and communicate the design as it evolved through CGI, animations, virtual reality and photomontages.
... V-Ray had no problems handling everything we threw at it.

Andy Thomas, Head of Visualization & VR, EMEA, AECOM
How did V-Ray handle such a huge amount of data? Did you have to use any specific settings or shortcuts?
AT: Despite the vast size of the multi-disciplinary 'federated' BIM model, foliage, animated traffic — and the use of a mosaic of eleven 30k x 20k resolution aerial photographs — V-Ray had no problems handling everything we threw at it. In fact, I think we had more trouble distributing the final animation work than rendering it!
Producing mono or stereoscopic images just took a handful of clicks once we had the model set up for more conventional still images and animation.

Andy Thomas, Head of Visualization & VR, EMEA, AECOM
What are the advantages of using VR as part of the A303 consultation process?
AT: For the A303, we decided to use spherical 360-degree renders for the VR element. One of the major benefits of this approach to VR is the total compatibility with scenes already set up in 3ds Max and V-Ray. Producing mono or stereoscopic images just took a handful of clicks once we had the model set up for more conventional still images and animation.
We then combined these VR outputs with auralization (sound demonstration) techniques in a user-friendly app that clearly communicated both the landscape and soundscape changes resulting from the proposed scheme. This helped stakeholders and communities understand the proposals, provide an informed response and participate in the consultation process.
What's your approach to rendering in terms of hardware/software?
AT: At present, we use a combination of in-house rendering, using our high-spec workstations plus a couple of really high-spec desktop PCs and external render farms. For animation, we tend to use Autodesk's Backburner application to distribute across machines and for single, high-resolution images we use Chaos Group's V-Ray Distributed Rendering Spawner. There's something glorious about seeing hundreds of buckets simultaneously render!
At present, we are still very much geared towards CPU-based rendering, but will be making the transition to V-Ray GPU soon; the obvious benefits in terms of extensibility and ease of upgrade alone make this really appealing.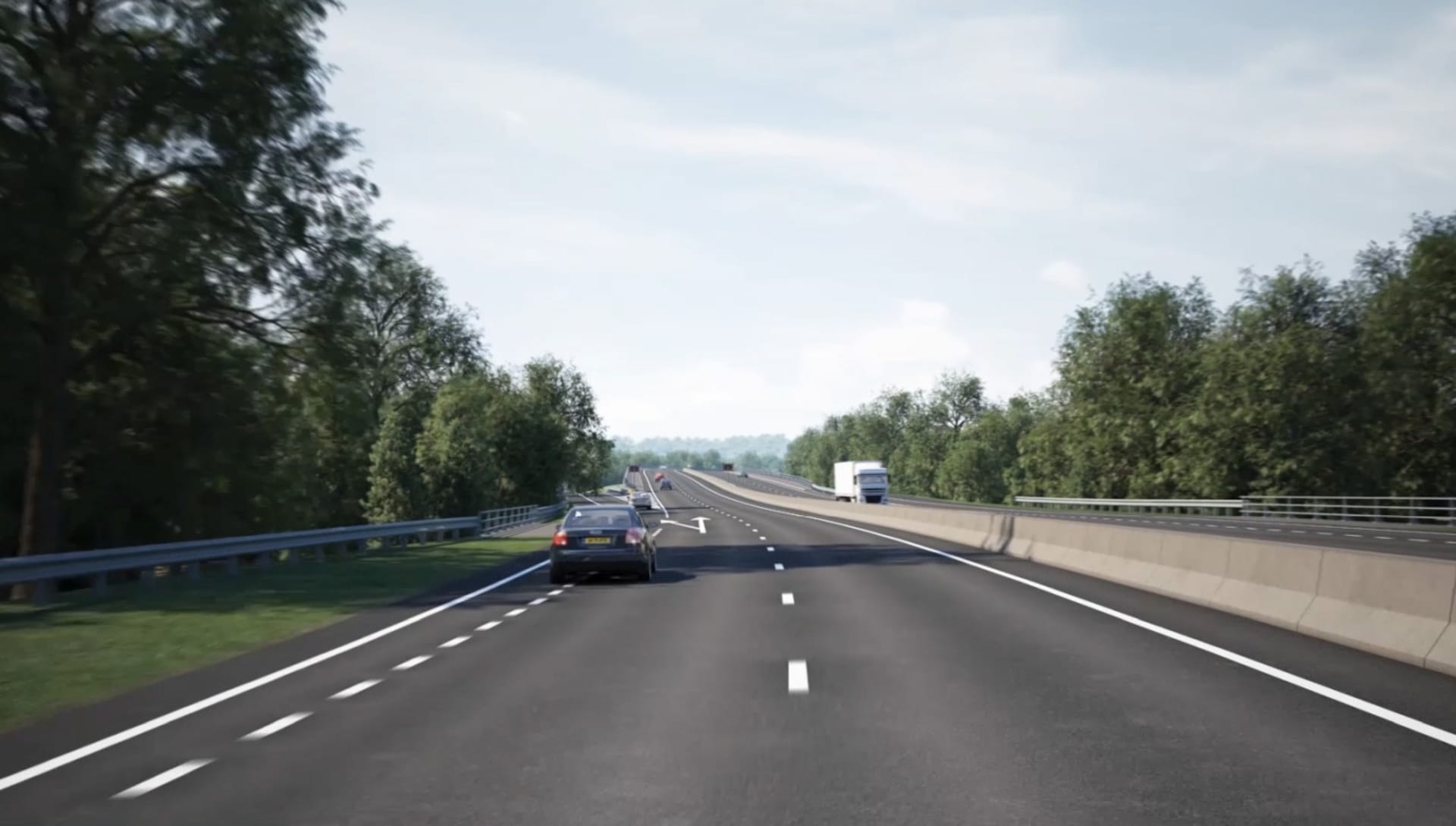 Do you have any V-Ray tips or tricks?
AT: Especially with aerial animation work: Keep it simple. Don't overcomplicate things where time is against you and the benefit may be negligible.
For instance, we tend to use the standard V-Ray Sun and Sky system for environment lighting (rather than an HDRI) on highway animations. Dynamic reflections can still be produced by using a spherical sky map in the environment slot and reflection/refraction override, with the VRaySky map powering the GI environment override. This works well with high-gloss animated objects such as cars.
What are you working on next?
AT: Right now, we are being kept very busy with the Virtual Consultation platform. We also have a series of animations coming up for some large rail clients and some CGIs and fly-throughs of a very large container port in the Middle East.
Try V-Ray
Find out how can V-Ray for 3ds Max make light work of your biggest projects.