The American Society of Architectural Illustrators visited London for its 37th conference — and Chaos was there. Discover what we learned from the industry's luminaries.
The American Society of Architectural Illustrators (ASAI) is an international organization dedicated to advancing the art and profession of architectural illustration and visualization — whether through watercolors and charcoal or photorealistic rendering tools such as V-Ray.
Every year, the ASAI gathers its members in cities around the world for its Architecture in Perspective International Conference. This year's meeting took place in Shoreditch, London, and it was hosted by arch viz studio Binyan's affable founder, and current ASAI president, Andrei Dolnikov. Andrei was joined by 15 industry professionals, including architects, designers, filmmakers, and developers, who took to the stage and delivered their thoughts on the world of architecture.
Each and every talk was filled with amazing insight and advice that could be applied to creative processes both within and outside the architecture industry. Here are five tidbits that particularly stood out.
Sustainable ≠ invisible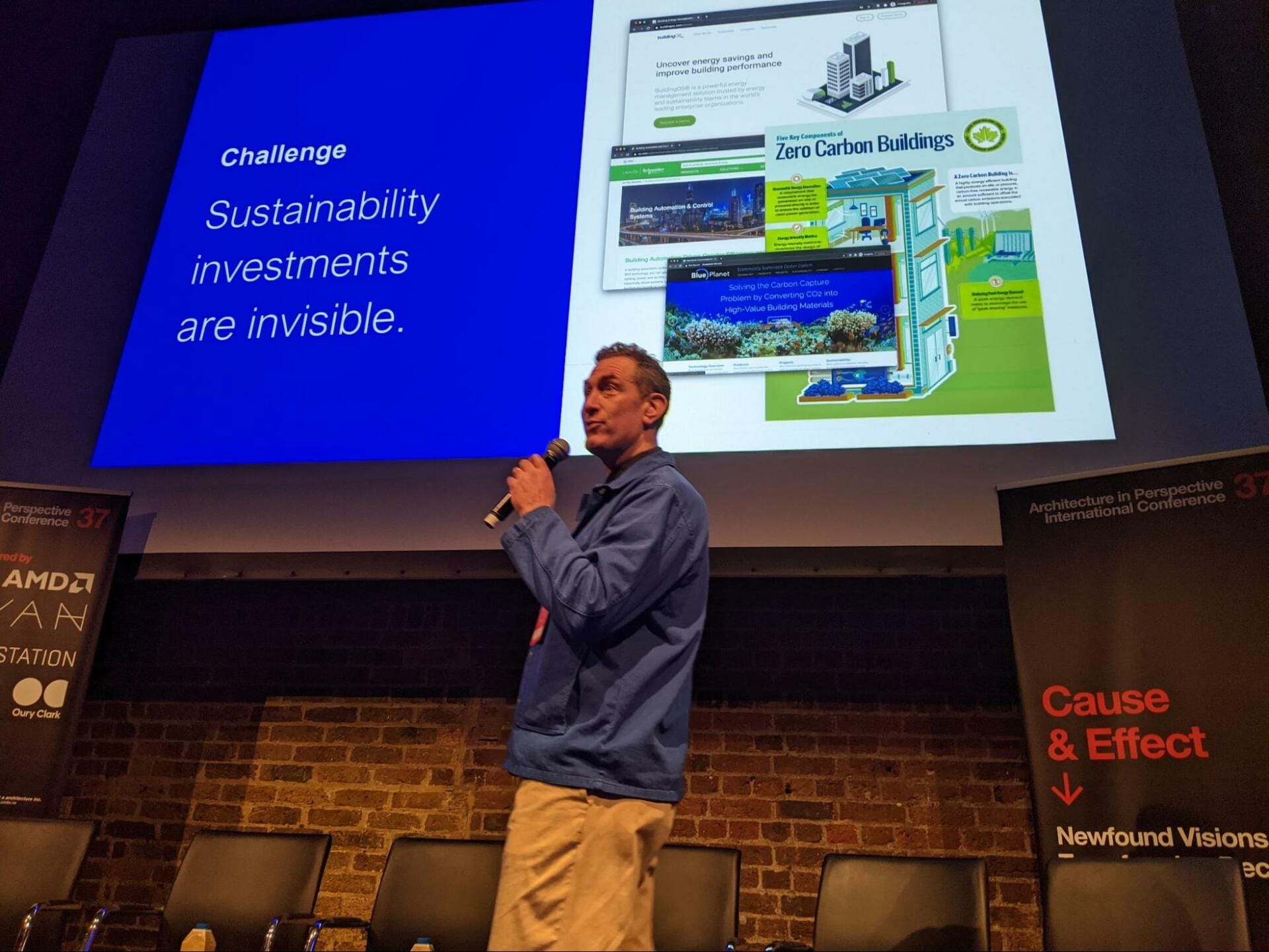 Reused building materials, energy-efficient design, and waste reduction are important assets for any modern construction — but they're not always immediately apparent. In his talk, Hush's Founding Partner David Schwarz demonstrated the up-front eco-centric design features the studio created for United Therapeutics' Unisphere building. Visit this mixed-use site and you'll find an Energy Wheel that demonstrates how much power the building is absorbing or emitting, an Energy Dashboard for stats on how many kilowatts the lights and A/C are using, and visuals that explain the clever technology that helps the structure hit net-zero.
The result is a building that immediately feels more connected to its occupants and empowers them to make decisions about how much energy it uses.
Start with feelings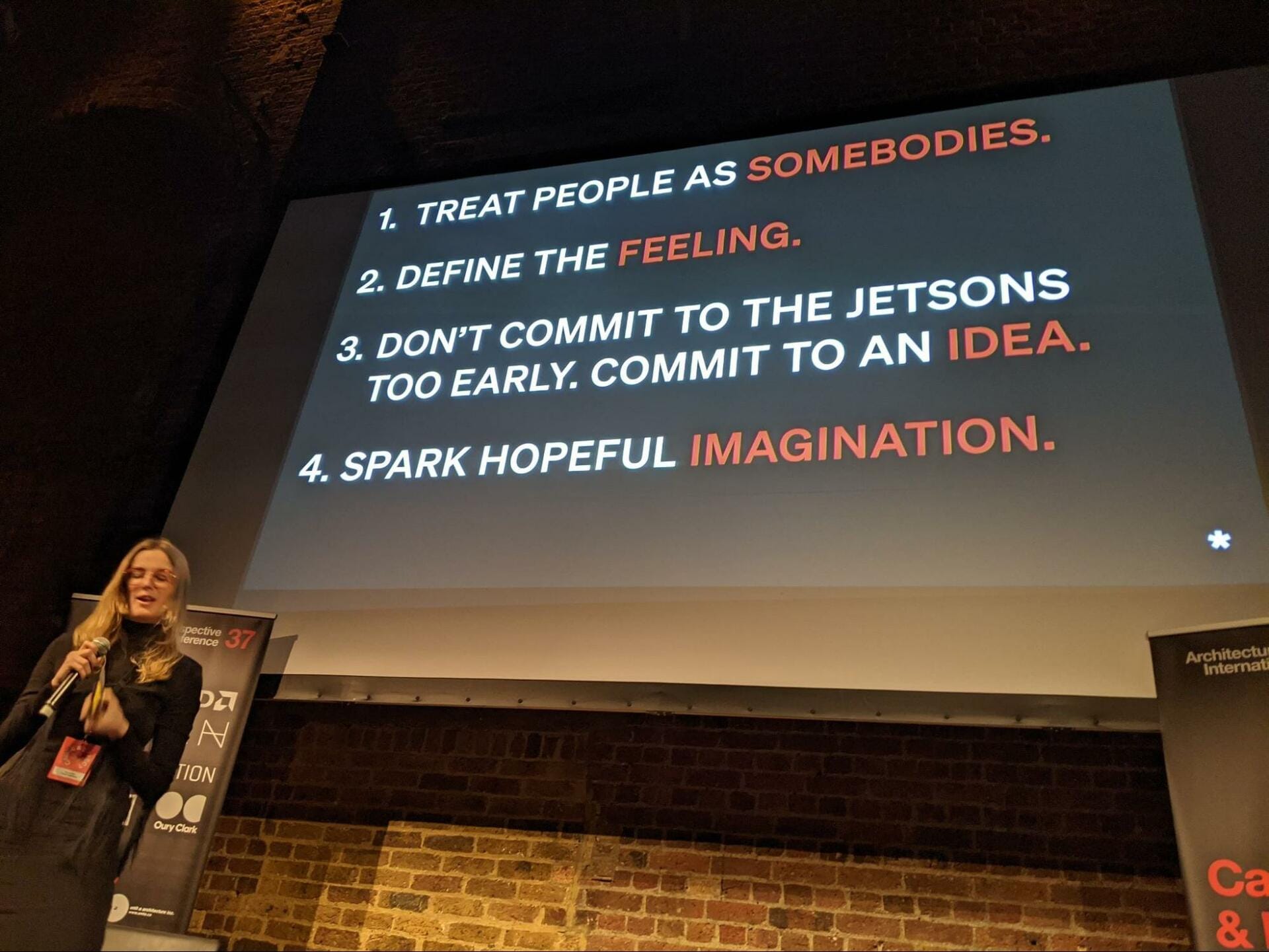 Frost*collective is a Sydney, Australia-based company that specializes in human-centric design. Strategist Rebecca Mills revealed her approach to creating welcoming, harmonious spaces: start with a feeling, and work backward to get there. Citing the example of an aerospace center in Sydney, she engaged with the people who would work there. "They wanted places that were as beautiful as they were functional," she said. "To them, concrete was the enemy."
Overused phrases can become meaningless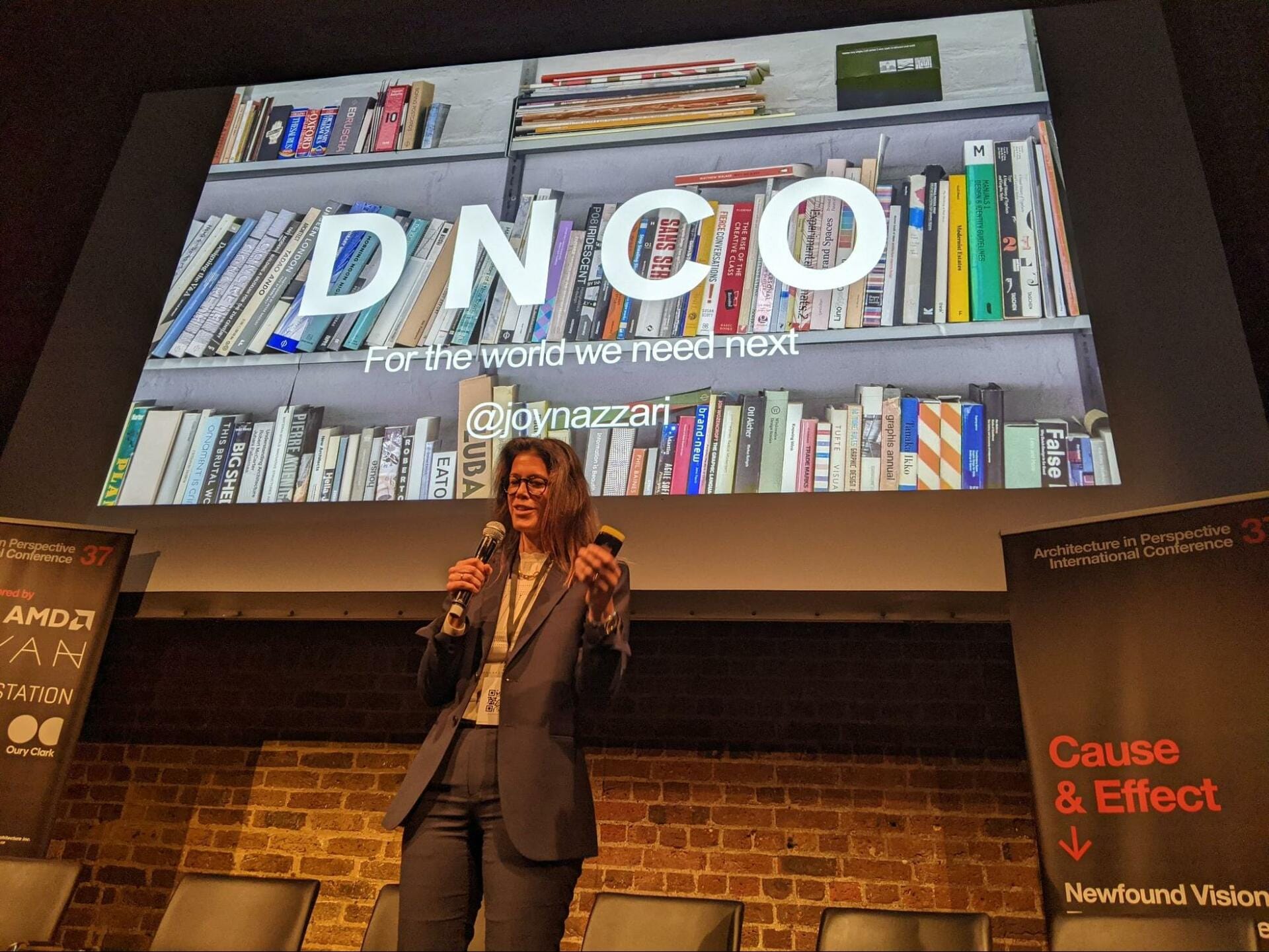 Design and architecture marketing thrives on catchy slogans — but sometimes, they can become saturated to the point of obliteration. According to Joy Nazzari, "Live, Work, Play," is one such phrase. The DNCO founder pointed out that one of her relatives was technically able to Live, Work, and Play every day — even though he was in prison. Joy also offered a crucial piece of advice for London-centric projects: "Never use the word 'bus' in London as it sounds slow," she said. "Use 'shuttle.'"
Corporations can help urban design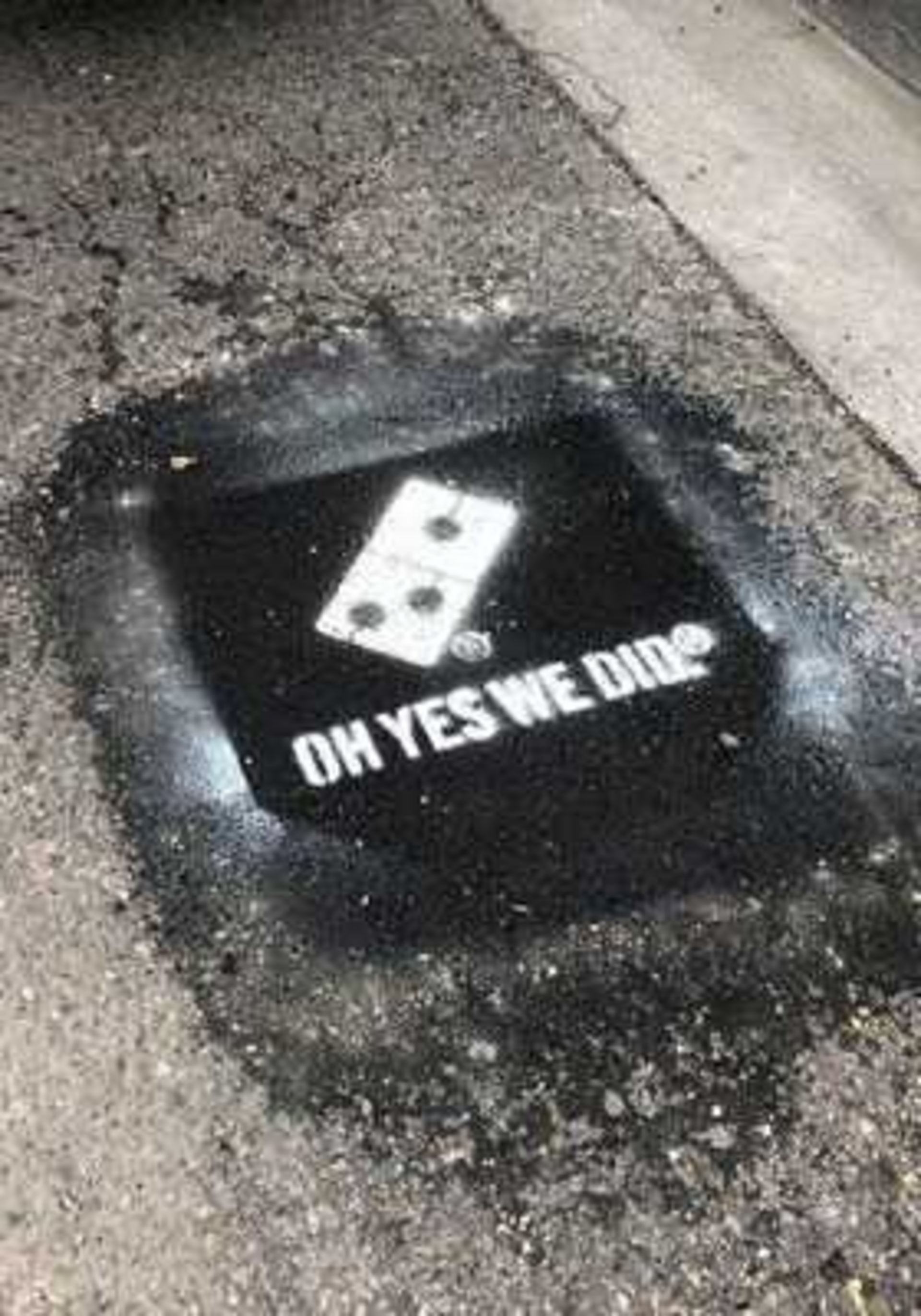 Unlit streets and bumpy roads can be the difference between cities feeling welcoming and hostile, and both can cause bigger problems such as higher crime rates and accidents. Brand strategist Sergio Brodsky cited two examples where companies combatted these issues: Indian technology company Halonix placed illuminated billboards in Delhi's darkest areas, while US takeaway chain Domino's filled in potholes in its Paving for Pizza campaign.
It's a win-win solution: not only do residents get to live in nicer, safer places but the brands are associated with altruistic activities. Plus, your pepperoni stays firmly attached to your pizza.
Stay curious; avoid trends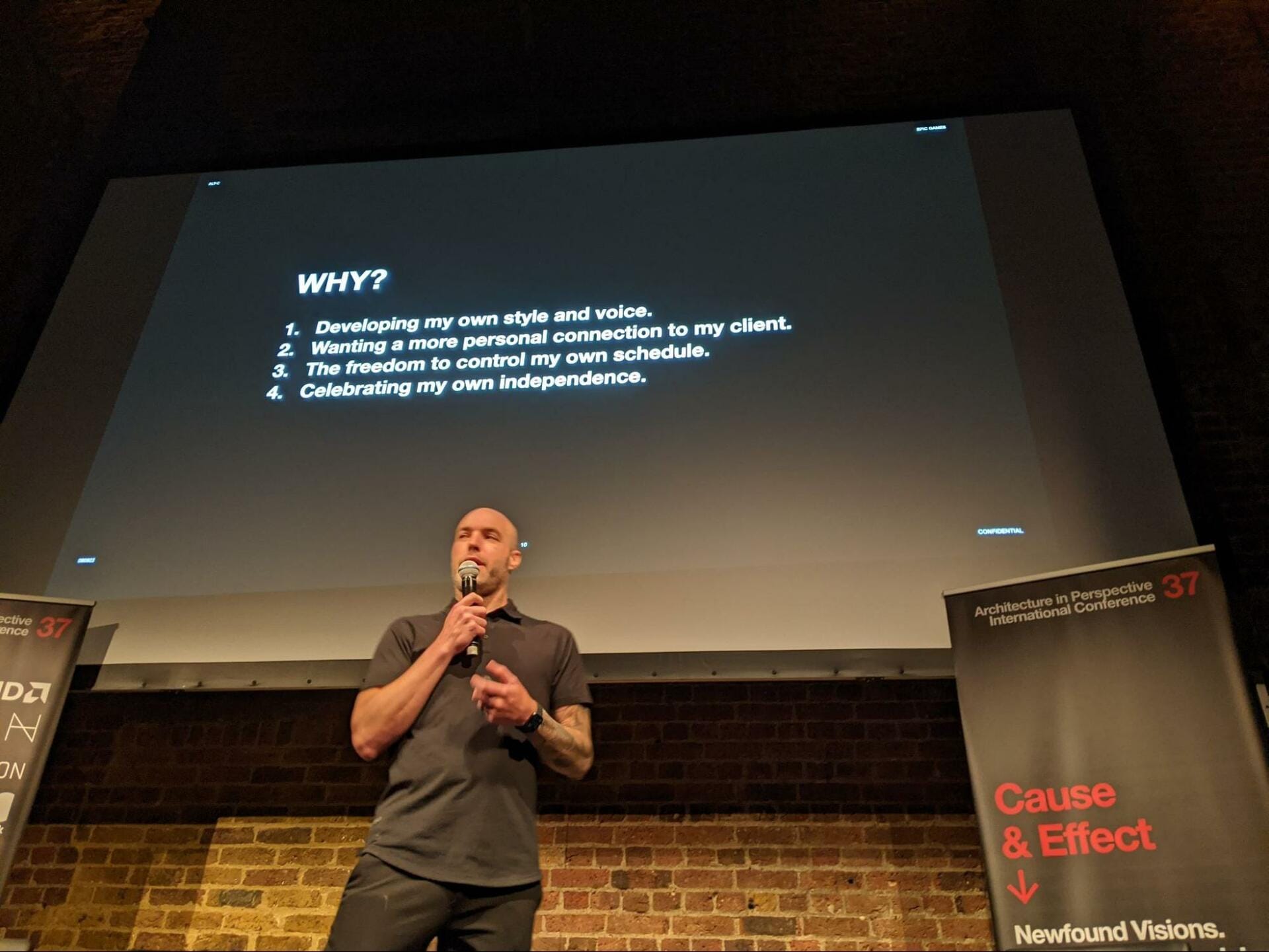 Director, designer, and artist Ash Thorp's talk was a compendium of crucial creative advice, drawing from his experience as a designer on Hollywood movies and director of his own cinematic passion projects. He explained the importance of staying curious, absorbing knowledge, and learning new skills on a daily basis. He also revealed the three books that helped him become a successful, self-disciplined, self-employed artist: Eat that Frog by Brian Tracy, The War of Art by Steven Pressfield, and Mastery by Robert Greene.
Master arch viz.
Try V-Ray free for 30 days