How powerful is your hardware? Our free benchmarking tool has been turbo-charged with CPU, CUDA and all-new RTX tests. Find out how to make the most of it.
With the release of V-Ray 5, it's the perfect time for us to release a new version of our now industry standard benchmarking software. The V-Ray 5 Benchmark is a free, standalone application to help you test the rendering performance of all types of hardware: laptops, workstations, graphics cards, and more.

New look and new tests
The new benchmark includes three rendering engine tests, each with a unique scene and unit of measurement:
V-Ray — CPU compatible, measured in vsamples
V-Ray GPU CUDA — GPU and CPU compatible, measured in vpaths
New! V-Ray GPU RTX — NVIDIA RTX GPU compatible, measured in vrays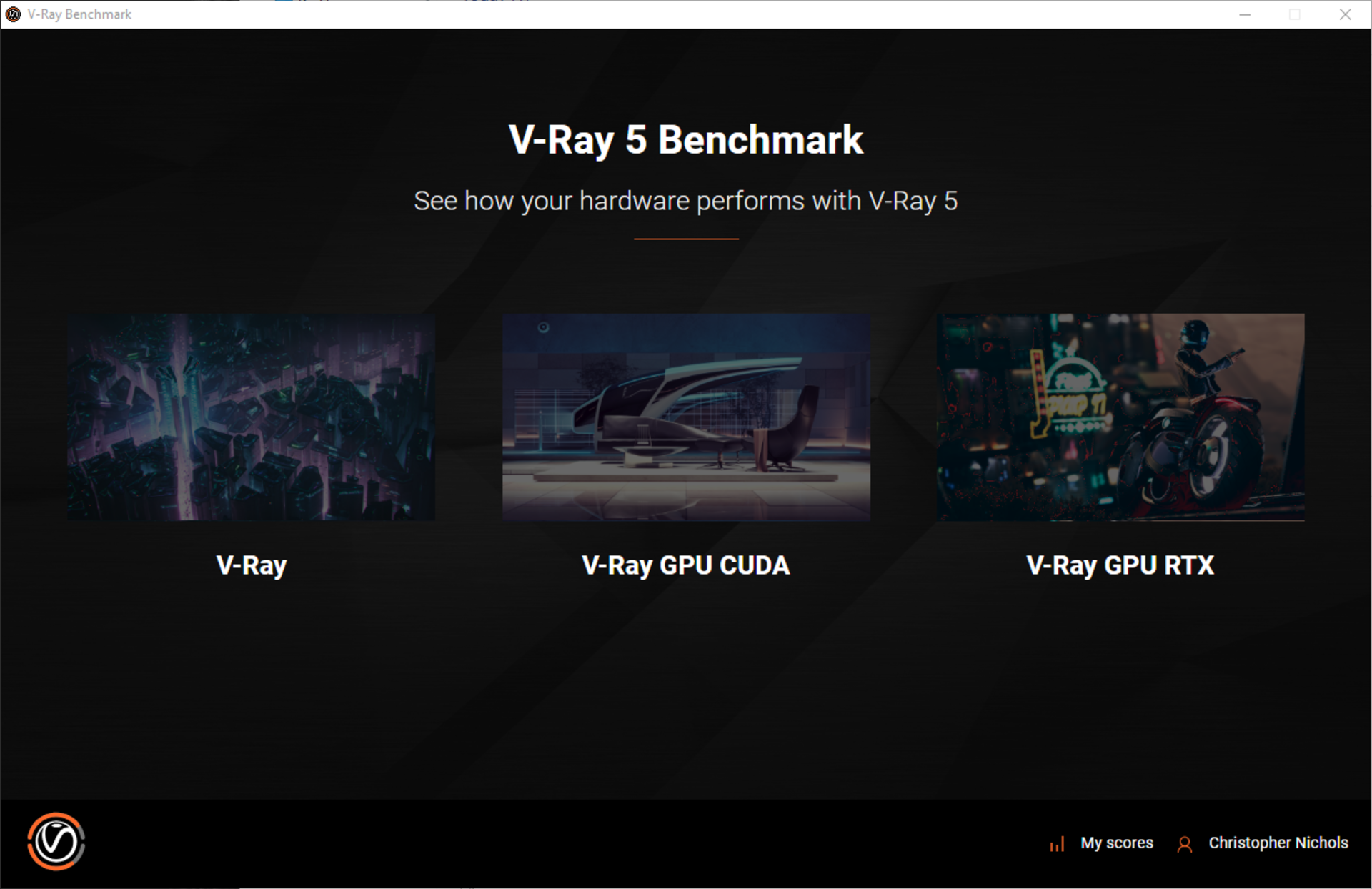 Compared to the previous benchmark, the new test scenes are more complex, making them a much better test for the new super-fast hardware that's now available.
Test 1: V-Ray
This test benchmarks V-Ray rendering on the CPU. It takes just a minute and gives you a result in vsamples. Higher numbers are better.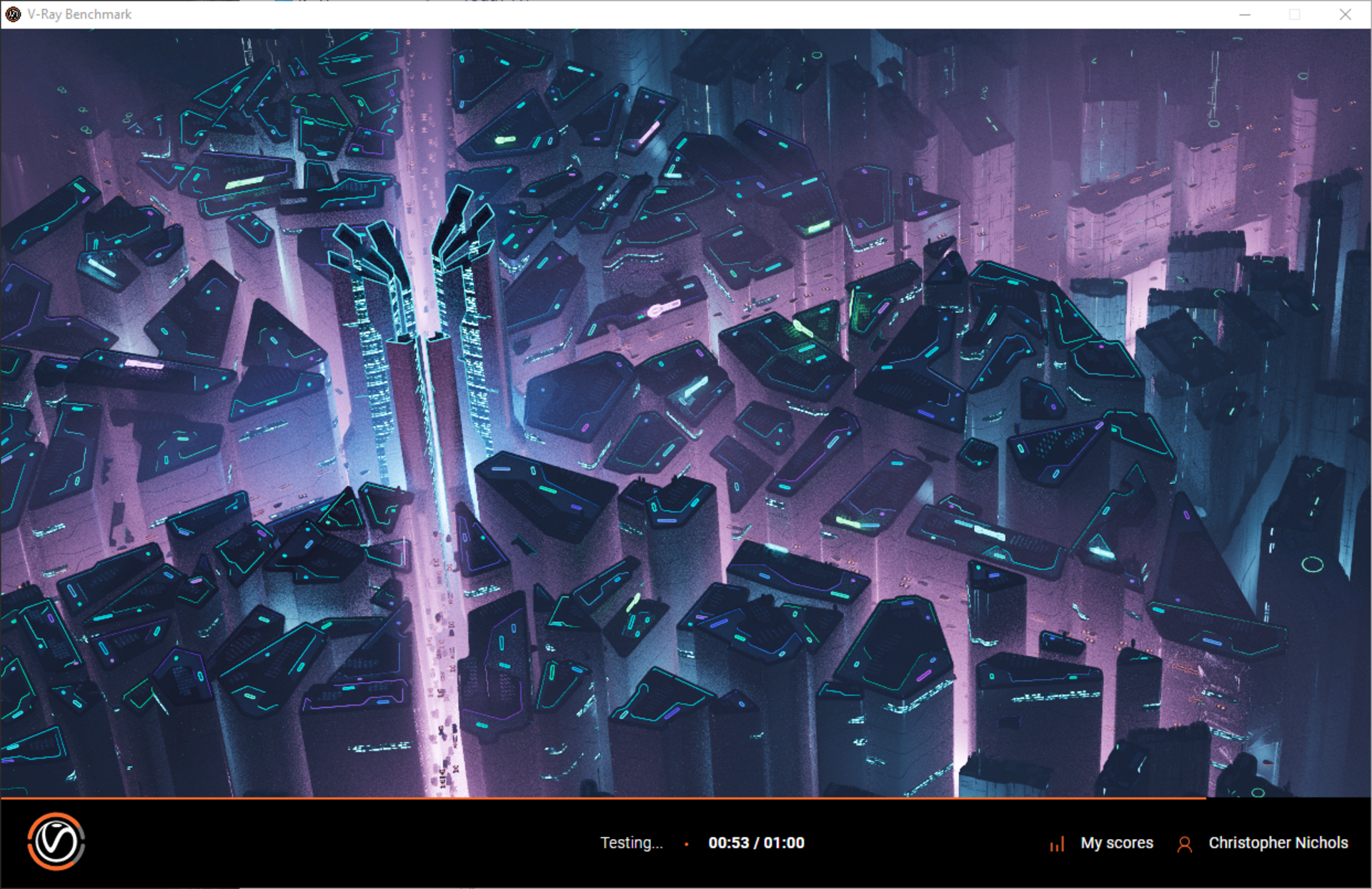 Test 2: V-Ray GPU CUDA
This test benchmarks rendering with V-Ray GPU CUDA, which can render on both GPUs and CPUs. Here, you have several options. By default, it will test the rendering speed using your GPU(s). But you can turn on and off any device to try different combinations, including turning on everything — both GPUs and CPUs — to see the results. The results of the V-Ray GPU CUDA tests are measured in vpaths.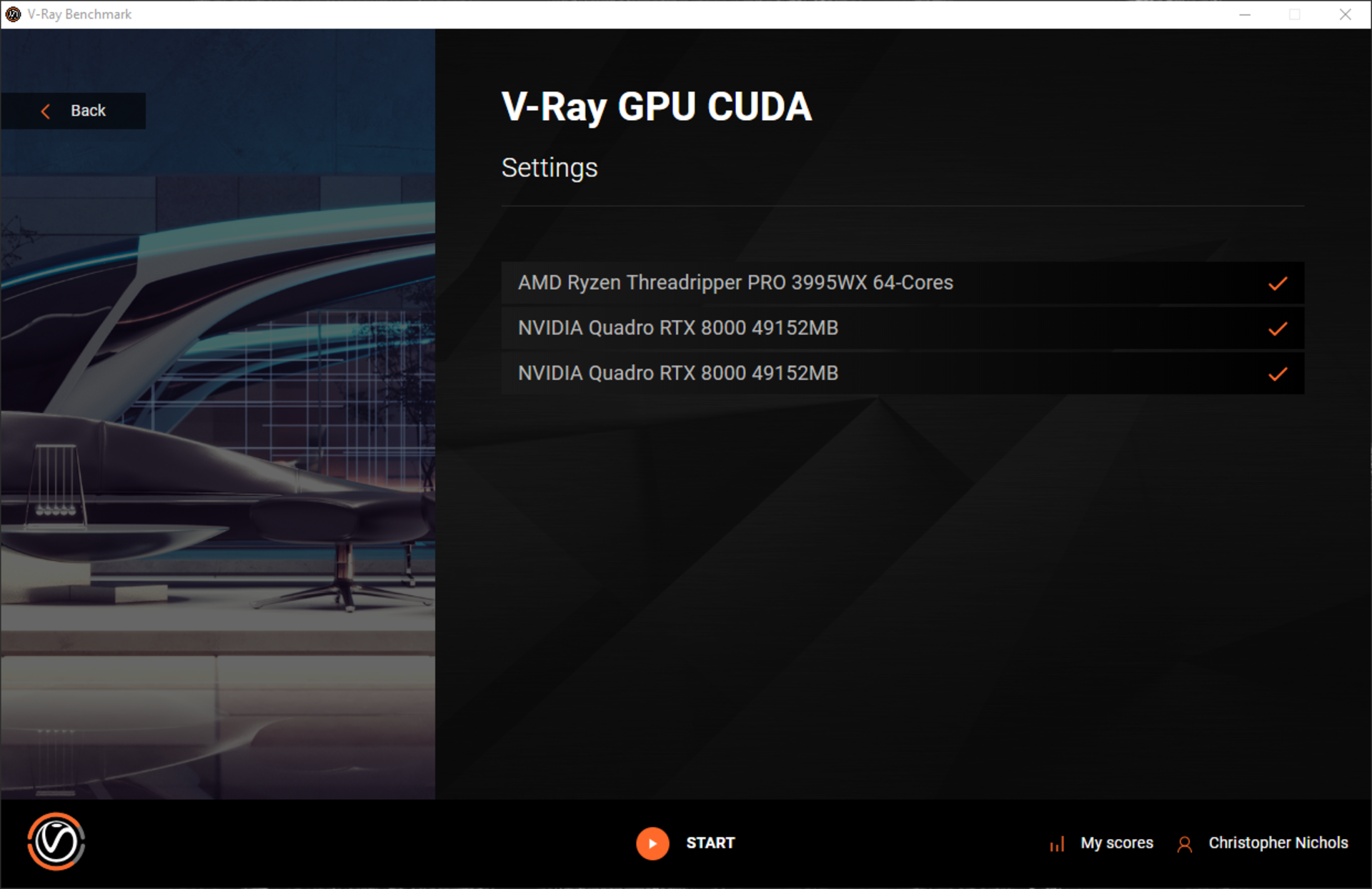 Test 3: V-Ray GPU RTX
New to the V-Ray 5 Benchmark suite is a third test that renders using our V-Ray GPU RTX engine. This GPU renderer takes advantage of the ray tracing (RT) cores in NVIDIA RTX GPUs. If you have more than one GPU, you can test individual cards or multiple cards together. V-Ray GPU RTX scores are measured in vrays.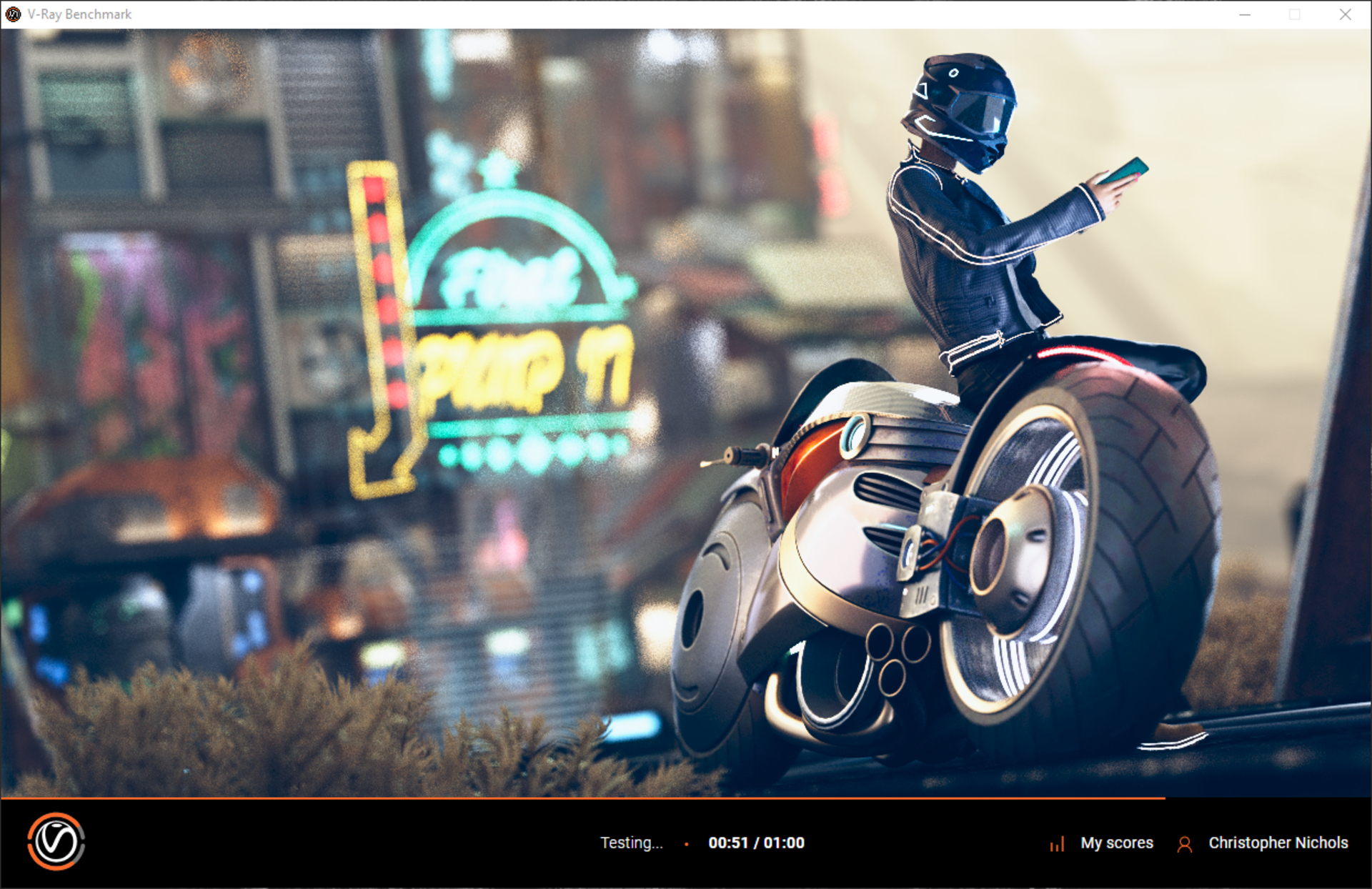 The new scoring system
All scores are linear. So a result of 1000 is twice as fast as 500.
If you've used our previous benchmark, you'll notice that the new V-Ray 5 Benchmark scores are different from the old ones. The new tests use new units: vsamples, vpaths and vrays. That's because each of the three render engines is quite a bit different from the other, and pitting them against one another would not be an apples-to-apples comparison. You could compare your own scene's rendering performance on all three render engines, but those results will depend on the specific scene you choose.
Saving and sharing your results
To save and post your scores to the results page, simply login to your Chaos Group account from the benchmark app. You can also add comments about your configuration that might have influenced your score, such as an overclocked CPU.
Once you post your score, you can see where your system ranks on the benchmark results page. We've also updated this page to make it much easier to search and filter the results.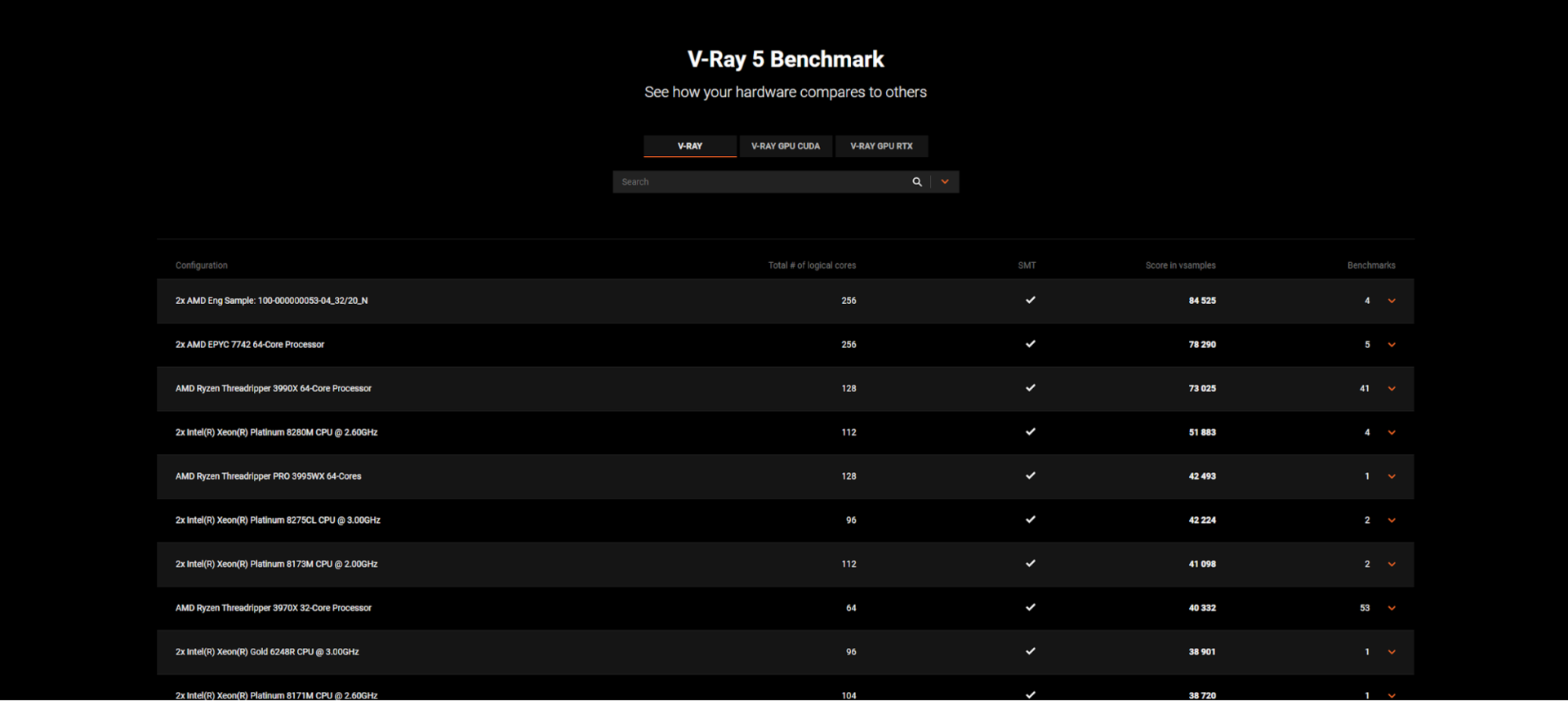 Start your engines
Maybe you're thinking about an upgrade soon, and you want to find the fastest rendering setup for your budget. If you haven't tested your system yet, now is an excellent time to see how your system ranks. If so, the V-Ray 5 Benchmark is a great place to start.
We look forward to seeing the results from the community as well as the top tech sites such as Linus Tech Tips and Tom's Hardware. There's been quite a bit of exciting new hardware released lately, and we're curious to see how fast it can make V-Ray go.
How does your hardware stack up?
Download V-Ray Benchmark and find out