3D furniture visualization platform Cylindo creates unfathomable numbers of product images. Find out how the software works — and why it's powered by Chaos Cloud.
1,000,000,000,000,000,000,000,000,000,000,000,000. No, our zero key didn't get stuck. 10 to the 36th power, or an undecillion, is the number of variations of a piece of furniture that product visualization company Cylindo has created for a particular client. And these mind-boggling variations have been rendered thanks to the power and cost-efficiency of Chaos Cloud.
We had a chat with Cylindo's Vice President of Product Management, Jostein Pedersen, and Vice President of Pipeline Engineering, Jens Fursund, to find out more about this rapidly growing company, why its customers keep coming back, and how Chaos Cloud has been able to support its ambitions.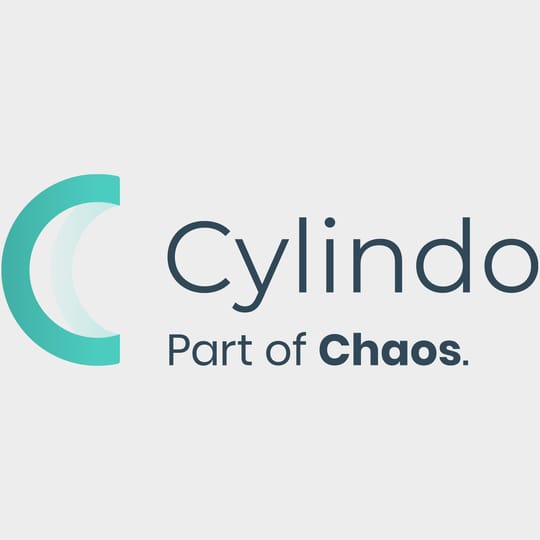 About Cylindo
Cylindo was founded by Janus Jagd in 2012 with the aim of making product visualization easy. Today, hundreds of furniture companies, including Flexsteel, Montana, and EQ3, partner with Cylindo to get superior product visuals across the entire furniture buyer journey. Cylindo has created a platform that goes beyond high-quality product visualization and gives furniture businesses versatile assets they can leverage across multiple touchpoints.
Where does V-Ray fit in at Cylindo?
We were the first company to be able to produce product visualization at scale at photorealistic quality. That's the main reason our customers buy from us today: we have superior quality, thanks to V-Ray, and we have high modeling and material standards. And we do that at a cost and efficiency that makes it possible for our customers to visualize all or most of their product inventory.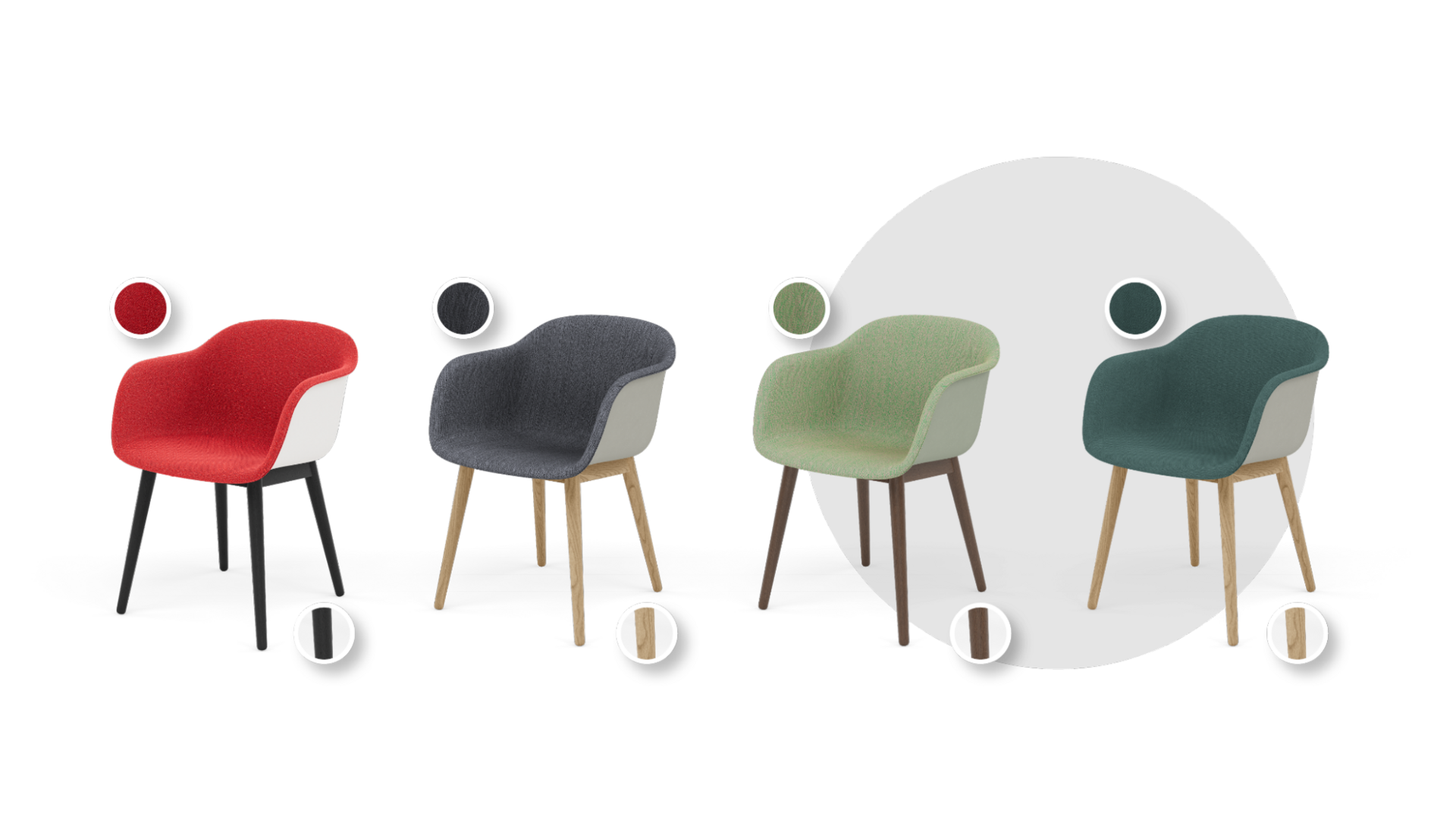 What's a typical Cylindo customer use case scenario?
Most of our customers have never done 3D visualization before, so we have to visualize their entire backlog of inventory of products or parts of it.
So, this is a chair that is produced by Cylindo. So you have a beautiful 4K zoom and you can look at the details of the products, you have 360-degree spins. And then, they can have a product configurator, and they can show all the different material options.
Cylindo's configurator in action
As you can see, it loads super fast. As all of the frames are pre-rendered, we can get very fast. Now, we're also producing lifestyle imagery. This is content produced in Cylindo's studio, where you have a lifestyle scene, in addition to the 360 content. Here, you can use multiple camera angles to showcase how this product looks in the real world. This is the same asset, and this is all rendered on Chaos Cloud.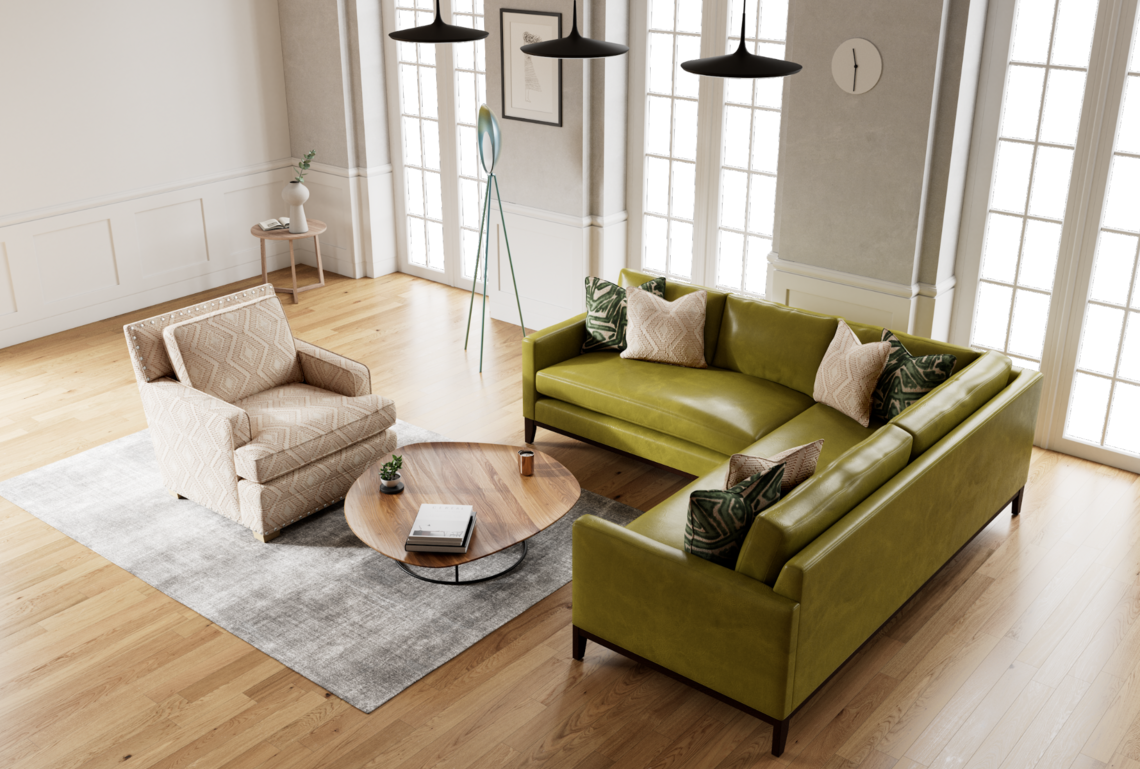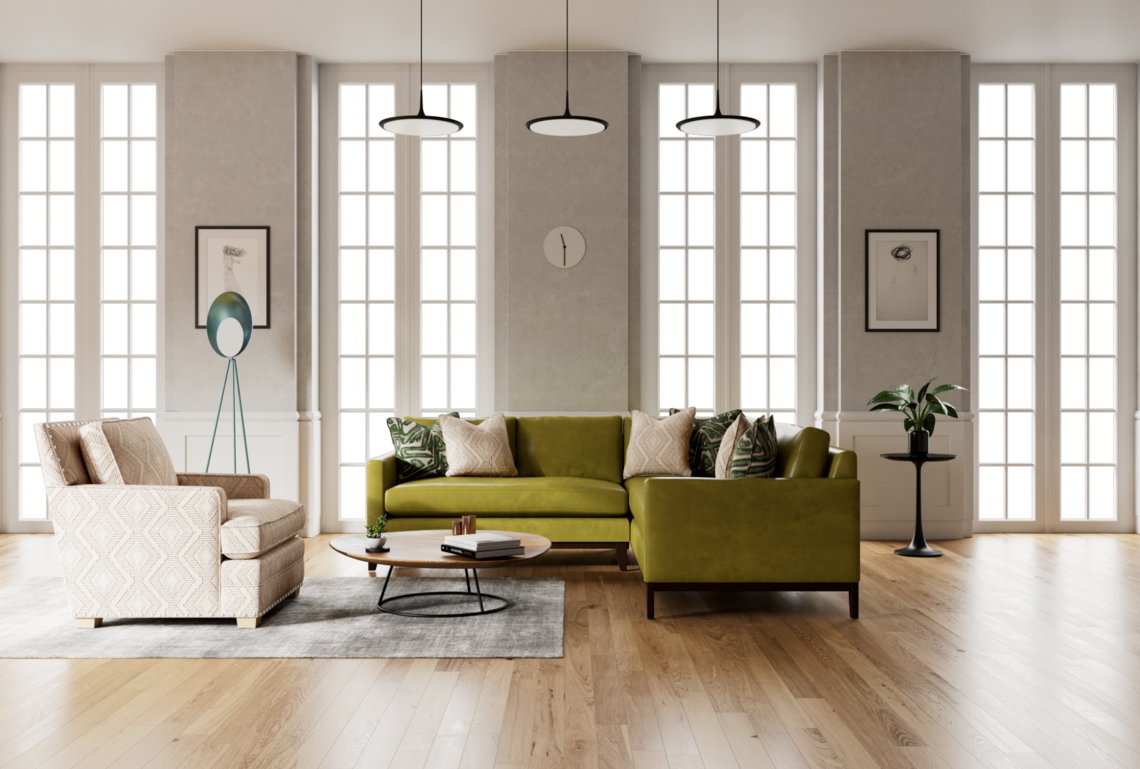 Where do customers use the visualizations?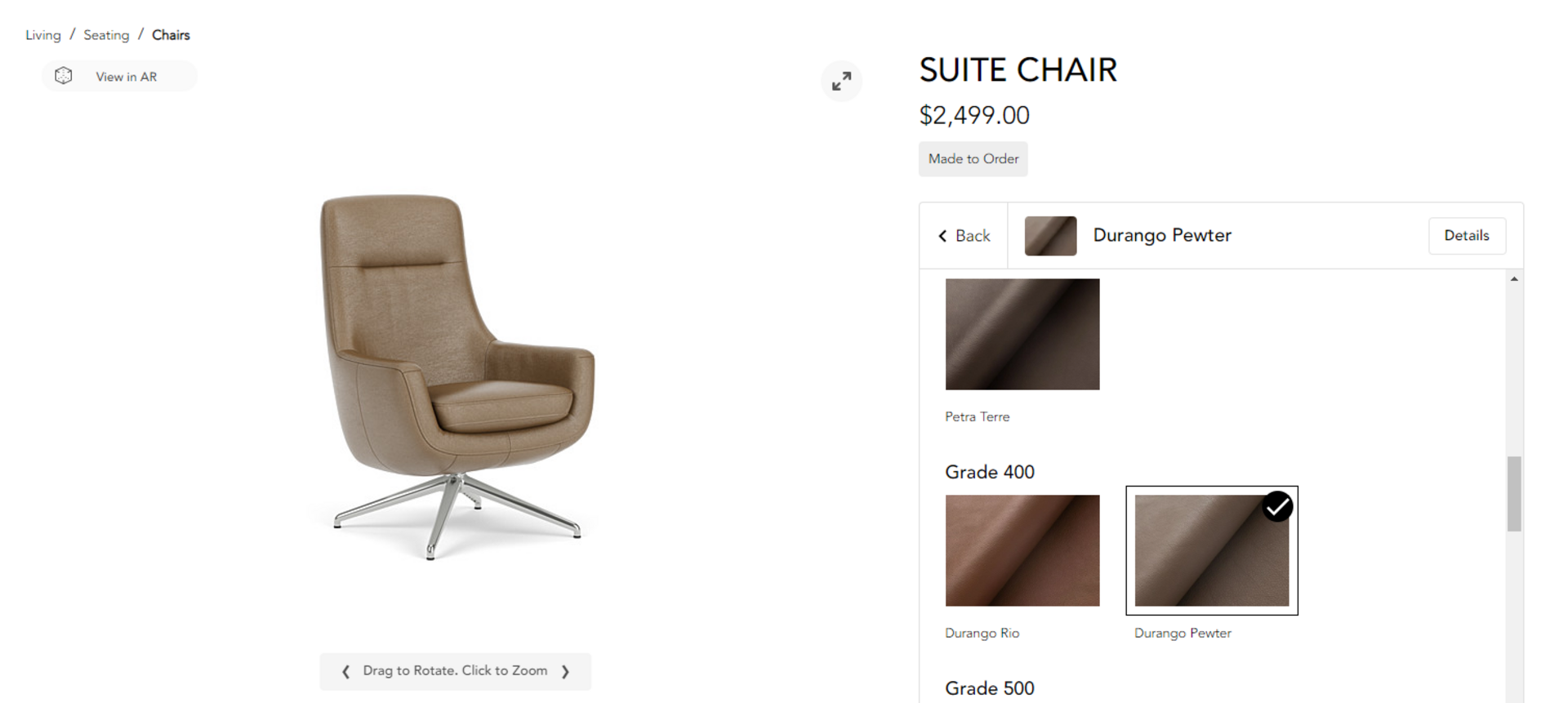 The image above shows a visualization we have for a product page on an e-commerce site. Here, you can have all your content in all configurations, such as different legs and fabric options, and show how beautiful your furniture is.
Then you can scan a QR code with your phone and see how it looks in augmented reality, in the room you're in. This is a typical use case for e-commerce. In addition, you have a powerful content API, so you can leverage the imagery in your checkout page, abandoned cart emails, or the Google shopping feed. If the customer has returns, they can create advertising for a specific product configuration on sites that sell refurbished furniture.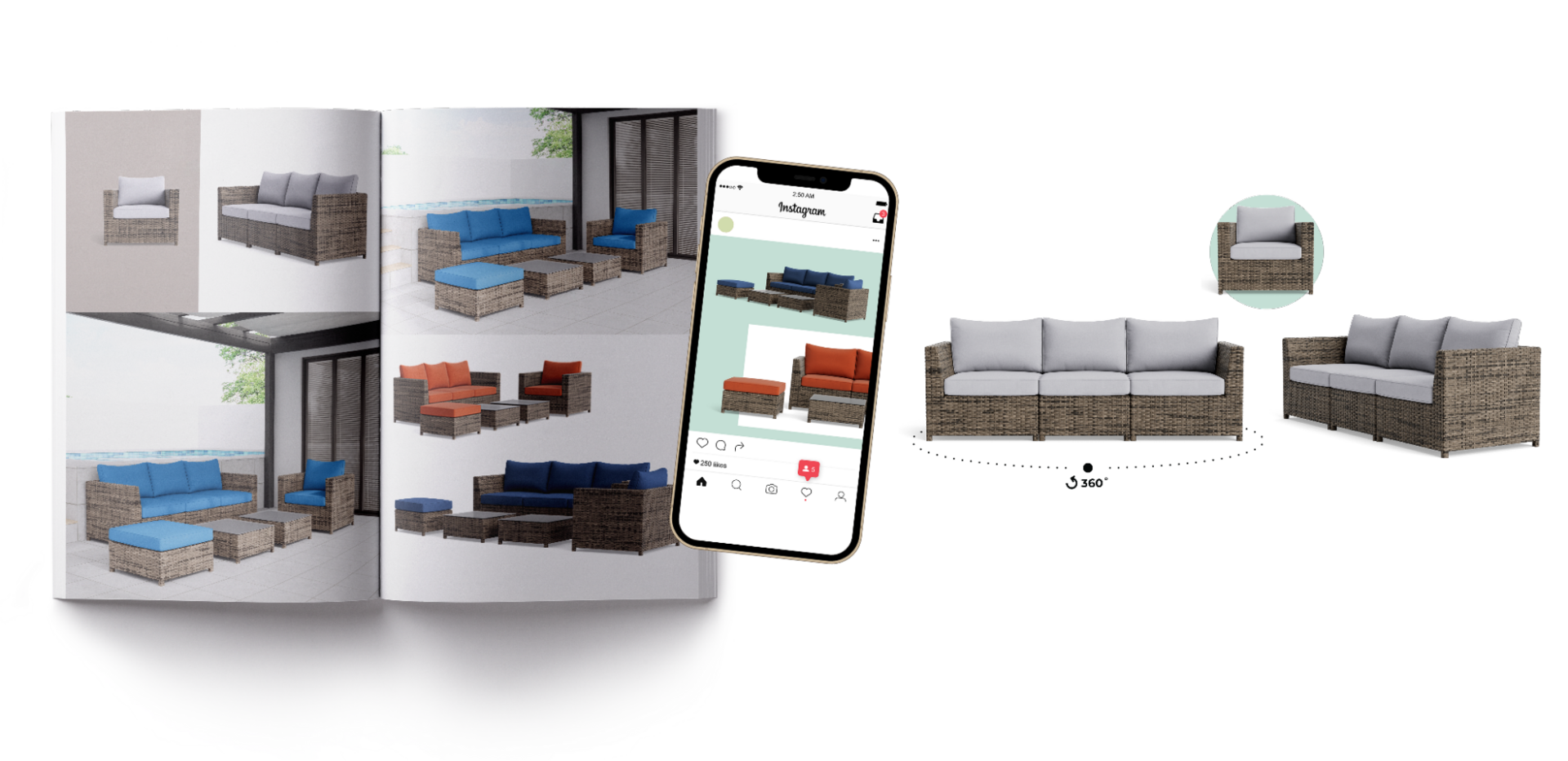 So all the places where you need visuals, you can leverage your content. I think that's one of the reasons our customers buy Cylindo: they do not have photography they take and only use once, but they have a master asset, and they can leverage that content throughout their entire customer journey.
What are your requirements in terms of product data from your customers?
Front and back pictures of the product, and then the dimension information, are all we need to produce the 3D master asset file. We like to have reference images of specific details, such as how seams should look or how the leather curves around corners, but they're not completely necessary. And then we need digital or physical references of the materials. That's usually the minimum customers give us; they might have some CAD files from a manufacturer, but they might not.
How do you work with customers to ensure the master asset is correct?
When a customer starts with us, we open a project for them, where they upload all the reference images. You can see that they have uploaded references for this sofa, and we have some dimension information. Based on this data, we have produced the 3D assets. Once we have produced it, we send it over to the customer for review. This is a new tool, similar to Chaos Cloud Collaboration, where they can add specific feedback.
How easy was it to switch to Chaos Cloud?
We were already using V-Ray standalone for our pipeline processing of renderers. So that made it a lot easier because there's basically almost a one-to-one between Chaos Cloud and standalone.
The power and the scalability of the Chaos Cloud platform definitely helps us turn around a massive volume of visuals quickly, which is very beneficial for us."

Jostein Pedersen, Vice President of Product Management, Cylindo
How does Chaos Cloud help you handle massive amounts of data?
We constantly have peaks and valleys in terms of deadlines for our customers, and we came with a lot more volume than has ever been done on Chaos Cloud. The power and the scalability of the Chaos Cloud platform definitely helps us turn around a massive volume of visuals quickly, which is very beneficial for us.
Two or three years ago, we had to push back our deadlines because we didn't have the internal render farm capacity and delivered later than we had promised so we could utilize our local capacity.
Chaos Cloud takes us a step away from that. We can meet customer needs and scale up very efficiently to meet demands. We have no problem scaling from using zero servers to using 2,000 servers in, say, 10 minutes, no problem. That's really nice.
Experience seamless rendering with Chaos Cloud.
Try now with 20 free credits.