Stuck in an endless feedback loop for your latest project? Find out how the Chaos Cloud Collaboration beta makes it easy to share your work and gather opinions.
We've just launched the Chaos Cloud Collaboration beta — and we'd love you to try it out so we can gather your thoughts and feedback.
At Chaos, we love to make use of the power and accessibility of cloud computing. We started with Chaos Cloud, our super-simple cloud rendering service, and now we're taking that ease of use to review sessions with Chaos Cloud Collaboration. This online platform gives artists and architects a way to present work and collect feedback in a single location, accessible from any web browser.
Design review challenges
Inefficient design reviews affect all creators, whether it's single freelancers or members of big teams. In the course of their work, they engage in a constant feedback loop with multiple internal and external stakeholders. Any inefficiencies in this process invite project delays and budget slips.

The adoption of hybrid and remote work models has made this problem even more pronounced. Today, virtual teams collaborate from different time zones and geographic locations, and their members come from different cultural backgrounds. More than ever, streamlined communication is considered a prerequisite for successful projects.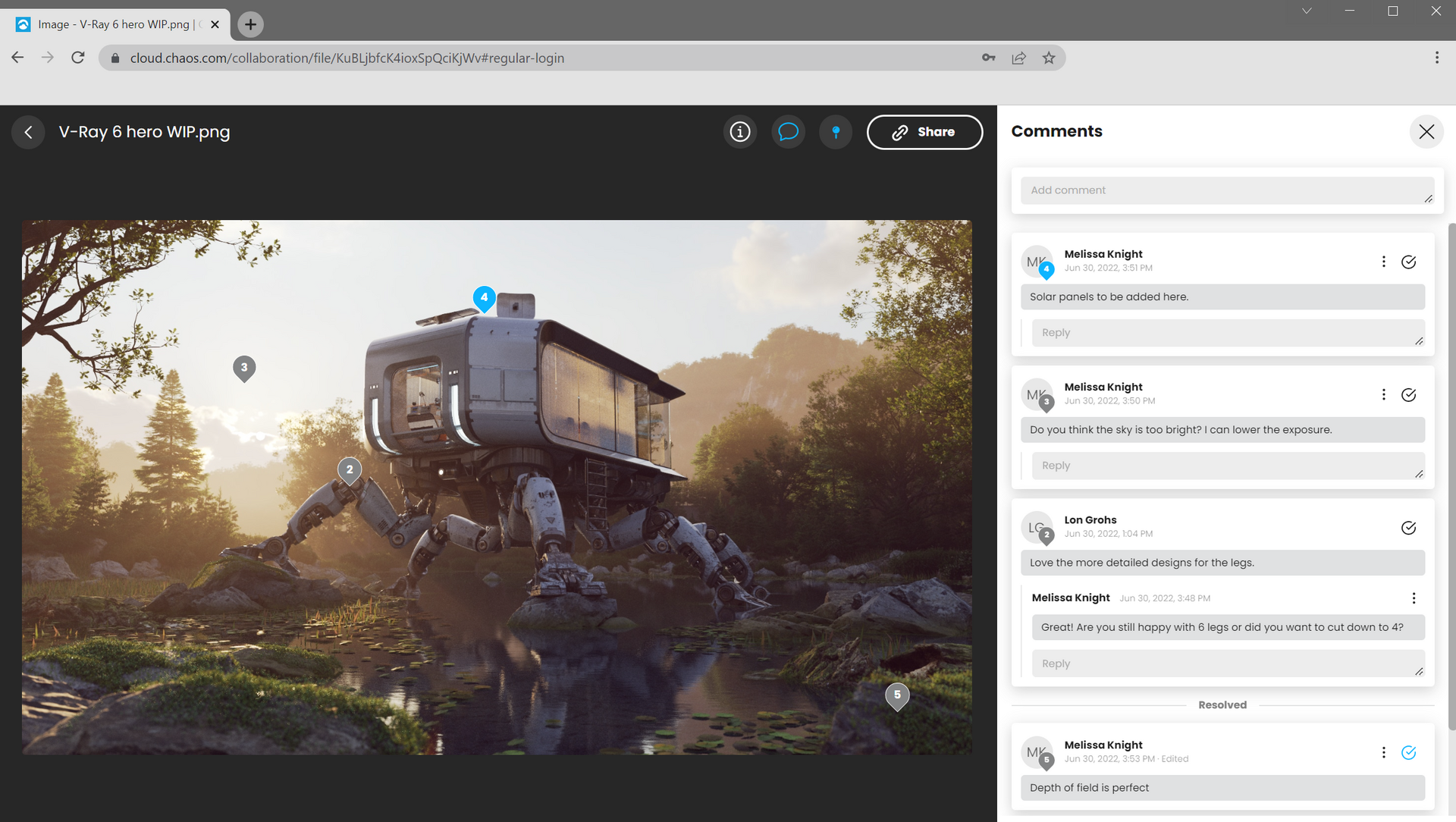 How Chaos Cloud Collaboration can help
We allow users to send designs for review within the context of their Chaos tool. To start with, this is the V-Ray 6 Framebuffer.
Other people, including non-users, can then be invited to view the project via email or public link, easing the sharing process.
Design presentation and feedback can be provided via a user-friendly interface.
How to access the Chaos Cloud Collaboration service:
The service is available via this link for all users with Chaos accounts, or directly within the V-Ray Framebuffer.
Once there, you can upload your images (including panoramas) and begin the review process.
And this is just the beginning …
We are starting with a beta release today and plan to introduce multiple improvements in the coming months. The list includes:
Advanced visual annotations.
Creating virtual tours with hotspot navigation.
Video and 360 video support.
Interactive 3D presentations.
Additional integrations with more Chaos products.

In the meanwhile, we invite you to give it a try. You can follow our progress and post questions to the product team on the Chaos Cloud Collaboration Forum, here.
Discover the joy of working together.
Try Chaos Cloud Collaboration.