From food poverty to homelessness, Andreas Tjeldflaat is tackling humanity's biggest urban crises. Find out how V-Ray for Rhino helps him envision solutions.
Andreas Tjeldflaat wants to reimagine the way we think about architecture and design. Through his company, Framlab, he researches pressing issues, such as homelessness, loneliness and food security, and creates compelling and practical solutions. His work has been featured in Dezeen, Fast Company and The New York Times; he's taught at the University of Pennsylvania, Columbia University and the New York Institute of Technology; and he's even taken part in UN panel discussions on homelessness.
Andreas is as well-versed in software as he is in sustainable innovation. Through V-Ray for Rhino, he creates beautiful photorealistic imagery of his proposed structures in the urban environment. We joined him to discover how we can repurpose our cities for more humanitarian and eco-friendly pursuits.
Could you tell us about yourself and your background?
Andreas Tjeldflaat: I am a Norwegian architect and design engineer based in New York City and Bergen, Norway. I am the founder of innovation studio, Framlab and have previously worked for various design and architecture firms in New York, Copenhagen, Oslo, and Taipei.
Why did you establish Framlab?
AT: My ambition in founding Framlab was to explore design as a tool for addressing pressing social and environmental challenges. The studio operates as a lab that can investigate complex issues from different vantage points, confront these with 'what if' questions, and develop solutions that can help drive systemic change.
What do you think the role of architects and designers is going to be in the future?
AT: I believe that the need for lateral thinking and holistic approaches will become more and more important as the magnitude and complexity of the world's challenges increase. As designers are well-versed with these methods, the role of design will increasingly revolve around addressing global, systemic issues. This will necessitate a greater focus on collaboration, communication and interdisciplinary work.
I have always thought of the role of design as connecting technology with human needs, and emergent technologies will further reinforce this relationship.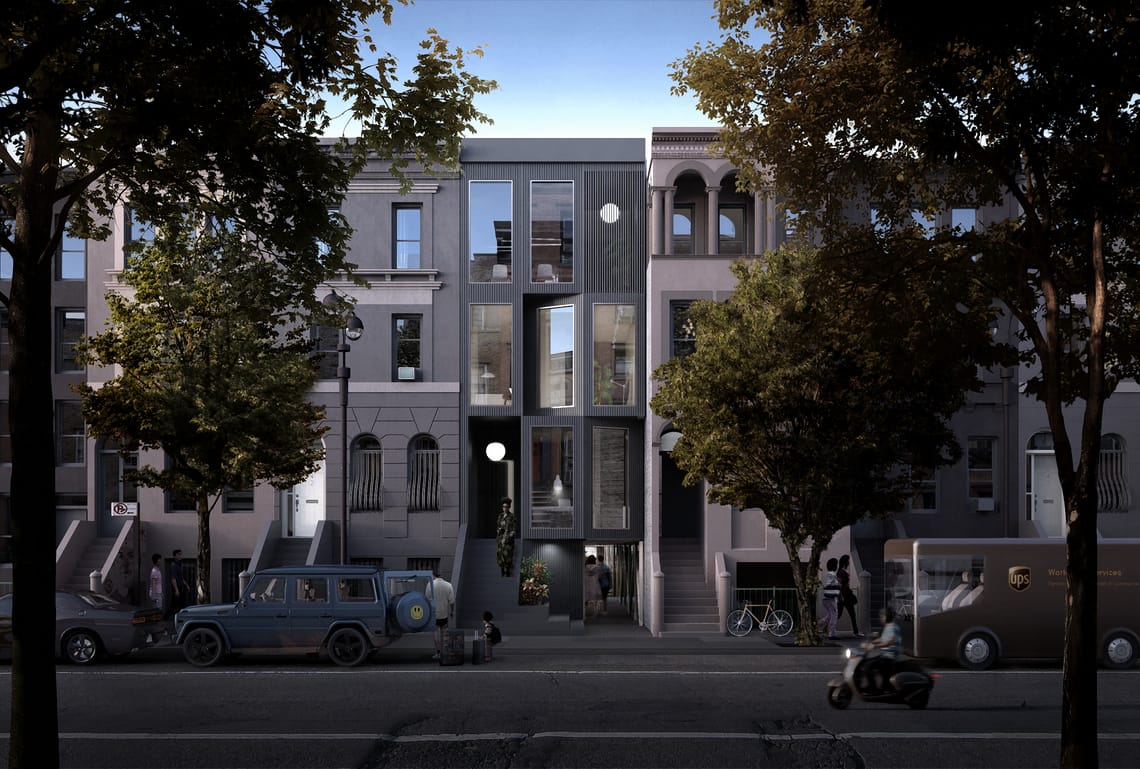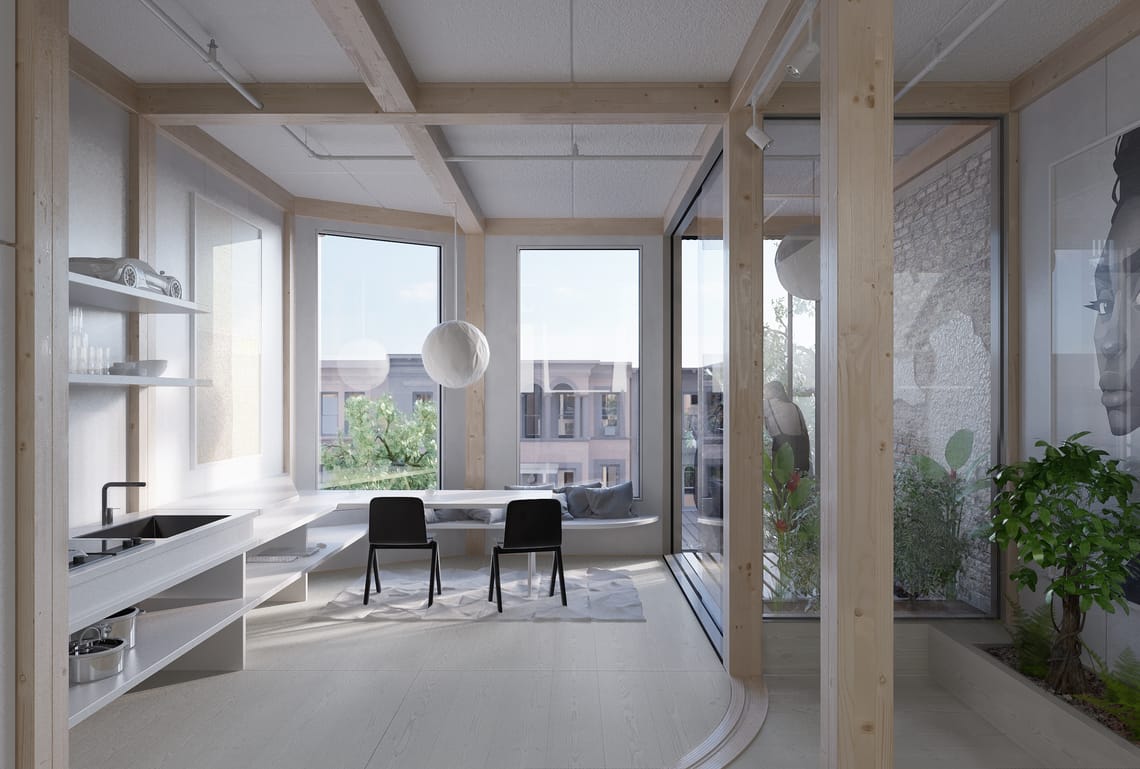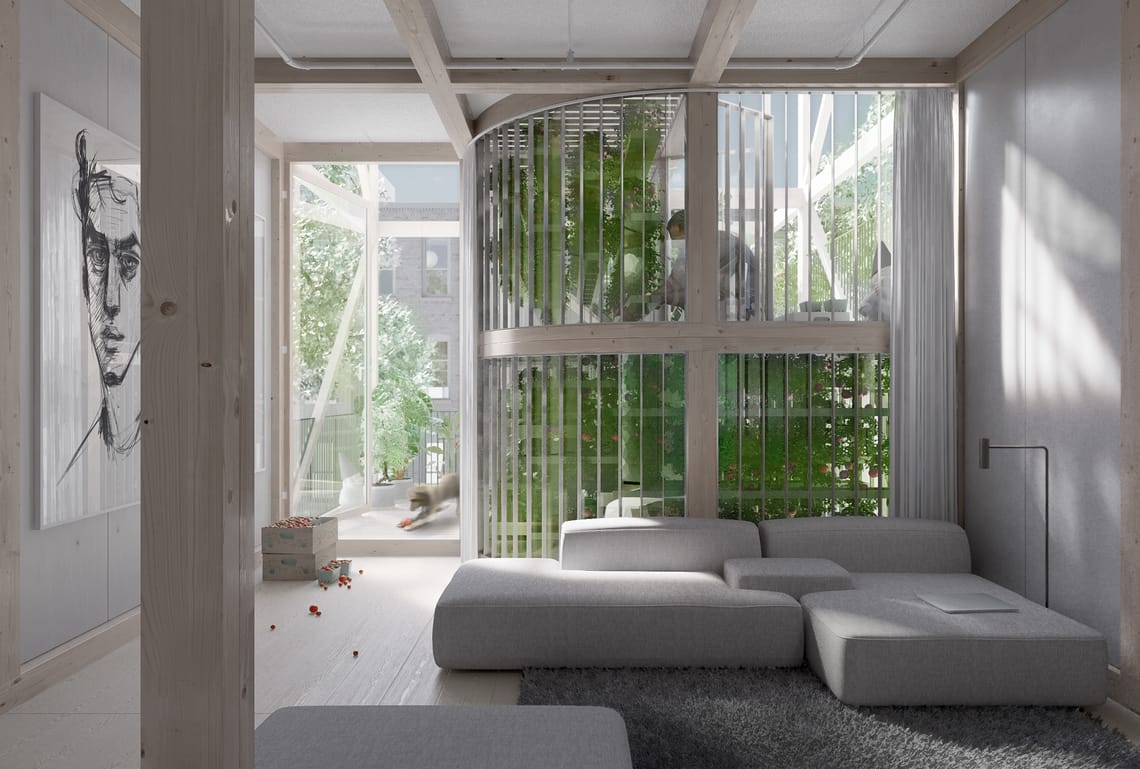 When was the last time your talked to your neighbors? In a 2019 survey, three in five Americans reported feeling lonely, and this isolation can be exacerbated by the compartmentalized design of modern urban dwellings. With Open House, Framlab aims to tackle this problem by providing a modular building system that connects occupants with nature, natural light —and fellow human beings.
Where do you find inspiration for your designs?
AT: Design inspiration comes from a wide range of places. As a curious person, I have always enjoyed learning new things and exploring different branches of knowledge – natural science, history, psychology, humanities – enabling me to pull from and cross-reference disparate ideas during the design process. This curiosity also propels me to ask questions and seek to understand the perspectives of others.
When it comes to communicating projects, I find inspiration from other creative fields: painting, photography, illustration, film. A few that come to mind are Mir, Fernando Guerra and Cruschiform — they're all masters of composition, light and storytelling.
Could you talk us through the process of creating one of your designs, from initial concept to final render?
AT: My design process varies depending on the nature of the project. To generalize, I typically start by identifying the principal issue of the project. This is often not defined clearly enough in the design brief and is dependent on the initial phase of research to be investigated further. Through reading, observing, talking to experts, etc., I try to immerse myself in the layers of context around the project (environmental, technological, social, infrastructural, economical, etc.) to clearly understand the significant touchpoints and stakeholders of the project.
As project objectives crystallize, I will then start to test preliminary, crude ideas through diagramming, hand sketching, digital modeling in Rhino and quick renderings with V-Ray, with as low design resolution as possible. This initial synthesis phase primarily focuses on quantity to exhaust the 'solution room' of ideas.
Next, two to five concepts will be developed further and studied at a higher design resolution. I will test these against the design objectives and through feedback from client and stakeholders. At this stage, as a final concept comes into focus and I develop the various details of the project, renderings are one of the most important tools for driving the design development and helping communicate ideas.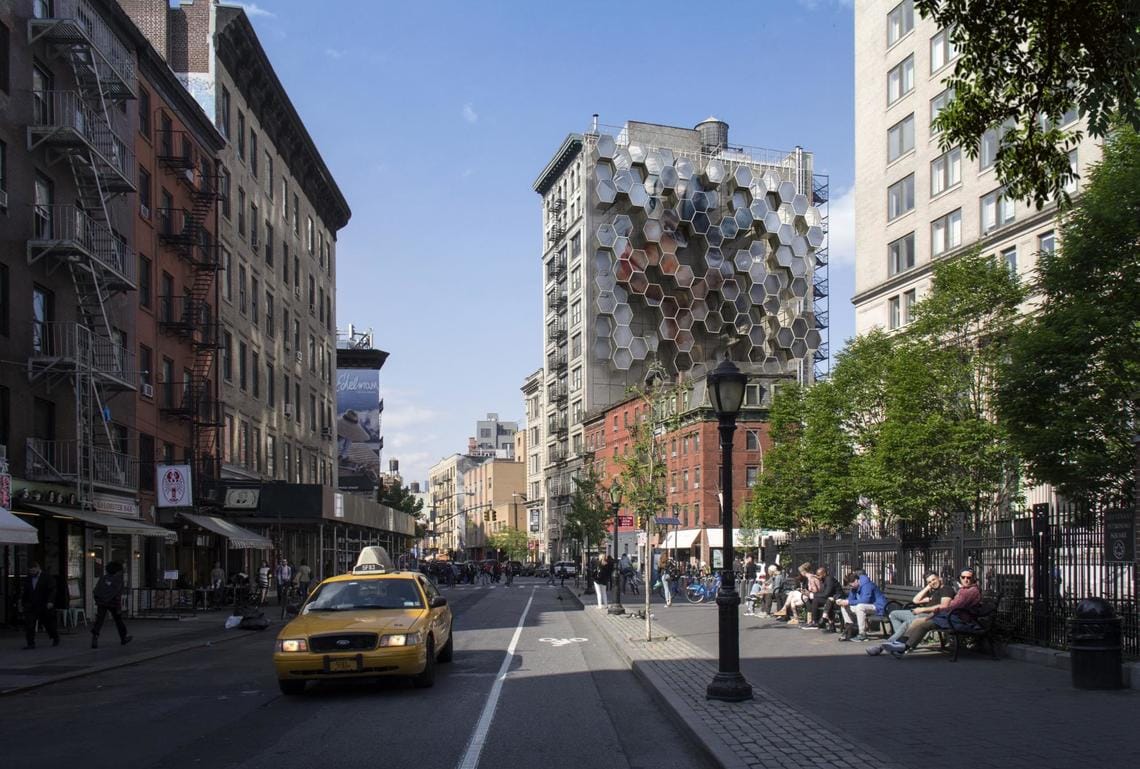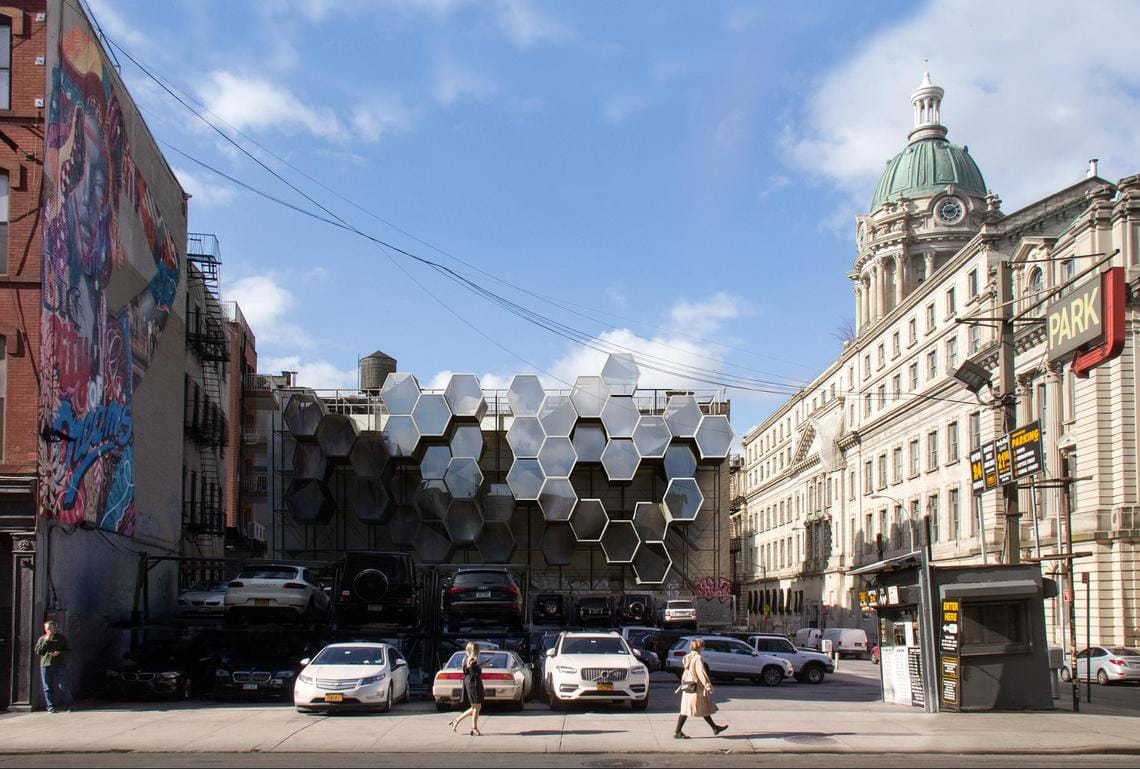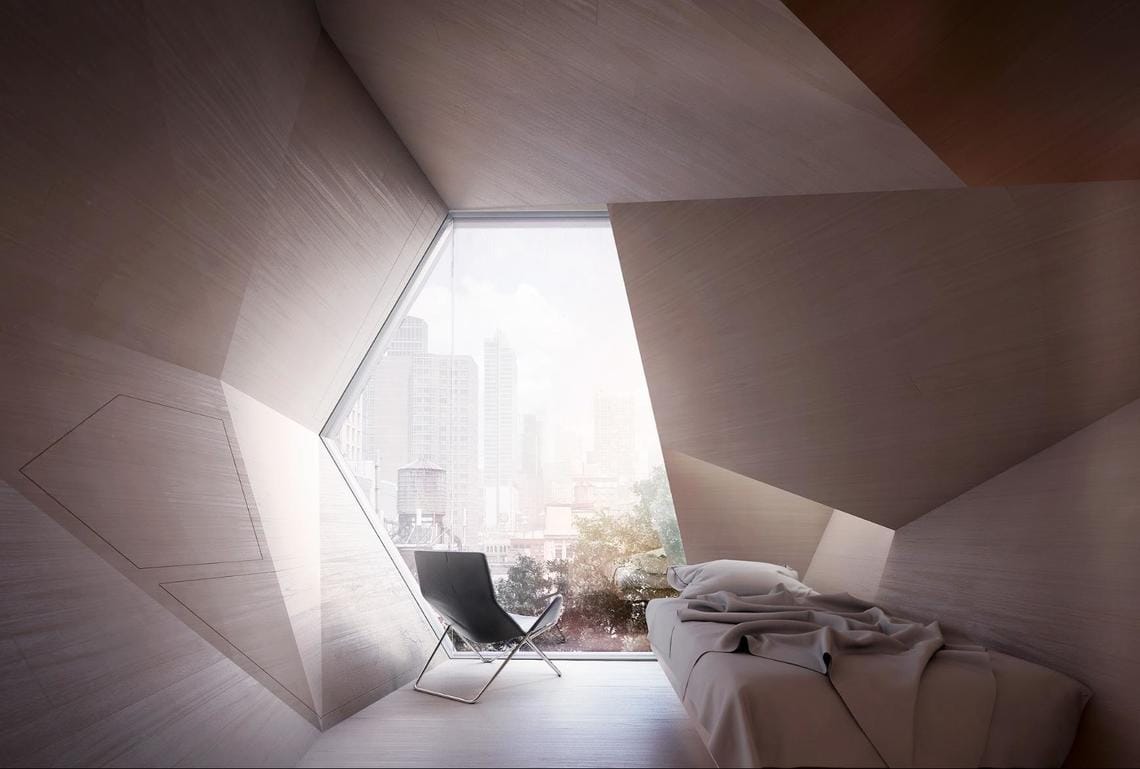 Tackling homelessness is a unique and complex challenge for most cities, with lack of access to safe and clean shelter representing a particular problem in New York City. Shelter with Dignity repurposes empty vertical space on the sides of buildings as hive-like temporary accommodation. The units are 3D-printed in plastic with a wood laminate, giving occupants a warm and friendly space to live in, while the smart-glass windows can switch between expansive views and privacy for residents.
How does visualization with V-Ray for Rhino help breathe life into your ideas?
AT: V-Ray serves several critical roles in the process. For me, it is primarily a design tool for visualizing and testing ideas contextually. Through 'digital mockups,' renderings offer immediate feedback on lighting, textures, materiality, etc., allowing me to calibrate the project in relation to use scenarios, site and context. Secondly, V-Ray empowers the process by enabling effective communication of the project to the client and stakeholders.
. . . V-Ray strikes the perfect balance between level of control and ease of use. It minimizes the distance from idea to feedback, while allowing for high degrees of customization of the scene."

Andreas Tjeldflaat, Framlab
Can you think of any challenges that V-Ray is particularly good at solving?
To me, V-Ray strikes the perfect balance between level-of-control and ease-of-use. It minimizes the distance from idea to feedback, while allowing for high degrees of customization of the scene.


How do you ensure that your models seamlessly integrate with background plates?
This is achieved by studying the background image's visual attributes – perspective, color tone, light direction, shadows, etc., and matching these as best as possible in the CGI scene. I also typically try to situate the project in the middle-ground of the scene.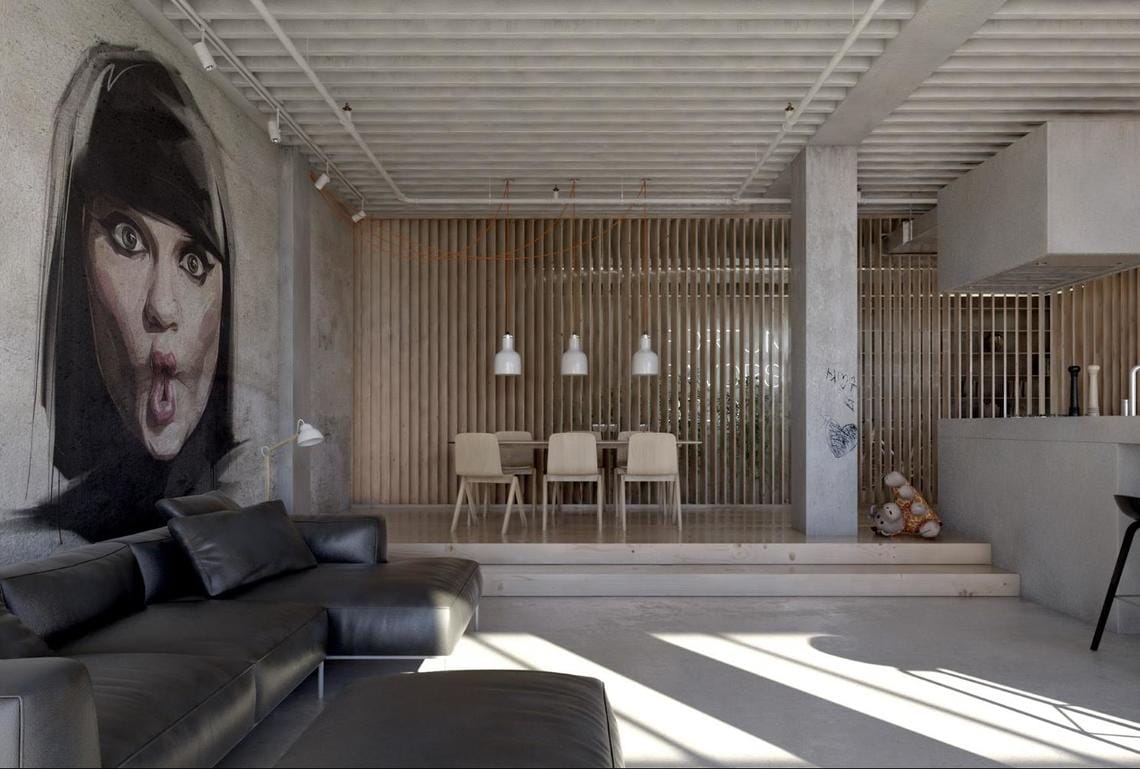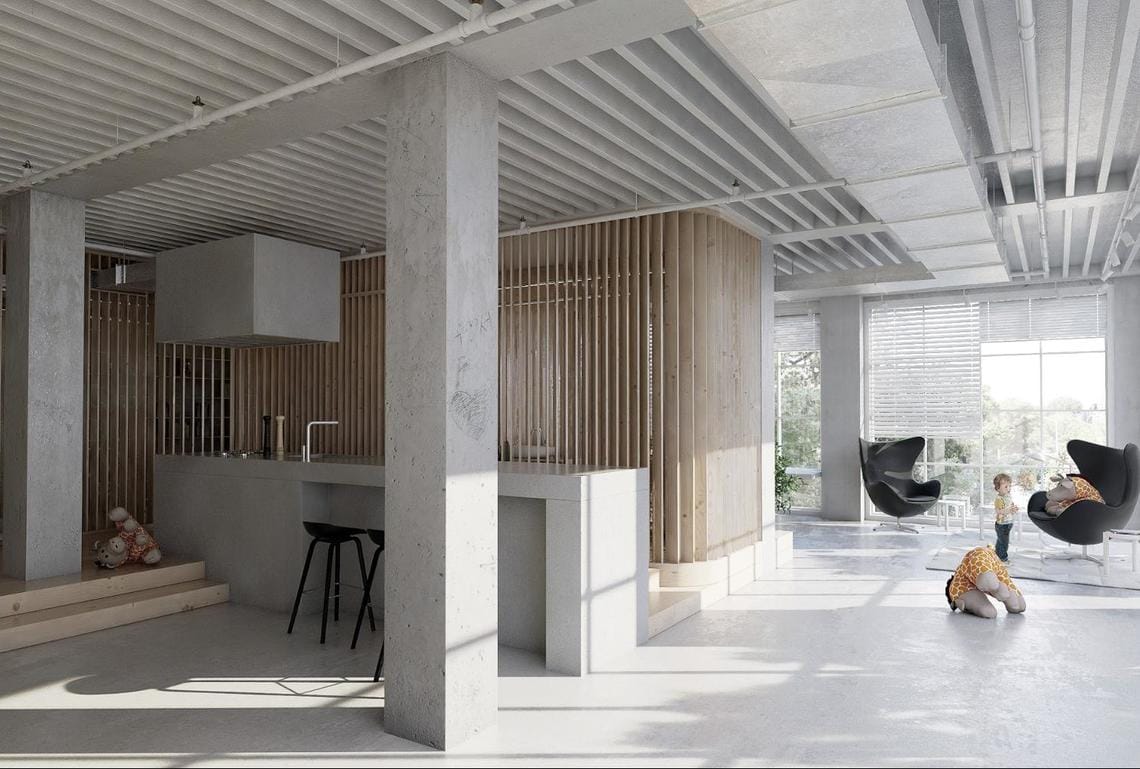 With Plug & Dwell, Framlab aims to bring modularity to interior spaces. Homeowners can choose from a range of lightweight prefabricated panels complete with plumbing fixtures, wiring, appliances and storage space. These are then shipped to their homes and assembled quickly and easily by two people. It allows fast changes on a whim — or for families to take their homes with them when they move.
Do you have any tips or tricks for V-Ray users?
AT: My advice would be to recognize that there are fundamental components to an image – composition, depth, lighting, and visual economy – which carry the bulk of its effectiveness as a storytelling tool. In my experience, it has been productive to frontload the work of dialing in these primary elements before investing time into developing the finer-grain details of the scene.


How do you think the COVID-19 situation will affect the industry?
AT: In the immediate term, because transmission of the virus is linked directly to how we organize ourselves spatially, architectural designers will be tasked with reimagining spaces by accounting for this new set of design constraints. I am worried that this will be a relatively short-lived adjustment and we will quickly forget (as we have a tendency to do) and revert to business as usual when a vaccine is widely available.
But there are invaluable lessons to be learned during this time – both for the AEC industry and society as a whole – to challenge our notions of an equitable, just, and healthy built environment, particularly given the high risk of future zoonotic disease outbreaks.


What are you working on next?
AT: I always have (a few too) many projects on the drawing board at any given time. In addition to the ongoing development work of some of the concept proposals, new projects include an off-grid cabin, a bee hotel and a Manhattan restaurant.
Design for tomorrow.
Download your free 30-day V-Ray 5 for Rhino trial